Since hitting an all-time high of $476 back in March 2015, Biogen Idec (NASDAQ:BIIB) shares have come crashing down to earth, and for good reason. Despite sporting a sluggish multiple sclerosis franchise that is set to further suffer from the immense amount of competition running into the space and a flashy yet high-risk pipeline that took another hit this past week with the "Anti-Lingo-1" fail, the company still quizzically trades at a premium valuation. Additionally, management has enacted a series of cost-cutting measures to mask the underlying erosion of value with a cut in workforce and R&D spending. At 12x next year's earnings, Biogen remains an overvalued pick and deserves a lower multiple when comparing its pipeline and internal prospects to its biopharma peers.
Sluggish MS Franchise Comprises Over 75% of Total Revenue
Despite presenting lackluster first-quarter revenue growth of 7% yoy, management touted a 25% increase in Non-GAAP net income to $4.79/share. On first glance, the EPS growth may look enticing, but nearly all of the increase can be attributed to continuous buybacks and cost-cutting measures such as the 11% workforce reduction announced last October and the continued price increases across its MS portfolio. Specifically, Biogen slapped a 4% increase on Tecfidera, Avonex, and Plegridy and a 5% increase on Tysabri. Tecfidera now costs around $73,000 for a year of treatment (according to Cowen analyst Eric Schmidt), which is up from the $55,000 WAC that was previously set in 2013. Interestingly, the price hikes come at the same time that the company is fighting the ongoing battle over Tecfidera's patents, which it is likely to lose given the recent announcement regarding the US PTAB's year-long review. As a refresher, the exclusivity of the company's product portfolio is given in the table below: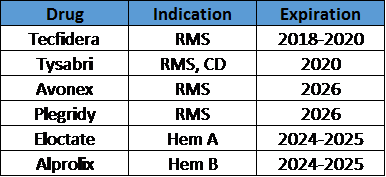 (Source: FDA Orange Book, Company SEC Filings)
Moving on to the main problem for Biogen - its stagnant MS franchise. Tecfidera posted the largest yoy revenue increase (15%) amongst the four MS compounds, but the company's latest 10-Q reveals and admits that "the increase in U.S. Tecfidera revenues was primarily due to price increases." Unit sales volume increases are visible, but it isn't comforting to know that the majority of the value creation and growth is being driven by price, a variable that could become difficult to alter if legislation restricts it. Moreover, Tecfidera underwent a label change in February 2016 after treatment being linked to cases of progressive multifocal leukoencephalopathy (PML) infection. To date, four cases of PML were linked to treatment with Tecfidera, and management admitted to seeing higher discontinuation rates throughout 2015 as a result. The warning added to the label is shown below: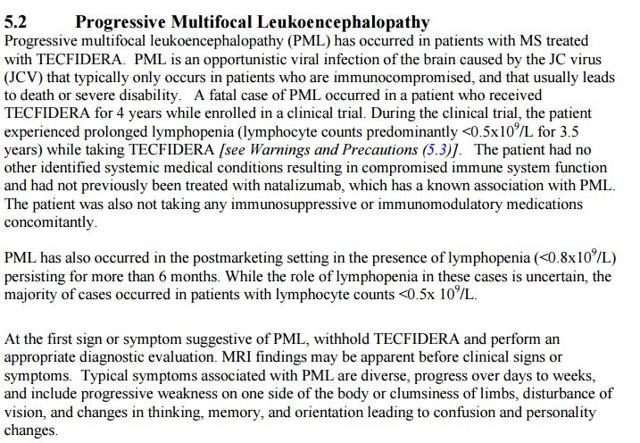 (Source: Tecfidera Prescribing Information)
Although the multiple sclerosis treatment market is expected to remain large and grow to around $20 billion by 2024, I can't envision Tecfidera maintaining its 20% market share (in USA) as the competition rolls in. Novartis' (NYSE:NVS) Gilenya and Teva's (NYSE:TEVA) Copaxone are also branded products that will experience declines following generic approvals. Additionally, Ozanimod (Celgene), Ocrelizumab (Roche/Biogen) are both superior, developmental compounds expected to hit the market in a few years. With Zinbryta's recent approval in May, it'll be interesting to track how sales ramp and the penetration it is able to achieve. Recall though, Zinbryta is not wholly-owned by Biogen and is partnered with Abbvie (NYSE:ABBV).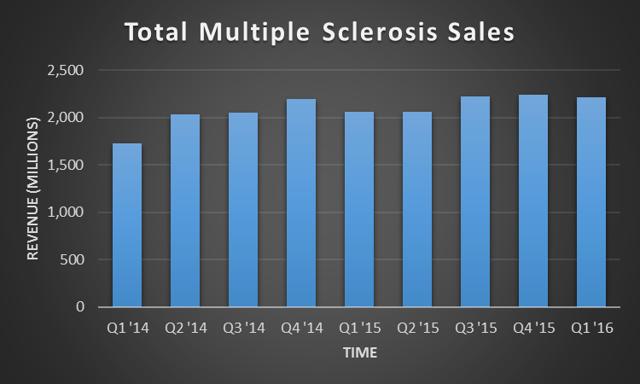 (Source: Biogen Quarterly Reports)
The disappointment doesn't stop with Tecfidera, with Avonex experiencing a decline of over 20% in sales volume, offset by a slight increase in Plegridy volume. Granted, I expect the company's interferon portfolio to gradually decline as patients move to newer and improved products (often Biogen's own), but the masking of the decline with subtle, consistent price increases is a practice that can't go on until eternity. With worldwide interferon sales declining 11% despite the price hikes, I maintain a bearish outlook for the interferon unit, and expect sales to continue to decline given the fact that management may go easy on the price hikes until the election drama clears up. Moving on to Tysabri, growth remains flat in both the US and ROW, but moderate volume growth leads to the belief that value could still be extracted from the drug both inside and outside the US. The company slashed the price of the drug in Germany in early 2015, and management cited that the majority of the slowdown was attributable to the price cut due to Germany being an important market for the company's MS franchise.
With the company's decision to spin-off the Hemophilia division (Eloctate and Alprolix) and concentrate on CNS diseases, the final valuation of the separate unit will be key in assisting investors who are looking to determine the value of the core business (parts vs. whole). Rumors had it that the company was willing to sell the division and could potentially fetch up to $6 billion in the sale. However, given that the company decided to spin it off indicates a lack of interest for the division. With TTM sales of $640 million and the industry average P/S multiple of around 7, I believe the division should be valued at less than $4.5 billion. The spin-off is expected to close by early 2017.
Tightening the Belt for Profitability Masks Dim Future for Pipeline
As is the case with any biotech/pharma company experiencing a slowdown or rebuilding phase, management wants investors to focus on the pipeline and late-stage assets that could potentially refresh the sales picture. As mentioned above, Anti-Lingo-1's primary and secondary endpoint fail in testing opicinumab as a possible reparative therapy for MS likely proves it to be a dud, and sets back another late-stage asset for the company. As far as additional near-term readouts, the company is still enrolling patients for both Phase 3 trials testing aducanumab as a treatment for Alzheimers disease. Early data in March 2015 excited investors but additional data mid-year displayed the real truth behind the drug - subpar efficacy with a chance of serious toxicity. With the 6mg dose not reaching statistical significance, convincing regulatory agencies will be tough given different dose responses. This alone reiterates the risk and gloomy uncertainty behind the company's pipeline, adding to the argument that the pipeline brings minimal additional value. As investors, clean and de-risked (broad term) assets are appealing to those looking to play a binary event or grab a bargain, but neither is the case for Biogen. Furthermore, if management wants investors to focus on the pipeline for future value creation, what could be the possible reason for the significant drop in R&D expenses? As an analyst pointed out on the Q1 2016 earnings conference call, R&D as a percentage of revenue hit an all-time low for the company. That certainly isn't a positive sign for investors who hope that the company will "rapidly advance" their pipeline. The cut in SG&A and COGS is understandable when trying to maximize shareholder value, but the drastic slash in R&D spending in a time of distress comes down as a big red flag.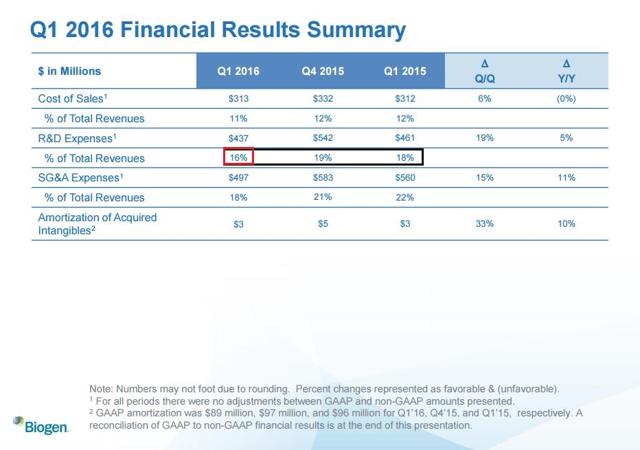 (Source: Biogen First Quarter Earnings Presentation)
A More Appropriate Valuation
Moving back to the main issue on hand, what is the appropriate valuation for the Biogen that is experiencing lackluster MS sales growth and has a relatively weak and risky pipeline?
Consider one of its peers, Gilead (NASDAQ:GILD). Infamously known as the only company that stubbornly won't pull the trigger on a major acquisition, but still is/was exhibiting core sales growth (HCV until Q1 2016). Gilead has grown its internal pipeline and now houses four candidates for the treatment of NASH, a lucrative space that is only expected to grow as time moves on. Even if three out of the four candidates turn out to be duds, Gilead may hit a major home run. Yet despite its internal pipeline, Gilead still trades at a weak forward PE of only 7.

(Source: S&P Capital IQ)
If Biogen was to receive the same treatment, which it ideally deserves, assuming the midpoint of management's FY 2016 EPS guidance of $18.30-18.60/share, a generous PE of 10 delivers a target of $185. More clarity regarding the balance sheet and guidance will be given by management during the Q2 2016 earnings report.
Wrap-Up and Verdict
Hopes of a miracle in Alzheimer's disease may be the only factor keeping Biogen's valuation afloat at the current unsustainable levels. With competition in the MS treatment landscape only expected to increase, expect Biogen to lose its imprint on the market from both name brand and generic competition. As near-term catalysts play out, expect Biogen's valuation to correct to more ideal levels as investors gradually notice the erosion in core value and lack of additional franchise growth.
Disclosure: I/we have no positions in any stocks mentioned, and no plans to initiate any positions within the next 72 hours.
I wrote this article myself, and it expresses my own opinions. I am not receiving compensation for it (other than from Seeking Alpha). I have no business relationship with any company whose stock is mentioned in this article.