"Never cut a tree down in the wintertime. Never make a negative decision in the low time. Never make your most important decisions when you are in your worst moods. Wait. Be patient. The storm will pass. The spring will come." Robert Schuller

Biotech continued to sell off this week within an overall market that was also weak. Fears of a "Brexit" caused most high beta sectors to post significant declines over the past five trading sessions. As one would expect, most of the damage was the more volatile small cap part of the sector while the large cap positions that should "core" holdings of any well-diversified biotech portfolio held up much better. More than half the damage during the week to the major biotech indices was done on Friday as few wanted to be long risk heading into the weekend.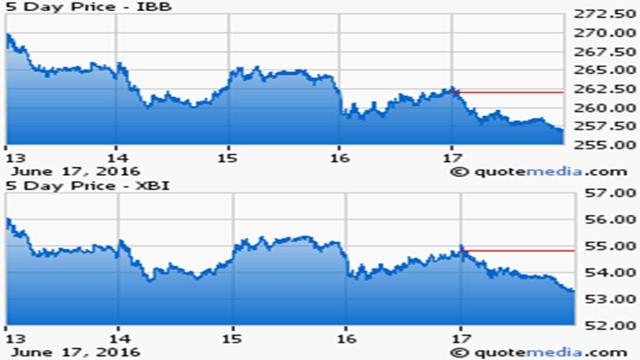 Hopefully, cooler heads will prevail in the U.K. on Thursday as a "stay" vote could trigger a significant relief rally in global markets which appears to be how we will start trading on Monday on some encouraging polling data showing "remain" seems to have the lead again in Britain. One or two acquisitions in the biotech sector would also buoy sentiment as M&A has gone dormant in June after a nice increase in May.
Note: To get these Biotech Forum Daily Digests as soon as they are published, just click on my profile and hit the big orange "follow" button and choose the real-time alerts option.

Midcap Biomarin Pharmaceutical (NASDAQ:BMRN) got a bump despite the horrid trading action in the sector on Friday due to some rumors French drug giant Sanofi (NYSE:SNY) might be looking at the ~$13.5 billion market capitalized concern as a backup should it now be successful in acquiring Medivation (NASDAQ:MDVN).
Sanofi has already made a $9.3 billion bid for that concern which the Medivation board has rejected. Sanofi is now pursuing a hostile bid. I would not put too much credence in this current rumor but it is nice to see M&A speculation pick up and that should buoy the sector overall.
National Institute for Health and Care Excellence ('NICE') gave its near-final denial to Vertex's (NASDAQ:VRTX) cystic fibrosis combo compound "Orkambi", saying the drug's price was just too high to be a "cost-effective use of NHS resources." This compound has been pushed hard by patient advocates in the U.K., but its cost ~$147,000 per patient is just too high to justify its modest improvements in outcomes compared with other treatments according to NICE.
Elsewhere in Europe, French prosecutors have started an involuntary manslaughter investigation into the death of one man in a trial carried out in Rennes earlier this year. This early stage trial was carried out by Portuguese drugmaker Bial and its French laboratory partner. One person died and five were seriously injured before the trial was stopped.
The FDA's oncology drug "Czar" is out with some advice to drug makers developing new drugs in the field "Stay focused on the cutting edge, and lose the me-too drugs in the cancer pipeline". The criticism comes in the wake of the preponderance of PD-1 and PD-L1 immunotherapy programs in the wake of Bristol-Myers Squibb's (NYSE:BMY) early domination of the field with Merck (NYSE:MRK) playing Robin to Bristol's Batman in that space right now. Roche (RHHBY) has new entry into the field and AstraZeneca (NYSE:AZN), Pfizer (NYSE:PFE), Regeneron (NASDAQ:REGN) and others are also targeting the space and probably not happy with this "advice".

After no analyst activity in two months, small cap Argos Therapeutics (NASDAQ:ARGS) was reiterated as a Buy both at Needham and FBR Capital on Friday. This follows a positive interim analysis of its Phase III ADAPT trial of AGS-003 and investor call. Final trial results for this trial for the treatment of metastatic renal cell carcinoma should be out before the end of the first half of 2017. Argos was previously a Spotlight featured company here on the Biotech Forum Daily Digest.
Despite Orkambi's challenges with the National Institute for Health and Care Excellence detailed above, Vertex Pharmaceuticals got some love from the analyst community last week. Piper Jaffray, Credit Suisse and Leerink Swann all reiterated their Buy ratings on this cystic fibrosis concern. Credit Suisse is the most optimistic on the company's prospects with a $131 price target. Its analyst states NICE's decision on Orkambi has no impact on his revenue estimates.
Agile Therapeutics (NASDAQ:AGRX) after no analyst activity for most of 2016, had the second analyst firm reiterate a Buy rating on this small (~$200 million market capitalization) female contraceptive concern based in New Jersey. On Thursday FBR reiterated its Buy rating on Agile. This follows a similar Buy rating from Credit Suisse in late May with a $18 price target. I do not follow this particular concern that came public two years ago. Any readers that have an opinion on it, please feel free to chime in on the comments section and maybe we can get a conversation started on it.
Note: New analyst ratings are a great place to start due diligence, but nothing substitutes for deeper individual research in this very volatile sector of the market. Many of the small-cap names highlighted in the "Analyst Insight" will eventually appear in the "Spotlight" section, where we do deeper dives on this type of promising but speculative small-cap concern.

For our Spotlight feature to start off the trading week, we profile a small cap concern focused on stem cell therapy. I have a small stake is this promising but speculative concern at the moment.
Company Overview: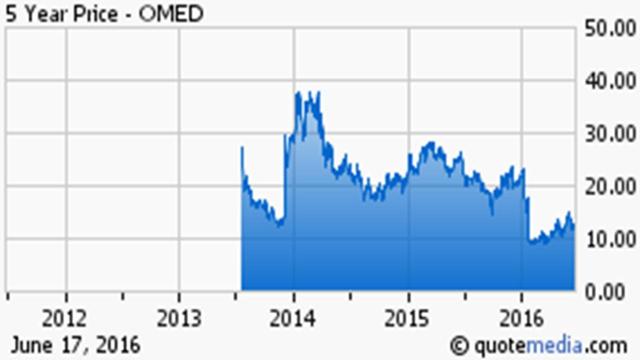 OncoMed Pharmaceuticals (NASDAQ:OMED) is a clinical-stage biotechnology company focusing on improving cancer treatment by creating novel medicines that address the fundamental biologic pathways critical to tumor initiation, growth, metastases and recurrence. The company is trying to leverage their understanding of cancer stem cell pathways and immuno-oncology targets to discover and develop novel therapeutics that could provide important alternatives for the treatment of cancer. OncoMed is based just outside of San Francisco and came public not quite three years ago. The stock has a market capitalization of just under $400 million and a stock price that hovers just over $12 at the moment. As can be seen from the chart below, enthusiasm for OncoMed much higher in the months after its IPO than it currently is at the moment.
Pipeline: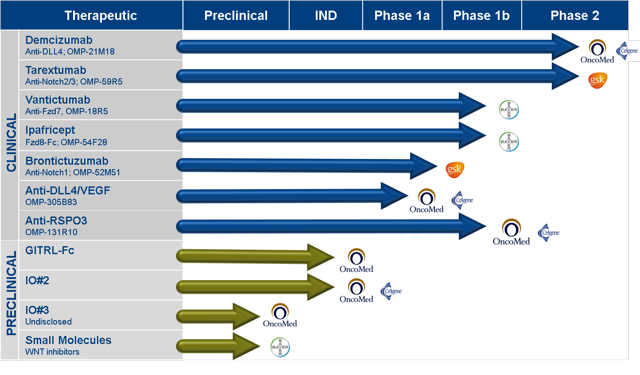 The company has built a robust portfolio of active therapeutic compounds that target biologic pathways critical for the survival of tumor-initiating cells. As can be seen from the graph above, the company has a deep, diverse, and primarily early stage pipeline.
The two most advanced of these compounds are demcizumab, which is a monoclonal antibody that selectively targets Delta-like ligand 4 (DLL4), an activator of the Notch signaling pathway. The Notch pathway is known to be important in cancer stem cells and cancer. Promising Phase I results are attempting to be confirmed in ongoing randomized Phase 2 trials of demcizumab. A Phase 1b/2 trial of demcizumab and paclitaxel in patients with platinum-resistant ovarian cancer is also ongoing.
The second mid-staged compound in OncoMed's arsenal is Tarextumab. This compound is a novel anti-cancer stem cell antibody that prevents signaling through both the Notch2 and Notch3 receptors. Tarextumab has been shown in preclinical models to inhibit cancer stem cell growth, and promote cell differentiation, as well as disrupt tumor angiogenesis by inhibiting vascular pericytes. Tarextumab is currently being studied in the randomized Phase 2 PINNACLE trial, testing tarextumab in combination with physician's choice of etoposide and cisplatin or etoposide and carboplatin in first-line extensive stage small cell lung cancer patients.
One of the things I really like about Oncomed's potential is its collaboration deals. The most important is with biotech juggernaut Celgene (NASDAQ:CELG). That deal covers six developing compounds in the anti-cancer stem cells space, and it could be worth as much as $3.3 billion for OncoMed if each one of its drugs pans out. Even one of two successes would be a game changer for OncoMed obviously given its small size.
Analyst Support & Balance Sheet:
Analyst support is good but not too overly enthusiastic on OncoMed Pharmaceuticals at the moment. Since May 20th, Cantor Fitzgerald, Wells Fargo, Mizuho Securities and Jefferies have all reiterated Buy ratings on the stock. However, their price targets are in a tight range of $15 to $16 a share, not all that much above its current trading level.
It is also important to note that the stock slumped considerably in January after interim data from on its Phase 2 clinical trial, ALPINE, assessing tarextumab in pancreatic cancer failed to produce enthusiastic results. On the bright side, thanks to a $70 million payment from Celgene related to the demcizumab safety milestone that was achieved in the fourth quarter of 2015 the company ended the first quarter which just under $200 million. This is approximately half of its overall market capitalization.
Outlook:
OncoMed has a broad early stage pipeline with seven internally discovered anti-cancer therapeutics advancing in 14 clinical trials and it will file INDs for two new immuno-oncology agents within the next year. This certainly meets my multiple "shots on goal" criteria for a small cap developmental concern. A collaboration deal with Celgene also is encouraging. Add in solid financial funding for development, and OncoMed seems worthy of a small investment within a well-diversified biotech portfolio.

Thank You & Happy Hunting
Bret Jensen
Founder, Biotech Forum
Disclosure: I am/we are long CELG, MRK, OMED.
I wrote this article myself, and it expresses my own opinions. I am not receiving compensation for it (other than from Seeking Alpha). I have no business relationship with any company whose stock is mentioned in this article.