Summary of OI's and note holder representatives' restructuring proposals
On June 17th, OI Brazil (NYSE:OIBR) disclosed publicly certain information about the restructuring settlement negotiations that took place in New York on June 6th and 7th with representatives of its debt holders.
These negotiations did not lead to any agreement.
OI's NDA with its note holder representatives included some public disclosure obligations, once the confidentiality agreement had expired. For this reason, it is now possible for all investors to analyze what was happening "behind the curtain".
OI's restructuring offer included three different levels of recovery.
Due to the retail status of PTIF (legacy Portugal Telecom) 2016 bonds, CMVM regulations, and the fact that these bonds could not be included in the exchange offer in a timely manner, OI was proposing a cash tender at 50% of face value for these securities.
Telemar bonds were offered a 35% recovery on principal, and PTIF bonds were offered a 25% recovery. Both these offers were made in the form of 50% take back debt (new secured notes expiring in 2021 and 2023) and 50% equity.
Here is the most relevant document resuming OI's exchange offer: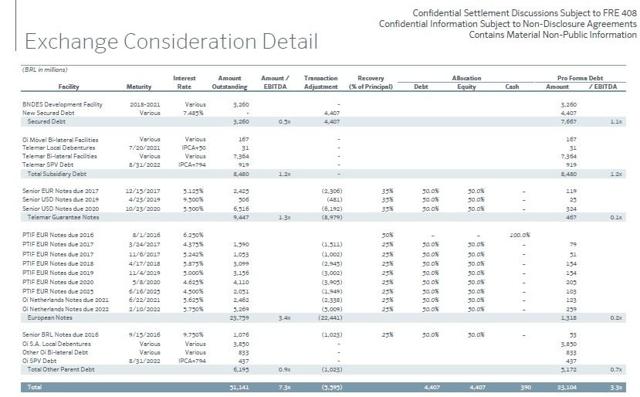 To resume, OI's management was trying to reduce, on average, its debt by roughly 72% through the issuance of new debt and equity (leaving aside, for a moment, the problem of hold-outs and the repayment of PTIF retail bond in this calculation).
It is interesting to note that OI's proposal fixed the value of the new equity issued to its note holders at R$ 4.4 billion, leaving to the market to decide what percentage of the company debt holders would finally own, through a conversion price related to the greater of the 5-day volume weighted average price prior to closing, or the 90-day volume weighted average price prior to closing. We believe that the choice of this unusual method may partially justify the sudden increase in OI's stock price (as someone in the know might have realized that a higher stock price would translate into a higher ownership of the company for existing stockholders).
Debt holders came back to OI with a relatively easier-to-understand proposal:
Bondholders to receive 95% of OI's equity;
Two series of new secured notes, payable in cash and denominated in dollars and euro with an aggregate principal amount equivalent to R$9 billion to be issued by OI
Telemar fixed income recovery: 50%
Non-Telemar fixed income recovery: 17.5%
Telemar pro-forma equity stake: 25%
Non-Telemar pro-forma equity stake: 70%
No less than 95% of Bonds to participate in the exchange
Exchange offer to include consents for recuperação extrajudicial on the same economic terms as the exchange offer
if the exchange offer and consents for recuperação extrajudicial fail, OI must be prepared to timely file for a "soft-landing" recuperação judicial.
As anticipated, negotiations did not lead to any agreement between the parties, and investors are now waiting for OI's next move.
Going from not disclosing any guidance for 2016 to sharing each and every detail of internal budgets and strategic plans
Investors might remember that OI decided to withdraw guidance for 2016 at the beginning of the year, a decision we strongly criticized.
However, documents included in the restructuring negotiations reveal quite a lot about OI's internal budget forecast, and also include a strategic plan detailing resource allocations, contract renegotiations and future strategies that competitors will find very interesting to analyze.
Here are some of the most interesting data we found in OI's strategic plan presentation.
OI expects 2016 to represent the bottom in terms of net revenues, as shown by this chart resuming the company's next three year forecast, compared to OI's performance in the last three years: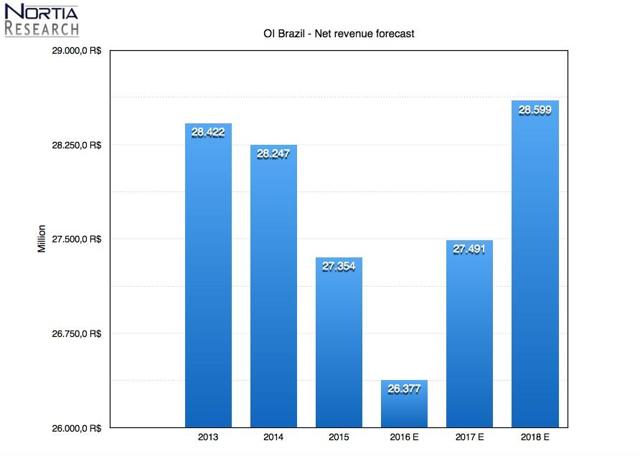 If we get into a more detailed analysis, we will notice that the company expects revenues to decline 4% on a Y/Y basis in Q2 2016 (almost in line with Q1, which exceeded company's expectations), to decrease 2% only in Q3, and to start increasing again in Q4 2016: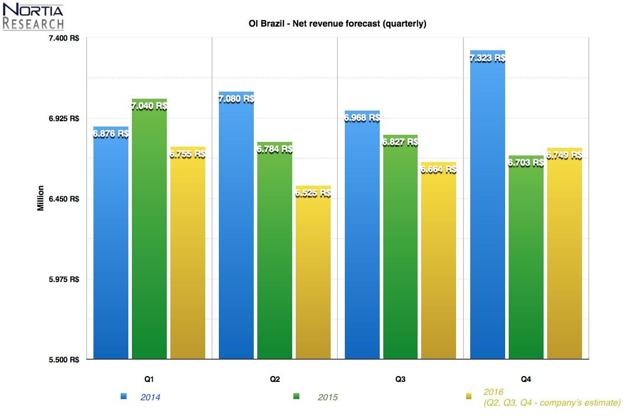 In particular, Q3 2016 should represent a key inflection point for the company, as OI should show a positive operating cash flow that is also expected to continue into Q4 2016.
OI's "aspirations" in the 2015 to 2018 time frame are to increase household ARPU by 23%, prepaid ARPU by 15% and postpaid ARPU by 32%.
Routine EBITDA should move in the right direction in 2017 and 2018, according to OI's forecast, with CapEx relatively stable at around R$ 5 billion to R$ 5.2 billion per year: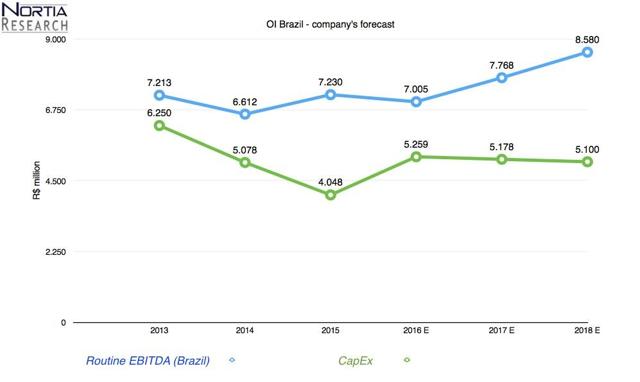 In spite of these positive routine EBITDA expectations (that we see a bit optimistic, absent a positive macroeconomic scenario that is hard to predict at the moment), the company expects to increase its gross and net debt both in 2017 and 2018: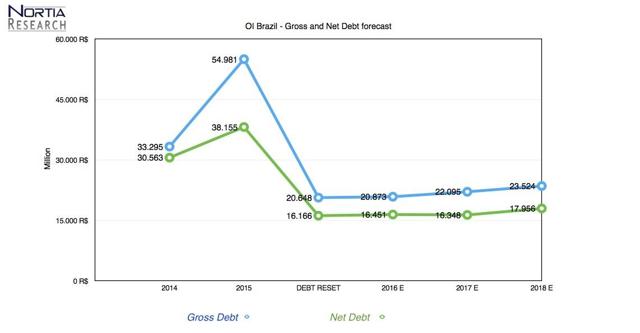 As a reminder of the very difficult financial situation of the company, it should be noted that "approximately 60% of its receivables are currently pledged to Brazilian banks" - while the Telemar notes should also have a priority claim on approximately two-thirds of Oi's Brazilian operating cash flows and assets.
"To whom it may concern: I'm leaving OI's BoD" - the situation is tragic, but not serious
Given OI's very challenging financial situations, you would expect its Board of Directors and its management team to work timelessly and in perfect harmony to try to solve the company's problems and give OI and all its stakeholders a better future. Unfortunately, this doesn't seem to be OI's case.
OI's former CEO, Mr. Bayard De Paoli Gontijo, resigned on June 10 th due to disagreements with some BoD members on how to proceed with negotiations with debtholders, according to some press speculations.
On June 13 th, Mrs. Robin Bienenstock also presented her resignation as member of the Board of Directors.
However, another resignation from the BoD turns tragedy into comedy:
"With respect to item (1) of the Agenda, the Chairman of the Board reported to the Directors the receipt of the letter of resignation of his alternate Mr. Fernando Marques dos Santos, dated June 1, 2016, but had only come to the attention of the Board's Secretariat on June 14, 2016, since the letter was not addressed to a specific Oi staff member"
Recuperação Judicial now the most likely outcome
We believe that a last minute agreement between OI and its note holder representatives is quite unlikely. The two offers put on the table seem too distant from each other, and rumors indicate that a part of OI's BoD doesn't seem inclined to accept "giving away" a large portion of the company's equity to debt holders.
Given the complexity of OI's debt, that has already been discussed several times, and the need, for the company, to find a way to force most debtors to accept a deep haircut, we think that a recuperação extrajudicial or a recuperação judicial (the Brazilian version of a Chapter 11 proceeding) is the most likely outcome for the company at this stage.
Here is a quick look at how recuperação extrajudicial and recuperação judicial work [taken from Cleary Gottlieb Emerging Markets Restructuring Journal,"Ten Years of the Brazilian Bankruptcy Code: Lessons, Challenges and Prospects," by Giuliano Colombo and Thiago Braga Junqueira (Pinheiro Neto Advogados)]:
The judicial reorganization ("Judicial Reorganization") is a court-supervised procedure somewhat inspired by and analogous to a Chapter 11 case under the U.S. Bankruptcy Code. It is a tool essentially designed to promote effective restructuring and reorganization of viable companies in financial distress.

As a rule, the debtor itself and related management remains at the helm of the debtor's activities during the life of the Judicial Reorganization proceeding ( debtor in possession). A court-appointed trustee is designated to supervise the process, without any management powers.

The out-of-court reorganization or prepackaged reorganization ("Extrajudicial Reorganization") is also a court-supervised procedure designed to promote corporate restructuring. Similar to prepackaged arrangements in other jurisdictions, the main goal of the prepackaged reorganization is to obtain expedited confirmation of a plan of reorganization ("Prepackaged Plan") that has been previously negotiated and accepted by requisite majorities involving certain classes or groups of creditors that are impaired by the Prepackaged Plan and which will share in similar payment conditions under the Prepackaged Plan.
Unlike Chapter 11, recuperação judicial leaves a lot of power in the hands of shareholders:
Brazilian bankruptcy law prioritizes equity holders over secured and unsecured debt holders, rather than putting them last in line as U.S. Chapter 11 does. Even when equity appears to have no value, equity holders of troubled companies in Brazil can strongly influence the restructuring process from behind the scenes, since their ownership under Brazilian law affords them ultimate authority to approve a restructuring plan. Controlling shareholders, such as OGX/OSX's Batista, can present the recovery plan for their companies, veto any undesired adjustments, and often hand-pick a buyer for the assets.
This is a very good reasons why existing shareholders may not be opposed to a court filing, unlike in the USA, where in a similar situation any bankruptcy judge would be inclined to deny an equity committee and would probably end up wiping equity away.
The outcome of a proper USA Chapter 11 for a company like OGX would certainly have been completely different (emphasis added):
The Plans also stipulated that the restructured OGX would be a public traded company. The Plans specifically established that, upon conversion of the Debentures DIP Financing, pre-petition creditors would hold approximately 25% of the common stock of the restructured OGX, while DIP Lenders would have 65% and existing equity holders would retain 10% of the equity (in addition to some penny warrants).
Still on a "wait and see" approach
Since we started following this story, we advised that a "wait and see" approach (toward OI's debt) was probably the best thing to do. So far, we haven't regretted, as OI's bonds recently reached their lowest values ever (we only run out of popcorn).
While we described OI's equity as basically "worthless" in the past, we now realize that the Brazilian approach to restructurings could still leave some value to existing equity, but we also consider too risky betting on it right now.
If and when the company will announce a proper restructuring, it will be possible to evaluate if OI's equity or debt may offer a decent entry point, mainly as a tool to participate in Brazil's Telecom industry consolidation, which also remains one of OI's main targets for the whole restructuring, as underlined in the preliminary topics for discussion with debt holders (i.e.: debt free, we're for sale):

Disclosure: I/we have no positions in any stocks mentioned, and no plans to initiate any positions within the next 72 hours.
I wrote this article myself, and it expresses my own opinions. I am not receiving compensation for it (other than from Seeking Alpha). I have no business relationship with any company whose stock is mentioned in this article.
Editor's Note: This article covers one or more stocks trading at less than $1 per share and/or with less than a $100 million market cap. Please be aware of the risks associated with these stocks.