All figures are in € except for references to share prices and per share data, or is otherwise stated.
Nomad Foods (NYSE:NOMD) ("Nomad", "NOMD" or "the Company") was once a high-flying "platform company". In April 2015, it announced the acquisition of Iglo Foods, and the stock more than doubled from ~$10 per share as the market begun pricing in tremendous "platform value".
Considering that the Company was originally a SPAC co-founded by Martin Franklin of Jarden's (NYSE:JAH) fame, investors clearly saw the potential for a repeat of Jarden's "acquire-and-improve" playbook.
As the year progressed however, shares began tumbling from its ~$23 highs for two primary reasons, in my view: (1) the market was becoming more skeptical of platform companies, as evidenced by the broad-based sell-offs experienced by numerous well-known platform names (Platform Specialty Products (NYSE:PAH), Valeant (NYSE:VRX), Concordia (NASDAQ:CXRX), etc.) and, (2) Iglo Foods begun experiencing sustained like-for-like ("LFL") sales declines percentage-wise, calling into question the original acquisition thesis, which was to acquire extremely stable and defensible businesses; continued LFL declines is certainly not the definition of "stable".
As a result, NOMD now trades at a relative discount to its peer group using a variety of valuation multiples. Specifically, the Company trades at ~8x EV/EBITDA vs. a rough range of 10-12x for its comp group. On a P/E basis, shares of NOMD change hands at 10x P/E vs. a comp average in the high-teens.
The comp group includes Kerry Group (OTCPK:KRYAY), B&G Foods (NYSE:BGS), Pinnacle Foods (NYSE:PF), ConAgra (NYSE:CAG), Greenyard Foods, and Bonduelle. These names were selected due to their exposure to frozen foods to varying degrees (~25% at ConAgra to ~65% at Greenyard).
While there are likely many reasons for the valuation disparity, the relative underperformance of LFL sales percentage-wise at NOMD is the main factor, in my view.
According to Euromonitor data, European frozen food sales have historically grown at 1-2% annual CAGR, with Nomad roughly following this trend.
Beginning in 2013 however, the Company's sales growth began diverging from the industry, falling ~1% YoY in both 2013 and 2014 vs. industry growth rates of ~1% YoY and flat sales, respectively. 2015 brought the most pronounced underperformance, with NOMD's sales declining ~5-6% YoY vs. the industry growth of ~0.5%.
This was likely the tipping point for investors who were under the impression that the business was stable, and thus led to the massive sell-off in shares. The bear case is likely predicated on such uninspiring performance continuing.
Detailing The Bear Case: Laying Out The Strategic Errors Of Past Management
It appears the majority of LFL declines can be attributed to the Iglo asset. Relatively speaking, the numbers coming out of Findus were better - 2015 pro forma as adjusted revenue (adjusted for exiting of certain markets and FX translational impacts) saw 7.3% LFL declines for Iglo compared to 1.3% LFL growth for Findus.
It is easy to dismiss these trends as structural as they have persisted for multiple quarters as bears seem to be doing. However, the key thing to note is the poor performance can be largely attributed to prior management missteps.
Before being acquired by Nomad, Iglo was owned by private equity, which made two glaring strategic errors - (1) focusing too much on new product development ("NPD") instead of maintaining core brands, and (2) being indifferent to local tastes, instead choosing to adopt a globalized approach to the market.
First, the prior owner clearly did not have substantial experience in frozen foods and the broader CPG space, evident by its laser-like focus on new product introduction, mainly through line extensions. This is illustrated by the fact that ~74% of Advertising & Promotion ("A&P") resources were allocated to NPD in 2015.
In my view, prior management likely became complacent with the leading positions Iglo's most prominent brands have - BirdsEye, Iglo, and Findus continue to hold #1 positions in key brand loyalty metrics such as spontaneous awareness, trust, and brand health - and thus became more focused on growing the top line instead of continuing to solidify and maintain its positions.
Prior management clearly overestimated the staying power of Iglo's brands, unaware that even great brands such as Heinz (NASDAQ:KHC) and Coca-Cola (NYSE:KO) still require continued investment to maintain their status.
Second, prior management lazily adopted a "one-size-fits-all" strategy to its markets. A brief look at numerous consumer brands across the broader industry suggests that this is the incorrect approach. Different geographies have different tastes. As the new CEO put it, "food is local".
This indifferent approach allowed regional private label competitors, which were cognizant of the need to adapt products across different markets, to quickly gain market share. This can be inferred from the new CEO's comments in 3Q '15:
First and foremost, it is critical to respond to ongoing top-line pressures from discounters and private label across our markets.

Source: 3Q '15 Earnings Call Transcript
More broadly, the trend towards private label can be gleaned from the actions of large UK retailers such as Tesco (NASDAQ:TESO).
These strategic missteps were compounded by the European retail landscape post-2008. The financial crisis had clearly impacted European consumer spending in a huge way.
Consumers began adopting a value-seeking mind-set and were more self-aware regarding their spending. This allowed discount chains (most notably, super-efficient German competitors such as Aldi and Lidl) to gain widespread acceptance.
Traditional retailers began losing share to these hard discounters and responded by shifting their focus to private label products in order to remain relevant with consumers.
With dated packaging, indifferent marketing, and limited core brand refreshment, consumers clearly saw little difference between Nomad's branded products and that of private label. Needless to say, they chose to go with the latter.
However, this is set to change.
Bear Case Rebuttal & Why The Future Will Be Different
So what steps is the new management taking to solve these problems and reinvigorate LFL percentage sales growth?
To address the first issue outlined above, the Company is reallocating resources away from NPD to core products, targeting 70% A&P allocation to core products vs. ~25% in 2015 in order to increase the quality gap between its branded products and private label. Of note, the percentage of existing product development with respect to NOMD's innovation pipeline has increased from ~30% in May '15 to ~60% in Dec. '15, as seen below.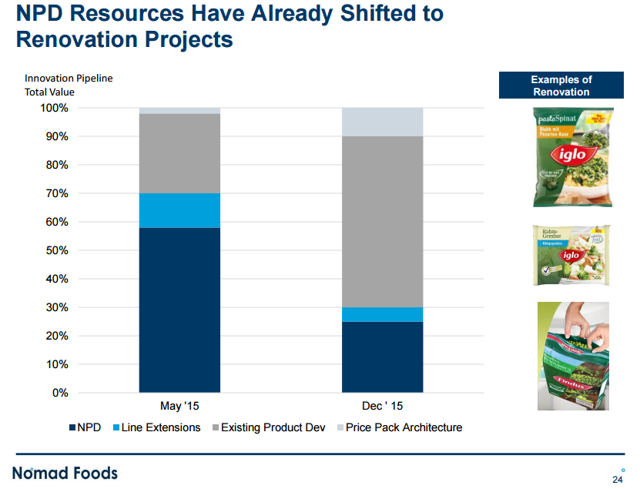 Source: Investor Presentation
To tackle the second issue, executives are in the process of localizing their brands and corporate marketing messages to suit local tastes and cultural appeal, doing away with the prior, clearly misguided, "one-size-fits-all" approach.
While core brand maintenance and localizing marketing is certainly a great plan - it has worked out well for many companies in the food space (e.g. Kraft Heinz, Burger King), the market appears to be overly discounting the probability of said initiatives succeeding, evident by the relative discount shares of NOMD trade at vs. its comp group.
Suffice to say, it is difficult to state with complete certainty that these initiatives would work out, but there are reasons to believe there is a very high probability of success. The market clearly thinks that there is tremendous execution risk related to said initiatives, whereas I hold the opposite view.
The main reason why I am of the opinion that management would be able to execute both plans stems from the outstanding track records certain members of senior management possess in implementing similar transformations, which significantly de-risks the execution of NOMD's transition going forward, in my view. Specifically, the executives I am referring to are the new CEO Stéfan Descheemaeker and co-chairman Martin Franklin.
Addressing The First Issue
Prior to heading NOMD, Descheemaeker has held positions at numerous companies, most notably Interbrew (now Anheuser-Busch Inbev (NYSE:BUD), or ABI, the world's largest brewer) from 1996 to 2008. He was responsible for managing strategy during the merger of Interbrew and AmBev in 2004. Additionally, he held operational roles such as Zone President in numerous geographies. He remains a non-executive director of ABI since 2008.
ABI has, over the years, built up a solid stable of brands. Currently, its strongest brands - Budweiser, Bud Light, and Stella Artois, to a name few - are ranked amongst the most valuable beer brands in the world. This could not have been possible if ABI's management had not continued to invest and cultivate said brands.
Descheemaeker's tenure at ABI suggests that he likely presided over the development and maintenance of ABI's core brands, and thus should give investors confidence that he is extremely able to execute on a similar transformation of NOMD's core brands.
As for Franklin, he was formerly CEO and chairman of Jarden, for those who are unaware, is a consumer products company, which was recently sold to Newell (NYSE:NWL). Since taking over Jarden in 2001, Franklin carried out numerous acquisitions, buying firms such as United States Playing Card, K2 Sports, and Yankee Candle.
Similarly to ABI, Franklin continued to maintain and build out Jarden's core brands - the aforementioned Yankee Candle, Mr. Coffee, Ball, among others - evident by Jarden's sustained organic growth rates throughout the years.
Notably, Franklin is also a director of Restaurant Brands International (NYSE:QSR) ("RBI"), which owns Burger King. After being acquired by 3G Capital, Burger King undergone a similar transformation where its corporate marketing message was re-tooled to broaden its target demographic from young males to a wider base. This was clearly the inflection point for RBI, and Burger King went on to post consistent same-store sales growth for many quarters after that.
Franklin's roles at Jarden and RBI suggest that he has immense experience in the development and maintenance of JAH's brands as well as marketing knowledge derived from Burger King, both of which should bode well for NOMD's intended transformation.
It is important to realize the positive feedback loops stemming from this initiative. Brand renovation should result in a larger quality gap vs. private label, thus allowing consumers to justify the price premium between the two, increasing product sales. As product sales increase, retailers will likely allocate more shelf space to said products, which sets off a virtuous cycle - higher sales equals more shelf space, which goes hand in hand with even higher sales.
Addressing The Second Issue
As for the issue of localizing brands, Descheemaeker's experience at ABI comes into play once again. The key thing to note is that ABI's go-to-market strategy bears striking similarities to the approach that NOMD intends to implement.
For those who are unfamiliar with ABI's strategy, the beer giant clearly distinguishes its global brands, international brands, and local brands. These brands were obtained primarily through M&A and were developed and cultivated over the years into their distinct categories (global, international, or local). Descheemaeker's decades of experience at ABI as head of strategy, Zone President, and now director suggests that he is intimately familiar with the process of developing, maintaining, and growing local brands.
Importantly, ABI and Jarden are both famously run as decentralized operations where local managers were empowered to adapt to their individual markets while corporate focused on capital allocation. In my view, this suggests that the transition risks stemming from centralized operations to decentralized should be severely mitigated.
Moreover, this is not exactly NOMD's first attempt at localizing its operations. Its Norway market, served primarily by the Findus asset, is an interesting case study. Findus was formerly owned by private equity (not the same owner as Iglo) where prior management employed a localized approach to the Norway market.
This appears to have succeeded tremendously, evident from NOMD's relatively strong sales growth in Norway vs. the rest of its portfolio, outpacing it by ~1% per annum. Notably, Norway commands the second highest market share amongst the Company's geographic markets - at ~39% vs. ~52% in Austria. Both data points were sourced from Euromonitor.
As a result, Norway could serve as an "execution blueprint" for other markets to adopt, which should substantially de-risk the risks associated with the transition to localized management.
There are positive feedback loops here as well. Having a localized approach appeals to local consumers and should result in greater sales, reflecting increased brand loyalty. As sales increase, brands get more well-known, which goes hand in hand with yet more sales increases.
To those who follow ABI and Jarden, they would be well aware that similar initiatives have led to the creation of tremendous shareholder value over many years - for ABI, see its stock chart, and as for Jarden, shareholders have seen a ~50x return if they held shares since Franklin took over in 2001 till its eventual sale to Newell.
Early Results Are Promising, Competitive Environment Turning Favorable
How are things working out? So far so good - after suffering a 8% YoY LFL sales decline in 3Q '15, subsequent results have shown much improvement, with LFL sales declines slowing to 7% YoY in 4Q '15, and a 6.1% decline in 1Q '16. Notably, in absolute terms, quarterly LFL revenue has actually increased over the 3Q '15 and 1Q '16 period, as seen below: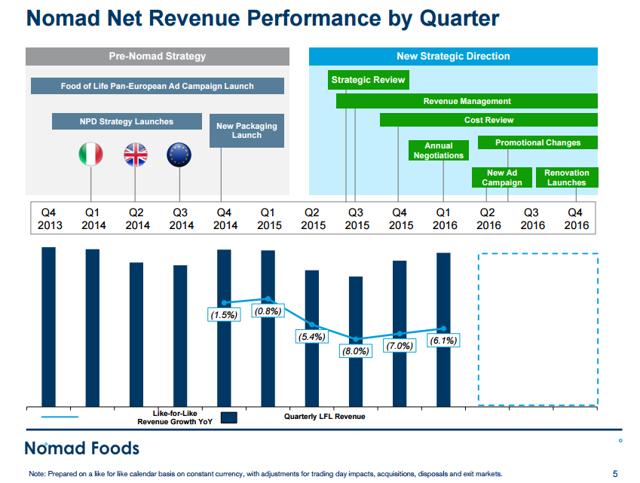 Source: 1Q '16 Earnings Presentation
These LFL percentage declines should continue to contract in future quarters (and absolute LFL sales should grow), as promotional changes, new ad campaigns, and renovation launches are implemented over 2Q '16 to 4Q '16. Additionally, the Company has also exited the Romania, Slovakia, Turkey and Russian markets, as it did not have strong positions in these geographic areas, and thus, it was unlikely it could compete effectively.
The competitive landscape is also encouraging. While the pressure from hard discount retailers will continue, it is unlikely to be as intense as it was in the years subsequent to the 2008 crisis going forward.
This is evident from Aldi's slightly-dated results, of which the operating profit decline - the first in four years, is notable. Aldi's CEO mentioned in the FT article that the reason for the decline was due to the firm cutting prices to maintain or increase discounts relative to rivals. He also highlighted that the "pace of price cutting is slowing down". Aldi's results and its CEO's comments suggest that the discount retailer is unlikely to reduce prices by a large margin going forward.
Reducing prices worked post-2008 because consumers were financially-strapped, and thus the magnitude of the price cuts was overwhelmed by volume increases (inferred from Aldi's sustained operating profit increases till 2014). But, as operating profits have started to decline, it is clear that volume increases no longer outweighed price cuts.
Taking this further, it also suggests that consumers are beginning to turn to more premium offerings, with less decisions being made largely on price; if consumers were still hugely price-conscious, Aldi would probably have seen its operating profit continue to grow instead of decline, driven by volume growth in excess of price deflation.
Undoubtedly, such a competitive environment bodes well for NOMD as the near-entirety of its revenue stems from branded products. Longer term, NOMD's position as Europe's largest frozen foods operation should give it the scale to become the lowest-cost producer and thus be able to compete effectively with private label.
Why The Opportunity Exists
Despite encouraging results, clear catalysts for future improvement, and an improving competitive environment, the market appears to be dismissing or ignoring these items, evident from shares continuing to trade range-bound since the fall from 52-week highs.
It thus appears as if investors have lost their patience due to the continued LFL percentage sales declines, believing them to be more structural than temporary in nature. Granted, this view is not necessarily unwarranted, given that the LFL percentage sales declines have continued for a couple of quarters, suggesting that this could be a longer-term issue.
I see numerous potential sources of the mispricing. Either the market is unaware that current management's initiatives take time to bear fruit, or investors could be worried about large-scale execution problems which seem unlikely in light of management's track record.
Note that management could have probably satiated investors' apparent demand for LFL percentage sales growth by adopting highly promotional strategies on a much larger scale, which would undoubtedly juice short-term results and resume LFL percentage sales growth much more quickly, but destroy value in the long term through a "cheapening" of its brands.
While the reasons for my confidence stems quite heavily from "soft" qualitative factors such as senior management's track records, which may make investors justifiably uncomfortable with the thesis, I argue that their track records aren't entirely based on luck. Both executives highlighted above have more than two decades of operational expertise each, which doesn't suggest fluke, but instead implies consistent, skilled execution; if their track records were merely a couple of years long, I would be tremendously uneasy relying on these factors. Furthermore, recent operating results are highly encouraging, as discussed.
Management is also highly incentivized to make this work. For example, Franklin is unlikely to receive any further benefit from his founders' preferred stock until shares of NOMD exceed the prior watermark of ~$11.48, which is ~30% higher than the current stock price.
Other potential, but lesser, reasons for the mispricing are laid out below:
Ugly GAAP Results: Management utilizes a significant amount of add-backs to arrive at non-GAAP figures. The market has become increasingly wary of such practices, especially in light of events at Valeant. In my estimation, the add-backs at NOMD are warranted as they are largely non-recurring (most were due to purchase accounting and M&A, as seen in page 15 of this document; of the large $524m adjustment, ~$492m is attributed to non-cash charges related to the Founders' Preferred Shares). Operating results in subsequent quarters should be "cleaner" once the firm laps the anniversaries of its acquisitions, giving investors more confidence in the numbers.
Limited Stock Market History: Investors could be possibly treating the Company as a "show-me" story as NOMD has only been public for about a year.
Pershing Square Correlation: After a banner 2014, many funds started to mirror the famed hedge fund's positions. When troubles surfaced at Valeant, a large Pershing position, which eventually resulted in the stock declining ~90% from its highs, these funds which were subject to frequent redemptions were likely forced to liquidate positions, thus resulting in an overhang on Ackman's other holdings. Ackman explains this further in his recent annual letter.
Making The Case For A $12.70 Stock
Turning to the bull case, shares of NOMD see upside as LFL sales revert to growth percentage-wise and as the Company de-leverages its balance sheet. I have made the case for LFL sales above, and will now focus on the latter.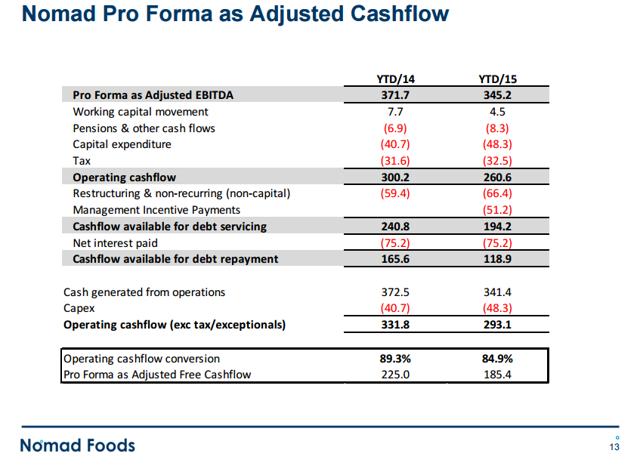 Source: 4Q '15 Earnings Presentation
Pro forma for both acquisitions and adjusting the numbers for exceptional items (mainly M&A-related and purchase accounting) give us pro forma adj. FCF of ~$185m in 2015, as seen above. I am modeling annual FCF generation of $180m over allocated to debt repayment over the next three years - management's cash flow available for debt repayment numbers are depressed due to exceptional items, hence I am using the pro forma as adjusted FCF number.
This is conservative because it implicitly assumes a worsening environment as FCF will likely improve going forward due to the realization of synergies through 2018 - original synergy estimates were $25m, which were revised to $35m, and then re-upped once again to the current $43m.
On my numbers, $540m in debt will be paid off by 2018. So net debt of ~$1.23b will decrease to ~$690m or ~US$773m using a 1.12 USD/€ exchange rate. NOMD currently trades at ~US$3b EV according to Seeking Alpha. Assuming no multiple expansion (i.e. EV remains unchanged), the equity will have to trade at ~$12.20 on ~183m shares outstanding by year-end 2018 ([$3b - $773m]/183m).
2015 EBITDA numbers adjusted for exceptional items are ~$345m as shown above, or ~$386m in USD terms using the same exchange rate, implying that the Company currently trades at ~7.8x EV/EBITDA. As I alluded to above, this multiple is a large discount to NOMD's comp group, which trades within a rough 10-12x EV/EBITDA range.
In my view, NOMD's EV/EBITDA could expand to 10x through 2018 as debt is paid down, significantly de-risking the balance sheet, and NOMD returns to LFL percentage sales growth. Such a multiple implies ~US$3.86b in EV on 2015 EBITDA numbers, and suggests that shares should sell at ~$16.85 by year-end 2018 ([US$3.86b - US$773m]/183m shares). Discounting this at a 10% rate to 2016 gives us a ~$12.70 stock, or ~40% upside.
My assumptions for the Company's EV/EBITDA multiple is conservative given that the market would likely price shares of NOMD at a premium to its comp group by year-end 2018. This is because net debt/EBITDA ratios would have come down significantly by then due to (1) debt paydown and (2) LFL percentage sales growth and expected synergy capture driving EBITDA growth, suggesting substantial room for incremental debt to fund M&A, allowing the "platform" premium to return.
For example, I would not be surprised if the market prices the Company at 12x EV/EBITDA considering that its 52-week high of ~$23 implies a ~14.5x EV/2015 EBITDA ([$23 * 183m shares] + ~$1.38b net debt in USD terms = ~US$5.6b in EV).
Estimating The Downside
In my view, shares of NOMD see limited downside as in a bear-case scenario, the firm's highly variable cost structure and projected synergy capture (~$43m) should protect EBITDA.
This is supported by the fact that NOMD's gross margins are ~35% while EBITDA margins are ~20%. While the Company does not disclose a breakdown of fixed/variable costs, COGS is generally largely variable while SG&A is largely fixed, so one can infer that NOMD sports a highly variable cost structure.
Furthermore, the Company's gross and EBITDA margins have shown incredible stability even in spite of revenue declines, suggesting that costs can be removed quickly in the face of top-line pressure, hence maintaining gross/EBITDA margins and cash flow conversion, as seen below: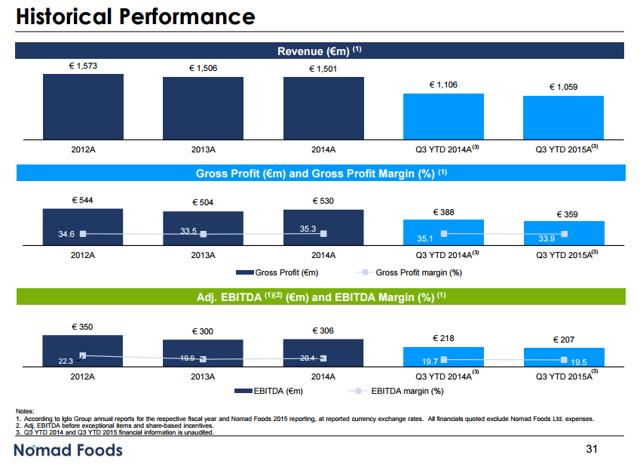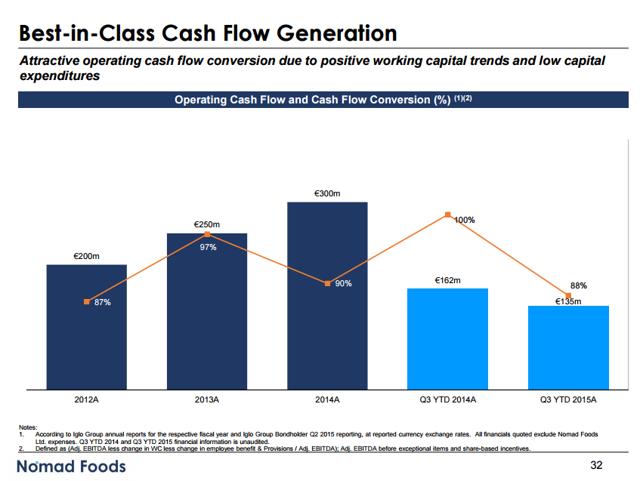 Source: Nomad Foods Morgan Stanley Conference Presentation
This dynamic is also seen in recent results. As shown below, despite a ~$62m revenue decline in 2015, adj. EBITDA only fell ~$26.5m.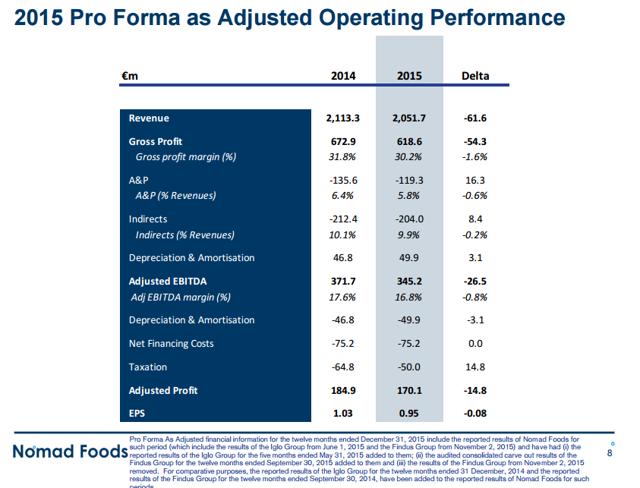 Source: 4Q '15 Earnings Presentation
As a result, even if revenue continues to decline, EBITDA should not fall by much.
To illustrate the potential downside risk, assume annual EBITDA falls to ~$380m in USD terms, which implicitly assumes a worsening environment fully offsetting synergy capture going forward, $200m (US$224m) in debt is paid off instead of $540m (~US$605m) in my base case, and NOMD's EV/EBITDA multiple contracts to 7x.
Downside would be to ~$8.20/share or ~10% (7 * ~US$380m = ~US$2.66b in EV, net debt = ~US$1.38b - US$224m = ~US$1.16b, 183m shares outstanding).
Recommendation: Initiate a long position in NOMD with price target of $12.70 per share offering ~40% upside from current levels. Major catalysts that should close the price/value gap are (1) a return to LFL percentage sales growth and (2) debt pay-down. Risks to the long thesis are primarily related to execution, and is substantially mitigated by the phenomenal track records of senior management.
Another prominent risk is key man risk - the thesis heavily relies on the operational expertise of Descheemaeker and Franklin. Fortunately, both are relatively young and major shareholders of the Company such as Pershing Square, which has board representation, do have access to a strong talent pool if the need arises. This is evident from the initial hiring of Descheemaeker, as well as Bill Ackman's close relationship with 3G Capital (which Warren Buffett has called the best operators in the world); Ackman has publicly stated that 3G allowed him to invest in the Heinz deal (see 55:35 to 58:40, towards the end of this range).
What could go wrong? LFL sales could continue declining percentage-wise, affecting EBITDA but severely mitigated by synergy capture and rapid cost rationalization. In a downside scenario, I project EBITDA to fall to ~$380m and the EV/EBITDA multiple contracting to 7x, suggesting ~10% downside.
With upside potential far outweighing downside risk, the risk/reward appears exceptionally asymmetric, in my view.
Disclosure: I am/we are long PAH.
I wrote this article myself, and it expresses my own opinions. I am not receiving compensation for it (other than from Seeking Alpha). I have no business relationship with any company whose stock is mentioned in this article.
Additional disclosure: Disclaimer: The author's reports contain factual statements and opinions. He derives factual statements from sources which he believes are accurate, but neither they nor the author represent that the facts presented are accurate or complete. Opinions are those of the the author and are subject to change without notice. His reports are for informational purposes only and do not offer securities or solicit the offer of securities of any company. Mr. Goh ("Lester") accepts no liability whatsoever for any direct or consequential loss or damage arising from any use of his reports or their content. Lester advises readers to conduct their own due diligence before investing in any companies covered by him. He does not know of each individual's investment objectives, risk appetite, and time horizon. His reports do not constitute as investment advice and are meant for general public consumption. Past performance is not indicative of future performance.