If you are a follower of the financial press, it is hard to get away from Deutsche Bank (NYSE:DB). Deutsche is the whipping boy for the troubled European banking system that has fallen far short in its reform efforts. I even took my own look at the company back in October 2015. While my assessment has clearly worked out in terms of results: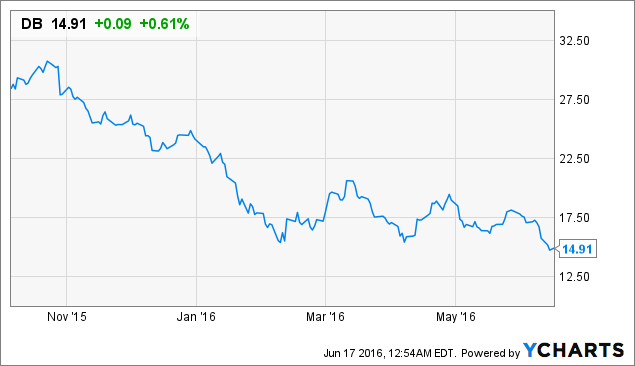 the thesis may not have played out exactly as I anticipated.
I examined the risks inherent in their derivative book, as well as the cultural issues at the bank that have resulted in a plethora of lawsuits that have continued to date. While the derivatives themselves have not caused a direct problem at Deutsche, there is a very negative perception of the bank that has contributed to this sell-off to historic lows.
The question is what is driving this sell-off? The negative interest rate environment is an overall headwind for all banks, squeezing their interest margins. This is causing significant layoffs at many banks including Bank of America (NYSE:BAC) and JPMorgan (NYSE:JPM). Deutsche's operational difficulties are much greater than the average TBTF bank, as detailed by Seeking Alpha contributor ADS Insight in two articles here and here.
ZeroHedge has taken great glee in chronicling the comparison of Deutsche's stock chart to pre-bankruptcy Lehman Brothers. However, as SA Contributor Kurt Dew and several others have noted, this is a highly unlikely scenario. The German government would never allow this to occur, especially with the after-effects that occurred post-Lehman bankruptcy. This doesn't mean that there is no terminal risk for equity shareholders, but that the bank will not disappear.
I don't believe that the risk I detailed in their derivatives book has lessened; it may have even escalated since then. We also don't have a great feel for what is buried in the assets on the balance sheet. These fears are some of the drivers of the share sell-down. However, I want to look into the other primary fears that investors have about Deutsche that were similar to Lehman: leverage and liquidity.
Leverage
I want to look at the two key ratios with respect to measuring the leverage of banks: the CET1 capital ratio and the leverage ratio.
The CET1 ratio compares the core equity capital (the value of the bank's capital ex-preferred and ex-non-controlling interests) compared to its risk-adjusted assets. By risk adjusted, it means the assets are evaluated as to their risk of default: cash is obvious the least risky, while a securitized sub-prime mortgage would be much riskier. This ratio attempts to bake in some of the risks inherent in the assets held on a bank's books.
The leverage ratio simply compares the same core equity capital but this time to the total assets, with no risk adjustment. This is a far less subjective measure. All assets are assumed to be of the same quality. While this is likely not true, the risk-adjusted assets may also be flawed. Taken together they give a more complete picture.
Ratios, by their nature, are useful when comparing entities as they factor out size. However, when we are concerned about the actual viability of a capital base, the absolute value of its capital base becomes a more useful area to look at.
The formula for the leverage ratio is as follows:
(common shares+stock surplus+retained earnings)/Total Assets
This ratio will be always lower than the CET1 Ratio due to the inherently lower asset base. In the CET1 Ratio, assets are risk-adjusted to reflect some default risk, which will result in a higher percentage for that ratio by its nature.
Here is Deutsche's leverage ratios at the end of Q1 2016: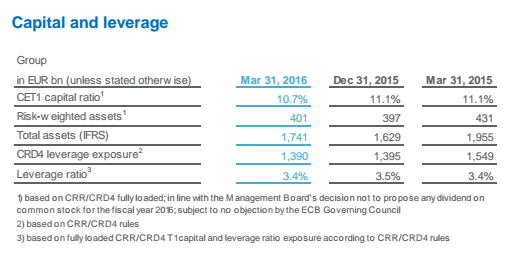 Source: Q1 2016 Earnings Release
If we focus just on the Leverage ratio, the quarterly change seems minimal with just a 0.1% drop quarter over quarter. However, with a relatively small capital base to begin with, this is an erosion of almost 3% of its core capital level in one quarter.
We can see how Lehman's leverage escalated into the financial crisis of 2008:

Deutsche currently has a 29.4x ratio. This is very close to Lehman's levels at the time. This is a known risk and a lot of the sell-off has likely reflected this concern.
If we look deeper, Deutsche's recent financial difficulties have been eroding its retained earnings, which will drive this ratio down. The goodwill write-offs don't really impact this though as they are not capital so to speak but an asset impairment. The continued litigation costs will continue to pressure the capital levels. However, the drop is not a good sign:

Source: DB Q1 2016 Results
We can see that its capital level is down over $5B in just the last year, which is not the right way. Deutsche clearly needs to stem this drop by improving its operations.
The drop in their share price now makes any capital raises significantly more expensive from a dilution perspective. They still have access to the debt markets, with Fitch recently giving them an A-Stable rating. However, even in that rating, Fitch has concerns with their operating performance for the rest of this year and into 2017, as do I. Lehman's capital was just under $30B when it began to have real bankruptcy rumors so it is important that Deutsche begin to turn its operations around before the whispers begin to start. This is a clear area of concern for the bank.
Liquidity
The other issue with Lehman's bankruptcy was its reliance on short-term debt like repo agreements and commercial paper to fund its operations. Being beholden to other institutions left it in a very precarious position and when word began to spread of this risk, the lending organizations closed their lending window to Lehman and forced them into liquidation and eventually bankruptcy.
I don't believe this risk is on the table with Deutsche. From its Q1 report, it had $113B in cash and central bank deposits, compared to short-term borrowings of $28.5B. It has also about $4B coming from its sale of Huaxia, its Chinese lender. It had hoped to sell Postbank as well but this has been delayed into 2017.
Deutsche does have $151B in long-term debt: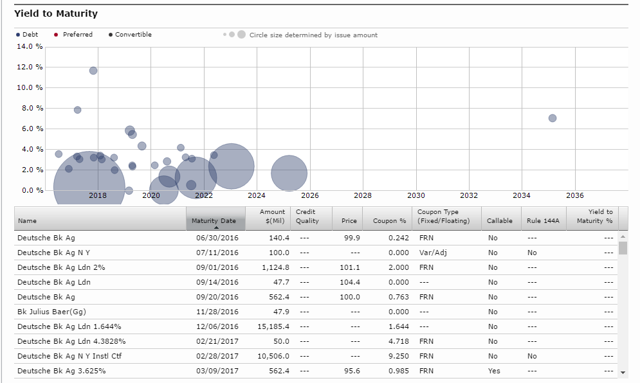 Source: Morningstar
These obligations are more than adequately covered by its cash levels, even assuming they are unable to refinance (which would be surprising based on Fitch's assessment). They could also settle all their short-term debt as well. Taking management's quarterly assessment of their liquidity risk with a grain of salt (what management team would EVER say they have a liquidity problem), their internal analysis seems to indicate they have plenty of surplus available: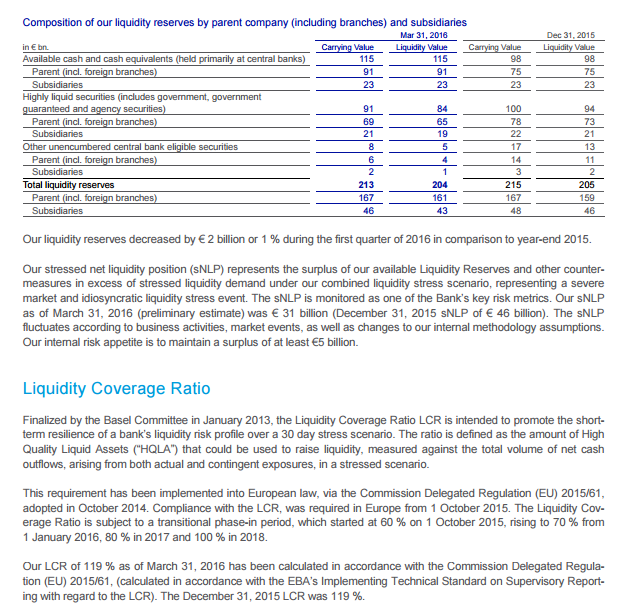 Source: Q1 2016 Management Report
Deutsche does not appear to have any of the short-term liquidity issues that Lehman had at the end.
Takeaway
I believe the fears of Deutsche Bank's demise are overblown, as is its comparison to Lehman Brothers. Lehman's precarious financing model left it open to the risk of a freezing of credit markets. Deutsche has none of this risk at this point due to its substantial cash balances.
With respect to its capital levels, Deutsche is in a more precarious situation. While they have higher capital levels than Lehman did, its capital base has been eroding over the last several years, driven by its awful operating performance. SA contributor Renaissance Research feels there is a tailwind from its FICC business, offsetting the continued issues with litigation, cost structure and the current NIRP/ZIRP interest-rate environment. Should this be the case, the capital risk is mitigated to an extent. However, should Deutsche continue to post poor operating results in the next several quarters, this capital risk could prove very problematic.
I continue to be short DB via Put options, largely due to the risks I believe may exist in its derivative book as well as its operational failings. The large number of management changes and the continued litigation problems are also red flags for me. Traditional valuation methods such as price to book may serve as a base for a bull case here. The structural issues are just too large for me to get behind that. That said, if you are expecting a near-term bankruptcy scenario, I don't see this as a likely outcome.
I normally write and invest in small and medium capitalized companies. However, I will look into special situations from time to time. For continued discussion, please don't hesitate to comment below; other readers and I will be able learn from your feedback.
If you like what I'm doing, you can follow me by hitting the "follow" button at the top of this article. Plus, you can follow me in real time by selecting that option. It might give you somewhat of a head start whenever I write an article on what actions I am taking and why. Thanks for reading!
Disclosure: I am/we are short DB.
I wrote this article myself, and it expresses my own opinions. I am not receiving compensation for it (other than from Seeking Alpha). I have no business relationship with any company whose stock is mentioned in this article.
Additional disclosure: I am short via Put Options expiring in January 2017