I used to love wristwatches. My grandmother gave me one for my seventh birthday, and I strapped one on to my wrist for forty years after that. Then a few years ago I was griping about needing a new one, and I thought, do I really need a new watch? I have a clock on the microwave, a clock on the wall, a clock in the car, a clock on my computer, a clock on the office wall, and - wouldn't you know it? - a clock on my cell phone, too. What do I need a watch for?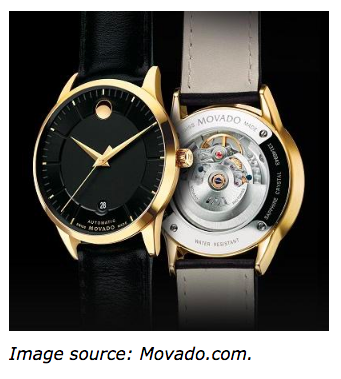 So when Movado (NYSE:MOV) popped up on a screener some months ago, I tried to ignore it. Movado's business is making watches, and the market for them just didn't seem to be what it once was. (For more background on the business and its risks, see this article from The Value Investor.) The coming of the smart watch created a new market for watches, but it obviously also drew the likes of Apple (NASDAQ:AAPL) into the industry.
Even so, Movado's numbers kept me coming back for a closer look, time after time. My primary method of stock analysis is known as "net net", a method described well by fellow Seeking Alpha contributor David Chopin. Using this analysis, Movado easily took the #1 value position on my watch list. That may raise a few eyebrows among net net fans, and others might not be familiar with net nets, so let's take a closer look at how net net is useful.
There are two basic calculations for net nets. I will be using just the "net current asset value" (NCAV) calculation in this article, but I also use the "net net working value" (NNWV) calculation when analyzing stocks. The NCAV calculation varies a little, depending who you ask, but the flavor I use is:
NCAV = current assets - total liabilities - preferred shares
I think of preferred shares as a liability more than anything else, but Movado does not have any preferred shares, so the debate is moot in this case.
According to Movado's most recent 10Q the numbers are (in thousands):
NCAV = $494,540 - $134,644 - $0 = $359,896
Divide the NCAV by the diluted shares outstanding to get NCAV per share:
$359,896 / 23,349 = $15.41
As I write this article, Movado's price is $19.78, which is obviously higher than the NCAV/share of $15.41. For it to be a true net net stock, the price would need to be lower than NCAV/share. Benjamin Graham, the inventor of the net net valuation, wanted the price to be at 2/3s of NCAV. Such stocks that are worthy of attention can be difficult to find.
Movado may not be a true net net, but it's close. It's $/NCAV is 1.28:
$19.78 NCAV / $15.41 price = 1.28
The lower the $/NCAV, the better, and a number of less than 1 means the stock is priced lower than the NCAV. For comparison, the last time I figured Nike's (NYSE:NKE) numbers a couple of months ago, its $/NCAV was 4.43, and Trip Advisor's (NASDAQ:TRIP) was 67.23. In my experience, the NCAV for companies like these do not fluctuate greatly quarter to quarter, so I expect those numbers to be similar today.
Movado's price was $30.98 last March, and it has dropped by about a third since then, after it reported first quarter earnings and reduced guidance. The last time the stock went below $20 was early 2012.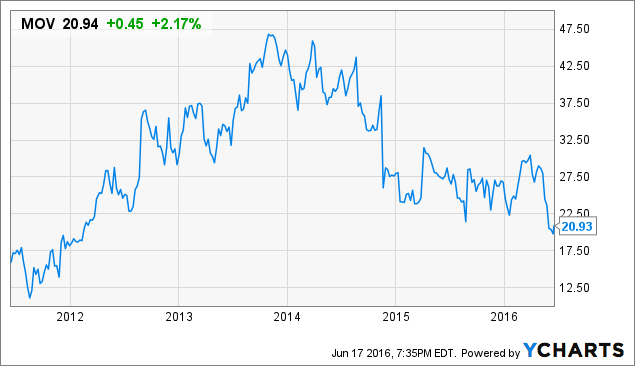 I suspect that it won't drop to $15.41, the current NCAV/share, but what do I know about the future? It could happen. If it does, it probably will attract the notice of even more value hunters then.
Even if Movado's price does not drop any further, the price is intriguing enough that insiders have been buying the last couple of weeks:
| | | | | | |
| --- | --- | --- | --- | --- | --- |
| Date | Name | Relationship | Shares | Price/Share | Total Value |
| 2016-06-10 | Grinberg, Efraim | director officer, 10% owner | 5,000 | $19.6200 | $98,100.00 |
| 2016-06-01 | Reznik, Maurice S | officer | 5,000 | $20.5661 | $102,830.00 |
| 2016-05-31 | Howard, Alan H | director | 5,000 | $21.8000 | $109,000.00 |
| 2016-05-31 | Howard, Alan H | director | 2,500 | $20.8491 | $52,122.80 |
Sources: sec.gov, insidertrading.org
To make the stock even more interesting, Movado's dividend is currently above 2.5%. The TTM payout ratio as reported by Morningstar is 24.1%. The company has paid out a dividend since 1994, and has been growing its dividend since 2011.
Summary
I'm not buying just yet. Movado has significant competition in a difficult industry, and its move toward smart watches seems half-hearted. But its balance sheet is a fortress, it offers a healthy dividend, and insiders are buying. It could become a compelling value play very soon, especially if the price drops further.
Disclosure: I am/we are long NKE.
I wrote this article myself, and it expresses my own opinions. I am not receiving compensation for it (other than from Seeking Alpha). I have no business relationship with any company whose stock is mentioned in this article.
Additional disclosure: I/we have no positions in any of the other stocks mentioned, and no plans to initiate any positions within the next 72 hours.