Goulash capitalism on the rise
"A man in love is incomplete until he is married. Then he is finished." Zsa Zsa Gabor
One of my favorite Hungarians is Zsa Zsa Gabor, she of the pithy quotes, one of which shows up above. However, Ms. Gabor is not the only Hungarian export of note. Recently, 1st quarter 2016 Hungarian growth registered a decline of .8%, according to the OECD, weak relative to the Euro area growth of .5%. However, this may be a blip compared to the overall trends, as the graph below shows. For the most part, Hungarian growth has been relatively favorable compared to the EU average.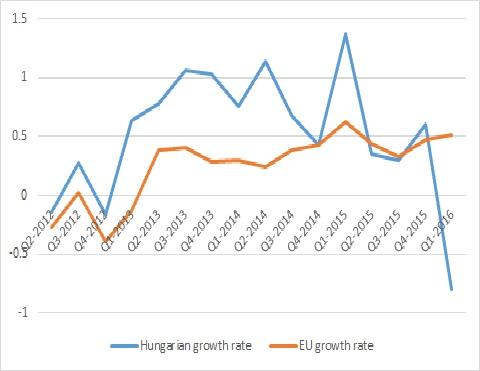 Source: oecd.org
Notwithstanding the recent dip in the growth rate, there are some positive trends in Hungary. The OECD has reported that the trade surplus this quarter stood at 966 million euros, although down by 44 million euros year on year. Interestingly enough, the surplus originates from the trade in goods, not services, in particularly, machinery and transport equipment. Hungary's biggest partner, unfortunately, is Germany, a country facing its own challenges.
Other indicators for Hungary show a mixed reality. The unemployment rate, at 5.8%, is one of the lowest in years, but Hungary is not immune from the European deflationary virus, with prices declining this quarter by .2%. Foreign direct investment stands at 877 million euros, declining slightly from December 2015 values of approximately 1 billion euros. But these are still impressive numbers. So what's an investor to do to take a position in Hungary? Here's is a suggestion for a relatively strong Hungarian stock.
Introducing Magyar Oil, the oil company that could.
Magyar Oil(OTCPK:MGYOY) is a Hungarian oil company, relatively small-cap ($5.38 billion), exporting primarily to central and eastern Europe-Austria, Bulgaria, Moldavia, Poland, Ukraine, Slovenia and Slovakia. The company is centred on both the domestic and foreign market (55% domestic market and 45% exports). Its downstream operations, selling 7.5 million tons of oil is based on 1700 service stations operating in the above-mentioned countries.
Magyar Oil's stock price has been very volatile over the past two years, as the graph below shows. Nevertheless, on average the stock returned 15.3% over the period.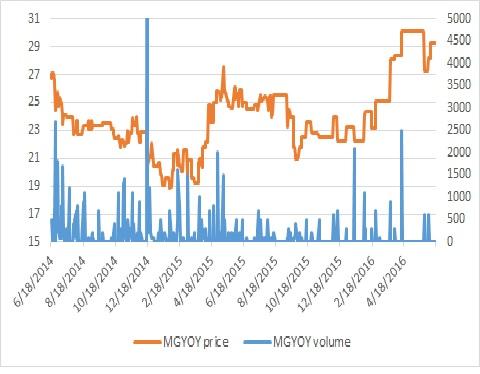 Source: finance.yahoo.com
Price volume elasticities show high liquidity.
What is also relatively informative about a stock such as Magyar Oil on the OTC market is examining the way volume has behaved. Volume is a liquidity measure as well. In particular, one way of measuring the "information" in volume is to look at the elasticity of trading. Even if the price is stable over certain periods, the elasticity of trading, defined as the percentage change of volume over the percentage change in price is more indicative of trends in a thinly traded stock such as this. This variable can range from infinity to minus infinity.
When the elasticity is infinity (the periods in the graph below where there is no data point), then volume and prices move together, indicating high liquidity. The first observation is that these periods of infinite elasticity are the majority of the points. The second observation is that the other periods where the elasticity is positive is associated with declines. But here the declines in volume outpace the decline in prices. This is considered a relatively bearish indicator. Finally, there is a big increase in volume around December 17, 2014, associated with the ruble crisis, indicating that Magyar Oil's stock is still sensitive to contagion from the Russian markets.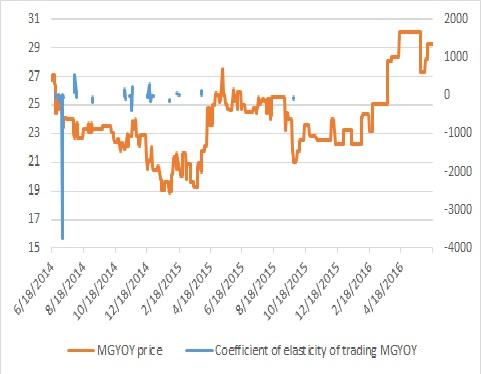 Source: finance.yahoo.com
Despite a disappointing 2015, rebound in the first quarter of 2016 for Magyar Oil primarily because of downstream operations in Hungary and Slovakia.
In fiscal year 2015, Magyar Oil recorded a net loss of $9.7 per share. However, the company's first quarter EPS was at $2.90, a 167% increase year on year. Decomposing the results further, the positive outlook was due to a 27% increase in downstream EBITDA, primarily due to strong growth at the pump in Hungary and Slovakia and a 37% increase in petrochemical refinery margin.
To counter these positives, on Magyar Oil's balance sheet, the company registered a 25% increase in long-term debt and a 28% increase in long-term debt. As well, Capex declined by 44% downstream, but here again, this is because certain retail investments have been completed.
Overall investors may find a stable home in Magyar Oil, with certain caveats.
If you're willing to put up with a stock whose price is not very volatile over long periods, with disappointing volume, this stock is for you. It would not be for the faint of heart. But prices move in tandem with the restrained volatility, as I mentioned above. On a macro level, a country like Hungary is more sensitive to events in Russia and the east than to Europe. With these caveats, Magyar Oil might be an interesting investment for the Hungary bulls.
Disclosure: I/we have no positions in any stocks mentioned, and no plans to initiate any positions within the next 72 hours.
I wrote this article myself, and it expresses my own opinions. I am not receiving compensation for it (other than from Seeking Alpha). I have no business relationship with any company whose stock is mentioned in this article.