Madalena Energy (OTCQX:MDLNF) is sheltered from low energy prices in the world because oil and gas prices are at a significant premium to world market prices. The difference isn't likely to go away anytime soon even if there is some risk of narrowing.
Argentina has really impressive (size, but especially quality) unconventional resources, especially the huge Vaca Muerta resource. With prices far above world levels and an incoming more business friendly government, this is a little sheltered piece of the shale world that is still worthwhile investing in.
Apart from the price differentials, there is considerable scope for reduced drilling cost and increased efficiency, as the sector goes down the same learning and experience curves of US shale whilst the lifting of restrictions makes the import of capital, technology, know-how, competition and supply chains easier.
We wrote about Madalena Energy (MVN.V), the only independent junior with significant acreage in the sweet spot of Argentinean shale some while ago (here). The stock has gone down significantly, hampered by a lack of capital and a bad climate for energy stocks.
Here we will revisit our investment theme and give you an update.
Argentinean Shale
Shale resources are mostly based in the Neuquen base, where the giant Vaca Muerta shale resource (oil and gas) is located. Argentina has prime shale resources constituting the fourth biggest shale oil reserves and the second biggest shale gas reserves in the world.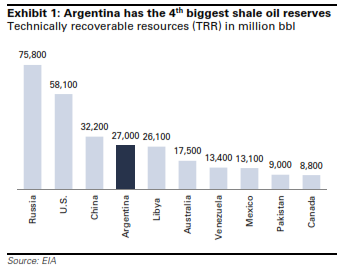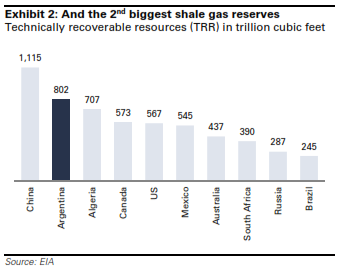 Argentina is one of the few countries with shale resources that are already producing, although far from the scale of US production.
Apart from its enormous size (30,000km 2 gross), geologically the Vaca Muerta is also a high quality resource with above average thickness of 200 meters and a depth range of 1-5km which provides the right pressure. Hence, productivity per well compares favorably with other shale resources and is in the top quarter of US.
Argentina is also blessed with a fairly extensive gas pipeline network of nearly 16,000km and other essential infrastructure (roads etc.) is in place for the development of the area.
The main player at Vaca Muerta is YPF, which has a series of joint ventures in place with the likes of Chevron (NYSE:CVX), Dow Chemical (DOW), Petronas, Sinopec (NYSE:SHI) and Gazprom (OTCPK:OGZPY). Other big companies in the area are Exxon Mobil (NYSE:XOM), Shell (NYSE:RDS.A) (NYSE:RDS.B), CNOOC (NYSE:CEO), Petrobras (NYSE:PBR) and Total (NYSE:TOT).
To give you a taste of the interest in Vaca Muerta from big energy companies, here is Bloomberg:
Exxon Mobil Corp. may invest more than $10 billion in Argentina's Vaca Muerta shale formation in the next decades, Chairman and Chief Executive Officer Rex Tillerson said Thursday. The oil giant has so far invested $200 million in the world's second largest shale gas deposit, Tillerson said after meeting with Argentine President Mauricio Macri in Buenos Aires. Exxon has received approval to invest $250 million more for a pilot project in the coming months. If the pilot project is successful, the company will start full development during a period of 20 to 30 years that could involve additional investment "that would be well in excess of $10 billion," he said.
On the other hand, well costs are well above those in the US, due to a number of bottlenecks like:
Lack of access to the newest technologies like enhanced recovery tech
Lack of a robust and competitive supply chain
Restrictions to capital and foreign currency
The higher cost per well also derive from high labor cost (which make up some 50% of cost) and the early stages of development as there are still large learning economies to be reaped.
YPF is already decreasing cost per well from $11M in 2011 to $7.6M in 2015 for vertical wells) and increasing well productivity, witness their latest Loma Campana well (LC 992 with a 2,000 meter horizontal leg and a 28 stage hydraulic frac stimulation) flowing at a really impressive 1630bpd In the first month.
We have seen how US shale, forced by declining prices has increased on cost and productivity and Argentina runs significantly behind, highlighting the possible gains here.
New government
The somewhat surprising victory of Mauricio Macri in the recent elections is likely to open up the country and establish a more business friendly investment climate. Three issues spring to mind:
Agreement has been reached with the holdouts (of debt Argentina defaulted upon in 2001, the holdouts refused to participate in two subsequent restructurings).
Currency controls have been abolished with the peso falling more than 30% as a result (which is actually less than many expected as the black market rate was nearly $15 before the liberation)
The abolishment of import controls.
Together, these measures could open up foreign capital markets for domestic companies, increase participation and competition in the development of Argentinean energy prospects and thereby lead to better supply networks and higher values for land positions.
With the still substantial well cost premiums over the US, there is ample opportunity to reduce these when these restrictions are lifted.
We're talking mainly macro policies and regulations here, regulation on the industry level had already improved with the new law in October 2014 unifying a myriad of provincial regulations.
You might also wonder what the currency liberation means for Madalena. They issued a PR on this ( here) but the upshot is, very little.
One has to realize that Madalena's revenues generated in Argentina are priced and billed in USD and then settled in AR$. Much of the cash cost are also billed in AR$, so there is some (small) advantage here.
Argentinean energy prices
Special mention is also required for the government initiatives taken in 2013 (NYSE:GAS) and 2014 (NYSEARCA:OIL) to set minimum domestic prices for gas ($7.5/MBtu) and oil ($75/bbl) for additional production. One can see the significant effects on YPF sales prices easily: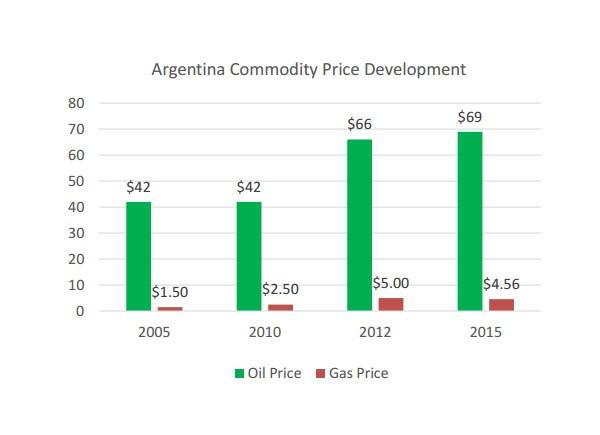 The prices are somewhat flexible, for instance, for every $7 decrease in Brent the domestic price is reduced by $1. But clearly these floors are very significant and provide a great background to continue develop the unconventional resources in Argentina.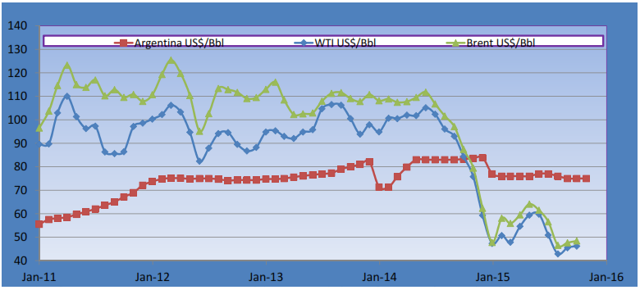 Early 2016 the price was lowered by 10% from $75 to $67.50. One could wonder, with a more market friendly government in place, to what extent these substantial differentials with world market prices will remain. Since the objective clearly is to develop Argentina's vast domestic resources, we're not too worried about any sudden demise.
We think the differential is going to gradually diminish nevertheless but driven basically by a recovery in world oil prices and a decline of well cost in Argentina, as to keep the incentives in place.
Apart from price support, the government also runs a export tax credit program, the Petroleo Plus program, for companies that materially increase oil reserves and production. On the termination of the program (July 2015), the government exchanged the credits with government bonds.
Madalena has been issued $11.1M of government bonds which have been included in the September quarterly financial report. 47% of the bonds have been sold on the open market for $6.5M. The value of the bonds has also increased considerably, to $13.9M at September 30.
A new program started in Jan 2015 under which the Government has set a US$ 3.00/Bbl royalty free bonus payment on all production for companies who are able to keep their quarterly production above 95% of the Q4-2014 base production levels. Madalena has received $2.8M in the first three quarters of 2015. The program has been discontinued in 2016 though.
Madalena's assets
Our previous report already described these assets in some detail. Per September 30, 2015 there is a new resource assessment from GLJ out for Madalena's Coiron Amargo, Curamhuele and Valle Morado blocks:
Coiron Amargo (35% interest): 91.5 MMBOE risked, 152.4 MMBOE unrisked
Curamhuele (90% interest): 99.4 MMBOE Lower Agrio Prospective Resource & 92.6 MMBOE Vaca Muerta Prospective Resource.
Valle Morado (96.6% W.I.) 13.2 MMBOE Contingent Resource: The engineers have assigned 13.2 MMBOE of net risked Contingent Resource on this block
Madalena's Total Risked Contingent Resources are 105.2 MMBOE (172.7 MMBOE Unrisked)
Madalena's Total Risked Prospective Resources are 192.0 MMBOE (1,522.5 MMBOE Unrisked).
Perhaps most noteworthy from the GLJ report is the 374% increase for the Vaca Muerta resource at Coiron Amargo, from 19.3MMBOE in December 2012 to 91.5 MMBOE (152.4 MMBOE Unrisked) with a discovery chance of 100% and a development chance of 60% (dependent on development plan, capital and commodity prices).
One might also take into consideration that porosity was higher (8% versus 6.9%) and the resource thicker (164m versus 88m) compared with the above mentioned GLJ rapport estimates, providing significant upside to that report's evaluation.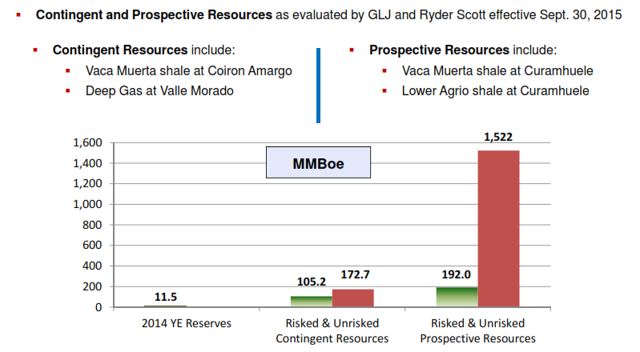 That development chance is dependent on required capital, commodity prices and political risk. It is reasonable to assume that with the change of government, the latter has decreased.
The 100% discovery chance is based on offsetting concessions already producing, like YPF/Chevron's Loma Campana, producing 40,000 BOE/d from Vaca Muerta and producing wells from Shell in the Cruz de Lorena block.
Needless to say there is a host of 3D seismic and some 24 Vaca Muerta well penetrations on the block factored into the contingent resource estimate as well.
The company is concentrating efforts on its four key resources:
Loma Montosa (oil, Puesto Morales block 100% working interest)
Vaca Muerta shale (oil in Coiron Amargo, oil, liquids and gas in Curamhuele and gas prone in the Cortadera block)
Agrio shale (Curamhuele, 90% WI)
Mulichinco (liquids rich gas in the Curamhuele block)
On top of that there are six conventional oil blocks in the Sierra Blancas at the Coiron Amargo block that are sourced from Vaca Muerta and are already producing with four horizontal wells.
Drilling update and plans
Here is what they've drilled in 2015 and early 2016:
PMS-1135(h) in the Loma Montosa (oil resource in Puesto Morales). It produced 860 BOE/d (480 Bbls/d oil and 2,300 Mcf/d gas) in early testing (details here) and it is tied in to production. A later update: "The well continues to perform ahead of management's expectations, with an average 90-day rate (IP90) of 412 Boe/d consisting of 200 bopd and 1,280 Mcf/d at a 44% water cut."
Drilled, completed and placed on production three (35% WI) Sierras Blancas conventional light oil horizontal wells at Coiron Amargo
CH-x-1 in the Agrio shale (oil, Curamhuele block, 90% WI)
YP-x-1001 in the Mulichinco liquids-rich gas play on its exploration block at Curamhuele targeting the Lower Agrio shale. The well made an oil discovery. Over an 80 day period, the well has produced 6,160 bbls oil (77 bopd), 7,645 bbls water (95 bbls/d) representing approximately 56% of the frac load fluid and 7.0 MMcf gas (88 mcf/d). All solution gas is being flared. The well has been flowing up five inch casing and was shut-in on May 10, 2016 for a pressure build-up test.
What is also of interest is the following (from August 26, 2015 PR)
North American based multi-stage frac technology is being imported into Argentina to delineate these unconventional targets. It is anticipated that equipment and crews will mobilize to Curamhuele in late August or early September 2015. Puesto Morales Block (100% WI) - Horizontal Drilling of Loma Montosa Light Oil Resource Play
At Coiron Amargo, they plan one horizontal multi-stage frac well in the Vaca Muerta shale (an oil play), with the help of an offsetting partner (rumored to be Shell) and two to three horizontal multi-frac wells over the next two years.
Curamhuele
The Yapai x-1001 vertical well which successfully discovered oil and tested oil and gas from the Lower Agrio shale. It should be noted that neither the unconventional resource plays within the Vaca Muerta nor those of the Lower Agrio are included in the 2P reserves (up 8% for the year to 9,134Mboe). From the PR:
On November 4, 2015 the Company released independent third party best estimates (P50) effective September 30, 2015 (prior to the drilling of the Yapai.x-1001 well) for Contingent and Prospective Resources. The Company's interest best estimate in the Lower Agrio shale is Unrisked Prospective Resources of 365 MMBoe (or Risked Prospective Resources are 99.4 MMBoe). In addition to the Lower Agrio shale at Curamhuele, the Company's interest best estimate in the Vaca Muerta shale is Unrisked Prospective Resources of 1,157.1 MMBoe (or Risked Prospective Resources of 92.6 MMBoe). Please see the reader advisory at the end of this release for further information on Prospective Resources.
The company is actively seeking a strategic partner with the help of Evercore Group for the Lower Agrio oil discovery as there is an inventory of 513 unbooked net drilling locations.
Deals
Madalena's stake in Coiron Amargo was going to rise from 35% to 45% (and, perhaps more importantly, getting a shot at becoming the operator) but it after announcing buying 10% from a partner for $8M earlier this year, but this was later cancelled due to market conditions.
The company sold its remaining Canadian assets (for roughly $4M in shares and conventional debentures in Point Loma), although due to the market dire conditions it's not something that will be of great help.
Some metrics
Debt (per Sept 30, 2015) $7.3M
Total outstanding shares 542M
Q3 Average production 3,466 BOE/d (81% oil and liquids)
2P Reserves 11.5 MMBOE
Why you should buy
Madalena has production, cash flow and it is the only junior resource play with concessions sitting in the sweet spot of unconventional oil and gas resources in Argentina, like the Vaca Muerta and Lower Agrio shales.
The Vaca Muerta play in their Coiron Amargo block was recently evaluated and its contingent resource more than tripled to 91.5 MMBOE. The stock price could rise when drilling de-risk this.
They have large stakes in interesting acreage, like Curamhuele (where they have a 90% working interest) enabling them to partner up with better capitalized farm-in partners and speed up development.
Argentinean prices are well above those of world markets and are likely to remain so for the foreseeable future whilst the business climate is likely to receive a significant boost, reducing political risk premiums and making the sector interesting for a wider spectrum of investors and energy players.
There is ample scope for reducing well costs and increasing efficiency, especially with the arrival of new players, technology and know-how and the establishment of better supply chains, enabled by a more business friendly investor climate.
Contrary to many US shale plays, Madalena isn't highly leveraged.
In our previous article we mentioned the possibility for a virtuous cycle of increasing cash flow from operations leading to increasing exploration and exploitation, leading to increased cash flow. Loma Montosa seemed especially promising with this respect, because of the wells, well location, and infrastructure already in place.
Risk
Apart from the execution and exploration risks, a prime risk is that the incoming government will decrease the price premiums for oil and gas (with respect to world market prices).
We think the premium might decline, but won't disappear as the new government wants to make sure that the energy resources are developed to address the large worsening of the energy balance under the previous government.
It seems likely to us that the premium will not disappear by means of discretionary government action, but could simply decrease with recovering world energy prices.
The other obvious risk is lack of capital and dilution. This is unavoidable and the main reason for the bad stock performance, in our view. Production is stagnant (producing more oil but less gas) because they lack the capital to execute a faster drilling program.
The company was, together with the acquisition of another 10% of Coiron Amargo going to issue up to CAN$27M in equity financing (and CDN$4.1M over allotment), but cancelled both the acquisition of the 10% additional stake as well as the financing, due to the market conditions.
The cancellation of the financing and the lack of capital clearly isn't doing the stock price any good, this has basically halved since the start of the year. In its year-end report, the company said the following:
However, during 2015 and to date in 2016, the Company has been unable to access additional capital on terms acceptable to the Company, which is required for liquidity purposes and to fund commitments on the Company's blocks in Argentina. The current world -wide economic environment relating to the oil and gas industry has made access to capital challenging for many companies, Madalena included.
Income from operations are insufficient to finance the drilling program, which either has to be curtailed or other ways of finance have to be found. While this sounds concerning, one saving grace is that the company is hardly leveraged with $5.9M in bank debt.
Conclusion
Whilst the company does sit on prime quality blocks, has a healthy balance sheet and generates significant cash flow, by no means has a virtuous cycle kicked in and a key thing to keep in mind is the time scales involved here.
What the company could do with is some kind of acceleration by means of leveraging up (there is room for that) and/or partnering. The waiting is for white smoke on financing or partnering, until then nothing much will happen.
But the shares will likely get a boost on a positive resolution.
Disclosure: I am/we are long MDLNF.
I wrote this article myself, and it expresses my own opinions. I am not receiving compensation for it (other than from Seeking Alpha). I have no business relationship with any company whose stock is mentioned in this article.
Editor's Note: This article covers one or more stocks trading at less than $1 per share and/or with less than a $100 million market cap. Please be aware of the risks associated with these stocks.