Fedex Corp. (NYSE:FDX), the Memphis-based transportation and package delivery giant, reports its fiscal Q4 '16 financial results after the closing bell on Tuesday, June 21, 2016.
Here is the current consensus for Q4 '16, Q1 '17 and full-year 2017 per Thomson Reuters:
EPS est
y/y gro

Rev

est

y/y gro
Q4 '16
$3.28
23%
$12.78 bl
5%
Q1 '17
$2.86
18%
$14.64 bl
19%
f/y 2017
$12.05
12%
$59.86 bl
19%
Source: Thomson Reuters consensus
The reason for the sharp increase in 2017 revenue is that the FedEx Corp's TNT acquisition closed in late May, 2016, and is now built into the 2017 revenue consensus.
From what I read on FDX's TNT acquisition, the company gives FedEx a significant footprint in Europe but the margins might be the sticky issue with the company.
A brief history: since late 2013, FedEx has benefited first from the giant share repurchase announcement which has effectively reduced FDX's fully-diluted shares outstanding from 319 million in November, 2013 to February '16's 275 million.
That is a 13% - 14% reduction in shares outstanding.
In addition, as readers well know, with the price of crude oil falling from over $100 in September '14 to the first quarter's low of $28, jet fuel prices came down significantly for FedEx: "fuel expense" for the FedEx Corp's P/L came down from $1.1 billion as of May '14 to $537 million at Feb '16, which is a 54% decline in just 7 quarters.
What is fascinating to me is that if we look at "4-quarter trailing" operating income, almost the entire gain in operating income for FedEx Corp. has been from lower fuel expense.
Finally, after years of FedEx Express showing slowing volumes, narrowing margins and slower growth, since late 2012, early 2013, Express has really turned the corner in terms of profitability, with Express now nearing a 10% operating margin, after management reduced Express expenses from a consistent $6.5 billion run rate to last quarter's $5.9 billion.
The point of this brief summary is that the three tailwinds: Financial (share repurchases), crude oil, and Express expense reduction might have run their course, certainly, with crude oil up nearly 80% since its February '16 low of $28, to near $50 per barrel, that tailwind is diminished.
The Future: the TNT could have been a timely acquisition. With the closing of the TNT deal, consensus revenue estimates for FedEx Corp increased $5 - $7 billion in fiscal '17 - '18, but the sticking point could be the margin's that FDX is able to extract from current TNT operations.
In addition, with last quarter's earnings preview, the continued encroachment of Amazon on the "last mile" of the consumer (package delivery), FedEx management termed the concern, "fantastical" meaning they give little credence to Uber/Lyft/Amazon as a competitive threat. FedEx did say on the last call that no single customer accounts for more than 3% of FDX's revenue, which does help assuage any worry over the numerous Amazon trucks I see scurrying around the north side of Chicago.
The Valuation:
A forward earnings-based model I use values FDX closer to $200 per share, and combined with Morningstar's intrinsic value estimate of $173, (splitting the difference) with FDX trading near $160 today, the stock is trading at roughly a 15% discount to perceived fair value, using a couple of traditional models.
However, using Finbox's valuation card, you could make a case that FedEx is 20% overvalued: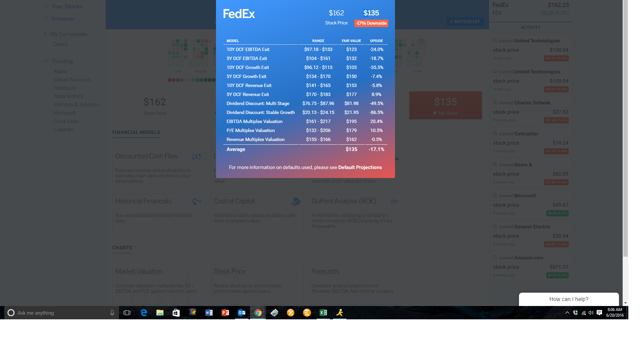 Source: Finbox.io
When faced with such divergent views on a stock, I take a look at the forward EPS and revenue estimates, and for FDX, the 3-year "average" EPS and revenue growth - per the consensus estimates - shows the Street expecting 8% EPS and 9% revenue growth (includes TNT) with some possible additional earnings growth coming from expense reduction at TNT.
Trading at 12(x) - 13(x) those forward earnings and 8(x) cash-flow, neither of which indicates FedEx Corp. is a screaming buy or sell.
Between the two valuation extremes (and FDX is currently trading right in the middle of the two extremes), I do think FDX is more probably more undervalued than overvalued today, but the catalysts might not be as obvious with the share repurchase and the jet fuel savings dissipating.
The recent substantial increase in the dividend for FedEx could mean several things for the freight giant. I'm a big believer, management communicates forward expectations via dividend changes. Here is what this increase in the dividend from $1 per year to $1.60 per year, could portend for the freight giant:
1.) FedEx share repurchases - in terms of ASR (accelerated share repurchases) and substantial increases - are over, and management will return more capital to shareholders via the dividend than repurchases.
2.) Cash-flow will improve sharply, which is somewhat questionable given that a business like FDX, which has a substantial global transportation footprint, and a high degree of operating leverage, can see sharp swings in operating cash-flow based on global economic changes.
3.) FedEx is becoming a slower-growth, "cash-cow" type of a business for the next 3 - 5 years and management is trying to placate shareholders with dividend yield rather than faster earnings growth. Increased dividends can indicate that management thinks returning capital to shareholders is a better deal for shareholders since management cannot find opportunities in which to reinvest that capital. Is that the case for FedEx Corp ?
Conclusion: FedEx Corp. has done a tremendous job the last few years driving operating improvement at Express, improving margins and yields, as well as utilizing substantial share repurchases and taking advantage of falling fuel prices to improve earnings and cash-flow.
The issue is, these tailwinds are now in the rear-view mirror, as FedEx Corp. looks to drive margin growth at TNT in Europe, no easy feat given the regulation around employment throughout Europe.
The next potential strong catalyst for the stock would be a return to synchronized global growth across the globe, which is something we've been waiting on since 2009, without much success.
To be brutally honest with readers, I don't have a good feel for FedEx Corp. in terms of the stock being a screaming buy or sell at these levels. The stock at its current price looks to be a "tweener" and will increase with annual EPS and revenue growth, but might see fewer tailwinds in the weeks and months ahead.
A trade back down to the $125 - $130 level, would get me very interested again in FDX. Clients do not have a big position in the stock currently - my expectations for a "return to global growth" never really materialized over the last few years.
Disclosure: I am/we are long FDX. AMZN.
I wrote this article myself, and it expresses my own opinions. I am not receiving compensation for it (other than from Seeking Alpha). I have no business relationship with any company whose stock is mentioned in this article.