Welcome to the energy sector's sixth edition of "Buy on Weakness?", a series of articles that sifts through the underperformers of the week to find potential investment opportunities in the large-cap energy world.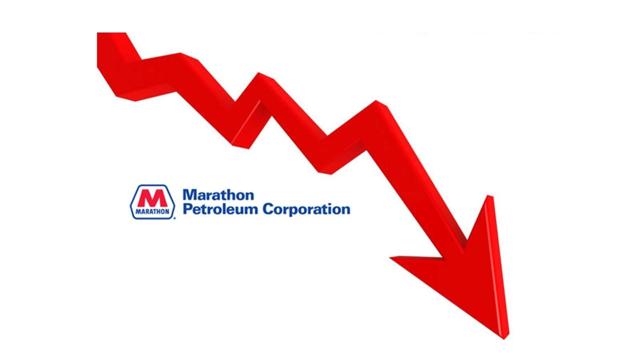 Credit: DM Martins Research montage using company logos
The idea is to help investors, particularly those focused on value plays, unearth ideas for the coming week. Check out the fifth and fourth editions of "Buy on Weakness?" for a look into prior weeks' "energy losers".
The table below highlights the top 20 energy companies - worth $10 billion or more in total equity value - that have put in the poorest performance in the previous five trading days.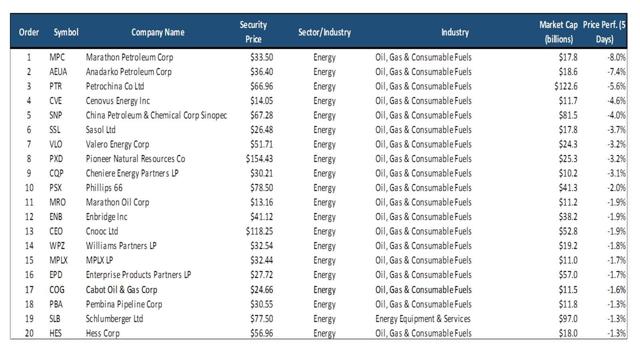 Source: DM Martins Research, using market data compiled from Fidelity
Energy sector names show positive returns
On the back of an eventful trading week for the markets, as both S&P and Dow notched weekly losses of over 1%, the week of June 13th saw the large-cap energy group lose 0.3% or over $9 billion in market value, going against the previous week's gain of $43 billion. The trading week also featured Fed officials confirming no change to the existing interest rate structure, which was largely expected by market participants.
Oil, Gas & Consumable Fuels subsector losses were driven by Marathon Petroleum Corp (NYSE:MPC) and Anadarko Petroleum Corp (NYSE:AEUA) respective 8.0% and 7.4% declines. The Energy Equipment & Services subsector was led lower by Schlumberger's (NYSE:SLB) loss of 1.3%. Overall in the portfolio of 62 large-cap energy stocks that we analyze each week, there were 34 with negative performance over the past 5 trading days.
WTI Crude was down over 1% in the same week, eventually closing at $48.26. On Friday June 17th, prices rallied to recover some of the earlier losses, but uncertainty over the outcome of next week's UK EU referendum and whether it will lead to "Brexit" continues to pressure riskier asset classes. Natural gas futures gained approximately 2% on the week closing at $2.65.
Let's take a closer look at some metrics focusing on the weeks' top 20 underperformers in the energy space.
Diving deeper into the data
The top 20 energy losers of the week have a low median 2017 forward P/E of 13.9x, compared to the S&P 500's median trailing P/E of 14.6x. This week's top 20 group is expected to grow EPS in 2017 by 30.9%, and the companies generate a very decent median dividend yield of 3.5% (all 20 companies are dividend-payers).
The table below highlights, in green font, the three best-positioned energy companies in each of the following categories: projected EPS growth, dividend yield, 2017 forward P/E and 2017 forward PEG (P/E divided by percentage-point EPS growth).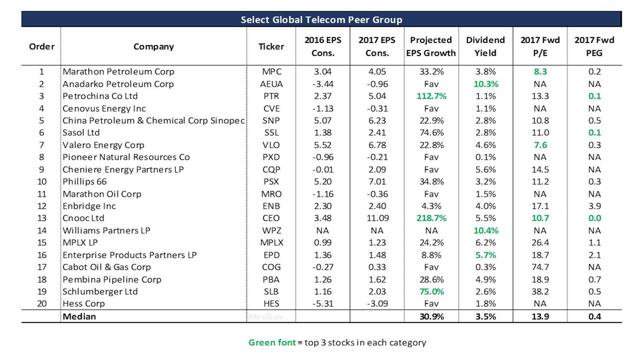 Source: DM Martins Research, using data from Yahoo Finance, Nasdaq and Market Watch
So which short-term loser should investors consider adding to their portfolio to take advantage, in the long run, of the price pullback? Let's take a closer look at one potential opportunity featured on energy's top 20 "biggest loser" list last week.
Marathon Petroleum Corp : A look into continued underperformance
Trading Recap:
As of the close of business Friday June 17th, MPC was down 35.4% YTD, quite significant underperformance when compared to YTD benchmark results for the S&P and the energy sector SPDR (NYSEARCA:XLE). Throughout the past few days, Marathon was in the news regarding the anti-trust suit filed against it alleging that the company conspired to inflate gasoline prices in certain parts of Kentucky by limiting competing offerings. A federal judge overseeing the case has just ruled that the suit can move forward despite Marathon's objections. Given the YTD share price drop, at the current valuation the company trades at an attractive P/E of 9.2x (forward 2017 P/E of 8.3x) and has a dividend yield of 3.8%. MPC has underperformed relative to some of its peers thus far in 2016.
Investment Thesis:
- MPC's current valuation presents an interesting entry point for a long-term, income-oriented investor with capital appreciation potential.
- Fundamentally, this is a company with well-established refining network, robust $3 billion capital and investment plan spread across Marathon's various business segments which enables the company to adapt to changing operating environment, and a history of returning capital to its shareholders via share repurchases and dividends. MPC also has sizable retail (Speedway) and pipeline midstream businesses that lend some diversification and stability to its operating results.
- Potential upside lies in successful implementation of South Texas Asset Repositioning (NYSE:STAR) program, which focuses on full integration of Galveston Bay and Texas City refineries with projected IRR of 26% on approximately $2 billion total investment.
- From a market timing standpoint, the company's current P/E ratio of 9.2x is broadly in line with its historic average. Also relative to some of its peers, such as Valero Energy Corp (NYSE:VLO) P/E of 6.2x, HollyFrontier Corp (NYSE:HFC) P/E of 8.6x and Phillips 66 (NYSE:PSX) P/E of 11.8x, MPC's P/E is "middle of the road".
Risks:
- Given the operationally intensive nature of Marathon's business, a significant unforeseen event at one of the company's refineries could have a material negative impact on cash flow and its valuation.
- The company's first quarter results pointed to deteriorating earnings and weaker cash flow primarily due to weaker crack spreads and higher turnaround activity. Marathon will report its second quarter results on July 28th, and shareholders will look for signs of continued challenges in the operating environment.
Disclosure: I/we have no positions in any stocks mentioned, and no plans to initiate any positions within the next 72 hours.
Business relationship disclosure: This article was written by a contributing author and edited by Daniel Martins.