International Flavors and Fragrances Inc (NYSE:IFF) is a leading sensory experiences company. What does that mean? They create a variety of fragrances, beauty products, detergents and household goods as well as food and beverages.
The company employs 6,700 employees in 35 countries around the globe. IFF Also boasts 126 years of operating history, selling $3 billion in product to 3,000 clients across 152 countries. IFF has been listed on the NYSE for 51 years (source).
Given this extremely long history, I was intrigued when I recently noticed IFF stock trading near all-time highs. If it has performed well for that long, chances are it might be able to keep making money in the future.
So I wanted to take a closer look at some of the historical financial results to determine whether or not operating results have kept up with the stock price. But first, here's a long term price chart of IFF to give you some perspective: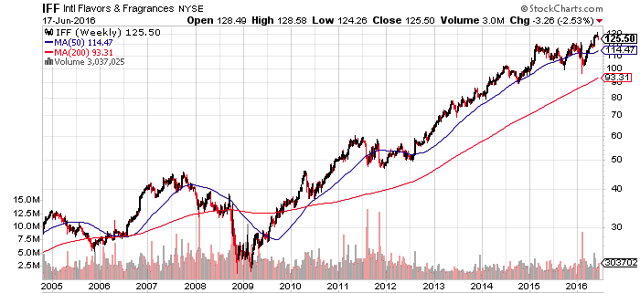 Now let's dive into the historical financial results (source). I like to start with the top line to get a picture of how dollar-denominated demand is changing over time.
Sniffing Through IFF's Historical Financial Data:
Looking at the sales data below, you can see that IFF has been able to consistently grow revenues most years over the last ten years and on a trailing-twelve month basis. Impressively, there's only a minor dip in revenues during the financial crisis. I guess people are willing to prioritize their smell. I'm a little surprised but I won't complain.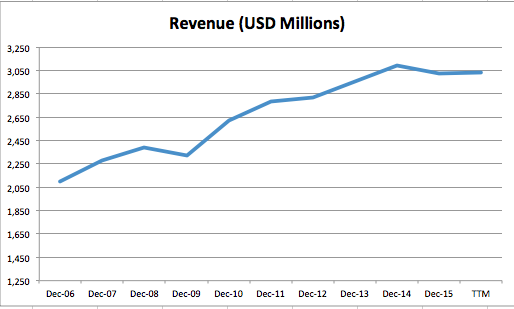 And while revenue has grown by 50% over the period, this isn't exactly explosive growth. And lately, growth has been slowing. Looking forward, I can't predict the future but I think it's reasonable to assume this trend of slow top-line growth will remain. I imagine it will be primarily driven by building category leadership for existing products, launching or acquiring new business lines and further penetrating new geographic markets.
Just as important as growth though, is profitability. One of the reasons I was interested in researching IFF a little more deeply was because the idea of selling scented water for a juicy profit smelled like fat margins. And sure enough, these numbers are pretty good. See for yourself: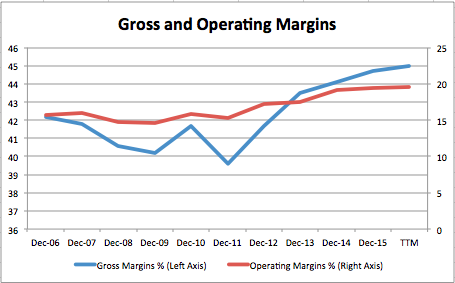 With consistently high margins like this, a lot of that revenue is dropping to the bottom line. So even if IFF isn't the fastest grower, at least it's profitable for shareholders. I always like companies that are consistently growing revenues and earnings on a per share basis. And the EPS data checks out. Have a look: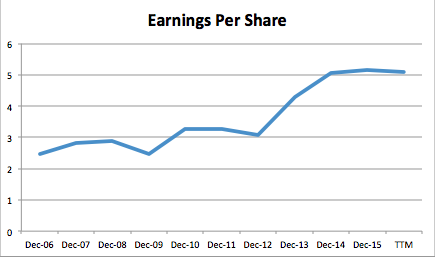 Earnings and revenue have stalled out a bit lately, but I'm not worried yet. That's because my next step will be to look into seasonality. I suspect most of IFFs products could be big sellers around the holiday season. I'll keep an eye on the TTM numbers and see how it ends up looking on an annualized basis.
One reason I'm willing to give IFF the benefit of the doubt on this, for now, is because of the way they've historically returned value to shareholders. In the first place, dividends have grown consistently, more than doubling over the last 10 years. Payout ratio is a little bit higher than I'm comfortable with, but if earnings pick up this should normalize.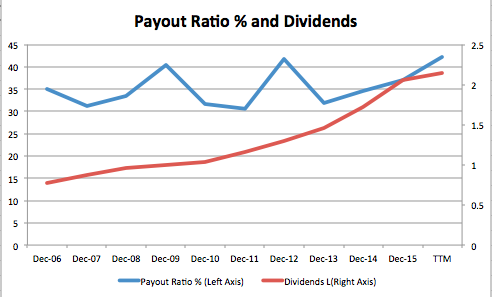 Second, equity value per share has doubled over the last 10 years. As an owner of a company, I'm always hoping to see my book value consistently increase. All things being equal, this can result in sustainable price appreciation in shares.
But while there's lots of compelling data points about IFF, it's not a perfect investment. The shares aren't exactly cheap. They've always traded at a premium to the S&P 500, but are at the high end of the historical range. Below is an informative chart from Morningstar that shows how valuation stacks up on a historical basis (source).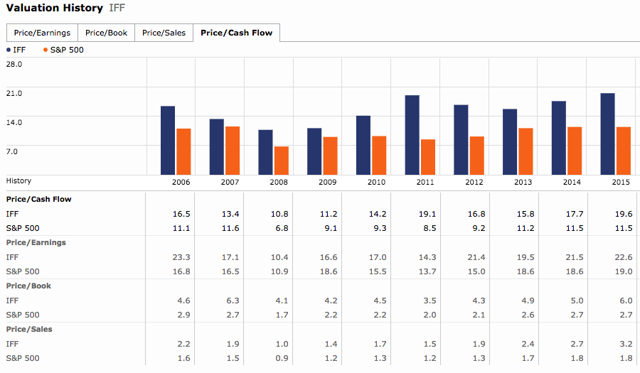 Beyond valuation, one other area of concern is the IFF balance sheet. I realize money is cheap and it can make sense to borrow. But IFF has consistently carried a little more debt than I'm comfortable with. Interest expense is only 8% of operating income, but I'm going to be keeping an eye on this metric going forward to ensure it doesn't become a larger percentage of earnings. This is especially important because it's hard to imagine the company rapidly growing revenue.
So, with all this in mind, is it work investing in shares of IFF?
Conclusion: IFF Smells Like Opportunity, Especially on a Pullback
To be honest, IFF isn't that exciting of an investment. It's a slow grower, but I like the margins and the consistent operating history. Plus if they can keep growing earnings they may keep growing the dividend. I think given the slow-changing nature of the business, it's likely these trends can continue. One thing I'll be keeping an eye on is the year-end earnings number. And I'll have the other eye on the balance sheet.
However, given my long investment timeframe and ability to dollar cost average on future pullbacks, I've started a small position in IFF as part of a diversified portfolio. I'll plan to add a little on any meaningful pullback. But that's just my opinion. What do you think about investing in IFF?
Disclosure: I am/we are long IFF.
I wrote this article myself, and it expresses my own opinions. I am not receiving compensation for it (other than from Seeking Alpha). I have no business relationship with any company whose stock is mentioned in this article.