Central banks should focus on heightened purchasing power to be successful
By John Greenwood, Chief Economist. Posted on Expert Investment Views: Invesco US Blog.
The Bank of Japan (BoJ) and the European Central Bank (ECB) have been less successful than the US Federal Reserve (Fed) and the Bank of England (BOE) in conducting quantitative easing (QE) - that is, buying financial assets in order to spur economic growth. I believe part of the reason is that the BoJ and ECB have been less focused on expanding purchasing power and more concentrated on lowering interest rates - even into negative levels.
Comparing successful and unsuccessful QE programs
In examining the QE deployed by major developed economies - the US, the eurozone, Japan and the UK - there are clear differences in the types of methods used. The QE operations conducted by the Fed and the BoE have largely been successful for three reasons:
They purchased securities from non-banks.
They increased the purchasing power of companies and households.
They were consistent with a reduction in private sector leverage.
By contrast, the QE operations conducted by the BoJ and the ECB have had much less success because:
They largely purchased securities from banks.
They did not increase the purchasing power of companies and households.
They were not consistent with any reduction in private sector leverage.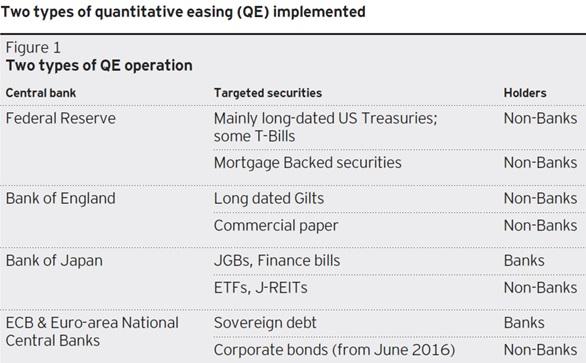 Gilts are bonds issued by the British government. JGB stands for Japanese government bonds. J-REITs are Japanese real estate investment trusts.
To restore economic growth and raise inflation closer to the target area of 2% in both Japan and the eurozone, policymakers need to achieve two sets of results. First, they need to encourage and ensure the repair of private sector balance sheets since spending will not resume normal or potential growth rates unless excess leverage is eliminated. Second, liquidity needs to be reinjected into these economies, or they should be provided with additional purchasing power - but without adding to leverage.
The rules for designing a QE program
There are two rules for central banks to follow when designing a QE program.
Buy from non-banks. First, the central bank should buy securities only from non-banks. The reason is that the primary purpose of implementing QE is - or should be - to expand the money supply. If the central bank buys securities from banks, there can be no assurance that the money supply will increase. However, if it buys securities from non-banks, this guarantees that new deposits will be created, expanding the money supply.
Buy long-term securities. The second rule is that the central bank should buy only long-term securities. This ensures that the central bank's portfolio is not eroded by selling or running down its holdings. As a result, the volume of funds injected into the economy can remain stable for a long period of time.
The BoJ has repeatedly broken both these rules, while the ECB has mostly violated the first rule.
By contrast, when the BoE announced its QE program in February 2009, it said explicitly that it would buy gilts with longer maturities (10 to 15 years) precisely so that these purchases would be from non-banks. In doing so, it guaranteed the success of its program, in my view.
The problem with focusing on interest rates
The fundamental problem is that the ECB and the BoJ are trying to implement QE through the normal credit-creation channels of the banking system. But the traditional transmission channels are not working - either because banks are risk averse and do not wish to lend, or because households and firms are still significantly leveraged and do not want to borrow.
Under these circumstances, the policy of relying on ever-lower interest rates cannot be assured of success, even if rates are negative. I believe central banks need to circumvent the normal bank channels if they are to create new purchasing power, restore normal economic growth, and return to 2% inflation and normal levels of interest rates.
The right way to do this, in my view, is not to focus policy on ever-decreasing interest rates, but instead to create money directly by purchases of securities (or indeed any other asset) from non-banks - thereby creating new deposits in the hands of firms and households. Although they did not explicitly articulate their policies in this way, this is in effect what the Fed and the BoE did from 2008 to 2013.
In my view, it would be better for the BoJ and the ECB to focus on the quantitative effects of QE, not the interest rate effects. To put it differently, QE is (or should be) about expanding purchasing power in the economy and putting more money in the hands of the non-bank public, not lowering interest rates and hoping the banks will expand lending.
The information provided is for educational purposes only and does not constitute a recommendation of the suitability of any investment strategy for a particular investor. Invesco does not provide tax advice. The tax information contained herein is general and is not exhaustive by nature. Federal and state tax laws are complex and constantly changing. Investors should always consult their own legal or tax professional for information concerning their individual situation. The opinions expressed are those of the authors, are based on current market conditions and are subject to change without notice. These opinions may differ from those of other Invesco investment professionals.
| | | |
| --- | --- | --- |
| NOT FDIC INSURED | MAY LOSE VALUE | NO BANK GUARANTEE |
All data provided by Invesco unless otherwise noted.
Invesco Distributors, Inc. is the US distributor for Invesco Ltd.'s retail products and collective trust funds. Invesco Advisers, Inc. and other affiliated investment advisers mentioned provide investment advisory services and do not sell securities. Invesco Unit Investment Trusts are distributed by the sponsor, Invesco Capital Markets, Inc., and broker-dealers including Invesco Distributors, Inc. Each entity is an indirect, wholly owned subsidiary of Invesco Ltd. PowerShares® is a registered trademark of Invesco PowerShares Capital Management LLC, investment adviser. Invesco PowerShares Capital Management LLC (Invesco PowerShares) and Invesco Distributors, Inc., ETF distributor, are indirect, wholly owned subsidiaries of Invesco Ltd.
©2016 Invesco Ltd. All rights reserved.
Why QE and negative rates aren't helping the Japanese and eurozone economies by Invesco US Blog