Retail Sales
Retail sales rose an impressive 0.5% in May, but the year-over-year growth rate of just 2.5% was far less inspiring. This is especially true when we recognize the fact that the growth rate has slowed substantially over the past several years, as can be seen below. Sales for the month were led by gasoline (due to higher prices), restaurants and ecommerce or non-store retailers.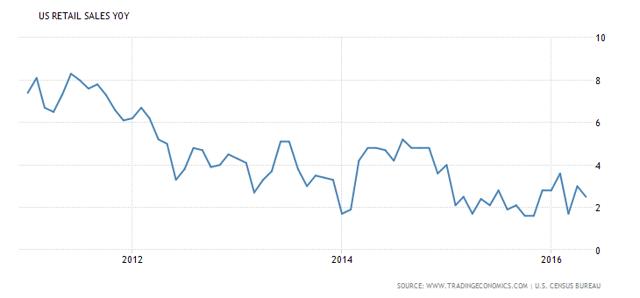 Business Inventories
Total business inventories, which include those of retailers, wholesalers and manufacturers, rose 0.1% in April. Total business sales grew at a faster pace of 0.9% for the month, which led to the first decline for the year in the inventory-to-sales ratio, albeit small, to 1.40. This inventory-to-sales ratio is still higher than the year-ago level of 1.37.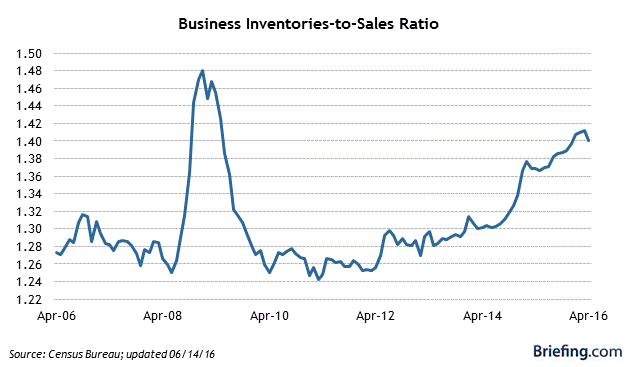 Inventories typically rise when the economy is strengthening in anticipation of stronger sales growth, and then fall when sales growth is weak. Yet we are still seeing a year-over-year increase in inventories, while sales are declining, which indicates weaker rates of production growth moving forward.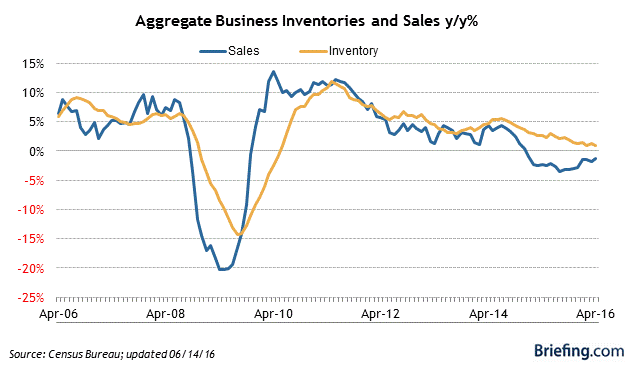 Industrial Production
Industrial production fell 1.4% on a year-over-year basis in May, which was the ninth consecutive monthly decline. Last month's drop was led by a steep decline in auto production, where inventories remain relatively high. As a result of the steady decline in production, capacity utilization rates also continue to decline. This doesn't paint the picture of an economy that is gaining strength, and the still elevated overall business inventories-to-sales ratio implies weaker rates of production moving forward.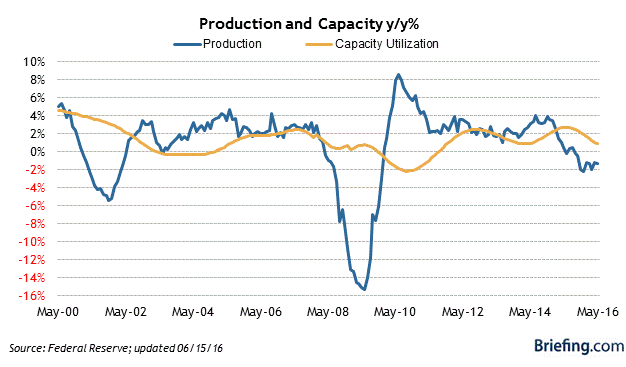 Small-Business Optimism
According to the National Federation of Independent Business, "the Index of Small Business Optimism rose two tenths of a point in May to 93.8, a negligible increase showing no real enthusiasm for making capital outlays, increasing inventories or expanding." Ugh! This news does not bode well for the labor market, as small businesses are our primary job creators. This index has been in a steady downtrend since peaking 18 months ago in January 2015.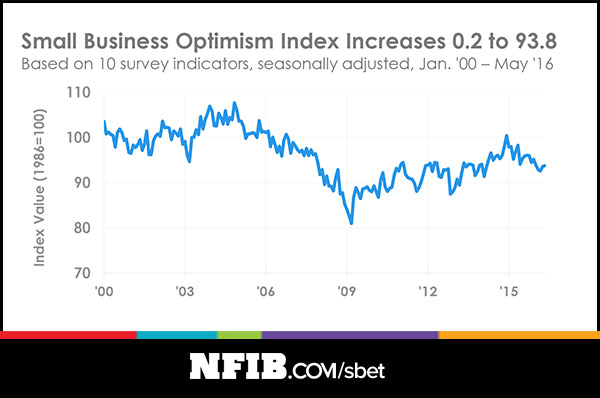 Consumer Price Index
The Labor Department reported that consumer prices rose 0.2% in May. The overall Consumer Price Index is up 1.0% on an annual basis, while the core rate (excluding food and energy) is up 2.2%. Leading the price increases over the past year are rents (+3.4%) and healthcare expenses (+3.5%).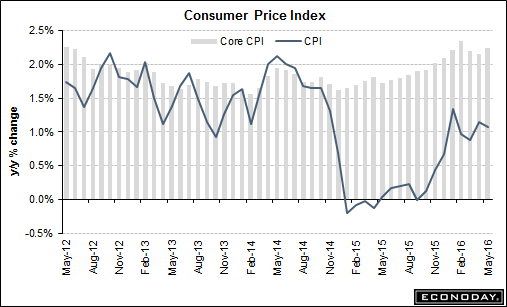 What concerns us is that as the year-over-year price declines for energy wane, the overall rate of inflation will gradually rise in line with what is the core rate today (2.2%). As this happens, it will erode the miniscule gains we are currently seeing in wages on an annual basis.
Real (inflation-adjusted) average hourly earnings rose 1.4% in May on a year-over-year basis, which is down from a growth rate of 2.3% a year ago. As a result of a shorter work week, real weekly earnings rose by just 1.1%, which is also substantially lower than the 2.3% growth we saw a year ago. If the overall rate of inflation were to rise from 1.0% to 2.2%, it would wipe out increase we are currently seeing in real weekly earnings. Wages fuel spending, and real wage growth is what drives overall consumer spending growth. The decline in real wage growth we have seen over the past year explains the declining rates of retail sales growth.
In Conclusion
It has been our long-held view that the US economy is weakening, rather than strengthening as the Federal Reserve has maintained. We cited indications that the labor market was losing steam as early as January, which was confirmed by last month's surprisingly weak employment report. The Federal Reserve is coming to grips with this reality, as six officials now expect just one more interest-rate hike this year, up from one in March. At some point they will all wake up to the fact that there will be no more rate increases this year. That time has come and gone, unless they mistakenly choose to interpret the stock market's strength as a sign of economic stability.
Disclosure: I/we have no positions in any stocks mentioned, and no plans to initiate any positions within the next 72 hours.
I wrote this article myself, and it expresses my own opinions. I am not receiving compensation for it (other than from Seeking Alpha). I have no business relationship with any company whose stock is mentioned in this article.