Shares of Best Buy (NYSE:BBY) have slid roughly 12% over the past year and are now almost 21% off their 52-week highs. We think this sell-off in light of mobile phone and tablet weakness coupled with window-shopping related concerns and a downgrade from Credit Suisse provide investors a compelling buying opportunity into what we see as a significantly undervalued stock.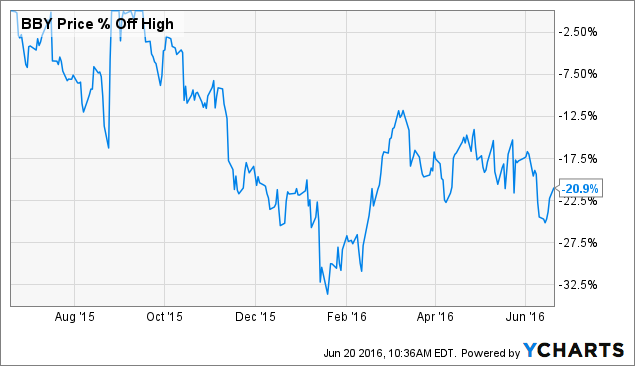 While the business does not look positioned to be much more than an LSD grower on the topline over the next several years, we argue the stock is simply too cheap here. On a standalone basis, the stock's 10.5x trailing P/E multiple and 3.5x trailing EBITDA multiple look ostensibly cheap. Considering analysts are looking for MSD earnings growth this year and next as well as projecting a DD earnings CAGR over the next 5 years, BBY's 3.5x EBITDA and 10.5x earnings multiples look especially attractive.
At its current valuation, BBY is actually cheaper than the much maligned teen retail industry. Abercrombie and Fitch (NYSE:ANF) is trading at 22x trailing earnings, while American Eagle (NYSE:AEO) is trading at 5x EBITDA. This is out-of-whack with our qualitative assessment of these companies. Both are at-risk of losing market share to Amazon (NASDAQ:AMZN), but we argue BBY has a significantly larger moat against AMZN encroachment than teen retail.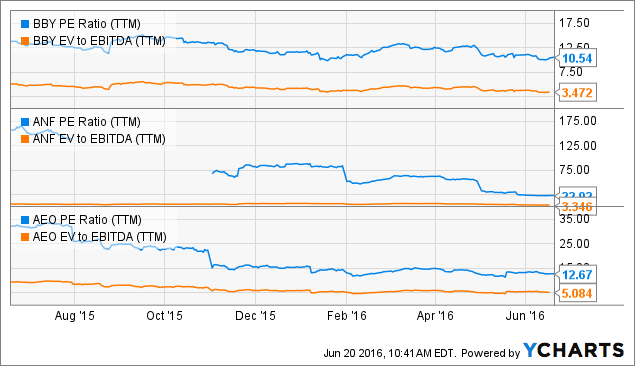 BBY PE Ratio (NYSE:TTM) data by YCharts
BBY's biggest issue as it relates to AMZN is the window-shopping phenomena. Consumers head into BBY stores, consult the experts, find out what specific product they are looking for, and then head home to browse the Internet for the best price on that product. While this is an inevitable byproduct of the Internet era, we think BBY is executing strategic initiatives to minimize window-shopping and thereby minimize customer turnover to AMZN.
Firstly, BBY will price-match AMZN and other traditionally cheaper retailers such as Target (NYSE:TGT) and Wal-Mart (NYSE:WMT). Granted, as with most price-matching policies, there are a slew of qualifications and exceptions, but for the most part, BBY will price match for identical products. For non-Prime subs, it then becomes a financial benefit to purchase at BBY. For Prime subs, it becomes a speed-of-delivery or convenience benefit to purchase at BBY.
Secondly, BBY's store-within-a-store format has continued to yield impressive results and will likely continue to provide protection against AMZN and other online competition. A store-within-a-store is essentially a portion of the floor plan dedicated specifically to just one vendor and outfitted with employees who are experts on that vendor. This essentially equips every BBY store with more than just overall tech experts, but brand-specific tech experts as well, allowing the customer to be even more informed. We argue that a better and more educational customer service experience in-store increases the likelihood of a customer buying in-store.
Thirdly, AMZN has, on average, bigger ticket items than teen retail, and these items are immersed in a space wherein expert advice is almost a necessity. There seems to be some evidence to suggest bigger ticket items aren't selling as well on AMZN, and we qualitatively agree here. The bigger the ticket usually means the more durable the product, and these together usually mean the more a customer wants to test-run the product before a purchase. Moreover, the consumer electronics portfolio of products is becoming so complex and diverse that having some level of expert advice is almost a necessity. The problem for BBY, then, loops back to window-shopping. As long as BBY can manage this issue, the company should be able to persist at LSD to MSD growth. We think they can with the aforementioned initiatives.
In the near term, we identify two tailwinds that will help pick-up sales in the rest of Fy17.
1) Strong housing market: The one part of the economy that is undeniably strong is the housing market. In April, new home sales hit their highest level since 2008. More new homes means more people who will be looking to furnish their homes with electronics.
2) iPhone 7 launch: The iPhone 6 was so successful and well-received that not many owners wanted to upgrade to the iPhone 6s. In a longer-term window, this means a significant number of iPhone owners haven't upgraded their phone since 2014. Recent data suggest 60% of iPhone 6 users have not upgraded since 2014, so that is a significant number of customers who, by the time the iPhone 7 launches later this year, will not have updated their phones in 2 years. Regardless of how compelling the product is, we think the iPhone 7 sells especially well considering the lack of upgrades last year. BBY has Apple (NASDAQ:AAPL) stores-within-a-store at many of its locations, so BBY should be a natural beneficiary of a strong iPhone selling season later this year.
In sum, the valuation is too cheap here for a company that should be able to continue to grow at an LSD to MSD per annum range. BBY should not be cheaper than teen retail, and we view this cheap valuation as a compelling buying opportunity. The stock has catalysts in the near-term which could drive earnings and sales beats, and this gives us confidence that we can net a strong return relatively soon.
Disclosure: I/we have no positions in any stocks mentioned, but may initiate a long position in BBY over the next 72 hours.
I wrote this article myself, and it expresses my own opinions. I am not receiving compensation for it (other than from Seeking Alpha). I have no business relationship with any company whose stock is mentioned in this article.