Visa (NYSE:V) has been among the major beneficiaries from the shift towards a cashless society as the global economy takes advantage of cheaper and more convenient payment options created through a network of cards and mobile technologies. By positioning itself as the platform and provider facilitating these transactions, the company has experienced limited downside risk as merchants are faced with the need to work alongside Visa in order to effectively access a large part of the consumer market. This has helped the company gain leverage in the industry as many merchants are forced to accept the company's fee structure in order to work alongside a network of 2.4 billion cardholders making up 56% of all global credit transactions in 2015. This strength in both its data network and competitive position has resulted in consistent transaction volume growth with 2015 reporting an increase of 11% yoy, totaling $27.9 billion.
This strong market position has allowed the company to use its leverage as a card network provider to support high fees in an increasingly competitive landscape. When considering the Canadian marketplace, the country has seen many public examples of this oftentimes difficult relationship between merchants and network providers. In 2014, a voluntary agreement submitted by the Canadian division of Visa and MasterCard (NYSE:MA) stated that the "swipe" rate, also known as the interchange fee, will be frozen at the current 1.5% level until 2019. This agreement follows two consecutive years of increases in interchange rates by a combined 25% as businesses continued to struggle at the negotiation table as Visa leveraged its strong market position. While the move saw tensions temporarily relax, limited regulation of the sector continues to allow many of these network providers and associated banks the room to keep fees above the global average. Relative to global counterparts, Canada's average interchange fee is three times larger than in Australia and almost five times larger than in Europe, a significant premium which has pressured low-margin retailers throughout the country. From a consumer's perspective, last week's development in the retail space has once again brought to light this issue as the biggest credit card issuer in the world was challenged by the world's top retailer, Wal-Mart (NYSE:WMT).
On June 11th, Wal-Mart Canada released a statement outlining its intentions to ban the use of Visa credit cards across all Canadian stores due to consistently high fees which have interfered with its low-cost strategy. The release writes:
"Following an evaluation of credit card transaction fees in Canada and the rest of the world, we have concluded the fees applied to Visa credit card purchases remain unacceptably high. To ensure we are taking care of our customers' best interests and delivering on our promise of saving customers money, we constantly work to reduce our operating costs, including credit card fees. Unfortunately, Visa and Wal-Mart have been unable to agree on an acceptable fee for Visa transactions. As a result we will no longer accept Visa in our stores across Canada, starting with our stores in Thunder Bay, on July 18, 2016. This change will then be rolled out in phases across the country."
Wal-Mart Canada pays over $100 million every year in fees to accept credit cards, however, with recent pricing pressure, these high interchange rates have once again come into question. Tension has always existed between the card networks and merchant community as the cost of supporting credit infrastructure has increased in line with the adoption of credit cards in the past decade. In the current market, the Canadian Federation of Independent Business says that increasing network fees have cost Canadian consumers between $5 billion to $7 billion a year. There is no doubt that these increasing fees have been a burden for both consumers and businesses, but this recent disagreement between two major global companies is a huge problem for the fundamentals of a relatively consistent industry.
The 2014 voluntary agreement has been the centre of discussion as many still believe relative to the global average, the current fee Visa charges remains too high in Canada. However, for such a large organization like Wal-Mart that centrally depends on the volume of customers to drive sales growth, eliminating the use of Visa cards is a much more dramatic move that has caught the market's attention. Many market professionals agree that this move seems to be a negotiation tactic employed by the company to push Visa towards loosening its stance on higher fees. With 56% global market share and countless additional partnerships among its subsidiaries, such a move threatens Wal-Mart's current model and relationship with Visa.
When making the argument for lower interchange fees, the Canadian government has always been supportive of merchants who have a much smaller influence in the world of payments. However, much of the regulation that exists is focused on smaller businesses that operate on thin margins and struggle to pay these fees charged by providers. A global organization like Wal-Mart is far from the expected party that would complain about these high rates, but it does raise an important question of whether with enough consumer support, it is possible to influence change in Visa's fee structure. Costco (NASDAQ:CSCO) had done something similar with American Express (NYSE:AXP) after fee concerns resulted in the company banning the use of AMEX cards across Canadian stores. The main concern for Wal-Mart's investors is whether Visa actually calls their bluff and drops any negotiation efforts, a scenario where consumers would suffer greatly due to Visa's position in the country. Doug Stephens, a Toronto-based retail analyst and strategist, said:
"At the end of the day, when we strip everything out of the debate, we're dealing with the potential that six out of ten customers will come into a Wal-Mart store and be disappointed that they can't use their credit card. Competition is extremely tough. This is not a good time to limit your consumer's ability to buy from you. This isn't the first time the two titans have clashed - in the U.S., Wal-Mart is currently suing Visa for the methods it uses to verify transactions, and the companies have also reportedly butted heads over fees, although American stores will still accept Visa cards despite the change in Canada."
With current tension and additional push-back from Wal-Mart's international segment, a further implication of this move could signal a much larger breakdown in relations. If this negotiation tactic does turn out successful and Visa concedes its stance on the current fee structure, Wal-Mart could potentially introduce a much more international push to reduce interchange fees. For Wal-Mart's shareholders, the possibility of losing Visa's Canadian payment infrastructure does raise concerns about the future relationship between the two companies. However, if terms are renegotiated, further cost reduction in this space could signal much more savings for a global organization like Wal-Mart. Whether the reasoning behind this decision is domestically focused or testing a much larger strategy, the idea itself is a defining tactic, which will set a precedent for future negotiations between large-scale merchants and card providers.
Visa Canada Response
Following Wal-Mart's statement outlining the harm that Visa's high fees have had on its low-cost model, Visa responded strongly with a statement last Thursday posted to the group's website:
"Wal-Mart has always been treated as one of our most important global partners and we have always recognized their scale in our relationship. Recently, we offered Wal-Mart one of the lowest rates of any merchant in Canada. But Wal-Mart is still demanding more. They believe that their cost to accept Visa cards should be much lower than all other merchants - lower than local grocery stores, pharmacies, convenience stores - and yes, charities and schools too. And they are using their size and scale to give themselves an unfair advantage."
The company's reaction to Wal-Mart's recent push-back was surprising as Visa went on the defensive shifting the blame to WMT. Visa also took out ads in local newspapers as the company released the statement and expressed its displeasure at being forced to sign onto unfair terms. Looking at the 2015 data, while the Canadian segment contributed only 3.26% of total transaction volume for Visa, the structural similarity of Canada's payments market to that of the US does raise some concerns. If Wal-Mart's tactic in the Canadian market is successful and costs are reduced either through renegotiation or the complete banning of Visa products, there is a possibility that the company might consider a similar tactic in the US, which makes up 42.86% of overall transaction volume for Visa.
When considering the longer-term implications of this public dispute, Visa's shareholders should be worried and properly appreciate the risk that comes with this breakdown in negotiations. Wal-Mart has forced Visa into this difficult position where the company either renegotiates a deal and concedes on its pricing in order to hold onto a major client or decides to drop it and stand by its fees. If Visa does renegotiate, the company risks the possibility that other major clients may adopt similar negotiation efforts in order to reduce network fees. By accepting lower fees, the company essentially concedes its position of leverage as the Canadian market and government push for increased regulation to lower costs closer to the global average.
On the other hand, if the company does stand by its rates, the group and partner Canadian banks will stand to lose an expected $89 million while also leaving their competitors to profit off this change. Amid this tension, reports have confirmed that Wal-Mart is moving to bring its own electronic payment system, Wal-Mart Pay, to Canadian stores, which should further solidify its independence in the Canadian retail space. Worst yet, in either scenario, Wal-Mart has confirmed to the industry that for larger organizations, making such a dramatic move pushes Visa out of the driver seat and into a position where the merchant is finally able to dictate terms at the negotiation table. For Visa's shareholders, the potential push-back will threaten current margins and potentially impact the longer-term profitability of the company and its operating structure in developed markets. Whichever way negotiations do proceed in the following weeks, Visa will lose a major battle in the Canadian space, which will only encourage more multinationals to test the company's influence and resolve for its fee structure.
Understanding the Credit Card Cycle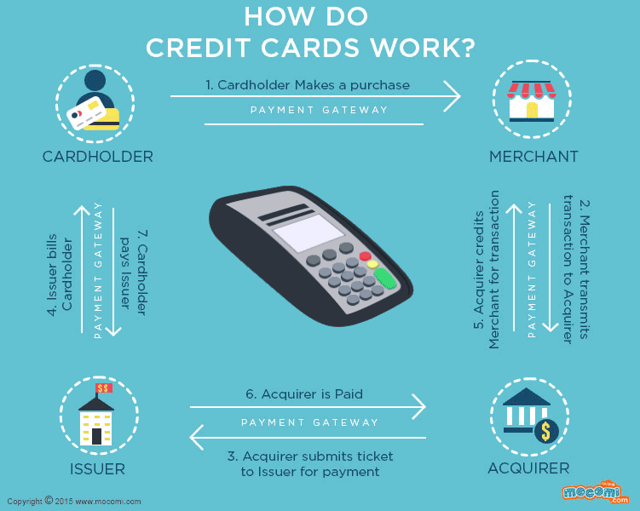 Sourced From Merchantmaverick.com
To better interpret the recent push-back by Wal-Mart Canada, it is important to understand how merchants and cardholders are charged under current credit card infrastructure. While attention has been focused on the interchange fee, card providers do not actually make their money from these rates, but rather off the banks using their products. For businesses, charges are split into two categories, transactional and flat fees. The transactional category is where the interchange fee falls into as the merchant is charged every time a consumer uses his/her credit card in addition to the merchant bank discount. Conversely, flat fees include terminal, payment gateway, network, and other incidental fees, which are not included in the interchange fee. While that fixed rate charged in the transactional category has been regulated, companies like Visa actually make most of their money off other flat fee charges. Business contributor Dana Flavelle writes:
"The credit card companies don't receive any revenue directly from interchange rates. Instead they make their money by charging the banks fees for networks, transactions and other kinds of services. The card companies have also introduced a growing number of premium and even super-premium cards that cost merchants more to process. The cards appeal to consumers because they contain a number of attractive incentives, such as travel and other rewards."
When looking at the recent dispute between Visa and Wal-Mart Canada, the push to lower interchange fees is only a component of the overall pay package that supports these card networks. While it is great to see push-back from the merchant side regarding the cost of supporting credit infrastructure, it is difficult to see how Visa will be able to cut overall fees by a significant margin. For such a scenario to be realized, both the card network provider and the merchant bank would have to jointly agree to cut costs while also reducing the fraud protection insurance that has become increasingly more costly. Another major component of the pay package which has contributed to this large increase in fees is the premium cards offered.
For Wal-Mart, the Rewards MasterCard falls into this premium category, which is among the most profitable product lines for companies like Visa due to the high transaction volume it generates. It's a great deal for the providers as the incentives and loyalty rewards offered are covered by the partner bank while Visa benefits from higher transaction volume. With the increased popularity of these cards, many of the banks supporting these incentive programs have increased the merchant discount charged to businesses in order to cover the related expenses. With higher merchant discounts, the limit on the interchange fee has forced Visa to increase other flat fees in order to cover the expenses that come with these premium cards.
While there is no doubt that Visa itself has benefited from these increasing rates, the overall contribution of this increase is jointly shared by the banking network supporting these cards in addition to the stores themselves which offer these premium deals. For this reason, while the announcement of such a drastic move was a great strategy to put pressure on Visa, Wal-Mart will not be able to significantly change the current fee landscape unless further cooperation is seen across the network. When considering the likelihood of such cooperation, Wal-Mart's expectation is that the financial impact shared by Visa and partner banks will be enough to force the company to reopen negotiations. Financial Post writer, Barbara Shecter, writes:
"[An] industry source calculated that there could be some $82 million in interchange fees at stake for the Canadian banks that issue Visa cards. It's not material, but it's not insubstantial either, and it could cause the banks to put pressure on Visa to head back to the negotiating table and cut a deal to lower fees charged to the retailing giant, this person said."
Overall, even if Visa is forced to agree to lower fees, consumers will be faced with the burden of these cost changes. When considering the 2014 Canadian voluntary agreement by Visa and MasterCard, reports had confirmed that this freezing of fees would cost the network providers around 10% of future revenue growth. To compensate for this decline, there was a clear change in cardholder benefits and pricing as partner banks responded to these lower margins in an effort to find alternative avenues of growth. Looking to the current environment, regardless of whether WMT does achieve its intentions of reducing network fees with Visa, both companies will hurt the consumer, which should impact the use of these cards and the incentives to shop at Wal-Mart. Further cost increases through higher interest rates and lower offerings will impact both Visa's transaction volume in addition to Wal-Mart's Canadian sales.
Conclusion
Overall, the recent tension between Wal-Mart Canada and Visa has raised a major question regarding the current payment structure and cost of supporting credit card networks in the country. By taking a stronger stance against Visa's current fees and banning the use of its credit cards at all Canadian stores, Wal-Mart has employed a very strong tactic, which has set a future precedent for major retail organizations when negotiating with card providers. While there is no doubt that Visa's business model remains very competitive in the new world of global payments, this recent development raises some questions regarding the influence that Visa holds over major retail organizations. With a dominate market position, Wal-Mart's concerns regarding Visa's high fees are warranted, however, it remains difficult to anticipate any significant decline without harming the cardholders who shop at their stores. Whether Visa does reopen negotiations or decides to give up on any efforts, both companies will be negatively impacted by this public dispute.
Disclosure: I/we have no positions in any stocks mentioned, and no plans to initiate any positions within the next 72 hours.
I wrote this article myself, and it expresses my own opinions. I am not receiving compensation for it (other than from Seeking Alpha). I have no business relationship with any company whose stock is mentioned in this article.