At $50 crude oil, most E&P companies aren't going to make much money. To make things worse, many E&Ps have to service a big pile of debt. For these reasons, I've become very selective with E&P companies, and have preferred to err on the side of caution for the last year or so.
Occidental Petroleum (NYSE:OXY) is one of the small handful of E&Ps which I do have confidence in. Here's why I like Oxy: It used to be a sprawling oil company that, a few years ago, decided to simplify and focus on its one big strength: West Texas.
Occidental is the biggest acreage-holder (of oil companies, at least) in the Permian, with over two million acres. It has thousands of potential horizontal drilling locations which could provide years worth of production growth. More importantly, Oxy is the biggest of oil producers by means of CO2-injection, a form of tertiary oil recovery that involves low drilling costs and low decline rates. This article looks at Oxy's latest quarterly earnings results, and specifically its cash flow numbers and projections to determine whether the company can afford its capital expenditure and 4% dividend yield.
Back of the envelope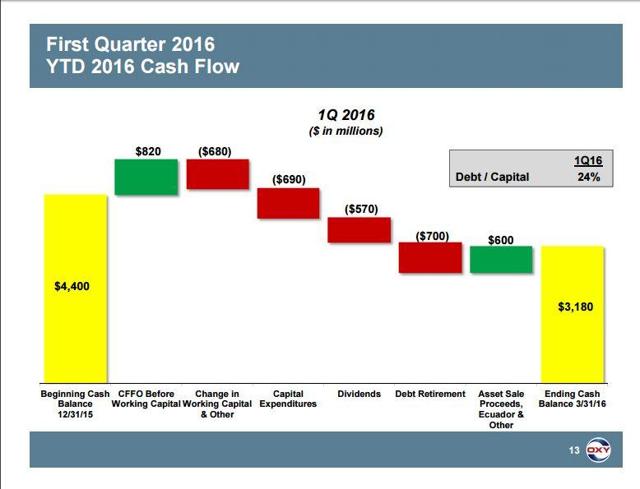 Courtesy of Occidental Petroleum Investor Relations.
This chart shows us a lot about Occidental. Before getting into calculations I want to explain a few things. Management expects to spend $3 billion in capex this year. This will translate to between 4% and 6% production growth, thanks largely to low decline rates from enhanced oil recovery operations.
With that in mind, last quarter Occidental burned through about $1.2 billion in cash. Factoring out asset sales, debt retirement and working capital, that would put Oxy's cash flow at negative $440 million on the quarter. That's not good, but consider that Q1 was the rock bottom for crude oil prices, with crude realizations at just $29 per barrel and dry gas at $1.50 per mcfe.
With crude at $50, the picture changes significantly. Oxy generates $100 million in additional annual cash flow with each $1 higher in realized crude prices. So, with oil $20 higher right now, that translates to $2 billion in extra cash flow, or $500 million per quarter. Dry gas is a full $1 per mcfe higher, which means an additional $25 million per quarter.
Add that $525 million to $820 million of operating cash flow from last quarter, and we get $1.345 billion per quarter in operating cash flow. Capex is expected to be around $750 million, and the dividend is another $570 million, which puts us at $1.32 billion. That means Oxy can both grow production and afford its dividend at $50 oil. Not bad.
Is Oxy a buy?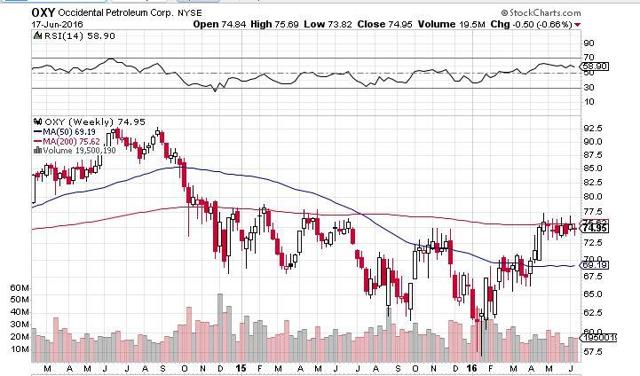 Courtesy of Sharp Charts.
Like so many E&Ps, Occidental's share price has nowhere near fully recovered from the drop in crude oil prices. And despite a good bit of price recovery, Oxy still yields 4% right here. I have a lot of confidence in that dividend, and so I don't mind recommending Oxy right here.
Going forward, Oxy will spend more resources on CO2-injection oil wells. This means a less capital-intensive way to maintain and grow production, even though that will lead to moderation of production growth. I see this as a good thing to Oxy, and it is a perfect choice of action in this price environment. Few other E&Ps in the US have an asset base comparable to that of Oxy. If you're an income investor, Oxy remains one of the few E&Ps that you can buy.
If you're interested in Occidental Petroleum, feel free to follow me here on Seeking Alpha. I periodically write about this stock, and will provide updates when they are material and relevant.
Disclosure: I/we have no positions in any stocks mentioned, and no plans to initiate any positions within the next 72 hours.
I wrote this article myself, and it expresses my own opinions. I am not receiving compensation for it (other than from Seeking Alpha). I have no business relationship with any company whose stock is mentioned in this article.