Over the last month, several media outlets have speculated on a FireEye (NASDAQ:FEYE) buyout. This news follows speculation at the start of the year that the cybersecurity stock was a top buyout target for the year though my research suggested the deal for iSIGHT made that highly unlikely.
The question though is whether FireEye is a legitimate buyout target. Or if investors even want a buyout with the stock trading over 80% below all-time highs.
Legitimate Target?
With the $4.65 billion cash purchase of Blue Coat (BLCT) by Symantec (NASDAQ:SYMC), FireEye is naturally brought up in speculation. At a valuation of $2.8 billion and similar revenue totals, the comparison that FireEye is a similar target appears natural.
On top of that, several other reports including this one via Bloomberg have suggested that FireEye was a target of even Symantec, but the company wanted too high a price. At the suggested $30, the stock approaches a valuation of $5.5 billion.
For tech industry players like Cisco Systems (NASDAQ:CSCO) or IBM (NYSE:IBM), the problem is making a deal for FireEye turn accretive and appealing to their existing shareholder base. As this other Bloomberg Gladfly report suggests, FireEye is cheap based on free cash flow estimates. The analyst estimates are for FCF of $125 million in 2017 making the stock appear cheap in early May, but not so much at prices up to 150% higher at the requested deal price.
Not to mention, the bigger issue is the large ongoing EPS losses. The shareholder bases of Cisco and IBM focus as much on EPS numbers and maybe more so than FCF. Analysts forecast FireEye losing $0.55 in 2017 so losing money would make any deal dilutive whether paid via cash or stock. Not to mention, a cash deal would involve weakening the balance sheet and reducing profits at the same time.
In those regards, FireEye doesn't appear a legitimate target until the finances are improved.
Stand Alone
The more likely prospect is FireEye remaining a standalone company for now. The shift towards positive FCFs will help the valuation of company even if a technology giant struggles to justify buying a cybersecurity stock with repeated losses.
A big key to all that drives the stock price higher is the ability of FireEye to greatly reduce the ongoing quarterly losses. Analysts might forecast big increases in future FCFs and a reduction in losses the next couple of years, but the company needs to actually show tangible results.
For Q2, FireEye only expects a slight improvement in the YoY loss from the $0.41 loss last year. The expected loss for this quarter though continues to rise and sits at $0.39 now after starting at $0.36 90 days ago.
One of the biggest value traps is a stock that consistently pushes out the expectations for improving numbers. FireEye very much qualifies for a company that needs to first help itself. In order to meet the lofty 2017 financial goals, the company needs to prove to the market via Q2 results and Q3 guidance that the numbers are on track to actually improve. Analysts currently forecast a sizable drop in the quarterly loss from an estimate of $0.39 for Q2 to only $0.24 during Q3. For the stock to rally, FireEye must guide to beating this number.
As the below chart from Estimize demonstrates, FireEye has been exceptionally good at consistently reporting large losses. The quarterly losses for the last couple of quarters were similar to the prior year totals.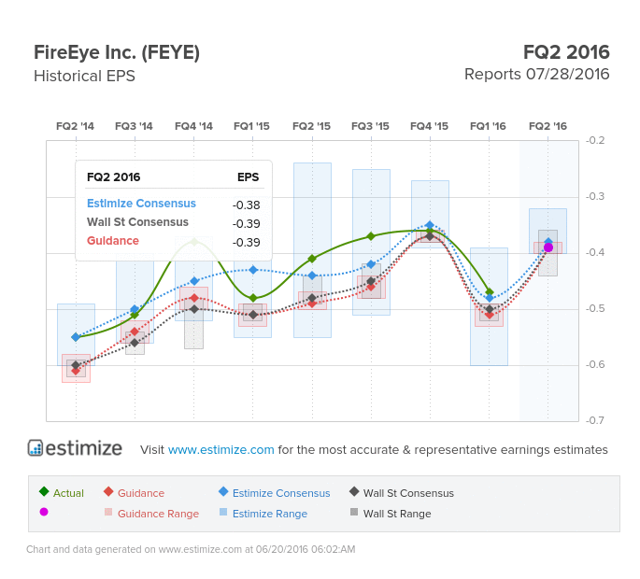 Takeaway
Any large tech company could theoretically buy FireEye for the cybersecurity technology. The company could lay out a plan for millions in synergies likely due a more efficient sales process.
Such a scenario seems very unlikely due to the long history of FireEye paying substantial amounts to the sales and marketing department to obtain the current growth rate. If somebody cut 20% of the sales force, would FireEye still grow revenues at 25%?
Even worse, a large amount of synergies may only get somebody like Cisco or IBM to a neutral earnings profile making any deal for FireEye highly unlikely at this point. The best scenario for the stock is for the company to change the narrative regarding the above earnings trend and actually prove that positive FCF and future earnings are legitimate targets.
For now, paying 22.4x forecasted 2017 FCF targets of $125 million appears a steep price for a company that doesn't materially improve bottom line results despite solid top line growth. Expecting a buyout with a large premium appears even more unlikely.
Disclosure: I am/we are long IBM.
I wrote this article myself, and it expresses my own opinions. I am not receiving compensation for it (other than from Seeking Alpha). I have no business relationship with any company whose stock is mentioned in this article.
Additional disclosure: The information contained herein is for informational purposes only. Nothing in this article should be taken as a solicitation to purchase or sell securities. Before buying or selling any stock you should do your own research and reach your own conclusion or consult a financial advisor. Investing includes risks, including loss of principal.