For investors and watchers of Trinity Industries (NYSE:TRN), the main thing they tend to think about regarding the business is that it's a manufacturer and leasing operator for railcars that's located in the U.S. There is no doubt that this is certainly true and these operations do make the entity a major player in this space but another part of the enterprise that just got a nice boost was its wind tower operations, which were awarded a rather hefty contract. In what follows, I will dig into the data and reveal what I believe this means for Trinity moving forward.
A look at the U.S. wind tower industry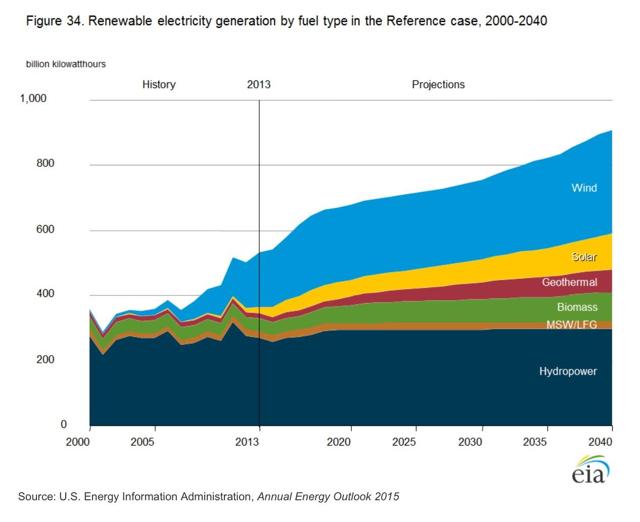 As of the time of this writing, the wind industry in the U.S. is extremely small, accounting for just 4.4% (in 2014) of all electricity generation. However, even given the size that the industry stands at today, it still manages to produce the equivalent of 20 million homes worth of power every year and is expected to grow by 2.4% per annum through at least 2040. In the image above, provided by the EIA (Energy Information Administration), you can see wind's projected growth through 2040.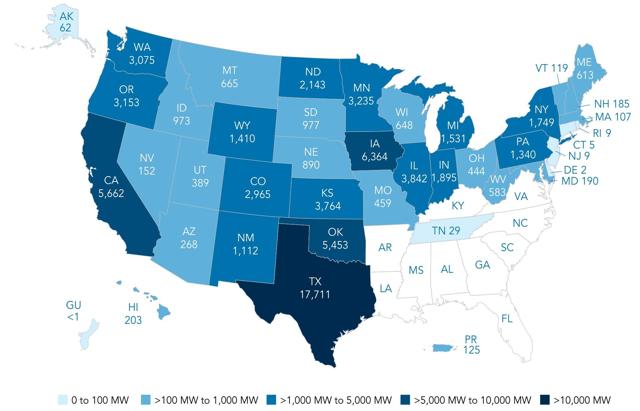 Spread across 40 states here in the U.S., plus Puerto Rico (as you can see above), the industry accounts for an estimated 88,000 jobs and is certain to employ even more individuals in the future. During the first quarter of 2016, the space added 520 MW of capacity, representing the highest growth reported during the first quarter of any year dating back to 2012. This brings total electricity generation capacity up to 74,512 MW but even more power is planned to be added in the next few years.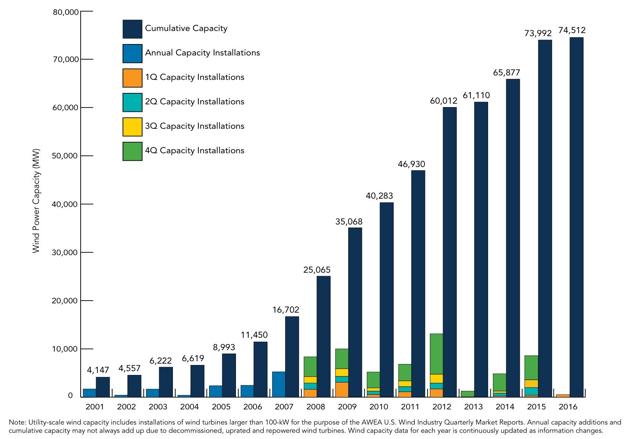 Thanks to the Production Tax Credit, which was extended at the end of 2015 for a period of five years, companies are investing heavily in expanding their own capacity. As of this moment, an estimated 10,100 MW of capacity are under construction in this space and another 5,100 MW are estimated to be in "advanced stages of development" according to the AWEA (American Wind Energy Association). One of the businesses that is sure to benefit from this trend, if they play their cards right, is Trinity Industries.
Trinity's backlog just shot up
Last year, Trinity's Energy Equipment Group's revenue came out to $1.11 billion, the highest on record. Of this, $611.8 million came from wind towers and utility structures. This represents an increase in sales of 34.6% compared to the $454.6 million in revenue generated a year earlier and is 118.4% greater than the $280.1 million in sales recorded for the business's 2013 fiscal year. Although this is still small for the company from a revenue standpoint, accounting for just 7.7% of Trinity's sales (before corporate eliminations) and the segment itself came out to just 14% of the business's revenue, the growth rate seen here is impressive.

On the bottom line, the results are almost equally impressive. Last year, segment operating profit associated with the firm's Energy Equipment Group came out to $150.9 million, up 39.6% from a year earlier when profits totaled $108.1 million, and up 145.8% from the $61.4 million seen in 2013. As you can see in the image above, the segment's operating profit margin has only continued to rise, growing from 9.2% in 2013 to 13.5% last year. During the first quarter of this year, even with sales down (wind tower and utility structure sales were up 10.6% but the "other" category of sales pushed total revenue in the segment down 8.9%), the segment's operating margin came out to 13.7%, up from 12.4% the same quarter last year.
The one downside to the segment is that, given the recent downturn in the energy market, backlog has been falling. While in 2014 the backlog for wind towers came out to $473.5 million, that number had declined to $371.3 million by the end of Trinity's 2015 fiscal year. During the first quarter of this year, the number plummeted to just $263.4 million, suggesting that tough times could be ahead. Fortunately, though, the picture seems to be turning around and is doing so at a nice clip.
According to a recent press release by management, Trinity landed (earlier this month) a contract to an undisclosed customer valued at $940 million. This will be spread out over a three year period beginning in 2017 and is the highest wind tower backlog for the company that I've seen on record. Assuming that margins remain unchanged from last year's number, the segment operating profit generated by this contract should be $126.9 million, nearly as much as all of 2015's segment operating profit and meaningfully higher than what was recorded as profit in 2014 and 2013.
Takeaway
Based on the data provided, the wind tower and utility structures operations owned by Trinity seem to be in their growth phase still and with a major contract for the company that drastically increases the firm's backlog, along with the fact that the industry as a whole appears to be doing well, it's hard not to be optimistic about this. Moving forward, it would not be surprising to see additional contracts coming online for the company but even if this does not transpire, it represents a nice win for Trinity and for its shareholders in the years to come.
Disclosure: I am/we are long TRN.
I wrote this article myself, and it expresses my own opinions. I am not receiving compensation for it (other than from Seeking Alpha). I have no business relationship with any company whose stock is mentioned in this article.