Apple (NASDAQ:AAPL) has been rolling out Apple Pay around Asia as a priority. There has been much speculation about whether Apple Pay in general can be a meaningful income generator for the company. Compared to the huge income generated by the iPhone, the answer is probably not. The company reportedly makes 15 cents for every $100 spent in the USA, and maybe less in some overseas markets.
However, in Asia, contactless payment has a higher take-up rate than elsewhere in the world. McKinsey has forecast that electronics payment growth worldwide will be about 7% per annum over the next five years. Much of this growth will come from Asia while electronic payment adoption has been comparatively slow in North America.
The Asian region is close to becoming the single biggest market for Apple in general, and Apple Pay will be an important element.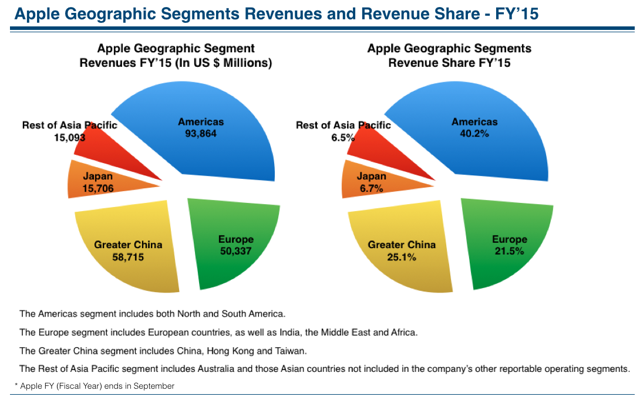 Revenue in Asia in 2015 was 38.3% of total revenues only just behind the Americas at 40.2%. Growth in Asia has been more rapid than elsewhere. It is quite likely that Asia will be Apple's single biggest market in terms of revenue this year. After that, there is little doubt it will continue to grow relative to other markets.
An interesting new report by advertising giant Ogilvy & Mather rather backed this up. They saw the next big rise of the middle class, and thus middle class spending, to be in certain Asian countries. They named these as Pakistan (population 190 million), Bangladesh (population 157 million), Myanmar (population 55 million), Indonesia (population 250 million) and the Philippines (population 100 million).
In the ever more important markets of China and elsewhere in Asia, Apple Pay can be a vital element in further developing the Apple product range in general.
China
There have been some doubts expressed as to whether Apple Pay can compete in China. Alibaba (NYSE:BABA) has its well-entrenched "Alipay" system. Apple faces stiff competition from both "Alipay" and from "WeChat" (from Tencent (OTCPK:TCEHY)). One advantage the incumbents have is that customers of small retailers can use them without credit cards.
Despite some negativity from Apple bears, the launch in China in February appears to have gone well. China Merchants Bank reported that there were about 3 million activations reported in the first couple of days. 20 banks in China were among the early adopters of Apple Pay. It is thought that Apple is taking a smaller commission per transaction in China than in other markets. The exact figure is not however available.
Starbucks (NASDAQ:SBUX), Familymart (OTCPK:FYRTY) and McDonald's (NYSE:MCD) were said to be some of the biggest retail outlets where it was initially used. The banks signed up represent about 80% of UnionPay cards. UnionPay is the country's state-run interbank network. It opens up Apple Pay to any location that has a UnionPay compatible point-of-sale system. It was reported at the recent WWDC that Apple Pay now supports "Alipay".
Samsung (OTC:SSNLF) launched its Samsung Pay system in March, but market talk is that it has not been very successful there so far. That may be because Samsung's market share of mobile phones has fallen quite dramatically in the country, down to 7.7% last year. A shrinking market share and availability of its payment system only on newer devices are strongly negative factors.
The other apparent potential big competitor, Android Pay, is late to the game everywhere. It has stated that it hoped to launch in Singapore by the end of the year.
In contrast to Samsung, the iPhone has about 14% of the Chinese mobile phone market. This is crucial to the potential for Apple Pay. iPhone sales are absolutely crucial to Apple as a whole in the short term until the company can increase its revenues from other sources. The recent iPhone SE in smaller 4" size seems to be having some effect in maintaining Apple's position in the country. Apple has not at this point broken down the figures. Estimates are that it is currently running at about 25% of iPhone sales in total. The phone is more important in Emerging Markets in general as a tool for increasing the Apple ecosystem.
The mobile payments market in China in 2015 was estimated at US$1 trillion. So it is big target. However, Apple Pay's main significance in the China market is as a way to protect and grow its market position in mobile phones. Of course, this then ties in the other products in the company's ecosystem.
Singapore
Singapore is a small country of around five and a half million people, but with a GDP per head of around US$57,000. This is higher than that of the USA. The way electronic payment has taken off in Singapore is perhaps a sign of what is to come elsewhere in Asia. Visa (NYSE:V) states that over 1/3 of debit and credit card transactions at physical stores in the country are contactless.
Even at stores which are not officially partners for Apple Pay, consumers have found that it is not a problem. If they choose to pay by contactless Visa, for instance, Apple Pay can be used. The only consumer complaint so far seems to have been the lack of awareness from some cashiers and sales staff.
Apple Pay is now available at banks accounting for 80% of credit card payments in the country. The balance banks are expected to join in as soon as they have installed the back-of-the-house systems needed. It should be fertile ground for Apple.
Singapore's largest bank, DBS (OTCPK:DBSDY), recently reported the effect of Apple Pay in optimistic terms. 45% of Apple Pay credit card users had made three or more transactions in a week under review, up from two before Apple Pay. For debit card users, the increase had been from once a week to three times a week. So Apple Pay has actually led to consumers spending more on their cards.
Another Singapore bank, UOB, has seen similar high take-up of Apple Pay. It estimates that one out of every four of its transactions are contactless. It thinks Apple Pay usage will soar in the country. It cites the large number of contactless locations, the high usage of credit cards and the high usage of mobile phones. Contactless spending at the bank in Singapore has increased by over 100% in the past year.
Apple Pay got the first-starter advantage in Singapore in April, but Samsung Pay followed in June. Unlike Apple Pay, which works on Near Field Communication (NFC) payment terminals, Samsung has its own proprietary Magnetic Secure Transmission (MST). This could have been an advantage for it. However, there have been complaints at how Samsung Pay is not available in Singapore on the Galaxy S6 and S6 Edge models. That is the case with China as well. Also, as with China, Samsung's market share has declined recently in Singapore.
Singapore was only the fifth country in the world to get Samsung Pay, showing how the market leaders recognize the potential of contactless pay in Asia.
"Alipay" is also available in Singapore for the use of Chinese tourists traveling. The restaurant spotted recently in a Singapore shopping center below illustrates this: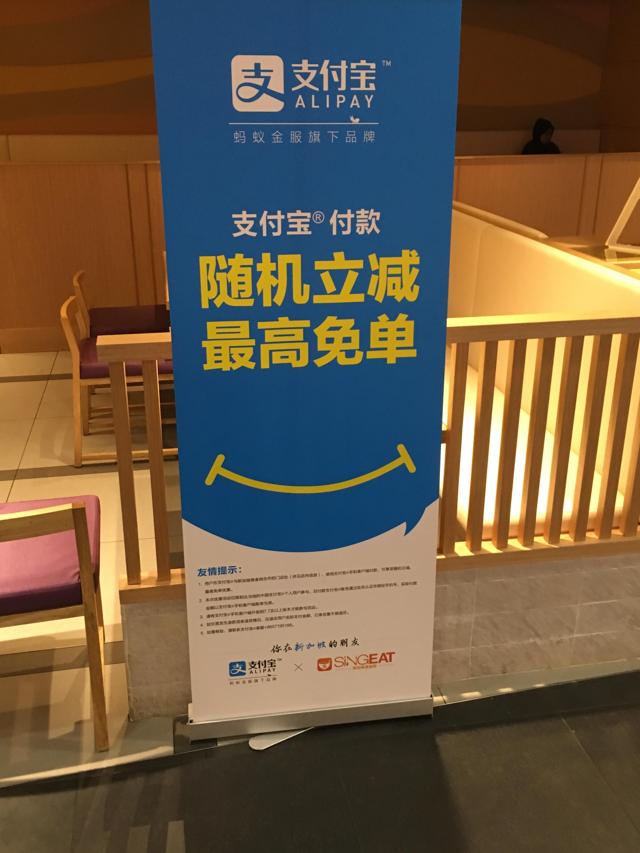 Hong Kong
The electronic payment market in Hong Kong is perhaps surprisingly less developed than in the major cities of Mainland China. This is partly because of the widespread popularity there of the "Octopus" smart card. "AliPay" and "WeChat" are available, but used really only by Mainland Chinese tourists visiting Hong Kong. The forthcoming roll-out of Apple Pay in Hong Kong is expected to give contactless payment in general a strong impetus.
It will be available on all the big credit card players: Visa, MasterCard (NYSE:MA), and American Express (NYSE:AXP). It will be available in Hong Kong for use at all the expected retail players such as McDonald's, 7-Eleven, Pizza Hut, Starbucks and KFC.
The territory's major banks such as Standard Chartered (OTCPK:SCBFF), HSBC (NYSE:HSBC) and DBS are backing it. Banks in Asia anyway seem support such systems from whichever vendor. They want customers to use their cards and not those of a competitor, what they call "interchange income". However, banks in some countries, such as in the U.K, are building their own competing payment systems.
Elsewhere in Asia
It is unclear where Apple Pay will debut next in Asia. There have been market rumors of rolling it out in Japan in conjunction with MasterCard. That could be fertile soil on the basis of Apple's very strong position in the Japanese market. On the negative side though, it might be difficult to link with proprietary Japanese technology based around the "suica" system. The suica is a pre-paid e-money card widely used around Japan.
India, now the world's second largest mobile phone market after China in terms of volume, is also on the radar of Tim Cook for Apple Pay. During his recent visit, he had discussions with bankers on Apple Pay. However, demand could be limited as credit card usage in India is low by international standards. Much of the potential at present might be in operator billing there.
Conclusion
Asia is at the forefront of the Apple Pay roll-out. Of the six countries in the world where Apple Pay is available, three are in Asia Pacific. Hong Kong will shortly make it four out of seven from the region. This is no coincidence.
Worldwide, Apple says it is adding 1 million new users per week. It has not given a geographical break-down on this as yet.
As announced at the recent WWDC, the availability of Apple Pay on websites through macOS is a positive development. A "Pay with Apple Pay" button will show up on the desktop browser. This then links with the ID fingerprint reader on either one's phone or watch.
About 70% of all online business is done via computers rather than on mobile. The faster watchOS apps and Apple Pay on the web are seen by analysts as increasing incremental usage of Apple's products.
This might provide something of a threat to PayPal (NASDAQ:PYPL), which is used widely in Asia. In fact, PayPal could be an interesting take-over target for Apple, as some have speculated. That might turn the payment business into a major revenue generator for Apple. It is thought that about 30% of PayPal's payments volume is conducted from Apple's devices. That illustrates the general high income status of Apple users.
However, what makes Apple Pay important in Asia as things stand is not the revenue that Apple derives from it. Rather it is the way it can help maintain Apple's strong iPhone position around Asian markets. This then encourages the ecosystem growth areas of the company such as Apple Watch, Apple Music, Apple Home Kit, and software apps. It can drive the new revenue service streams that Apple needs to wean itself off from over-dependence on iPhones.
Disclosure: I am/we are long AAPL.
I wrote this article myself, and it expresses my own opinions. I am not receiving compensation for it (other than from Seeking Alpha). I have no business relationship with any company whose stock is mentioned in this article.
Editor's Note: This article discusses one or more securities that do not trade on a major U.S. exchange. Please be aware of the risks associated with these stocks.