When I first started dabbling in the investment world, I always avoided banks. The reason was simple, banks just seemed too hard to value and understand. Furthermore, all of the investors that I talked to wholly avoided banks for the same reason.
There was one exception. I found out a local bank that I had been banking at my whole life was a public company; Independent Bank Corporation (NASDAQ:IBCP). After doing very little due diligence, I proceeded to buy the stock, making a quick return in a very short time.
Needless to say, I didn't know what I was doing and got very lucky. Proceeding my quick return, I left bank stocks for a few years and didn't look back.
However, in early 2016, I started to scrounge the OTC boards looking for hidden value. As I peered through the endless list of pink sheet companies, I came to a realization that the majority of the small and microcap pink sheet companies were small community banks.
I thought to myself; why should I be like every other investor and wholly ignore community banks when there are so many of them out there? Furthermore, shouldn't community banks provide good value given that almost no one looks at them?
After my epiphany that small community banks may hold value, I began researching, reading, and creating watch/to research lists of small community banks to dig into.
From emerging myself in community banks, I have come to a few conclusions. First, the majority of investors wholly ignore bank stocks for a variety of reasons. Secondly, there are a tremendous amount of opportunities in community banks to generate alpha. Thirdly, community banks are not that hard to value after all. Finally, there are a few near-term macro catalysts, that make investing in community banks, as a whole, compelling.
I am still not a professional bank investor, however, I continue to develop and learn more about investing in community banks every day. The goal of this article is to help you decide if you should invest in community banks.
Why Do You Avoid Banks?
Ask yourself; why do you avoid investing in banks? If I had to guess, you probably think of banks as too complicated, thus, throwing them in the too hard pile. It's funny though, because you will dive head first into a high technology company such as Qualcomm (NASDAQ:QCOM) or BSQUARE (NASDAQ:BSQR), yet you have very little experience in the high tech world and still don't understand what an intrinsic semiconductor does.
Community banks are quite simple. They take in deposits, loan the money out, and/or buy high yielding securities and make a spread on the difference between the interest paid on the deposits and loans/high yielding securities. Furthermore, most community banks don't have complex financials and don't utilize derivatives, which makes the valuation concise and unpretentious. In short, community banks have very simple and easy to understand business models.
One should note that another reason why some investors avoid banks is due to the high regulatory scrutiny in the space. Sure, regulations have hurt a lot of smaller banks. However, for the small banks that can get through the regulations, they have benefited and/or adapted to these regulations. As Charles Darwin would say…
"It is not the strongest of the species that survive, nor the most intelligent, but the one most responsive to change."
Regulatory change has made a decent amount of banks go extinct, however, the ones that have been most responsive to change have benefited massively through industry-wide consolidation and thus less competition.
I am curious to know why you avoid bank stocks. Feel free to leave a comment below explaining why. I am highly interested.
Reasons to Consider Investing in Community Banks
There are a few key reasons why investing in community banks may be right for you. These reasons are: a lack of competition, clear undervaluations, consolidation, and boring and predictable. I will briefly explain the rationale behind each of these underlying reasons.
Lack of Competition
Not many investors look at small community banks, and fewer put their money where their mouth is. It's funny though, companies like Goldman Sachs (NYSE:GS), Citigroup (NYSE:C), Bank of America (NYSE:BAC), Wells Fargo (NYSE:WFC), Morgan Stanley (NYSE:MS), and U.S. Bancorp (NYSE:USB), rally a significant amount of attention from the investment community. On the flipside, small community banks such as First Bank (NASDAQ:FRBA), Timberland Bancorp (NASDAQ:TSBK), Friendly Hills (OTCPK:FHLB), Ojai Community Bank (OTCQX:OJCB) and Central Federal Corporation (NASDAQ:CFBK) have little to no investor attention. Want proof? Just look at the Seeking Alpha followers of each of those small community banks.
There are a few reasons for the lack of investor awareness in small community banks. First, a good majority of community banks are microcap stocks. Microcaps as a whole lack investor awareness; as I have written about extensively here, here and here. Microcaps combined with small community banks, well, I don't think most retail or institutional investors are combining that concoction in their portfolio(s).
Secondly, small community banks are extremely boring. I try to read at least one annual report a day if I have time. For a company outside of the banking industry, annual reports aren't too bad to plow through. However, community bank annual reports are very very dry. The majority of community banks have no story. All they do is take in deposits and loan the deposits out, collecting that boring spread. Not only are their financial reports boring, but it is difficult to write an article or research report on a community bank. Thus, the lack of a story and the extremely boring business model may be the reason for the lack of community bank attention.
Thirdly, most community banks are public not to garner investor attention but for access to the equity markets. The vast majority of community banks will not have an IR team, they won't put PRs and if you are lucky, they will just post vanilla earnings. The lack of self-promotion has effectively hidden the majority of these banks from the investor's eye. Sure, there isn't going to be any previous research done on the vast majority of these community banks, however, the lack of research should spike the interest of an investor in search of alpha.
Finally, if you are in search of a community bank, you will need to do some digging. A good majority of small community banks are on the OTC boards. Companies on the OTC boards typically don't show up on your screener. In addition, not many investors I know manually scan through OTC listings to find investment ideas. It's taxing, it's time-consuming, and it's boring. In short, the lack of an ability to find community banks helps these companies fly over the heads of many investors.
Undervaluation Is Present
Given the lack of investor attention in the community banking space, should there not be clear undervaluation's present? In my opinion, the answer to that question yields a yes.
Ever since I started looking at community banks, I have been amazed at the deals in the industry. It's not unusual to find a bank growing its bottom-line at a double-digit rate, while still selling significantly below TBV. Want an example? Read this article here.
I don't want to get into too deep of a discussion on the deals in the community banking industry (we will leave that for another article). However, I would like to drop some names of a few community banks that popped up on my radar recently that are selling significantly below TBV, combined with decent loan growth.
Harbor Bankshares Corporation (OTCPK:HRBK)
Reliance Bancshares (OTCPK:RLBS)
Community Capital Bancshares (OTCQX:ALBY)
Cornerstone Community Bancorp (OTCPK:CRSB)
First United Corporation (NASDAQ:FUNC)
HomeTown Bank (OTC:HMTA)
Paragon Financial (OTCPK:PGNN)
Readers should take note that some of the banks listed above do not have updated financials on Yahoo Finance. If you are interested in updated info on these names feel free to drop me a message.
Consolidation
One of the most interesting aspects of investing in community banks is the continual consolidation going on in the industry.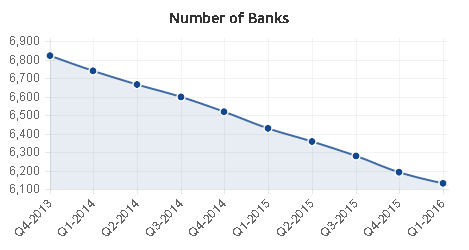 Source: CompleteBankData Home Page
Back in 4Q'13, there were 6,821 banks in the US. In the most recent fiscal quarter, there were 6,131 banks. In less than three years, the number of banks has dropped -10.11%.
This is compelling for a number of reasons. First, if you buy a basket of community banks, there is a fair chance that one of those companies is going to be bought out.
Secondly, if you want to play the other side of the M&A spectrum, you can effectively buy banks that are on the acquiring side of the playing field. A raw way to do this is by buying banks that are aggressively growing their loan book, without taking on risky loans. Additionally, you can look for growing banks, with low cost structures, which have blatantly stated they are looking to take advantage of the M&A activity in the space.
One company that I know of offhand that has stated they are looking to take advantage of the M&A activity in the area is Oxford Bank (OTCPK:OXBC). I wrote an article here about the bank for interested readers. Even more interesting, a bank in the same county as OXBC, County Bank Corp. (OTCPK:CBNC), has started their M&A spree. It begs to question; will OXBC be on the buying or selling side of the M&A activity happening in Lapeer and surrounding counties?
Secondly, the consolidation in the industry will eventually lead to less competition. This means if you pick some banks that are good capital allocators, there's a fair chance that your investment will compound over time.
Boring and Predictable
"If investing is entertaining, if you're having fun, you're probably not making any money. Good investing is boring" - George Soros
The final reason why you should consider investing in community banks is because they are boring and predictable.
Yes, community banks are boring and dull, however, boring can be good. Boring is predictable. Boring is doing stuff others will not do. Boring can thus be a function of alpha generation (to an extent).
High-flying technology stocks are fun and exciting. However, their business models are fast and ever changing. Furthermore, most technology companies and/or exciting companies trade for sky-high multiples and attract floods of investors. If you are looking for clean value, I wouldn't tread water in exciting companies.
The dullness of community banks has left this space a barren wasteland. Few investors have portfolios filled with these unexciting community banks. Knowing this, shouldn't this drive you to at least research this space?
Take my word for it, community banks are boring. Furthermore, you are likely to not gather attention at an investor gathering talking about community banks. Despite the boring nature of the community bank business model, there is real potential to generate alpha in the space. That should be enough to attract your attention… right?
Conclusion
Community bank investing is unexciting, the industry is consolidating, and there isn't too much attention from Wall Street. Furthermore, given the lack of investor attention to the community banking space, it doesn't take too much work to find a company trading at a significant discount to its TBV.
The ultimate question; should you invest in community banks? If you enjoy doing your own research, you like boring companies, and you don't mind the lack of attention you will get at an investing cocktail party talking your book, then yes, you should consider investing in community banks. Most importantly, if you believe the function of alpha generation is derived from significantly undervalued companies garnering low attention, then investing in community banks may be the perfect match for you.
Disclosure: I/we have no positions in any stocks mentioned, and no plans to initiate any positions within the next 72 hours. I wrote this article myself, and it expresses my own opinions. I am not receiving compensation for it (other than from Seeking Alpha). I have no business relationship with any company whose stock is mentioned in this article.
Editor's Note: This article covers one or more microcap stocks. Please be aware of the risks associated with these stocks.