Recently, Goldman downgraded Cisco (NASDAQ:CSCO) to a Neutral rating, citing slowing earnings and buybacks as concerns heading into 2018. While these risks are real and could manifest themselves over the next 12 months, we think the valuation remains cheap enough to give investors a considerably attractive risk-reward profile on the stock. Shares are up just over 17% since we last said the stock was a strong buy, and we think shares still have good upside here. By our comparative analysis, CSCO remains undervalued relative to its growth and peers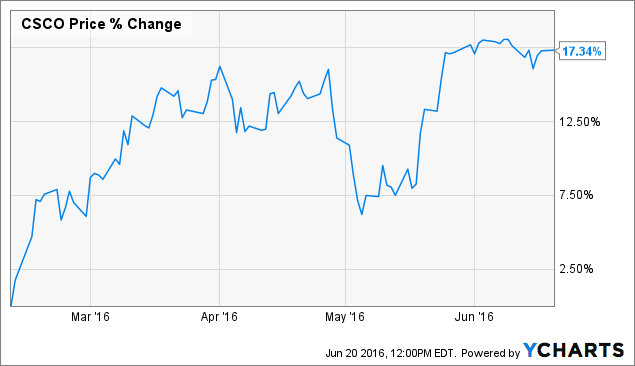 CSCO data by YCharts
Relative to other blue chip tech giants with lots of cash and transitioning business models, CSCO is quite cheap. Microsoft (NASDAQ:MSFT) trades at a group-high 14.9x trailing EBITDA, while CSCO's 7.2x trailing EBITDA multiple is higher than only Intel (NASDAQ:INTC). IBM (NYSE:IBM) and Qualcomm (NASDAQ:QCOM) both trade at a richer valuation than CSCO.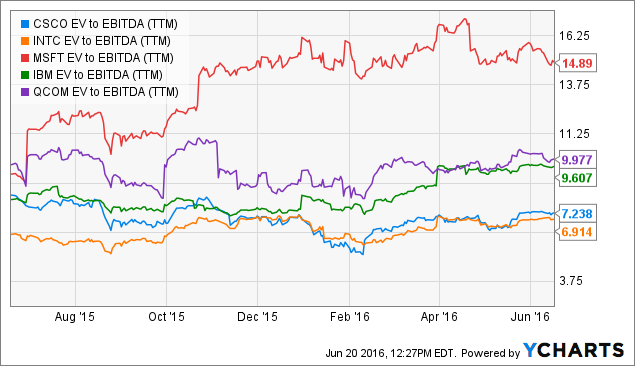 CSCO EV to EBITDA (TTM) data by YCharts
Despite trading at a more premium valuation, neither CSCO nor IBM are experiencing more success in adapting their business models to the cloud. CSCO saw revenue decline only 1% last quarter, versus -5% at IBM and -20% at QCOM. On an adjusted basis, CSCO's revenue actually grew 3% Y/Y last quarter, with gains in SP Video, Security, and Collaboration more than offsetting macroeconomic driven Switching losses. Moreover, Security saw deferred revenue grow 31% Y/Y while Collaboration deferred revenue grew 16% in the quarter. Future growth looks promising.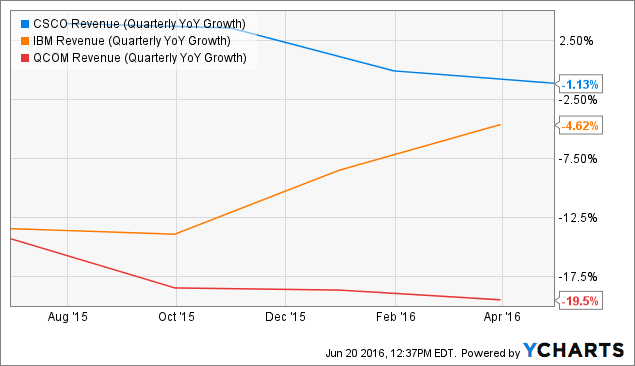 CSCO Revenue (Quarterly YoY Growth) data by YCharts
Organic growth in these markets will inevitably continue as CSCO adapts its product offerings to the cloud, but we actually believe strategic acquisitions will accelerate growth. During the third quarter, CSCO acquired Acano and Synata, both of which should help drive SP Video and Collaboration revenue. The company's intense M&A activity shows a commitment to leveraging a strong balance sheet to drive accelerated growth in high-demand markets like cloud, security, SaaS, IoT, and analytics. In other words, we believe investors will not have to wait long before this intense M&A turns into consistent MSD revenue growth.
As we have reiterated several times, the most attractive aspect of CSCO is its ability to turn sales and earnings into significant free cash flow for investors. In each of the past 4 years, CSCO has generated $10+ billion in free cash flow. This year will be no different, as free cash flow is already up 18% Y/Y through the first 9 months of Fy16. The company effectively returns this cash shareholders, as evidenced by the "X" formation in the chart below. Over time, the dividend consistently goes up and shares outstanding consistently goes down.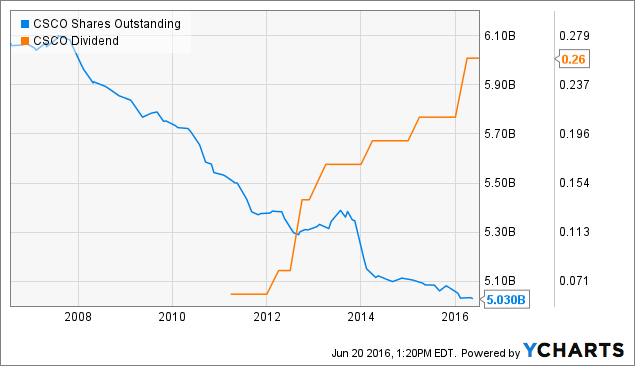 CSCO Shares Outstanding data by YCharts
At the end of the day, the company has a strong balance with lots of cash, is successfully growing revenue at a rapid rate in most of its operating segments, is turning a significant portion of its sales to ARR, is using strategic M&A to accelerate growth in high-demand markets, sports a 3.5% dividend yield, and buys shares back at a consistent and significant rate. That is a lot of positives for the one negative of modest declines in the Switching business. That rate of decline, though, is slowing and being more than offset by gains in other markets. The company is an LSD to MSD topline grower over the next several years, and this should lead to MSD to HSD earnings growth per annum. At 7x EBITDA, this growth coupled with a 3.5% dividend yield should lead to good return. We continue to be long CSCO.
Disclosure: I am/we are long CSCO.
I wrote this article myself, and it expresses my own opinions. I am not receiving compensation for it (other than from Seeking Alpha). I have no business relationship with any company whose stock is mentioned in this article.