EOG Resources (NYSE:EOG) has been quite resilient in the past year despite a decline in oil prices. The stock has lost only 10% of its value in the past year, which can be considered impressive in light of the volatility in the oil price environment. Moreover, over the past four months or so, EOG has once again started gaining momentum on the market on the back of the oil price recovery.
Additionally, as shown in the chart below EOG's gross margin decline has almost stopped, which can be attributed to the company's low-cost asset base: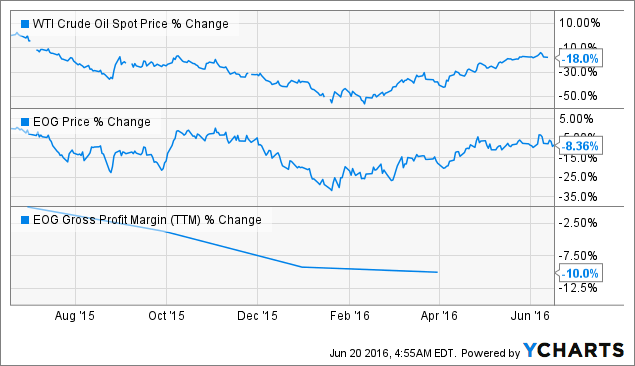 WTI Crude Oil Spot Price data by YCharts
Now, as oil prices have started getting better and it is likely that the momentum will continue, I believe that EOG Resources will continue to improve. So, in this article, we will take a look at two aspects that will drive the company's growth in the future - low cost assets and a rally in oil prices.
Better oil prices ahead
WTI oil prices have recovered more than 31% this year as supply cuts have come into place in order to mitigate the prevalent oversupply situation in the market. However, apart from supply cuts, one of the key factors that will lead to growth in oil prices going forward is an improvement in demand. For instance, the EIA has raised its forecast for oil demand for both 2016 and 2017.
This year, the EIA believes that global oil demand will grow by 1.43 million barrels per day, an increase of 270,000 barrels per day as compared to its prior forecast. Additionally, for next year, oil demand is anticipated to go up by 1.54 million barrels per day, which again is an increase of 210,000 barrels per day as compared to the earlier forecast.
On the other hand, OPEC forecasts that the growth in oil demand this year will be enough to overtake supply. In fact, OPEC's current oil production is lower than the current average global demand. Moreover, even non-OPEC producers are also reducing output, with production expected to fall to 8.6 million bpd this year from 9.4 million bpd last year. Additionally, non-OPEC production is expected to go down next year as well to 8.2 million bpd.
This decline in both OPEC and non-OPEC production is a result of lower capital investments being made by oil and gas companies for the past couple of years. For instance, capital spending in all areas of the oil market -- be it upstream, midstream, or downstream -- dropped 36% last year. This year, it is anticipated that there will be a further decline of 25% in oil spending in the U.S. to $136 billion. This is the reason why oil production in the non-OPEC is going to decline both this year and the next.
Therefore, a combination of lower supply and higher demand will create a better balance between demand and supply in the oil market going forward, which will eventually lead to further improvement in pricing.
Why EOG is well-placed to take advantage of higher oil prices
EOG Resources has a low cost asset base that is capable of generating robust returns even in a scenario in which oil prices are low. In fact, as pointed out by the company's CEO, "EOG Resources has the ability to earn "strong returns" with oil prices at $40/bbl and triple-digit returns should prices spike to $60." More specifically, EOG has been focused on drilling its premium locations where it can generate post-tax returns of around 30% when oil prices are hovering at $40 per barrel.
EOG is capable of generating this level of return even at low prices because it has managed to eke out an advantage over its peers in terms of costs. The company believes that its costs are lower than the entire industry by a significant margin of $15 to $20 a barrel. In comparison, the remainder of the oil industry requires a consistent oil price of around $60-$65 a barrel for at least a year to start delivering gains.
Thus, EOG's advantaged assets will play a key role in allowing it to deliver strong gains in an improved oil pricing environment. What's more important to note here is that EOG can reduce its costs further going forward since it has been identifying superior horizontal drilling locations across the Eagle Ford shale, where it has completed four strategic pilot projects.
Moreover, EOG has also completed the first economic enhanced oil recovery test in the U.S. horizontal shale reservoir, which has helped it add oil reserves at single digit per barrel costs. Due to such low costs, EOG will be able to generate more than 30% rate of returns even at $40 per price barrel due to high net present value of its assets.
In fact, EOG's assets are the best placed among the industry as far as production is concerned even though they have one of the lowest cost base. As shown below, EOG's horizontal wells in the lower 48 generate double the production of the industry average, with the 30-day peak rate exceeding 1,000 BOE/day.

Source: EOG Resources
Conclusion
EOG Resources' performance has been resilient despite lower oil prices. Given the points discussed above, I believe that the company will be able to accelerate its performance in the current pricing scenario due to its low-cost asset base. Thus, in my opinion, EOG Resources is an oil stock that investors should continue holding in the long run as it can run higher due to an improvement in oil prices.
Disclosure: I/we have no positions in any stocks mentioned, and no plans to initiate any positions within the next 72 hours.
I wrote this article myself, and it expresses my own opinions. I am not receiving compensation for it (other than from Seeking Alpha). I have no business relationship with any company whose stock is mentioned in this article.