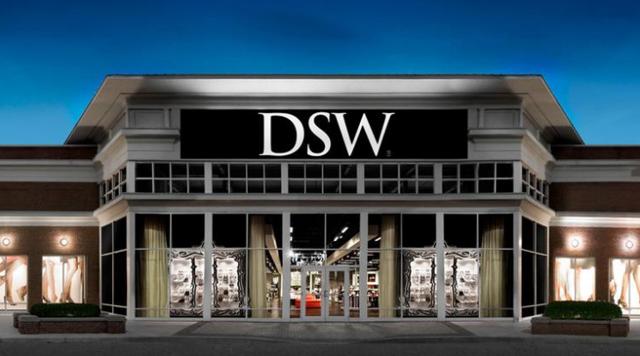 DSW (NYSE:DSW) has been pummeled of late after the company's growth plans became derailed and what I'd consider an ill-advised acquisition took place, dragging results of the legacy company down with it. I detailed these issues in a piece a few weeks ago but apart from these challenges, I mentioned the impact of the Ebuys purchase on DSW's already-weakening margins. This is a significant portion of the reason why I'm still bearish on DSW despite the fact that it is trading near its lows and in this article, I'll detail where DSW has come from with its margins and what impact the Ebuys acquisition may have on them.
I'll be using some data from Morningstar and the charts are mine.
First off, we'll take a look at DSW's gross margins for the past decade to see where the company has come from in order to provide clues regarding what the future may look like.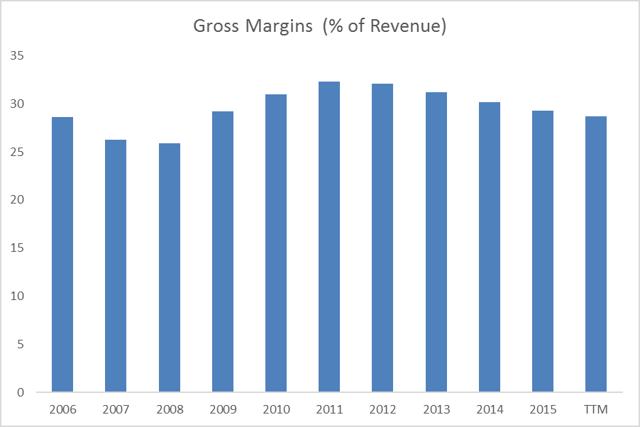 DSW's gross margins have moved around a lot in the past decade and in the last few years in particular, the trend has been down, down and down some more. After easily cresting 32% five years ago, DSW's TTM number is under 29%. That's an enormous loss in profitability not only because of the absolute level of margin losses but also have a look at the scale on the chart; DSW's gross margins are very low to begin with. Making money at ~30% gross margins is very difficult for a retailer because that is typically around the level of sales companies spend on SG&A excluding some higher volume businesses. But in general, producing operating profits at these levels is difficult anyway without losing 300bps or more over time.
In addition, DSW lost 250bps of gross margins in Q1 as it saw both a negative impact from the Ebuys purchase and heavy markdowns at the legacy business. This combination is terrible and as I said in the linked article, both factors are here to stay. Ebuys simply has a terrible margin profile; even with cost synergies that may or may not take place, margins will be awful at Ebuys forever. That means this chart is likely to continue to tick lower.
In addition, weak sales have led DSW management to begin discounting and promoting and that also took a toll in Q1. And remember that last year wasn't exactly gangbusters for DSW so even when comparing to a weak year, DSW is off to a rough start. And should weakness in sales continue - as guidance suggests it will - DSW's margins are in a lot of trouble. In fact, we could realistically see DSW's gross margins make a run at their decade low of about 26% in the next couple of years. I'm not saying that will happen for sure but the fact that it is on the table speaks volumes.
The other main component of operating margins - SG&A costs - has a similarly checkered past for DSW as we can see below.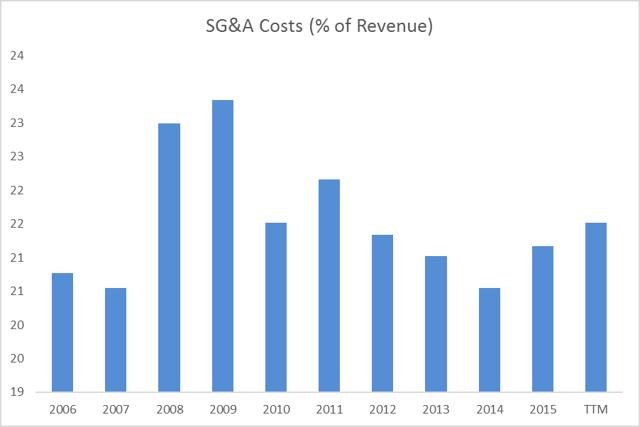 DSW's SG&A costs run fairly consistent on an absolute basis but as you can see above, the percentage of revenue moves around wildly. DSW's business is quite cyclical so when things go wrong, they tend to go very wrong. Just compare 2007 to 2008; SG&A costs rose well over 200bps as a percentage of revenue and that is a huge problem. We can see the same sort of thing happening last year as well and in the TTM; the problem is getting worse. Again, the Ebuys purchase is going to make this number worse for a while - at least until the acquisition anniversaries - and with DSW seeing weakness in its legacy stores' comp sales, we'll see more deleveraging there as well. In other words, SG&A costs are moving the wrong direction just like gross margins and while the legacy business is struggling on its own, the Ebuys purchase is exacerbating DSW's issues.
When looking at retailers I like to take the spread of the company's gross margins and SG&A costs. This is the purest form of profitability because it is simply the company's gross profit dollars minus the cost to produce them. This gives us an operating profit proxy that is free from accounting gimmicks and earnings management and I've charted DSW's spread below for the same time period as above.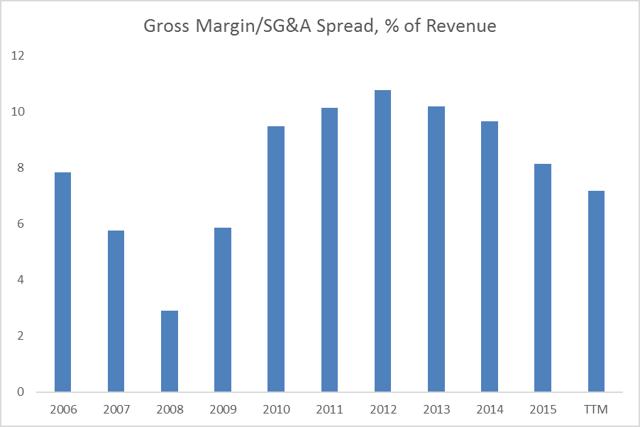 This is what I was referring to before when I said DSW's business is highly cyclical; have a look at the variation in the company's profit levels depending upon its sales and margin numbers. In 2008, in the worst of the recession, DSW's operating profits plummeted from 5.8% to just 3% in one year after having seen a sizable decline the year before as well. Of course, profits did recover quickly but look at the period from 2012 to now; 10.8% operating margins have given way to just 7.2% and given my comments about both gross margins and SG&A costs, it would certainly seem this number will continue to get worse.
And that's the problem with DSW; the company is too mature to see huge growth from its store base and its Ebuys purchase combined with its issues in the stores are simply too much to overcome. Even if the Ebuys acquisition provides some much needed revenue growth, the damage that business is doing to margins far outweighs any benefit the consolidated company may see from top line expansion. DSW is a company that really cannot afford to cede any more operating profits but it seems that is exactly what is happening and will continue to happen.
The catalysts for improvement in operating margins are a long way off as weak sales levels and the Ebuys business will both be very difficult to turn around. This year's operating profit number will be significantly lower than it was last year and while DSW may stabilize next year, it is all about revenue growth in the stores. Will DSW be able to stop discounting? If not, we're going to see more and more weakness. One thing I am sure of is that this year, DSW has the cards stacked against it and that for me, the stock is still nowhere cheap enough. Margins are king in retail and DSW is having a very tough time. For a company that has low product margins in good times, the combination of sales weakness and a terrible acquisition are just too much.
Disclosure: I/we have no positions in any stocks mentioned, and no plans to initiate any positions within the next 72 hours.
I wrote this article myself, and it expresses my own opinions. I am not receiving compensation for it (other than from Seeking Alpha). I have no business relationship with any company whose stock is mentioned in this article.