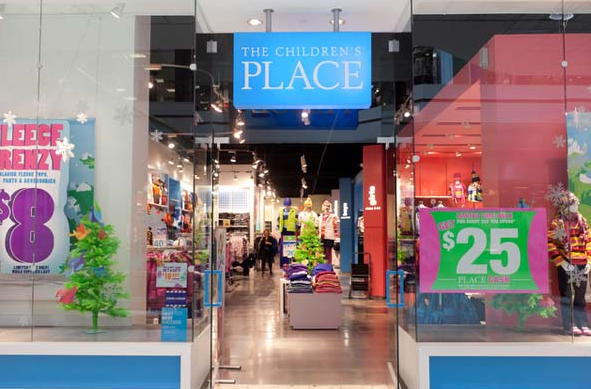 A couple of weeks ago I penned an article about children's apparel retailer The Children's Place (NASDAQ:PLCE) and posited that the company's estimates were too low, making shares a buy. There are a few reasons I like PLCE for the long term but chief among them is its margin profile. PLCE has a unique blend of levers it can pull to grow earnings from here so in this article, I'll take a look at where I think PLCE's margins could grow to and what it could mean for the stock.
I've created some charts below using data I lifted from Morningstar.
Let's begin with gross margins as they are always the first - and perhaps most important - piece of the total margin picture for any retailer. Below I've charted PLCE's gross margins for the past decade and TTM.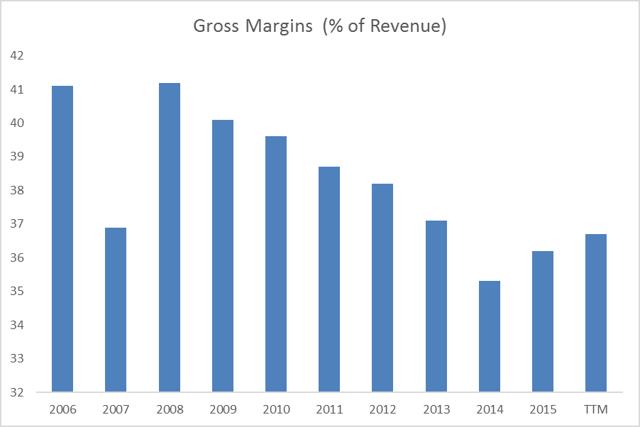 We can see that PLCE's gross margins have varied wildly in the past decade but the most striking thing about this chart is just how bad PLCE has been since 2008. Margins used to routinely hover in the 40% to 41% area but of late, PLCE can barely muster 36%. However, that is changing and that is a huge reason why I like the stock here. There is a long term margin expansion story brewing and it is my firm belief that if we look at this very same chart in three or five years, it will look very much more favorable indeed.
But why? What gives me such optimism? PLCE has done a terrific job of growing its margins in the last couple of years the old fashioned way, by promoting and discounting less and thus realizing higher ASPs. That is exactly what PLCE did in Q1 of this year as it added a whopping 170bps to gross margins and sold through some dead inventory at the same time. PLCE's inventory is still a bit bloated so imagine what it can do if it is eventually working with a lean inventory position full of merchandise people actually want; we haven't seen the best from PLCE yet. That's the first, but very powerful, piece to the margin expansion puzzle for PLCE. Sound merchandising strategy seems implied but it is difficult to do; PLCE has figured it out of late.
The other component of operating margins is SG&A costs and I've charted PLCE's numbers below.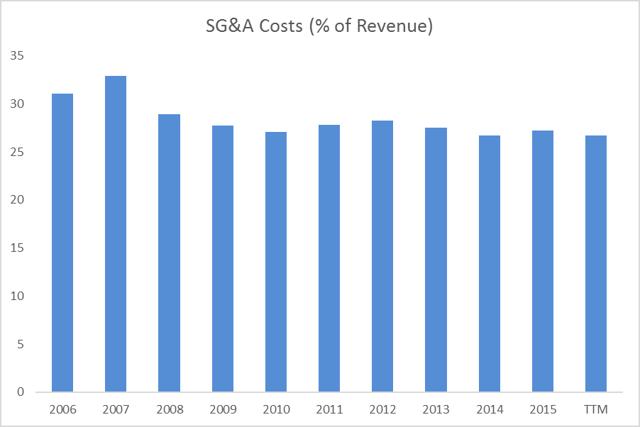 We can see that this number is very dissimilar to gross margins in that it is moving the right way for PLCE. While the swings certainly aren't as drastic, PLCE has realized some meaningful leverage on its SG&A costs over the past decade and indeed, continued that trend in Q1. SG&A costs leveraged up 140bps during Q1 and that was a strong contributor to operating margins that rose by double that amount. PLCE is realizing some cost savings because it not only exercised prudent expense management but it also sees back office costs leveraged via higher sales. More stores and/or higher comps will help with that so over time, SG&A costs should continue to tick down. This is not going to be the main thrust of PLCE's margin expansion but it could certainly be good for 50 to 100bps annually for the foreseeable future.
This, of course, all boils down to operating margins which I've defined here as gross margins minus SG&A costs. That is the simplest, most unadulterated form of operating profit for a retailer as it is free from earnings management and accounting gimmicks; PLCE's numbers are below.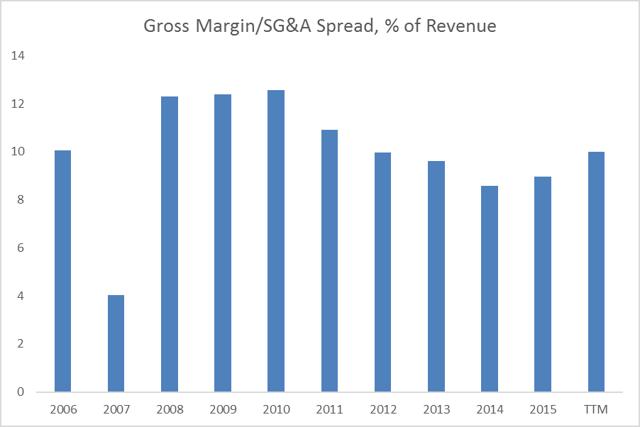 We can see that apart from an anomalous drop in 2007, PLCE's operating margins used to be very high and have since moved in the wrong direction. This is of course due to the company's weak gross margins in the past several years and you can see the harsh impact on profitability here. However, we also see that operating margins are turning up and if I'm right about gross margins and SG&A costs, this number will be going a lot higher in the coming years.
If we look three years out, I think we could see SG&A costs in the 25% area and gross margins back near 38%. Those are midpoint estimates for me with some potential for deviation on either side given there are so many unknowns between here and there. But if those numbers come to fruition - or PLCE even gets close - we would see operating margins in the low double digits again and PLCE shares would likely be very much higher indeed. At 16 times earnings, PLCE isn't priced for any sort of margin expansion so should we get even pieces of what I've forecast, the stock's multiple will almost assuredly move up as EPS growth ramps.
PLCE has all of the pieces in place to see some truly meaningful margin expansion in the coming years. It is rightsizing its inventory and offering fewer markdowns. ASPs are higher and the company continues to see leverage on its SG&A costs. I think we'll see operating margins solidly into the double digits in short order and for me, at 16 times earnings, that means PLCE is an unequivocal buy. Analysts have far more conservative forecasts than that so if I'm right, there is a lot to be gained.
Disclosure: I am/we are long PLCE.
I wrote this article myself, and it expresses my own opinions. I am not receiving compensation for it (other than from Seeking Alpha). I have no business relationship with any company whose stock is mentioned in this article.