Vallourec SA (OTCPK:VLOUF) is a French Company, which provides premium tubular solutions to different industries like the automotive, construction, energy and the mechanical sector. The main supply is focused on oil and gas companies.
Therefore, it's clearly evident why Vallourec is currently in big trouble. The energy industry is, in the course of a decreasing oil price, strongly forced to lower its costs. Additionally, the industry of tube producers was faced with high cost pressure regarding commodity prices. A slowing demand and decrease in selling prices resulted in a net loss in the last two years.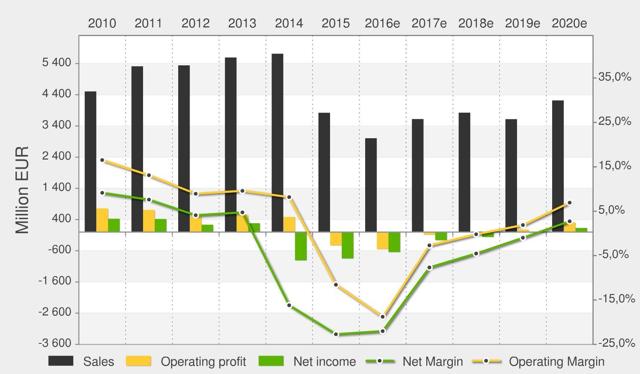 (Source: Zonebourse.com - Thomson Reuters)
In addition, VLOUF is currently generating a negative free cash flow of EUR 61million (trailing twelve months). The capital structure has worsened significantly. The equity ratio decreased from about 60% in 2010 to 30% in 2015. The financial leverage increased strongly and the reserves have been used up.
The stock price dropped sharply.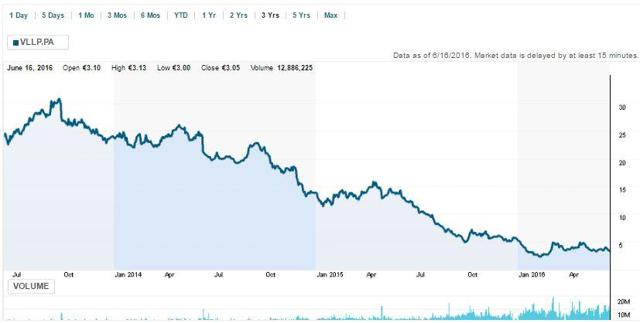 Why I still believe
The current situation doesn't look great. Nevertheless, there are a few positive facts that I'd like to point out.
The company completed a capital increase just a few weeks ago. VLOUF received about EUR 480 million from its offering of preferential subscription rights and with the issue of reserved mandatory convertible bonds another EUR 514 million. The amount of almost EUR 1 billion will be used for three main points:
a global industrial reorganization including, in particular, the development of competitive production hubs in Brazil and China
the rationalization of its European production operations
the strengthening of Vallourec's balance sheet and financial flexibility
From my point of view, it's especially important that the subscription rate for rights issue has been 160%. This fact shows the still existing trust in the company on a longer term.
Furthermore, the French government...
... is currently the largest shareholder of Vallourec. The left orientated government holds 17.5% and the employees of Vallourec hold another 4.5%. That is why I would suggest that the French government has a huge (personal) interest for VLOUF to survive. That might be the strongest indicator to assume that Vallourec doesn't go bust.
The price for crude oil seems to be stabilizing. A lot of clients of VLOUF have been in trouble, but recover now. The commodity prices are increasing as well. The price per dry metric ton rose from USD 40 in the beginning of the year to USD 55 in the end of May.
Today VLOUF is traded with a price/book of 0.3x. The industry median is 0.8x. Same for the price/sales ratio of 0.2x for VLOUF vs. 0.5x for the whole industry.
In conclusion, it seems to be a great opportunity to buy this distressed stock with attractive turnaround potential. The sales market seems to be stabilizing, the French government is a strong shareholder with personal interest and the market is confident about the future like the last oversubscription has shown.
Main competitors are companies like Ternium (NYSE:TX), China Steel (OTC:CISEF) or Worthington Industries (NYSE:WOR). Clients are especially oil companies like Royal Dutch Shell (NYSE:RDS.A), (NYSE:RDS.B), Total (NYSE:TOT), Exxon Mobil (NYSE:XOM), ConocoPhillips (NYSE:COP), Baker Hughes (BHI), Fred Olsen (OTC:FOEAF).
Disclosure: I/we have no positions in any stocks mentioned, and no plans to initiate any positions within the next 72 hours.
I wrote this article myself, and it expresses my own opinions. I am not receiving compensation for it (other than from Seeking Alpha). I have no business relationship with any company whose stock is mentioned in this article.
Editor's Note: This article discusses one or more securities that do not trade on a major U.S. exchange. Please be aware of the risks associated with these stocks.