As it has happened time and time again in history, new technologies and innovative tactics have defeated adversaries on the battlefield. There are numerous examples. Hittite chariots dominated Egyptian infantry forces. Fast, sturdy Greek triremes decimated the Persian fleet. Maneuverable Roman Legions defeated the rigid Greek Phalanxes and the age of heavily armored infantry ended at Agincourt when English longbows of Henry V, breached French suits of armor. Even in relatively modern times the power of new technology changed warfare itself as demonstrated by the weaponry and tactics of the American Civil War, the European 'Great War', the Second World War and even the Cold War.
Today, relatively inexpensive, unpiloted vehicles can render large battlefield weapon systems useless. Further, as has been proven many times over the past ten years, small, highly trained, well equipped and well informed small units can drop smack-dab in the middle of enemy forces and decimate their leadership. Conversely, as proven in the failed states in Arabia, highly motivated groups fighting on a shoe-string budget can completely route well equipped trained armies. Further, the biggest risk to national security may be already hidden in data centers or lurking in the cloud: Cyberspace is now a battlefield.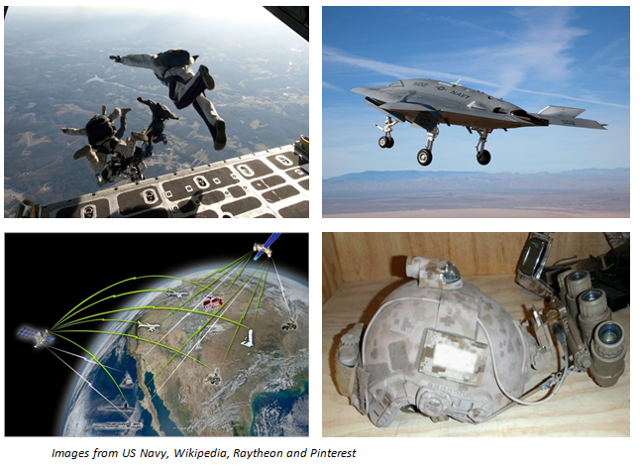 The entire point of the matter is that the world has become a more fractured, a more unpredictable and a more dangerous place than at any time in living memory. Thus, this absolute need for domestic national security, advanced weapon systems, advanced detection systems and cyber defense will also mean many years of tax dollar defense spending. In fact, when you stop and think about it, investing in the defense industry is, perhaps, analogous to the War Bonds program of the Second World War. Civilian investors are doing their bit towards improving national defense. There are several well performing Aerospace and defense ETF, but the top performer over the past three years is Blackrock's iShares US Aerospace & Defense ETF (NYSE-ARCA: (NYSEARCA:ITA)).
The fund tracks the Dow Jones US Select Aerospace & Defense Index (DJSASDT). According to S&P-Dow Jones Indices, a subsidiary of S&P Global (NYSE:SPGI), the index represents the Aerospace and Defense subsector of the industrial sector. To be included, the holding must meet or exceed a minimum market capitalization and the component holdings are weight-capped for diversification. The fund has a three month average daily trading volume of well over 65,500 shares and an expense ratio of 0.45%, about average for the ETF industry. Net assets total about $768 million with 6.1 million shares outstanding. The fund includes a mere 31 holdings. The TTM distribution yield is 0.84% and a current annualized yield is 1.22%. Lastly, the fund is trading with a very slight premium to NAV. However, it's important to note that in the past quarter the fund traded at a discount to NAV about 60% of the time dipping as low as a -0.07 discount to NAV this past February. Hence, the odds are in the investor's favor when choosing an entry point.
| | | | | | | | | |
| --- | --- | --- | --- | --- | --- | --- | --- | --- |
| Performance | Year to Date | 1 Month | 3 Months | 6 Months | 1 Year | 3 Years | 5 Years | Since 5/1/2006 Inception |
| Total Return | -0.80% | 4.58% | -0.80% | 7.72% | -4.75% | 61.88% | 94.95% | 158.69% |
| Market Price | -0.77% | 4.61% | -0.77% | 7.77% | -4.71% | 61.94% | 95.01% | 158.72% |
| Dow Jones U.S. Select Aerospace & Defense Index | -0.68% | 4.63% | -0.68% | 7.97% | -4.34% | 63.92% | 98.66% | 169.87% |
Data from BlackRock
As it seems to be with the general market over the past 12 months, the fund is essentially flat year to date and has underperformed the index. There has been some pickup over the past month, but as the table demonstrates, over the longer term the fund has performed well.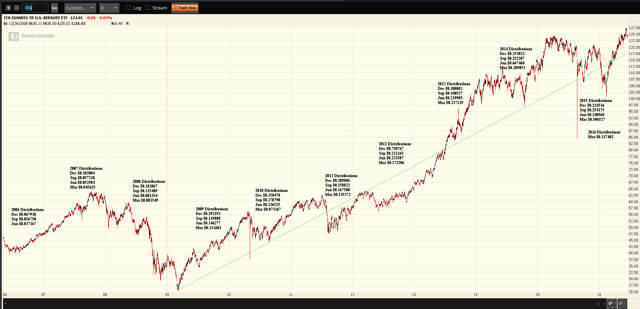 The next question is about the fund's holdings. Just what companies are included and just what do they do? It's worth noting that over 94% of the fund is invested in companies classified as 'Aerospace and Defense'. The remaining 6% or so is allocated over Industrial Machinery, IT Consulting, Airport Services and, oddly, Leisure products. There's also the usual small cash allocation. There's one particular point which shouldn't be overlooked. Each and every one of these companies has dual drivers: the defense sector and the civilian industrial sector. This means that in a higher defense spending environment, these companies should outperform their non-defense industry peers in the general industrial sector.
Data from Yahoo! Finance
As one might expect, the large cap holdings include industry leaders, some of whom have designed weapon systems for nearly 70 years, for example Boeing. Boeing recently celebrated its 100 anniversary and now services the entire aeronautics industry particularly in large passenger aircraft. Another example is United Technologies a pioneer in jet propulsion and helicopters. Today, UTX has diversified into other defense areas such as security systems and other non-defense areas such as Otis Elevators and Carrier Air Conditioner, as well as specializing in jet engines for commercial and defense industries through its Pratt & Whitney subsidiary. In the new arena of digital warfare is large cap L-3 Communications. Again, the dual nature of a defense contractor is seen in L-3 also. The company specializes in navigation systems, commercial telecom and commercial wireless systems.
Large cap defense companies comprise 58.51% of the fund with an average market cap of over $40 billion, an average yield of 1.87% with an average dividend of $2.74. Also, the average cash flow per share is $6.04, average earnings of $6.88 and an eyebrow raising average of $94.10 revenue per share.
Data from Yahoo! Finance
The first thing an investor should note is the rather large difference between the average mid-cap and large-cap holdings: the average mid-market cap holding is $4.6 billion while the average large market cap is $40.7 billion. The point is that the large caps dominate the industry. It's no secret that having larger leverage counts when it comes to obtaining new defense contracts. It isn't all 'lobbying' either. The giants of the industry can easily afford the R&D and the production of actual operational prototypes. Not that a $4 billion mid cap is anything to scoff at, mind you, but the difference does demonstrate the overwhelming financial leverage of the large caps and thus the potential for market consolidation to gain market share.
A good example of a specialized niche mid-market-cap is Huntington-Ingalls. They are the sole builder of the visible pride of the US Fleet: the power projecting aircraft carrier. Also, HII is one of the two builders of the invisible pride of the US Fleet: missile launch capable nuclear powered submarines. In fact, HII has built 70% of US Navy's warships. The point is that HII provides a very specialized industrial defense function, dominates that industry and in a very low interest rate environment with growing sea-power competition in international waters, HII may catch the attention of a larger company.
One example of a recently completed merger in the mid-caps is Orbital ATK, the combination of Orbital Sciences Corp and Alliant Tech Systems, completed in 2015. The company specializes in space launch systems. Also, it's worth noting a shift in the growth strategy of another long time defense contractor, Curtiss-Wright. It was originally established as a joint venture between Glenn Curtiss, considered the founder of Naval Aviation and the Wright brothers of Kitty Hawk fame. CW now specializes in intelligence gathering, surveillance and reconnaissance. More importantly, CW takes pride in its many decades of organic growth but recently announced that it will grow through M&A opportunities.
A word needs to be said about HEICO. It's focused on defense and aerospace electronics but aside from that, the fund holds positions in both the common and the Class A shares. According to the company website, the common carries 1 vote per share and the Class A carries 1/10 vote per share.
The average mid-cap holding yield is 0.76% with an average dividend $0.57, an average per share cash flow of $5.32 and a very efficient 9.43% EPS to RPS ratio on the average. Mid-caps comprise 21.24% of the fund.
Data from Yahoo! Finance
The small caps include light weapons manufactures like Smith & Wesson, as might be expected. Moog specializes in fluid and motion control systems for the aerospace industry as well as having a presence in the civilian medical device industry. By the way, if the name 'Moog' strikes a chord, it should as it was Moog founder's cousin, Robert Moog, who created the 'Moog Synthesizer'.
The smaller companies occupy industrial niches in the shadow of the larger cap companies, for instance, Esterline Technologies which manufactures components for both Airbus (OTCPK:EADSF) and Boeing.
A far as specialty products, small cap RBC Bearings does exactly what its name suggests. Anyone has had the opportunity to work around machinery which depends on high speed bearings can appreciate the importance of reliable bearing performance. Again, RBC has a dual market: defense as well as general industry.
Data from Yahoo! Finance
The average small cap market holding is $1.48 billion, an average yield of 0.45%, an average dividend of $0.21 and an average cash flow of $2.42. However, the average EPS is negative at -$1.15 and an average EPS/revenue per share of -0.46%. The small-caps comprise 16.39% of the fund. The small cap group is a bit of a drag on otherwise positive metrics. On the other hand, M&A within this subsector by a larger company can create greater production and distribution efficiencies, especially if demand for their specialized niche market products ramps up.
Summary

Market Cap

Yield

Dividend

Per Share

Cash Flow

EPS

RPS

EPS/RPS

Institutions

Holding

Averages

$12.86

0.90%

$0.97

$4.56

$2.48

$54.74

4.85%

77.57%
Data from YaHoo! Finance
To sum up, the average market cap of all holdings is $12.86 billion; the average yield is 0.90% and the average dividend, $0.97. The average per share cash flow is $4.56, average EPS $2.48 and average RPS is $54.74, hence an EPS to RPS ratio of 4.85%.
Many readers might recall hopeful atmosphere at the end of the cold war. It seemed that almost overnight, the threat of global nuclear annihilation was gone and the "peace dividend" would benefit the nation. Indeed it did, but only for a while. Who might have predicted an unexpected invasion of Kuwait? Who might have predicted the rise of new aggressive regional superpowers or a sanction locked but nuclear-launch capable North Korea? Or even a growling Russian bear seeming determined regain strong influence over eastern Europe? Or most threatening, borderless terror network groups.
One must recall, history teaches us that a nation with a technological battlefield edge on land, sea and air can quickly dispatch any threat. Further, many of the companies mentioned have learned the hard way that cyberspace is now a theater of war where raiding skirmishers fight frequently and anonymously.
It's important for the investor to keep in mind that a major contributor towards the victory over the axis powers of the Second World War was the average citizen, who dutifully purchase War Bonds. It's not too farfetched to think that when citizens invest in the nation's defense industry they just might tip the scales towards to the side towards a more secure future for everyone.
Disclosure: I/we have no positions in any stocks mentioned, and no plans to initiate any positions within the next 72 hours.
I wrote this article myself, and it expresses my own opinions. I am not receiving compensation for it (other than from Seeking Alpha). I have no business relationship with any company whose stock is mentioned in this article.
Additional disclosure: CFDs, spread-betting and FX can result in losses exceeding your initial deposit. They are not suitable for everyone, so please ensure you understand the risks. Seek independent financial advice if necessary. Nothing in this article should be considered a personal recommendation. It does not account for your personal circumstances or appetite for risk.