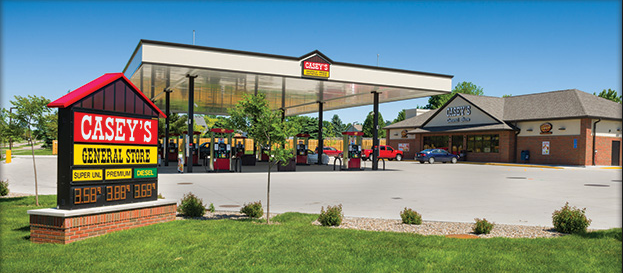 Casey's General Stores (NASDAQ:CASY) has been on fire in the past couple of years. The company's shares have essentially doubled in that time frame as revenue and profit growth remain very strong indeed. CASY has not only seen tremendous comp sales growth from its various categories but it continues to expand as well and that combination has served shareholders very well indeed. But shares are struggling to make new highs after the FQ4 report after concern was raised over the quality of CASY's FQ4 EPS number. At any rate, with CASY still near its highs, what could get it to push through and break out?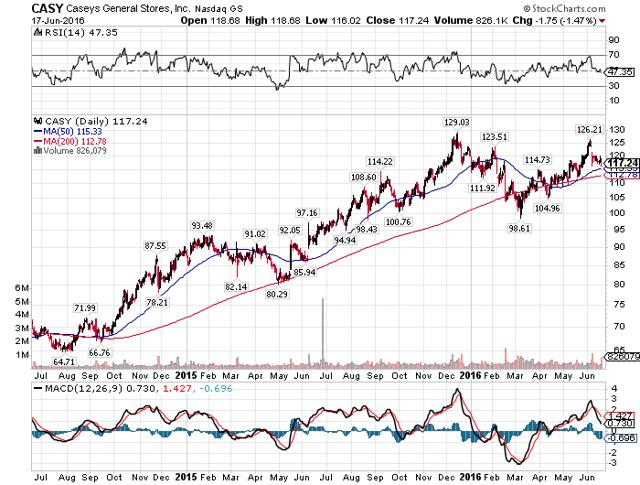 CASY's fuel sales and margin are critical to the company's success and it achieved better than forecast results on the fuel front in FQ4. Same store gallons rose 4.6% in FQ4 and margins were strong as well, at 17.8 cents per gallon. CASY realizes a tremendous margin benefit when fuel prices are low and for the entirety of fiscal 2016, CASY accrued these gains. If fuel prices remain low, this year will likely see CASY post strong fuel profit numbers again.
In the grocery and merchandise business, the story was similarly strong for CASY in FQ4 and indeed the entire year. SSS growth in the category in FQ4 was 7.4% while meeting its margin goal of 32.1%. The SSS growth exceeded estimates while maintaining the desired margin profile, something that was not achieved for the entire year as margins came in at 31.9%. CASY said that customers traded up to premium cigarette brands as fuel prices remained low so assuming that fuel prices are low in this fiscal year, we may see a similar margin profile. However, revenue growth may be more challenging to come by if the company's reliance on cigarette sales continues. Unless volume increases as well, customers simply trading brands isn't going to provide the same sort of lift it did in fiscal 2016. That could make comparing against last fiscal year difficult.
Finally, the prepared food and fountain business is where the action is for CASY. The company's results for the full year and indeed FQ4 were below expectations that were admittedly very high. Still, CASY missed its SSS growth forecast by a rather wide margin, coming in at 8.2% against a full year goal of 10.4%. On the bright side, the company's margins were very strong in FQ4 at 61.9% against a full year goal of 60.8%. That contributed to gross profit dollars soaring despite the fact that revenue missed. This is CASY's most important category and where it is focusing its investment dollars so results here in fiscal 2017 are critical. Management seems confident that initiatives that were taking place in the back half of the year will bear fruit in fiscal 2017 including pizza delivery, remodels and 24-hour conversions. In addition, favorable commodity costs should help margins once again so while there are a lot of moving pieces, the prepared food business looks like it will be very strong once again despite tough comps from last fiscal year.
The thing is that despite the fact that CASY had such a great year in fiscal 2016, it has produced guidance that implies even better performance on top of that this year.

These numbers are all tremendously bullish and imply that CASY is going to stack huge gains on top of huge gains in fiscal 2016, a story we've seen for some time now with CASY. This is why shares are flying but what does the valuation look like against these numbers?
At 20.1 times this year's earnings, CASY is certainly sporting a growth multiple. And why not? Revenue and margins are moving higher all the time and the company's expansion goals continue to add to the top line as well. And with low fuel and commodity prices, margins are strong and getting stronger. But take a look at what analysts see going forward for CASY's revenue growth: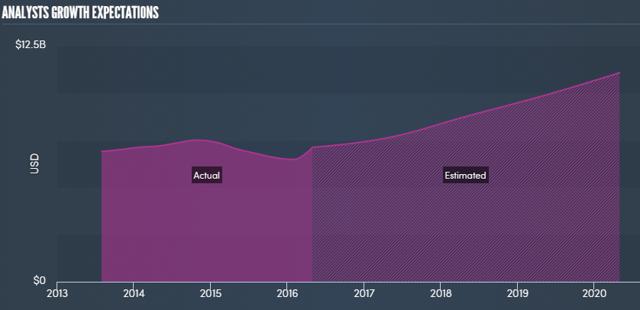 Source: Simply Wall St.
This is staggering growth including at 7% gain in the top line this year and an 18% gain next year. After similar gains in the years following, CASY would hit something like $11.1 billion in revenue in fiscal 2020. That's up from just over $7 billion this year so to say that CASY has some big shoes to fill is an understatement. Expecting this sort of revenue growth is a recipe for disappointment and I worry about that with CASY; the company has been so good it can be difficult to keep such streaks going for long periods of time.
The problem is that profits aren't expected to grow nearly that quickly, as we can see from analyst estimates below.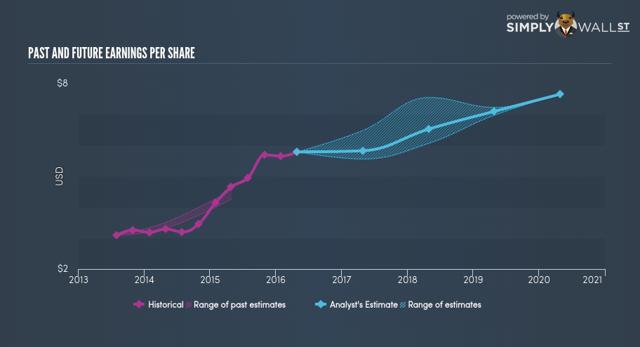 Source: Simply Wall St.
Indeed, EPS is expected to be roughly flat this year and while gains in the following years should be stronger, I wonder aloud just how long CASY can keep up its tremendous streak of higher revenue and margins. After all, how long will fuel prices stay low? How long will commodity pricing remain favorable? How many stores can CASY open? How long will cigarette buyers power revenue and margin growth in the merchandise business? These are all unanswered questions for me that seem to have favorable results built into the stock price right now and that's a problem.
In short, I think CASY has failed to make new highs off of the FQ4 report because investors have realized how expensive the stock is. CASY has had an amazing run in the last two years and I won't argue with the success of the business. However, I will argue that CASY has gone too far, too fast for the future growth that is expected. The stock is relatively expensive even if you believe analyst estimates but all the questions I raised are valid ones and if CASY falters on any of them, growth estimates will be in jeopardy. I think too many things that are out of CASY's control have to go right for the way the stock is priced right now so if you're long, consider taking your profits. I think the bias is flat to down for the foreseeable future for CASY from here.
Disclosure: I/we have no positions in any stocks mentioned, and no plans to initiate any positions within the next 72 hours.
I wrote this article myself, and it expresses my own opinions. I am not receiving compensation for it (other than from Seeking Alpha). I have no business relationship with any company whose stock is mentioned in this article.