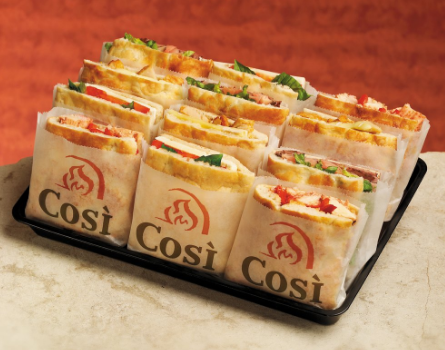 Embattled restaurant chain Cosi (NASDAQ:COSI) has had a rough go of it in the past couple of years. It has been a long time since the company turned an annual profit and as its fundamentals have deteriorated, so has its stock price. I've been cautiously bullish on Cosi including calling the stock a call option back in December with shares at 47 cents. Cosi is in no imminent danger of going out of business despite the fact that the stock is trading that way so if you believe in some of the green shoots that are popping up, you're probably pretty excited about shares going for 47 cents today as well. A strong rally that took place earlier this year fizzled and after FQ1 results failed to excite investors, I'm wondering aloud if the market has simply given up on Cosi.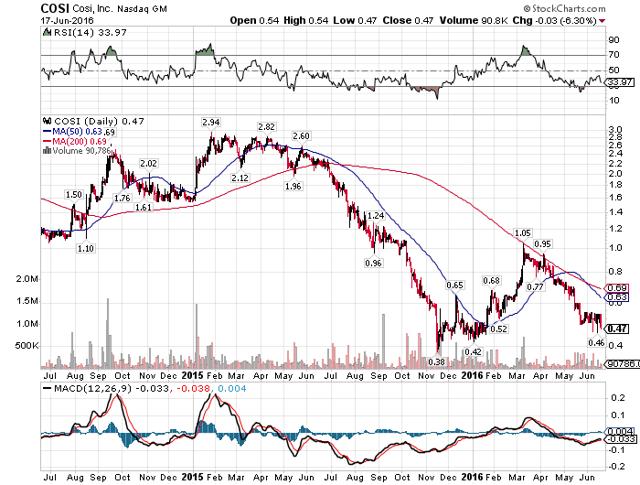 To be fair, Cosi's supposed turnaround has been going on for a long time. So long in fact that I think investors may have simply lost patience in terms of waiting for good results. And why not? This company has struggled for years and nothing it has tried has worked to right the ship. But is Cosi dead and gone? The company's fundamentals aren't that bad so let's see if there's some value here.
Keep in mind before we get started that this is a very high risk/high reward situation. Keep positions small and nimble if you dip your toe in here because Cosi could go to zero. Now that the disclaimer is out of the way, let's dig in.
Total revenue was up 21% in Q1 due to the Hearthstone acquisition that hasn't anniversaried yet. The company bought a bunch of previously franchised stores and that has added to the top line. But on an adjusted basis, revenue was down fractionally as some stores were closed. As the Hearthstone acquisition becomes part of comparable results, revenue growth will slow markedly.
The good news is that Cosi has seen some success in turning its comp sales around as we can see from this table in the linked press release.

Cosi is primarily a company-owned chain with franchised stores representing only about a third of the aggregate store count. In terms of revenue dollars, the franchised stores are really of little importance. What is important is that company-owned stores posted a +1.5% comp number in Q1 and the Hearthstone stores - though not yet part of the comparable base - posted a very nice 5.4% gain. You can see why Cosi wanted to own the Hearthstone stores; they are among the best performing stores in the chain. That bodes very well for the company's comps later this year and beyond because Cosi is comparing against some very weak results and the Hearthstone stores could be the shot in the arm the chain needs. Overall, however, Q1 comps were tremendous.
In addition to nice comps, Cosi saw all of its major expense categories fall. Food and beverage costs declined due to operational improvements and favorable commodity costs, labor and benefits costs fell due to more prudent scheduling, occupancy costs were leveraged due to higher comps and closure of underperforming stores and finally, G&A costs fell as corporate headcount was reduced. In other words, what more could you ask for? We saw rising revenue and rising margins as costs fell so from where I sit, Q1 looks pretty darn good.
Cosi's operating results have certainly turned a corner for me as none of these good things were happening last year. And its balance sheet is still very much intact despite the continuous losses the company has experienced.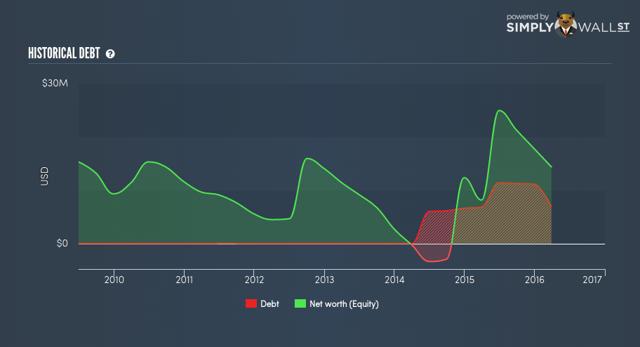 Source: Simply Wall St.
We can see that Cosi issued some debt to take on the Hearthstone stores but at just $7 million, that debt is very manageable. Indeed, Cosi has already paid down a significant chunk of it and it still has a positive book value despite the challenges it has faced. That means that it can continue indefinitely as liquidity is of zero concern right now. In particular, with comps and margins looking up, Cosi can either fund operations with cash earned through the business or borrow a little more. That flexibility is paramount in any turnaround effort so again, things are looking up.
The lone analyst that covers the stock has Cosi hitting 4 cents in EPS next year and while most companies wouldn't get particularly excited about that, it would represent Cosi's first annual profit for many years. In addition, it would mean that shares are trading for about 12 times that number right now and while there is a long way to go between now and then, the fact that Cosi even has a forward PE is an improvement. Cosi has been posting losses for so long that the stock has been valued on hope for years but that is no longer the case.
Cosi is a long way from being out of the woods but the pieces are in place for a significant turnaround. Comp sales are looking up despite the fact that the company's best stores - the Hearthstone stores - aren't even in the comp base yet. In addition, margins are way up due to the cost savings I mentioned and given that sales are moving higher, we should continue to see additional leverage there as well. And with a balance sheet that is still very clean, Cosi has the liquidity to take as long as it needs to turn things around. While Cosi is still a very high risk/high reward situation, I think that at 47 cents the majority of risks are priced in. Remember this is still a 47 cent stock so please don't refinance your house to buy shares but as a speculative play, I like Cosi here. Evidence is mounting that the turnaround is indeed occurring and if that is the case, Cosi will be much higher in a couple of years.
Disclosure: I am/we are long COSI.
I wrote this article myself, and it expresses my own opinions. I am not receiving compensation for it (other than from Seeking Alpha). I have no business relationship with any company whose stock is mentioned in this article.
Editor's Note: This article covers one or more stocks trading at less than $1 per share and/or with less than a $100 million market cap. Please be aware of the risks associated with these stocks.