The evolution of Cal-Maine Foods (NASDAQ:CALM) has been impressive over the years showing sustained growth, solid earnings and secure dividends. CALM has been a leader in the production and distribution of shell eggs and has an acquisition strategy that makes it increasingly powerful. I wrote several articles about this company and the attention of Seeking Alpha users has increased with many other articles written in the last two years.
However, plenty of investors still fail to believe in the strength of this company and its excellent long-term strategy. Thus, as it has occurred over previous periods, CALM has now a very large short interest.
Short sellers denote a couple of predicates worth of mentioning. First of all, they need courage and an excellent understanding of the market. In fact, the maxim loss of a long position is obviously 100% - which is the entire investment itself - whereas if an investor has a short position there is no limit to the money that can be lost.
Secondly, short-selling involves a deep study of a specific asset, and a particular expertise about market quirks. The financial distress and the psychological burden of such operations indicates that only professional traders should make them.
Let's take CALM case to see what is the rationale behind not only its present short interest, but also its evolution over time.
As of May 31, 2016 Cal-Maine had 47.44M shares outstanding with a float of only 30.03M shares. At the same date, it had 15.21M shares short representing 50.05% of float.
(click to enlarge)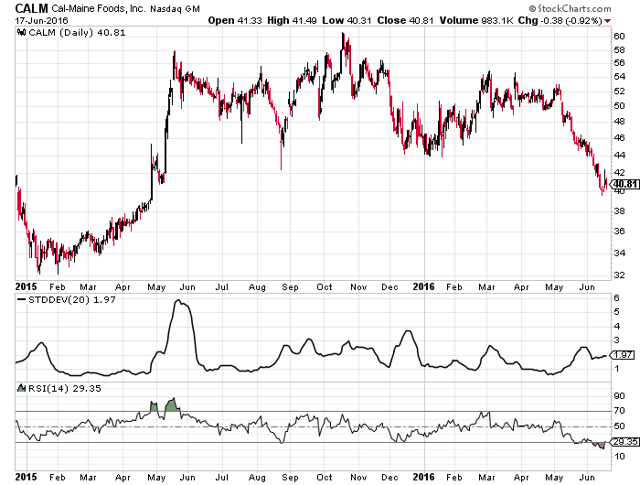 Charts courtesy of StockCharts.com
Looking at the 18-month daily chart above we can conclude that CALM is really a coveted gift for short-sellers. There are plenty of opportunities to open short positions and an expert can make the appropriate management of these operations while avoiding short squeezes that lie in wait.
(click to enlarge)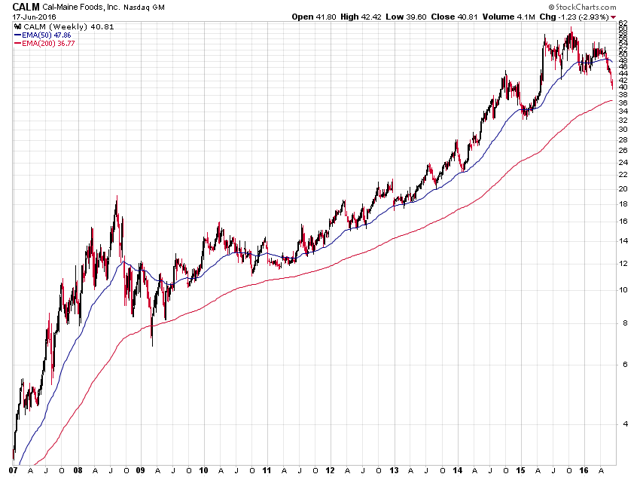 When one analyzes the 10-year weekly chart above it is very interesting to note that even a solid company with a strong upward trend over the years can be attacked on this scale.
It is clear that short sellers enjoy all the small short-term trends - not meaningful on a long-term basis - to make money with short positions.
Let's look at another CALM's 10-year chart (below) of shares outstanding short in parallel with the movement of prices. It should be noted that CALM percent of shares outstanding short is much lower than percent floating stock short that aren't shown in the chart. Anyway, although the float is what really matters here we can draw some important conclusions from this chart. Note that when the rise of CALM stock is very solid the short position decreases dramatically. On the contrary, when there are signs of weakness and impending price drop, the short position grows exponentially. I think this is caused by two main reasons:
1. There is a small number of shares floating.
2. The company is still not considered large nationwide.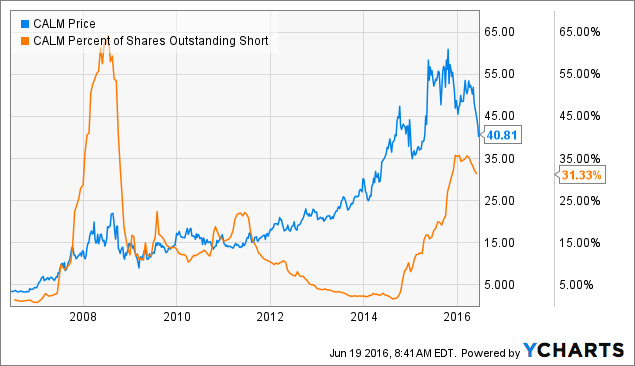 CALM data by YCharts
With this level of short interest is scary to think about opening a short position. In fact, the risk for short sellers is huge. Analyzing again the charts, CALM share price seems to be close to a relevant increase given the volatility provided by the standard deviation indicator combined with the fact that the RSI is oversold. In a long-term basis it seems likely that the price will go up and will tend to return to the EMA(50) given that the current fall in its share price only finds a parallel with the situation experienced in 2008-2009.
Disclosure: I/we have no positions in any stocks mentioned, and no plans to initiate any positions within the next 72 hours.
I wrote this article myself, and it expresses my own opinions. I am not receiving compensation for it (other than from Seeking Alpha). I have no business relationship with any company whose stock is mentioned in this article.