The tech IPO market is going through a rough patch as macroeconomic instability and concerns about a private valuation bubble impact privately held tech companies and publicly traded companies as well. In recent years, we have seen an increasing amount of money poured into the private market whereby ultra-growth companies receive enormous funding to support disruptive or innovative ideas that may be difficult to monetize. As valuations rise amid bubble concerns, companies suffer from devaluations by major mutual funds, and investors' returns might not be as spectacular as might have been thought a few years ago.
In 2015, the tech IPO market experienced an incredible slowdown, partially for the reasons mentioned above and partly due to the fact that investors are becoming more cautious and prefer stable, profitable (or seeking profit/breakeven) companies with a sustainable business model rather than ones that promise incredible growth coupled with increased losses. In 2016, this trend intensified with only one significant tech IPO of Dell's SecureWorks (NASDAQ:SCWX) in April that yielded a negative double digits return before it rallied back up. Many startups looked at Square (NYSE:SQ), Fitbit (NYSE:FIT), Twitter (NYSE:TWTR), SecureWorks, and more to sense how the market receives segment leaders and whether they should go public. Two totally opposite tech unicorns are about to join the public markets and once again private startups and investors use these events as a test of the strength of the tech IPO market and the entire unicorn phenomena.
The first company to go public is the messaging/VoIP technology vendor Twilio (NYSE:TWLO), which is expected to have its Wall Street debut this Thursday. Twilio, which provided the communication capabilities (messaging, VoIP voice and video calls) to Facebook's (NASDAQ:FB) WhatsApp, Coca-Cola (NYSE:KO), Uber (UBER), Nordstrom (NYSE:JWN), and more, presents a tremendous growth while striving for profitability. As shown in the chart below, Twilio grows its top line at an impressive pace of 86%, year-over-year, while keeping its gross margin steady.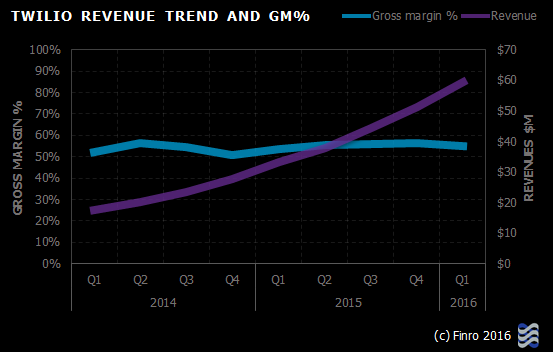 That might not be so impressive as many software companies (especially startups) have a stable and high gross margin. However, the company continuously improves its Adj. EBITDA while lowering its OpEx to Revenue and SBC to Revenue ratios. This is a much harder task for a rising startup to execute, and the progress on that front, as shown in the chart below, is strong evidence of the company's aspiration to breaking even.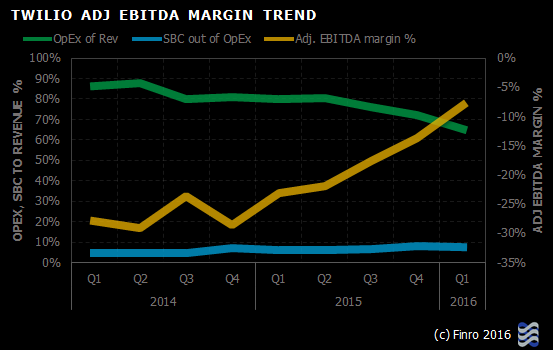 Assuming Twilio will go public at a $14 to $16 price per share (slightly above the preliminary price range), it will reflect a P/S ratio of less than seven, which is an attractive valuation for such a promising company. Moreover, as communication features become more important for app developers, more apps embed internal messaging/VoIP capabilities, and this trend is expected to grow; it seems like Twilio is going public at the prime of its growth.
Three weeks after the Twilio IPO, the Japanese messaging app Line (NASDAQ:LN) is going public in what appears to be the opposite case for Twilio. Line was a big success story a few years back when messaging apps were next big thing and attempted to go public in 2014 at a valuation of $9.8B. However, the company decided to postpone the IPO, and its valuation dropped to around $5B, which should raise an alarming red flag for investors. The company monetizes the messaging app by offering additional services like localized content, stickers, and e-commerce services alongside advertising and presents a substantial 35% revenues CAGR amid a growing positive net margin and Adj. EBITDA margin.
Unlike Twilio, Line is probably past its prime and missed its IPO window a couple of years ago. Now, when the buzz around messaging apps is largely faded and competition around the world (including Line's target markets in Southeast Asia) intensifies, Line does not provide any significant added value for consumers to drive rapid, future growth. Line plans to expand globally, but right now, it is focusing on the Southeast Asian market and faces competition from the Chinese WeChat and South Korean KakaoTalk. In its IPO filing, Line presents impressive potential growth in the target markets of both of its segments: the Japanese mobile ads segment is expected to drive ad segment growth, and global content consumption growth is projected to drive the content/communication segment rise as shown in the chart below.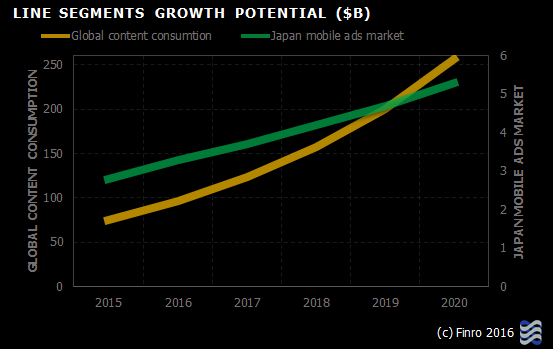 However, as competition intensifies and Line slowly loses its relevance, I doubt whether Line could benefit greatly from the growth in these target markets. I believe that Line is around two years late to the party as its YoY revenue increases decline rapidly and reached only 11% at the end of 2015. For this poor growth and very questionable future, the Line IPO is one from which I prefer to stay away.
Even though the Line and Twilio IPOs are very different from each other, both of them will attract great attention from Silicon Valley and Wall Street to see whether these unicorns succeed to attract large attention and demand to maximize return. Unicorns, like Spotify (MUSIC), AppDynamics (APDYN), Lyft (LYFT), and Snapchat (CHAT), will watch these IPOs even closer as they consider when to go public and want to see whether or how the market receives Line and Twilio. From my experience, a promising IPO at the pricing stage might pop on the first day and decline going forward, while an IPO that investors expect to fail will fail even harder than expected. Anyway, it will be fascinating to see whether the tech IPO market is ready to unfreeze and turn to a fully functioning status or if it will drive unicorns to search elsewhere for funding. I will provide additional insights after each IPO.
Disclosure: I/we have no positions in any stocks mentioned, and no plans to initiate any positions within the next 72 hours.
I wrote this article myself, and it expresses my own opinions. I am not receiving compensation for it (other than from Seeking Alpha). I have no business relationship with any company whose stock is mentioned in this article.
Additional disclosure: The information provided in this article is for informational purposes only and should not be regarded as investment advice or a recommendation regarding any particular security or course of action. This information is the writer's opinion about the companies mentioned in the article. Investors should conduct their due diligence and consult with a registered financial adviser before making any investment decision. Lior Ronen and Finro are not registered financial advisers and shall not have any liability for any damages of any kind whatsoever relating to this material. By accepting this material, you acknowledge, understand and accept the foregoing.