Note: While there is technically a US OTC listing of Taisei Oncho on the Grey Market under ticker TSOCF, I recommend purchasing the much more liquid Japan listing under ticker 1904.
My Japan Journey
The first notable value investor based outside Japan to take notice of and invest in the country was probably John Templeton in the 1960s. Since then there have been several waves of opportunity in the country that successful investors such as Peter Cundill exploited. The current wave began in late 2012 and many value investors active in the financial blogosphere like Nate Tobik of Oddball Stocks and Steve Towns, author of Investing in Japan have been onboard since the beginning. When I wrote my first article on Japan in February, I was admittedly more than a little late to the party. However, at that time the Nikkei had just finished falling 25% over the previous 6 months, which I felt created some new opportunities. That continues to be my view today. My investment approach in Japan can be summarized as follows:
Buy small companies - the Nikkei is somewhat cheap relative to indexes in other developed markets, but there are small stocks in Japan that are orders of magnitude cheaper than the Nikkei. Also, I generally have a strong preference for small companies due to my small size as an emerging investment manager and the extensive empirical evidence that small stocks outperform large ones.
Avoid financials, exporters, and most companies related to the automotive industry - These companies are what most foreign investors in Japan have been buying and I think they are the worst thing to buy. They are most affected by negative interest rates, currency strength, and the vicious cyclicality.
Buy cheap stocks - Focus on stocks trading cheaply relative to net cash, asset values, and profits. As a rule of thumb, never use a FCF or earnings multiple greater than 8x to conservatively account for concerns over economic decline in the country.
Stay diversified and don't read too much into any one story. Invest in numbers, not stories.
I believe Taisei Oncho (OTC:TSOCF) fits all of those criteria and is an attractive buy at this price. It is one of the first individual companies in Japan I will profile, but based on my expected return expectations, it's currently my 18th best idea in Japan. In other words, there are a lot more where this came from.
Business Description

The company was founded in 1941 and is a contractor that installs air-conditioning and plumbing facilities in high-rise buildings, hospitals, hotels, shopping centers, schools, and apartment blocks. The results are everything you'd expect for a plain vanilla contractor - very low margins, big fluctuations in performance but profits and cash flow generation through the cycle, very large receivable and payable balances, etc. 20% of revenue comes from outside Japan - mostly China and the US - but this is primarily a domestic demand company. Notably, the company expects the 2020 Summer Olympics in Tokyo to be a big tailwind.
Why I Like It
In one sentence: it's cheap and checks most of the boxes. I am shamelessly mechanical in my approach to analysis. I think I make mistakes, am less engaged in the research process, and am less efficient when I try to focus on the fluffy and qualitative. I buy cheap stocks and have a checklist of additional objective criteria that I look for such as no shareholder dilution and current financials. Again, Taisei Oncho checks most of these. I'll just point out a few of the most important.
There's been no shareholder dilution. I'm looking at shares outstanding since 2008 and the balance has actually declined some.
Capital return - I like that 9% of shares are held in the treasury (meaning they've done repurchases) and that they've been paying a dividend for the last few years. The dividend yield is currently just under 3%. This is really important in Japan because I'm operating on limited information and capital return is a huge tangible indicator that the cash is actually there and the business is real. On that note, it's also important that Taisei Oncho has a clean audit report. They did change auditors last year, but both opinions were unqualified.
History of profitability and cash flow generation - it's true that, like many contracting businesses, Taisei Oncho's profitability and cash flow has been inconsistent. Just look at 2016 versus 2015. However, over the full cycle and then some (9 years), they've generated 2.9B yen of free cash and 7.9B yen of operating profits.

Source: Morningstar
Valuation
It doesn't take much of a story and mental gymnastics to arrive at a good return here, seeing as the stock trades for less than 2/3 of net cash, so if the business is worth zero and they generate no cash flow, simplistically, the stock should still increase 50%. It also trades at 1/3 of tangible book, less than 50% of NCAV, and 9x FCF and 6x earnings without counting the net cash at all.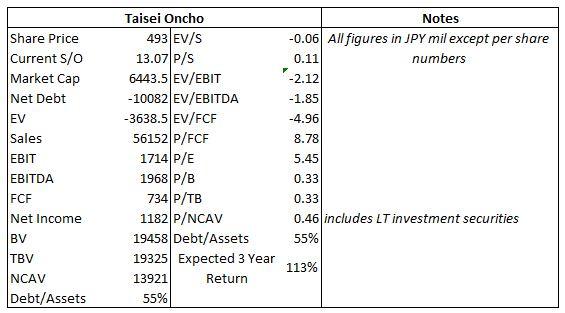 I think it will double over the next few years with little risk of losing money. Here's my thinking: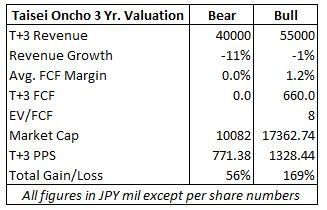 Revenue is at a 9-year high right now at 56B yen and they probably are closer to a peak than trough, so I assume a decline in revenue in both cases. FCF margins have been very inconsistent, but have averaged 0.63% over the last 9 years. I assume 0 and 1.2% in my scenarios. With no FCF in the bear case, there's no point assigning a multiple as I am assuming the operations aren't worth anything. In the bull case I assume 8x, in line with my rule-of-thumb in Japan of assuming no more than 8x to be conservative. The net cash of 10.1B yen makes up most of the future market capitalization in both cases. Averaging the two, we get an expected return of 113%. Incidentally, with the stock at 46% of NCAV right now, if we assume it's worth NCAV that implies a very similar return - a little over a double.
Concerns
I'm obviously excited about Taisei Oncho and many stocks in Japan, but I've never encountered a stock that literally checked all the boxes and Taisei Oncho is no exception.
I'm bothered by the chart and financials here. I like to buy stocks at multi-year lows and when they're cyclicals, I like to see current year financials that look closer to a trough than peak. Instead, Taisei Oncho just posted very good FY16 results and the stock is nowhere near lows.

I'm further concerned by the fact that Taisei Oncho isn't the only cyclical-stock-not-obviously-at-a-trough that I own in Japan right now. I view this concern as a diversifiable risk, but maybe I haven't diversified adequately against it. Something to consider when I look at other potential investments in Japan…
The balance sheet is not as strong as I'd like. While the company does have a big net cash position, total liabilities / total assets is a more all-encompassing metric and the current showing of 55% is pretty high. I like to see below 30-40%.
Finally, executive compensation is a little high and insider ownership is a little low. Pay to executives, directors, and auditors totaled about 250mm yen in FY15. That's not much less than the 316mm yen of free cash flow that the company has averaged over the last 9 years.
Conclusion
This is the type of idea small investors can expect in Japan. Pull up a screener and screen for the cheapest stocks globally by virtually any metric. 30-40% of the list will be Japanese stocks, many of them very small. The businesses are mostly unexciting industrials. Paint manufacturers, paperboard packaging manufacturers, general contractors, etc. But the values are very, very exciting. Big discounts to net cash despite records of profitability. If bargains, not business strategy or moats, are what excites you, then look no further than Taisei Oncho and the numerous small-cap stocks like it in Japan.
Disclosure: I am/we are long TSOCF.
I wrote this article myself, and it expresses my own opinions. I am not receiving compensation for it (other than from Seeking Alpha). I have no business relationship with any company whose stock is mentioned in this article.
Additional disclosure: I am long Taisei Oncho via 1904 in Tokyo.