A La Nina is coming to replace the El Nino that we had last year. That much has become obvious. The Climate Prediction Center has over a 60% chance of a La Nina developing in the July/August/September time period with an even higher chance of development (75%) in the November/December/January timeframe.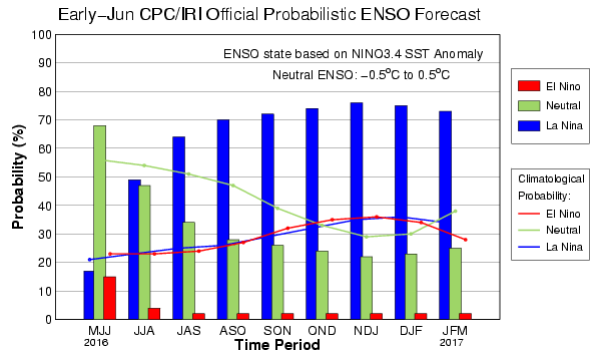 However, forecasts for the La Nina vary, with some climate models showing it being very strong, and others showing it being quite weak. The consensus overall is that a moderate La Nina by winter should develop, but there remain risks in both directions.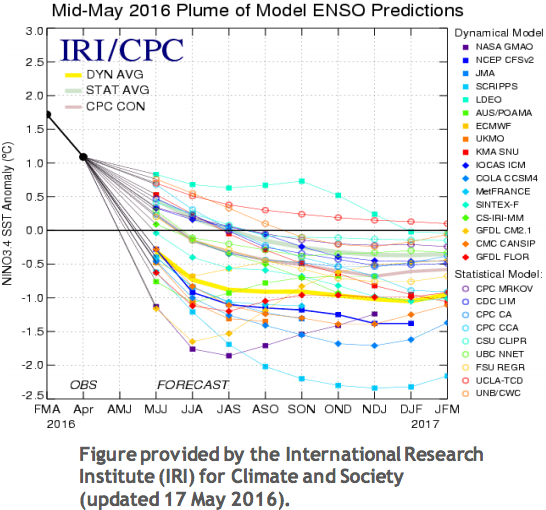 The implications of this are important to realize in the context of energy demand. As seen in the below graphic from the Japan Meteorological Agency, a La Nina in boreal winter increases the chances of warmer weather across the South and Southeast without increasing the chances of colder weather significantly anywhere.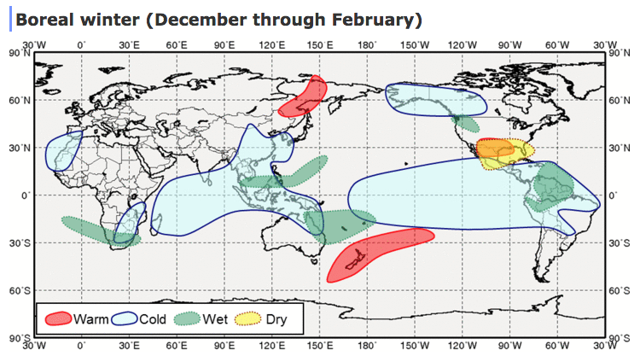 This could result in yet another winter with heating demand below average should a strong La Nina take hold. The American Climate Prediction Center also realizes this threat, showing up to a 90+% chance of warm extreme temperatures across parts of the South and the Southeast between December and February in a La Nina. A few cold extremes across the Great Plains are also shown.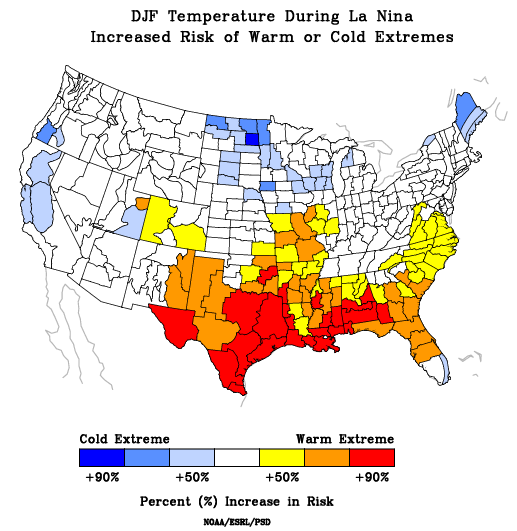 Recently, we have seen prompt natural gas prices rally significantly.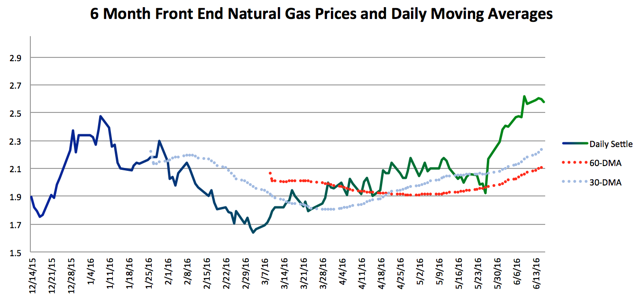 Prompt month prices moved from $1.9 to $2.6 in just a matter of weeks as it became apparent that cooling demand this summer would be significantly above average. We have seen power burns running consistently above average so far, with the Energy Information Administration reporting yesterday that natural gas for electric power generation increased by 5% again last week. This is a trend that is likely to continue through much of the summer, with short-term forecasts continue to show relatively consistent warmth. Thus, even though natural gas prices remain in a state of record oversupply, demand will help ease supply.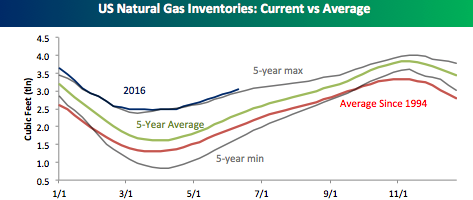 Due to the seasonality of natural gas demand, the curve prices in significantly higher prices in winter as compared to summer due to winter heating demand being more impressive than power burns for cooling demand in summer. The market had been plagued by massive contango in past weeks, with winter 2016/2017 contracts trading far above prompt month prices, though those spreads have begun to fall back recently. Still, winter contracts are being priced significantly higher than the prompt month, as seen along the CME strip, as they again price in expectations for significantly higher heating demand. With winter forecasts still relatively uncertain, this risk is warranted.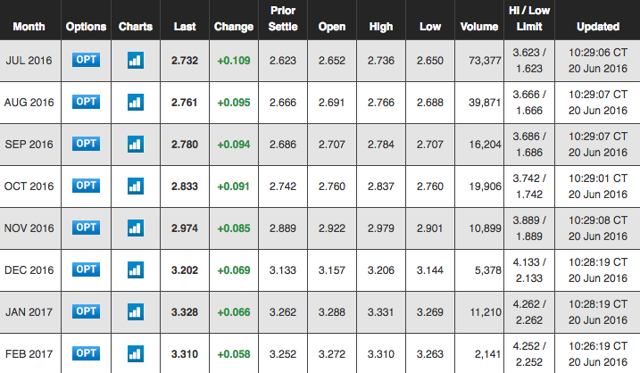 Production decreases have similarly been helping prices recover from their spring lows, and this is a trend that could continue. However, production remains around similar to levels of last year.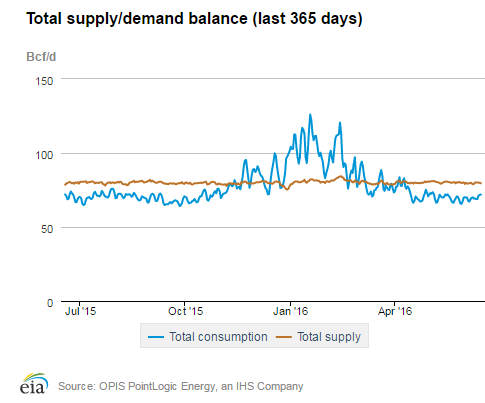 The result is that natural gas prices are not entirely out of the woods despite the recent rally. The developing La Nina could certainly help natural gas prices rally further through the summer by increasing power burns for cooling/electrical demand. Yet should a strong La Nina develop in the winter, we could see yet another year with below-average heating demand in a number of key natural gas demand regions. This could restrict overall demand, limiting upside in the coming year for the commodity especially with decent contango still remaining along the curve. On the flip-side, a La Nina that does not strengthen as much could open up the potential for significantly more heating demand this winter than last winter, which could compound with expectations for a stronger summer to lead to a very strong demand year. Needless to say, natural gas traders will be watching La Nina forecasts closely over the coming weeks and months.
Disclosure: I/we have no positions in any stocks mentioned, but may initiate a long position in UGAZ, DGAZ over the next 72 hours.
I wrote this article myself, and it expresses my own opinions. I am not receiving compensation for it (other than from Seeking Alpha). I have no business relationship with any company whose stock is mentioned in this article.