It is becoming clearer and clearer every day that gold has entered a new bull market. The first leg up was the breakout from under $1,100 to over $1,200 during the February market turmoil. After a four-month consolidation period, the second leg up now seems to be underway after the Fed's June decision makes another rate hike appear to be unlikely any time soon.
As readers surely know, gold miner and junior gold miner stocks have been among the biggest gainers in 2016. As I write, the VanEck Vectors Gold Miners ETF (NYSEARCA:GDX) is up a stunning 95% year to date, and the VanEck Vectors Junior Gold Miners ETF (NYSEARCA:GDXJ) is even better, up 118% year to date!
To be honest, in a bull market of this magnitude, just about any gold miner stock or ETF is very probably going to deliver big gains to investors. But you can add even more to your gains if you also consider including a handful of very small, nano-cap gold miner stocks in your portfolio.
Just to be clear, nano-caps should only make up a small slice of your portfolio. There is always the risk that some of these companies could fail.
But the flip side is that nano-caps offer enormous upside potential. The five gold miner stocks I recommend in this article have market caps from $5 million to $17 million. In reality, no gold mining company is actually worth $5-20 million: They are either worth nothing if their projects won't lead to an operating gold mine, or they are worth at least $100 million or more if one of their projects will lead to an operating mine.
So, if even one of these five companies' projects pans out, you will more than double your money on your entire investment! If things go very well and multiple projects succeed, your gains can be staggering.
Most likely, you will realize your gains when larger gold miners acquire these companies by paying a substantial premium over their pre-acquisition share price, which itself will have enjoyed a nice run-up between now and the takeover.
Important Notes on the Risks of Nano-Cap Stocks: These stocks have much less liquidity than the regular stocks that most people are used to. The spread between the bid price and the ask price is much wider. The ask price represents a certain premium above the present market value of the stock, and the bid price represents a certain discount below it. If you buy Canadian stocks over the counter in the U.S., the bid and ask prices will also include a small premium over the Canadian price, which represents the amount that a Canadian stock arbitrage trader requires to be paid to buy (or sell) the stock on the Canadian exchange and sell (or buy) it to you on the U.S. OTC exchange.
So, with such premiums to pay when you buy and sell, Canadian nano-caps are not stocks you invest in for gains like 5% or 10% or even 20% - the premiums would take away too much of your gain. Rather, they are "double or nothing", or "triple or nothing", or "5x or 10x your money or nothing". This is why I call them "small bets" in the article title. If you accept that the losers will go to nothing, you don't have to worry about the cost of a second premium because you aren't going to sell to cut your losses. And when the winners make you 5x or 10x your money, the premiums become a very small and insignificant price to pay. This is the only sensible way to approach nano-cap stock investments.
Also, before you invest in a nano-cap stock, you should read the company's recent quarterly and annual financial statements. You should make sure that the company has substantially more current assets than current liabilities, and low debt and long-term liabilities compared to its assets. Always look at the very first line on the balance sheet: the amount of cash the company has! I have seen nano-caps with as little as C$3,000-5,000 cash on hand! You do not want to invest in a company that has less cash than you have in your checking account.
Without further ado, here are the five nano-cap gold miners I recommend you take a look at and consider making a small investment in:
1. Aurvista Gold (ARVSF) (AVA on the TSX Venture Exchange)
I like Aurvista Gold's stock because you are getting an extreme bargain price on the 3 million ounce Douay Gold Project in Québec's renowned Abitibi Greenstone Belt. A project of this size in this location certainly has the potential to attract the attention of a major gold miner looking to add new ounces in the current improving market. Stephan Bogner of Rockstone Research lays out the case for the upside potential of this investment in this research report published in May.
Aurvista Gold is giving itself flexibility by working to develop a smaller high-grade portion of the project, the Douay West Deposit, while retaining the option to develop the rest of the project as the gold price rises and larger lower-grade deposits become more economical to mine. Aurvista is also planning new drilling on its property with the aim of identifying more millions of ounces. If the new drilling results can expand the total resource estimate up to the 5-10 million ounces range, the project and the company can expect to attract a lot more attention from large investors.
Of course, there is always some reason or reasons why a stock is as cheap as it is. Most of Aurvista's 3 million ounces are still in the tentative "Inferred" Mineral Resource category. If it can upgrade some of those ounces to the Measured & Indicated Mineral Resource category, that can be another potential catalyst for the stock price to increase.
Also, Aurvista just had to raise C$1.1 million in private placement financing in May. Before this new financing, the company had a working capital deficit and a statement expressing doubt about its ability to continue as a going concern in its Q1 2016 financial statement. The new financing improves the perspectives for Aurvista's financial situation significantly, but investors should be aware of the company's recent financial difficulties.
Finally, Aurvista's stock price has already responded to the new bull market in gold this year. In fact, the stock is up over 300% year to date! I like seeing this evidence that a stock is generally responsive to the broader improvement in the sector overall. And with such a small market cap, I see no reason to think that Aurvista Gold's stock has topped out just because it's already gone up 300%. I expect many more gains to come.
2. Silver Range Resources (OTC:SLRRF) (SNG on the TSX Venture Exchange)
I like Silver Range Resources' stock because the company has actually just shifted its focus from zinc-lead-silver projects to gold projects! This is a sign of a smart, flexible management team that is willing and able to be nimble and adapt to changing market conditions. It saw the new bull market in gold, knew which way the winds were blowing, and made its move. Sure, silver could also do well along with gold, but it is less of a sure thing, and zinc and lead are certainly going to be much less promising markets than gold for the foreseeable future.
Also, the company has close ties with Strategic Metals (OTCPK:SMDZF) (SMD on the TSX Venture Exchange), a very highly respected company using the project generator model to conduct exploration. For an example of the high regard junior gold exploration investors have for Strategic Metals, see this interview with Olivier Tielens. Strategic Metals is focused primarily on Yukon, and now Silver Range Resources is aiming to build a similarly successful gold exploration project generator in the Northwest Territories and Nunavut.
Since Silver Range does not yet have the "name brand" recognition that Strategic Metals does, it offers the aggressive investor the opportunity to capture greater upside potential on a currently more undervalued stock.
Also, an obvious potential catalyst ahead is the natural possibility that Silver Range may change its name to better reflect its new focus on gold exploration projects. The name change may well be an opportunity to call more investors' attention to the company and to its new focus on gold, which could be a catalyst for an increase in the stock price in and of itself.
The only drawback I see in this stock is that project generators, if it doesn't participate in a major discovery through one of its projects, don't tend to go up in value as much as other junior gold miner stocks. But in the case of Silver Range Resources, its newness offers the potential for organic price appreciation not usually found in project generator stocks. So it has already enjoyed a gain of over 300% year to date, and it still has the potential for more appreciation as the company becomes better known among investors.
3. Azimut Exploration (OTC:AZMTF) (AZM on the TSX Venture Exchange)
I like Azimut Exploration's stock because the company holds a large property portfolio in the Nunavik region of Northern Québec. This area is attractive for exploration because it has not been extensively explored for gold in the past, offering more of an opportunity for a major new discovery than a well-explored area. But at the same time, being in Québec, the area is located in a safe and well-established mining jurisdiction.
Azimut also holds properties in a more well-known gold mining site in Québec, the Eleonore mining camp, and in fact just last week, the company announced a $2 million exploration program there in conjunction with its joint venture partner Goldcorp (NYSE:GG), which operates the flagship Eleonore Mine in the camp. Azimut's shares rose 9.68% on the news. And generally speaking, just having a partnership with such a major gold miner as Goldcorp is a very encouraging and promising sign for a small nano-cap.
Azimut emphasizes its "Big Data" approach: "Predictive modelling using large databases of geoscientific data is performed in a rigorous and systematic manner to generate new targets." Of course this is no guarantee of exploration success, but surely it cannot hurt to have such a systematic approach to data analysis.
Azimut also has a solid, clean balance sheet, with a million Canadian dollars in cash, only C$78,000 in current liabilities, and about C$250,000 in asset retirement obligations as its only other liabilities.
With the gain on last week's news, Azimut's stock is up 196% year to date. I like its chances of making more gains in gold's next leg up as well as on news of positive exploration results.
4. Mawson Resources (OTCPK:MWSNF) (MAW on the Toronto Stock Exchange)
I like Mawson Resources' stock because the location of its flagship Rompas gold exploration project in northern Finland offers an interesting opportunity for investors to add geographic diversity to their gold miner portfolios. Mawson offers exposure to Europe, but at a much lower level of risk than locations such as Greece, Serbia, or Romania.
The company reports some promising drilling results, indicating the presence of high-grade gold veins in the Rompas project. But since the drilling results have not yet been converted into an official Mineral Resource estimate, they have not received much attention from investors yet. So if and when Mawson is able to announce an impressive number of gold ounces as a Mineral Resource estimate, this is a clear potential catalyst for a big gain in the stock price (Of course, there is no guarantee that it will be able to produce such an impressive Resource estimate).
Mawson also maintains an excellent clean balance sheet, which is no easy feat for a nano-cap gold mining company. As of its latest quarterly financial statement, it has over C$5 million in cash and under C$600,000 in total liabilities.
Mawson used to be known for uranium as well as gold exploration on its properties, but the downturn in the uranium market has shifted its focus to gold. The stock does not get a lot of attention nowadays, and has only gone up 65% year to date - a modest gain for a junior gold miner this year. But I see it as a kind of a "sleeper pick" that could have a sudden spectacular gain if a positive catalyst catches the market's attention.
5. Highway 50 Gold (OTC:HGGCF) (HWY on the TSX Venture Exchange)
This one I have to admit is a roll of the dice, but it's a roll I'm happy to place a small bet on. I like Highway 50 Gold purely and simply because of its management team: the Leask Brothers, Gordon and John. You may have heard about the recent acquisition of former nano-cap Goldrock Mines (OTC:MFMNF) (GRM on the TSX Venture Exchange) by Fortuna Silver Mines (NYSE:FSM) for $100 million. Well, the Leask Brothers were the geologists who originally identified, explored, and developed Goldrock's Lindero gold mine project in the Argentinian province of Salta.
Now the Leask Brothers are running Highway 50 Gold, exploring for gold in north-central Nevada. Their geological thesis is to explore for a new major gold district, apart from but similar to the famous Carlin and Cortez trends. Their insight is that "Major mineral gold districts in Nevada occur along deep seated crustal breaks," so that is where they are looking.
These maps from Highway 50's corporate presentation illustrate the location of its exploration sites relative to the Carlin and Cortez trends, as well as the geological crustal fault zones on which the Carlin, Cortez, and Highway 50's properties are located: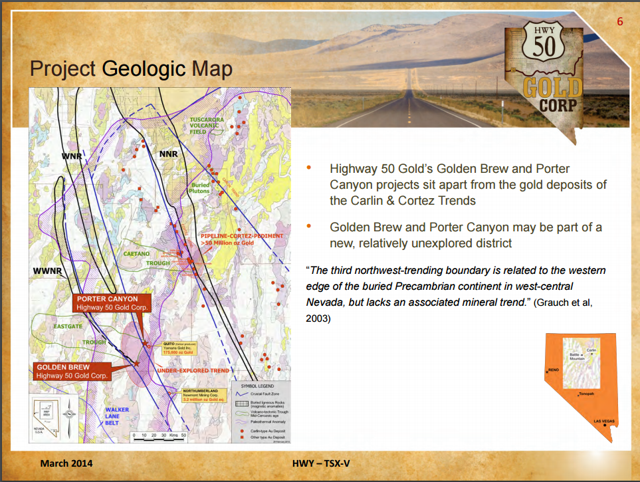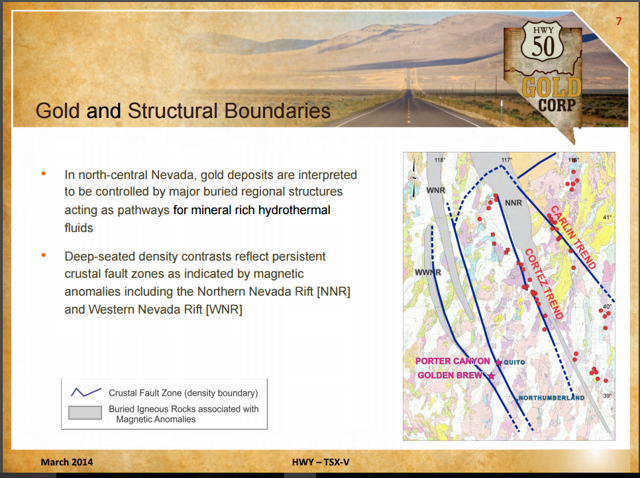 To be honest, they have not found anything yet. An investment in this stock is a small bet on the Leask Brothers' geological thesis being right, that they just haven't found the gold there yet, but they will. The upside is this: the Leask Brothers have a decades-long track record of success and an excellent reputation. If their exploration just doesn't pan out, you will lose your small initial investment. But if they do find what they are looking for, the gains could be enormous. A brand new major gold trend in Nevada like the Carlin and the Cortez would be a transformative discovery in the gold mining industry.
To me, that's a bet worth making.
Disclosure: I am/we are long ARVSF, SLRRF, AZMTF, MWSNF, HGGCF.
I wrote this article myself, and it expresses my own opinions. I am not receiving compensation for it (other than from Seeking Alpha). I have no business relationship with any company whose stock is mentioned in this article.
Editor's Note: This article covers one or more stocks trading at less than $1 per share and/or with less than a $100 million market cap. Please be aware of the risks associated with these stocks.