Roughly a year ago, I planted the seeds of my "dividend tree," meaning my stock portfolio, with the ultimate goal of reaching financial independence by the age of 50. I was inspired by other authors, such as Jason Fieber, and have now decided to publish my progress, my reasoning, and my decision-making process here. My goal is to critically discuss my decisions and benefit from the mutual exchange.
Having made some classic mistakes in the very beginning, such as buying when stocks were at all-time highs (e.g., BASF above 84 EUR) and too frequently (i.e., wasting fees), I have now found a new, reliable and priceless broker in degiro, which I can fully recommend. Now that fees, especially for US stocks, are a non-issue, I have started to initiate very tiny positions in high-yielding stocks such as Teekay Tankers (NYSE:TNK) or Omega Healthcare Investors (NYSE:OHI). Previously, I was fully focused on large, stable companies such as Coca-Cola (NYSE:KO), McDonald's (NYSE:MCD), Procter & Gamble (NYSE:PG), and Philip Morris (NYSE:PM).
As of June 17, my portfolio looks as follows. All values in USD, converted from EUR and other foreign currencies based on Google Finance current exchange rates):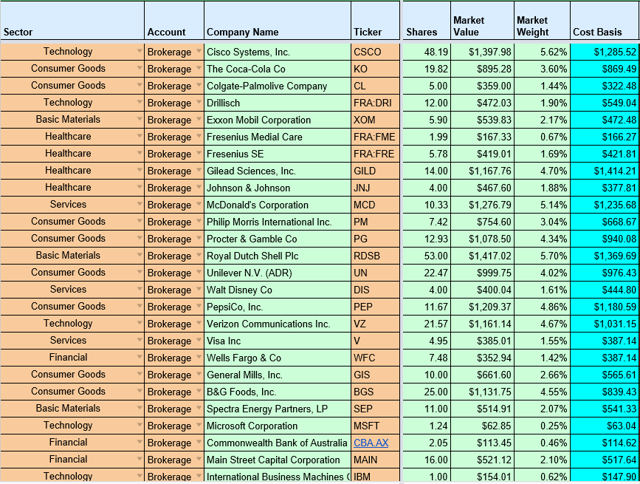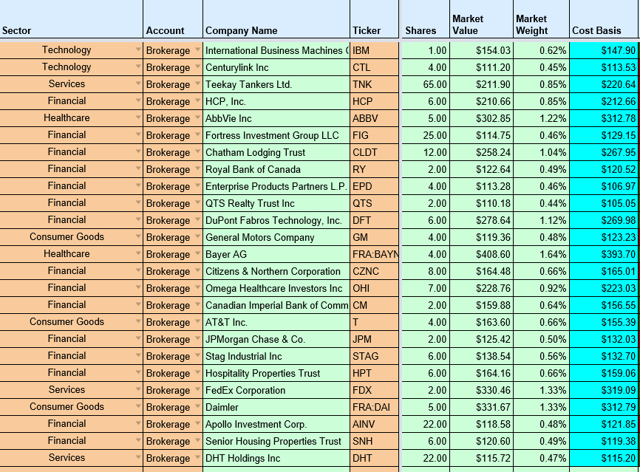 So far, overall performance is very much flat (around + $100). Overall dividend income in 2016 comes in at $233, which looks as follows: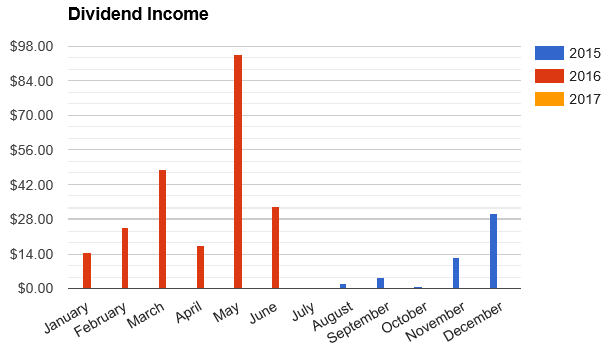 While May is boosted by yearly dividend payouts of German companies BASF and Drillisch, I am very satisfied with overall progress. Particularly over the last 3 months, I have been adding a lot to my portfolio. Generally, I am aiming to add at least USD 1,000 worth in investments each month, provided some interesting opportunities and valuations arise. In the past, especially recently, I fear that I have been too greedy or impatient with investments, and I hope the fellow exchange with SA community will help me learn to decelerate and remain calm.
I am tracking my progress via interactive Google Sheets, which I will gradually share as these evolve and improve.
As a number-cruncher, I have made some projections in Excel regarding my envisioned future dividend tree. Subsequent to some validations, I am planning to publish an article on this as well, with the goal to make the potential growth path more transparent and invite critical discussion.
My general strategy is to invest in blue-chip companies with long dividend records at reasonable yields. To boost dividends I am investing a maximum of 20% of my portfolio's investment value into high-yielding stocks (>6% gross yield). Generally, I am planning to buy and hold forever, but should fundamentals and valuation change, I will lower or exit holdings as appropriate.
Having recently turned 30, I have nearly exactly 20 years to reach my ultimate goal. Achieving that milestone does not necessarily mean to stop working, but I envision it as allowing me to focus on what I want and where I can provide some value.
If you want to follow my journey and observe the dividend tree growing and growing over the years, please hit the "follow" button above. I am planning to post an update at least once a month.
And finally, as I am not a native speaker, please be indulgent with my English.
Disclosure: I am/we are long AAPL, FRA:BAS, BP.L, CSCO, KO, CL, FRA:DRI, XOM, FRA:FME, FRA:FRE, GILD, JNJ, MCD, PM, PG, RDSB, UN, DIS, PEP, VZ, V, WFC, GIS, BGS, SEP, MSFT, CBA.AX, MAIN, IBM, CTL, TNK, HCP, ABBV, FIG, CLDT, RY, EPD, QTS, DFT, GM, FRA:BAYN, CZNC, OHI, CM, T, JPM, STAG, HPT, FDX, FRA:DAI, AINV, SNH, DHT.
I wrote this article myself, and it expresses my own opinions. I am not receiving compensation for it (other than from Seeking Alpha). I have no business relationship with any company whose stock is mentioned in this article.
Additional disclosure: I am not a licensed financial professional. This article is for informational/entertainment purposes. Be sure to consult a professional and do due diligence before investing in equities, as losses up to and including all capital invested can be incurred. I may add to any of these positions at any time.
Editor's Note: This article discusses one or more securities that do not trade on a major U.S. exchange. Please be aware of the risks associated with these stocks.