Despite a few notable headwinds Polaris Industries (NYSE:PII) produced a solid first quarter which we think showed this quality company is a great investment today. In the first quarter the off-road and on-road vehicle manufacturer reported North American retail sales growth of 6%, with motorcycle sales up 18% thanks partly to sales of its popular Indian motorcycle increasing by over 50%. This was especially impressive considering that during the same period Harvey-Davidson (NYSE:HOG) reported domestic sales down by 0.5%.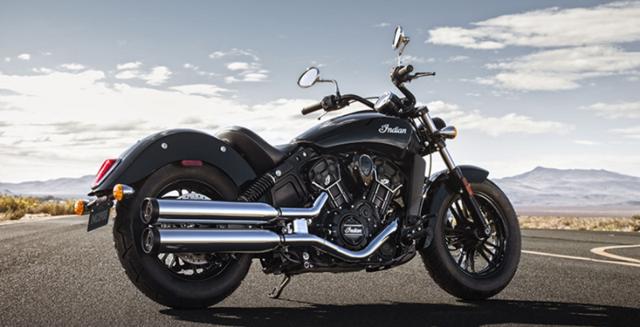 In our opinion it is the company's motorcycle segment which will be the growth catalyst in the years ahead and help management reach their lofty $8 billion sales target for 2020. This means sales growing at a CAGR of 12% per annum. In addition to this it is targeting a 10% profit margin by 2020, which would mean net profit of $800 million. A big increase from fiscal 2015's $455 million net profit. But we believe it can get there. Its motorcycle sales improving by 18% is fantastic when industry demand has been more or less flat so far in 2016. We believe this can grow strongly, supporting the company's other segments.
As of its last fiscal year Polaris Industries was getting 84% of its revenue from the its off-road and snowmobiles segment, down from 86% a year previously. This drop was largely down to the huge growth in its motorcycle segment which leapt from total annual sales of $263.4 million to $698.3 million, or 7% of total sales to 15% of total sales. Management put the increase in motorcycle sales down to the continued high demand for Indian motorcycles and the Polaris Slingshot. The Polaris Slingshot is a popular three-wheel motorcycle that has been referred to looking like something a Marvel superhero would ride. In the first quarter motorcycles continued to account for a growing percentage of total sales, increasing to be 19% of total sales, with off-road vehicles and snowmobiles dropping to 73% of sales.
We see this trend continuing, especially with the release of the Indian Scout Sixty. This bike is retailing at $8,999, making it an extremely affordable entry bike for riders. The Scout range are smaller bikes which we believe will sell well internationally and with younger and newer riders. According to research, international riders and millennials have a preference for the smaller bike, so this puts it in a great position against the likes of Harley-Davidson, Honda, and Kawasaki. As much as we love the big cruisers, we do feel that the smaller bikes are where a lot of growth will come from.
Big cruisers are not only more expensive and generally have higher insurance premiums, they can also be incredibly intimidating for newer or casual riders. We feel the smaller bikes like the Scouts or Harley- Davidson's Street 500 are what a lot of new riders will choose. They're affordable, have lower insurance costs, and very attractive models. The Indian Scout Sixty, pictured at the top, has been receiving good reviews, with Gizmag saying that "… you get a mid-weight cruiser that has no problem keeping up with its bigger cousin that sells for a couple of grand more.." Very positive in our opinion, and good reviews like this are bound to help with sales. Let's be honest, who doesn't check for reviews online ahead of look at purchasing a vehicle. Salespeople will tell you what they want you to hear, whereas reviews should generally give you a more honest view.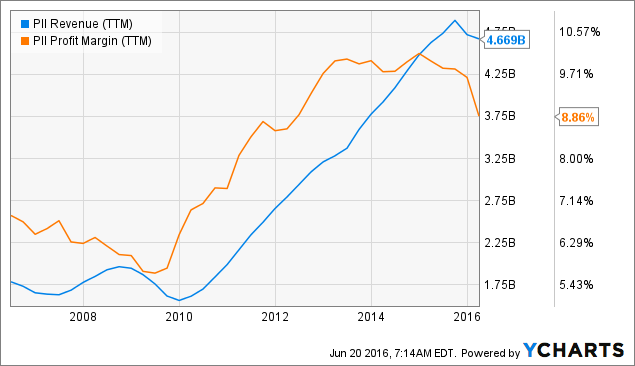 We do think the potential growth that this segment has could get the company to its target of $8 billion sales and a 10% profit margin in 2020. It is a huge ask, but one that the company is capable of doing. It has a history of achieving above average growth in the tope line, with sales more than doubling since 2011. In our opinion the key to this will be growing the overall ridership to create a larger addressable market. Polaris may get a boost from rival Harley-Davidson's marketing efforts. It is working hard at trying to increase ridership throughout the United States. In its latest earnings call it stated that whilst it is trying to win customers with its marketing, its real goal is to increase the amount of people riding motorcycles in general.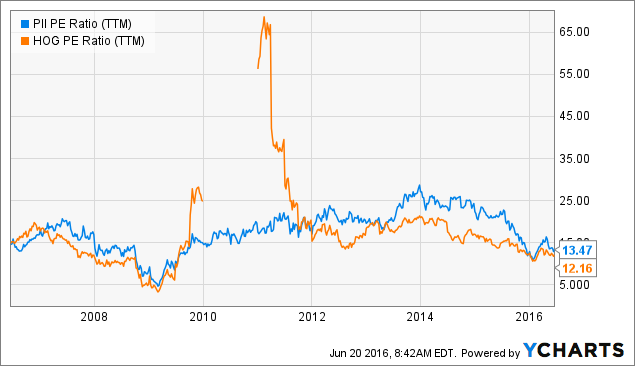 We feel the shares of both Polaris and Harley-Davidson are looking a little on the cheap side at the moment and believe a price-to-earnings ratio of 14 would be about fair. In its latest 10Q management guided to full year earnings per share of $6.20 to $6.80. Although this guidance is rather broad, it should still provide upside even at the lower end.
At a price-to-earnings ratio of 14 this gives us a price target range of between $86.80 and $95.20. Which is upside of 4.5% to 14.6% from Friday's close price. Personally, we are expecting earnings per share to fall in around $6.40, which would provide upside of approximately 8%, or 10.65% if you include the 2.65% dividend.
If Polaris can produce the sales growth that management is targeting, then we believe it is possible that the share price could double over the next four to five years. It is a big if, but one which we feel is possible and makes it a great long-term investment today.
Disclosure: I am/we are long PII.
I wrote this article myself, and it expresses my own opinions. I am not receiving compensation for it (other than from Seeking Alpha). I have no business relationship with any company whose stock is mentioned in this article.