The "Tesla (NASDAQ:TSLA) Effect" has finally taken full effect with a large OEM, the largest in fact, with over 10 million sold in 2015. Volkswagen (VLKAY) is looking to enter the electric market in a big way, fully committing to funding the initiative. Volkswagen is also committing to self driving technology, and plans to have fully autonomous cars, as well as manufacturing its own batteries.
In case you haven't noticed, these are all things that Tesla plans to do. Just to give the scale of the might that Volkswagen has, Tesla's gigafactory is completely dwarfed by the $11 billion battery factory that Volkswagen is planning in Salzburg.
I think that the entrance of a large OEM with its full might could spell the beginning of a dangerous competition for Tesla. Previous attempts by large car manufacturers were frankly laughable, halfhearted, and had no chance of competing with Tesla's cars in any fashion. The Nissan Leaf, Chevy Volt, and several other lame attempts by other various carmakers had none of the style, vision, technology, or cachet that a Tesla had. Even more importantly, these were all novelties that were more aimed at capturing the environmentally friendly segment, rather than a sea change into flat out replacing internal combustion engines. Rather than expanding to each segment like Tesla has with its luxury cars, mid size sedans, SUVs, etc, all were in the rough mid size sedan segment.
The most successful of the bunch, the Leaf had a brief shining moment back in the early 2010s, but now struggles to sell 1000 units a month. Volkswagen, meanwhile, has a venerable stable of brands with all of those factors under its control, from Audi to Porsche to Bugatti.
The entire reason that all of those efforts were so half hearted was because switching to electric would have cannibalized carmakers' sales! They'd have to invest into all of the R&D that comes with making a completely new kind of car, billions of dollars, but essentially sell no more than their existing brands. Again, Volkswagen's battery factory gives a glimpse as to the size of the investment required to support a global manufacturer on the scale of Volkswagen's battery needs. Now imagine that every single manufacturer, Ford, Honda, Hyundai, Toyota, Nissan, etc, all need their own $7-8-9+ billion factory just to start battery production, not to mention the rest of the overhaul that is required to commit fully to EV production. Toyota, Ford, whatever else all have extremely valuable franchises in their respective gasoline using lines. Toyota even has a claim to being environmentally friendly with its Prius line. So they do not need to.
Volkswagen however, is different. After the ridiculously damaging emissions scandal, Volkswagen is like a cornered animal. The graph below paints an extremely ugly picture.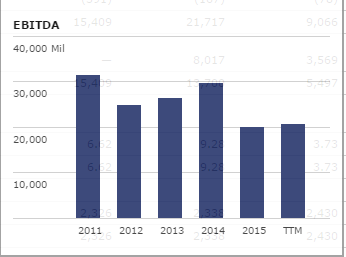 Source:Morningstar
EBITDA fell literally 33% in a single year. Volkswagen has definitely had a tough time But it also paints a ridiculous picture of how outmatched Tesla is again. The last trailing twelve months, even in a down year, Volkswagen generated 20 billion euros. That's around 23 billion dollars, and if Volkswagen really wanted to, it could have bought out the entirety of Tesla when the stock was at $150. Now of course, Musk would have never sold, but the point is that Volkswagen has huge, massive financial firepower to thrown at the issue.
Tesla is ahead in its technology, but the problem is that it can't even fund itself so far. Tesla requires endless stock raises and debt funding to keep its operations flowing smoothly while Volkswagen can run its legacy gasoline car business for cash while using making investments in the order of billions per year in EVs.
What makes this venture different from those of other automakers is that Volkswagen is committed to this. Volkswagen needs a major image overhaul, and a commitment to EVs is certainly one way to overcome that. Sales have already fallen massively, and Volkswagen is looking to regain them.
Again, looking at the goals that Volkswagen has set for itself, Volkswagen has definitely set out to be the leader in EVs. Volkswagen is looking at 2-3 million cars a year, with 30 models launched by 2025, while phasing out 40 models of conventional cars. Meanwhile, Morgan Stanley had to shift back its 2020 sales expectations to 2025, of only 500,000 cars a year. This was also written in February, and does not include the competitive effects of Volkswagen.
Tesla has a premium valuation of $32 billion, four times that of Fiat-Chrysler, 2/3rds that of GM and Honda while selling less than 1/100th of the cars because they're a one trick pony that focuses on EVs. In total, Tesla built everything they have with less than $6 billion roughly. Returns of 600% in about 10 years do not come along often in an industry in which Sergio Marchionne, CEO of Fiat-Chrysler called out specifically about low returns on capital.
The even more amazing thing is that Volkswagen's entrance puts the rest of the manufacturers into an even tougher place. Executives could brush Tesla off before, but they can't brush off Volkswagen. They will be forced to act, and in a large way unless they want to see their sales be eroded by Volkswagen's electric offerings.
Tesla was initially promising, but I think that Tesla has peaked in terms of competitive advantage. Before, Tesla had the entire EV pie to itself, a small but growing pie. Now, Tesla will have to fight just to keep its market share. There just does not seem to be any way that Tesla can compete with Volkswagen, and soon, every other major car manufacturer. I would advise investors to get out of Tesla as soon as the first Volkswagen EV hits the market, and short as Tesla becomes overwhelmed.
Editor's Note: This article discusses one or more securities that do not trade on a major U.S. exchange. Please be aware of the risks associated with these stocks.