We've discussed in previous articles how the airline industry may be at a secular shift. Historically, airlines have been notorious for generating the worst returns on capital of any industry. But as Bob Dylan sang so eloquently, "The Times They Are A Changin." The airline industry is showing signs of life, as many of the companies now generate an enormous amount of free cash flow. An even better business within the airline industry might be the aircraft leasing business.
Essentially, the leasing business model sees the company borrowing money to buy planes the manufacturer or airline and then lease them back to the airlines through long-term monthly payments of 10-12 years. The company gets the plane back at the end of the lease and can re-lease or sell it. This model is the industry norm and represents over 40% of the global airline industry. The leasing model allows countries and companies with limited access to capital markets and financing to grow a fleet.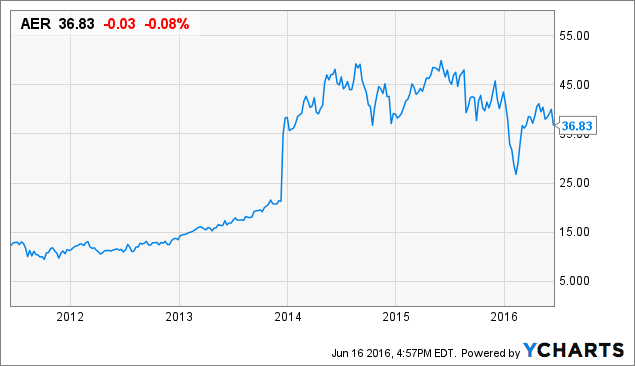 AerCap Holdings N.V. (NYSE:AER) is one the best managed and largest lessors in the space. For years, the company has been lauded in the value investing community as a great opportunity because of its undervaluation. Before we dive into the valuation, let's look at the business.
Note: All figures and stats sourced from this company presentation (Dublin Conference).
Largest independent aircraft lessor
AerCap is the biggest independent aircraft lessor with 1,672 aircraft with an average age of 7.7 years. They have a presence in every major geographic region making them one of the best quality and best-diversified portfolios in the industry. GE Commercial Aviation Services and AerCap control ~40% of the market. Even as a leading aircraft lessor, the company only employs 385, which speaks volumes to its low overhead and scalability.
Its purchase of AIG subsidiary ILFC in mid-2014 was a significant shift for the business. It addition to the scale and synergy benefits, the company will gain tremendous tax benefits with the combined company now based on the tax rate in Ireland. This independence in the company's purchasing platform is a significant advantage because they are not affiliated with any aircraft or engine maker. They acquire the aircraft that are best for their customers regardless of the manufacturer.
Integrated business model with numerous competitive advantages
Because of the company's aircraft and infrastructure, the company has benefited from scale advantages from its integrated business model. This model also allows the company to transact on a large scale over various market cycles. Over the past quarter alone, the company executed 131 aircraft transactions. Also, the company has a stellar 99.3% fleet utilization rate.
The company's lessor business model gives the company numerous competitive advantages from scale to a low-cost operator. Its diversified lessee client base helps drop the operating expenses of the business dramatically. Under the lease agreements, the lessee has to maintain and service the aircraft and equipment during the lease.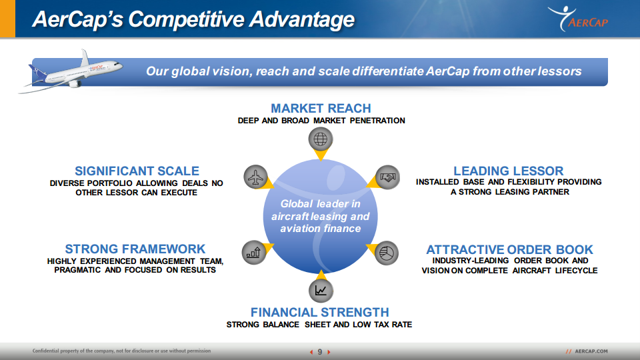 Valuation
In valuing any business, it's important to focus on free cash flow (as well as the durability of its competitive position). AerCap had Cash Flow from Operations of $3.43 billion over the last 12-months. Capital expenditures for the year were $2.31 billion. The "back of the envelope" net free cash flow was about $1.12 billion (roughly in line with reported net income). AerCap has continuously grown earnings while achieving 7-15% returns on equity and 2-7% returns on invested capital over the last five years.
In keeping with our conservative estimates, instead of using the most recent FCF figure of $1.12 billion to project FCF, we will be conservative, and use $1 billion. Just to give us an even larger margin of safety.
Also, we would not be surprised to see the company being able to generate future free cash flow well in excess of $1 billion over time. If/when this happens, there will be a repricing of the stock (hopefully at higher levels). It will be icing on the cake. We will use a conservative discount rate of 15%, given the cyclical nature of the business.
And even after all the DCF projections, the business is still worth something at the end of the day (all else being equal). As a result, we assume that the business is sold at the end of the year ten at a conservative 10x FCF plus any excess capital in the business.
AerCap has $8.39 billion in book value ($2.92 billion in cash). We'll use $2.92 billion in cash as a conservative number for excess capital. We'll use the current shares outstanding of 197.7 million. This number should be a conservative estimate because management just initiated another round of share buybacks.
Based on those figures, and to be very conservative, we will come up with three growth scenarios for AerCap over the next ten years. We'll also give a probability weight based on the likelihood of each scenario. Let's look at the three scenarios below using these various assumptions, and see how we were able to arrive at a fairly conservative estimate of intrinsic value using a range of values and probability of the scenarios playing out:

The discounted values of AerCap range from $58.09 to $80.60. The stock is trading $36.91 per share which gives a large margin of safety to our weighted assumptions. However, we believe the most likely scenario is 2.5-5% growth in FCF in the foreseeable future, which is why we weighted scenario #1 and #2 at 80% probability.
This gives us a weighted intrinsic value of $65.13 per share. In other words, if all of our assumptions came to fruition, an investor buying AerCap today at $65.13 could expect a 15% annualized rate of return over the next ten years. With shares trading at $36.91 per share, current share prices appear to be undervalued.
Investor takeaway
CEO Gus Kelly is a great capital allocator and has proven to be very shareholder friendly. And the company recently announced another $250 million share buyback program. He has been able to act opportunistically in the industry while generating exceptional risk-adjusted returns. For example, AerCap, unlike many of its peers, did not have to take any asset write-downs or impairments after the financial crisis of 2008-2009. In fact, the company sold many of its planes at a premium to the values on its balance sheet.
In short, there are lots of reasons to believe AerCap is on the right track. Management sees a clear path for the company and shares appear to be undervalued. Investors with a long-term horizon should consider investing in this aircraft leasing company. If AerCap stock falls any further this summer, I may pick up some shares, too.
Notable shareholders:
Jana Partners
Donald Smith
David Einhorn
Eric Mindich
Please share your thoughts in the comments section below, as I learn just as much from you as you do from me. It can be a time-consuming endeavor, but I answer all of your comments and questions myself. Your patience and understanding are greatly appreciated. I will get to your remarks as soon as possible.
Disclosure: I/we have no positions in any stocks mentioned, and no plans to initiate any positions within the next 72 hours.
I wrote this article myself, and it expresses my own opinions. I am not receiving compensation for it (other than from Seeking Alpha). I have no business relationship with any company whose stock is mentioned in this article.