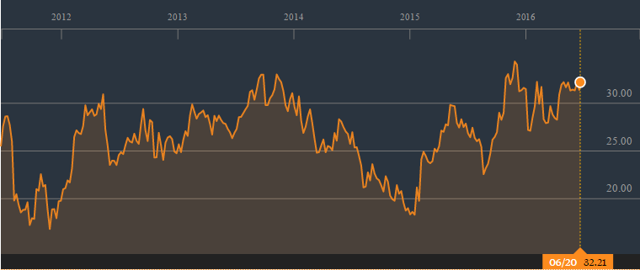 Source: Bloomberg Nokian Tyres (NRE1V) price chart.
Nokian Tyres in brief
Nokian Tyres (OTC:NKRKF) design and manufacture tires for demanding conditions year-round from freezing blizzards to heavy summer rains. They make tires for passenger cars, trucks and heavy machinery. They produce the products mainly in Russia where the facilities are industry leading both in productivity and quality. Other factories are located in Finland amongst corporate headquarters and R&D facilities. The group also owns the Vianor tire chain, which conducts wholesale and retail operations in key markets such as Norway, Sweden, Finland, Germany and Russia. At the end of 2015, the chain had 1475 outlets and Nokian Tyres (OTCPK:NKRKY) products were sold in 59 countries. The group has over four thousand employees, annual sales of €1.4 billion and market cap of €4.2 billion.
Headwinds
Compared to other tire manufacturers, Nokian Tyres is quite volatile in sales, earnings and valuation. 1) Russia: The group had strong growth momentum when the Russian economy was thriving but after the recent downturn they had to do significant adjustments. The massive decrease in consumers' purchasing power and currency depreciation dampened the company's growth prospects. However since 2013 they have decreased dependency on Russian sales from 35% to 17%. Now the company is more diversified and less vulnerable to single market. But if the region starts to strengthen again they are able to capture the growth easily via Vianor chains. In the near term, management outlined that a similar pre-crisis robust growth can't be expected since consumers' are choosing the basic brands instead of the premium ones. At least for now.
2) Back taxes: The group has been accused multiple times about unpaid taxes. The largest legal case was ruled in favor of Nokian Tyres last year but they are currently in another dispute regarding a similar matter. 3) Test manipulation: The most recent headwind surfaced in February when the company revealed that they have cheated on their tire test results. After an internal audit when it was first discovered, some of the insiders sold shares before the public announcement which sparked interest of the Finnish authorities. There were weeks of media coverage on the case which plummeted the stock temporarily. Since then the stock has recovered but major shareholders reduced their positions in the company.
Fundamentals
Looking purely at the fundamentals there's not much to cheer except the stable dividend. It has been the single most important metric for investors during the past three years giving some certainty when the stock price fluctuated between €22 and €37. Management also outlined that they are committed to return value to shareholders and keep the stock attractive even if there are severe headwinds. The stabilization has already started and new more diverse Nokian Tyres is searching profitable growth now in Central Europe and in the North America. In 2016, sales are expected to remain at 2015 levels but they are projecting to see growth in 2017. Even if the sales remain stagnant they are able to improve profitability with cost restructuring and cheaper raw material mix.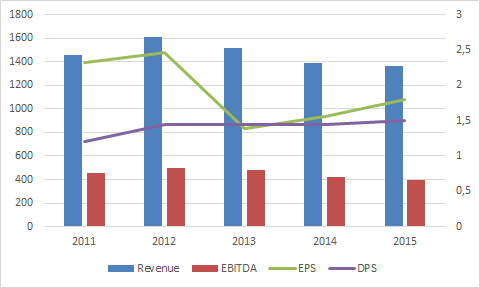 Source: Nokian Tyres IR
But when it comes to operational efficiency the major competitors Bridgestone (OTCPK:BRDCY), Continental (OTCPK:CTTAY) and Michelin (OTCPK:MGDDF) trail far below Nokian Tyres. Key part of the profitability is that they have state of the art factories which are highly automated. Majority of the tires are manufactured in Russia and exported to other markets, helping the group to save on labor costs. Even after the test result scandal the tires are broadly praised and the brand's value is intact, justifying the premium pricing.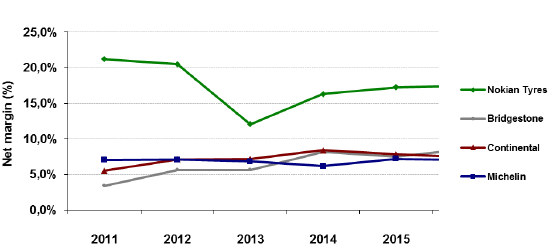 Source: Nokian Tyres IR
Valuation and conclusions
Nokian Tyres trade 17 times this years projected earnings and it's inline with the overall market. Knowing that the company is keen on distributing high dividend, there's no reason to worry about the attractive 4.8% yield. But 2016 will be a year of stabilization after the fierce headwinds in the past three years. They managed to get through it with strong balance sheet, improved efficiency and more diverse exposure to different regions. They are on track to start growing again next year if the market conditions stay relatively stable. And for an additional boost there could be a favorable ruling in the tax dispute. But they have already warned about soft Q2 figures which could indicate some short lived weakness in the next few months. So for now I rather buy the tires than the stock.

Source: Reuters, projected 2016 figures.
Disclosure: I/we have no positions in any stocks mentioned, and no plans to initiate any positions within the next 72 hours.
I wrote this article myself, and it expresses my own opinions. I am not receiving compensation for it (other than from Seeking Alpha). I have no business relationship with any company whose stock is mentioned in this article.
Editor's Note: This article discusses one or more securities that do not trade on a major U.S. exchange. Please be aware of the risks associated with these stocks.