There are numerous reasons why a market may top. Usually, these only become apparent some way into the subsequent decline. But what actually happens at the point of reversal, when the news is still mostly positive?
I am of the opinion tops occur because prices get too high and there are no longer any willing buyers under the prevailing conditions. This is a situation described by Tom Demark in his book New Market Timing Techniques: "my studies suggest that market tops are not made because omniscient top pickers or informed trading syndicates with massive financial resources co-ordinate their selling campaigns; rather a diminution in buying occurs at that particular point in time and price declines of its own weight."
Tom Demark developed a number of indicators to help identify when buyers (or sellers in a downtrend) are "exhausted". These indicators are dynamic, and are based on mechanical calculations of closing prices. Based on their current data on the highest time frames, buyers of the 10-year T-note are exhausted.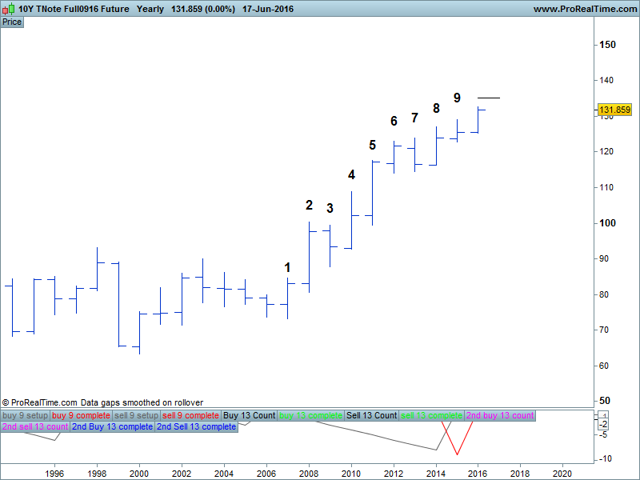 The 10-year T-note is currently on a "sell set-up" on the yearly chart. This is a rare event, as it takes a minimum of 10 years to complete, requiring the following conditions:
The market records a close less than the close 4 bars before, immediately followed by a close greater than the close 4 bars earlier. This is labeled as bar 1 - the start of a new trend.
The market is then expected to advance for a total number of 9 bars, each with a close greater than the bar 4 bars earlier.
Once the 9 bars are complete, Jason Perl - author of Demark Indicators, states, "prices should then experience a short-term reversal of the underlying trend, or at least a consolidation, lasting a minimum of one to four price bars."
A sell set-up is valid below the risk level, which is derived from the range of the highest bar of the set-up added to the high. This gives a risk level of 134.90.
The same conditions lead to "sell set-ups" (or the opposite for "buy set-ups") in any time frame. They work best when several time frames are saying the same thing, i.e., both long-term buyers and medium-term buyers are exhausted. This situation is happening right now on the 10-year T-note.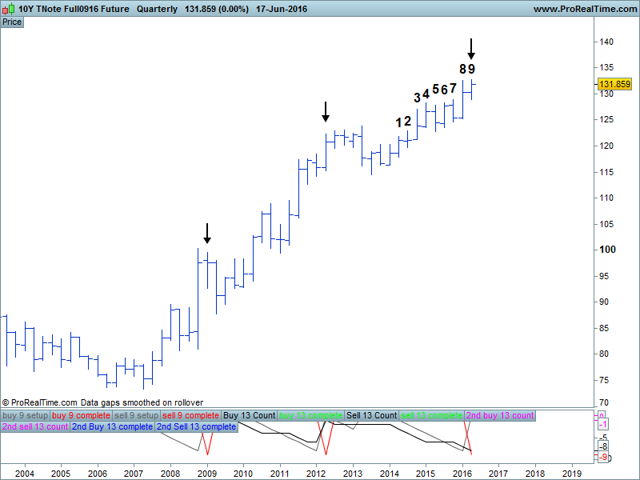 The quarterly sell set-up is obviously more common than the yearly, taking a minimum of 10 quarters to develop. This makes their effects easier to track: during the entire 9-year rally, this is 3rd time we have seen a quarterly sell set-up. On both previous occasions, in 2009 and 2013, the set-up led to a yearly decline in price.
If anything, we should now expect a longer duration of consolidation/decline, as the yearly and quarterly sell set-ups are due to combine.
Recent sell set-ups on the daily time frame are shown below, and you can see for yourself how they often pick off turns and pauses.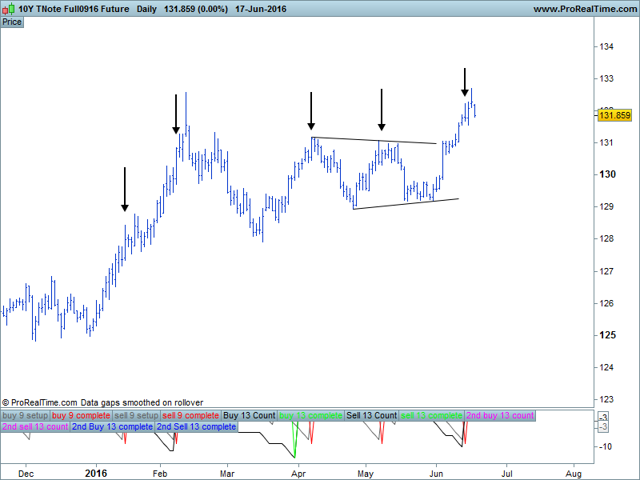 The daily chart also shows some bearish patterns as well as the completed Demark sell set-up.
Firstly, there is a triangle consolidation. This is always the penultimate pattern in a trend sequence.
There is also a failed break-out: prices briefly traded above the February 2016 high, but closed back below. It remains to be seen if prices stay below, but bear in mind the probabilities of a longer-term correction.
Targets
The maximum target is the low of bar 1 in the above chart, which stands at 117.8. This is the origin of the current trend, and would also be around the 23.6% Fibonacci retrace of the entire rally from the 2007 low.
If sold at market, this gives a current trade of sell 131.8, stop 134.8 and target 117.8.
Risk 3 to make 14.
Catalysts
Demark indicators do not predict bad news for the bond markets. Things at the moment could hardly get better, with the recent Fed inaction, followed by James Bullard's comments about only one rate hike needed in the next couple of years.
So why, then, did the 10-year T-note sell off at the end of last week?
This is precisely what I look for to confirm exhaustion: good news that leads to a decline.
If the downside gains any traction, there will be a narrative that will get louder and louder the more prices decline. No Wall Street reporter will write the bond markets are falling because buyers are exhausted. There will be reasons cited, and they may be correct, but I doubt they will be entirely new to those who watch the bond market closely.
Conclusions
I am a big fan of Demark indicators because they give an unbiased view of where and when a market can pause. They don't always work, but they are an important part of my analysis, and I never ignore signals I have learned to trust.
The prevailing Demark set-ups on the 10-year T-note are worth paying attention to. To get concurrent signals on such high time frames is rare. The odds favor a pullback.
Disclosure: I/we have no positions in any stocks mentioned, and no plans to initiate any positions within the next 72 hours.
I wrote this article myself, and it expresses my own opinions. I am not receiving compensation for it (other than from Seeking Alpha). I have no business relationship with any company whose stock is mentioned in this article.