SolarEdge (NASDAQ:SEDG) is firmly establishing itself as the premier MLPE (module-level power electronics) company. By cementing itself as a dominant solar component manufacturer, SolarEdge should be able to take full advantage of solar's rapid growth. While SolarEdge has experienced a sharp downturn over the past year, the company is doing far better than its main competitors like Enphase (NASDAQ:ENPH). Moreover, SolarEdge likely has a better chance of surviving in the long run compared to other MLPE companies given its strong foothold in key solar markets. SolarEdge even recently entered a partnership with Tesla (NASDAQ:TSLA) in order to cement its position in the energy storage arena.
SolarEdge's financials have also continued to strengthen over the past few quarters, with important financial metrics such as gross margin improving at an impressive rate. Such improvements are not surprising given SolarEdge's increasingly cost-effective MLPE products. While many of SolarEdge's major customers like SolarCity (SCTY) and Vivint Solar (NYSE:VSLR) are experiencing significant growth difficulties, SolarEdge should be fine given its increasing attention on customer diversification. Despite some potential obstacles, SolarEdge is well poised to ride the distributed solar trend.
Growth without Major Pitfalls
The valuation of major solar manufacturers has not reflected the solar market's growth over the past decade. Despite the fact that solar adoption has exploded during this time, solar manufacturers have continued to experience low/nonexistent profitability and bankruptcies. This is not surprising as solar's growth has largely been driven by rapidly falling module prices, which has a clear negative impact on solar company financials. A top-of-the-line solar module manufacturing facility could easily become close to obsolete a few years down the road at the current rate of technological progress and cost reductions.
SolarEdge has a good chance of avoiding the problems that have plagued solar module manufactures. After all, the components that SolarEdge manufactures such as power optimizers and inverters are not subject to the Moore's law type advancements that solar modules are subject to. This means that as long as SolarEdge is able to maintain a solid presence in the MLPE industry, the company likely has an extremely bright future ahead of it.
With the US solar market set to grow 119% this year, SolarEdge has much look forward to. As the US represents one of SolarEdge's most important markets, such rapid growth is great news for the company. The global solar market is also set to grow at robust rates, which means that demand for SolarEdge's products should continue to rise. By specializing in MLPE products and avoiding panel manufacturing, SolarEdge should be able to take advantage of solar's exponential growth without many of its downsides.
SolarEdge is one of the most cost-effective MLPE manufacturers in the industry.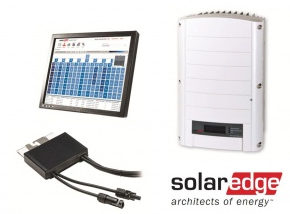 Source: SolarEdge
Strong Financials
SolarEdge is one of the few profitable companies in the solar arena. SolarEdge's financials have steadily improved over the past few quarters, which has contributed to the company's growing dominance. In the latest quarter, SolarEdge reported a gross margin of 32.5% and an operating income of $19.7 million. This is made all the more impressive by the fact that SolarEdge is still experiencing near 50% YOY growth rates in terms of revenue.
SolarEdge's focus on financial health should be a huge positive moving forward, especially in an industry as volatile as solar. SolarEdge's main competitor Enphase, on the other hand, experienced a net loss that approximately tripled YOY and revenues that decreased by 26% in the latest quarter. Whereas SolarEdge is improving on nearly all fronts, its main competitors are struggling to survive.
Large Challenges Still Remain
The residential solar transition towards loans will likely have a negative impact on SolarEdge given the company's relatively heavy reliance on large lease/PPA specialists like SolarCity or Vivint Solar. As such, SolarEdge will not be able to rely on these large customers for growth in the near-term. However, SolarEdge is starting to put more attention on customers outside of the largest players, which should help reduce volatility and spur growth. In fact, SolarEdge has already started to significantly reduce its reliance on a select few major customers.
While SolarEdge currently has some of the best MLPE products in terms of cost-effectiveness, this can rapidly change as the industry is still young. Newer and more innovative MLPE technologies could easily supplant those manufactured by SolarEdge if the company does not continue to innovate at a rapid rate. Even Enphase still poses a significant technological threat towards SolarEdge despite Enphase's growing troubles. In fact, Enphase is now obsessively focusing on lowering the price of its solar inverters. Fortunately for SolarEdge investors, the company still has a solid technological lead over most major competitors in the MLPE market. Regardless, there will always be technological risks associated with SolarEdge given how immature the MLPE industry is.
The threat from large established solar manufacturers is perhaps even greater. SunPower (NASDAQ:SPWR), for instance, is manufacturing its own inverters for its fully integrated residential solar solution. If a trend of large solar companies manufacturing their own MLPE products gain steam, SolarEdge will clearly suffer. However, SolarEdge could conceivably become an acquisition target if more solar manufacturers were to start integrating MLPE products.
Conclusion
SolarEdge is leading the way in the MLPE industry. The company even has an impressive 28% market share in the residential solar inverter arena. Despite the fact that SolarEdge is at the forefront of the MLPE industry, the company only has a market capitalization of $836 million and a forward P/E ratio of 10. SolarEdge still has a great deal of growth potential and has all the tools to dominate the MLPE industry.
Disclosure: I am/we are long SEDG, SCTY.
I wrote this article myself, and it expresses my own opinions. I am not receiving compensation for it (other than from Seeking Alpha). I have no business relationship with any company whose stock is mentioned in this article.