Action: Initiate Position
Seaspan Corporation (NYSE:SSW) as some already know is the largest global vessel charterer for the container shipping line industry. This is measured by twenty-foot equivalent unit, TEU capacity, with Seaspan's current capacity standing at over 740,000 TEUs. The container units are depicted below on the COSCO Container Lines vessel.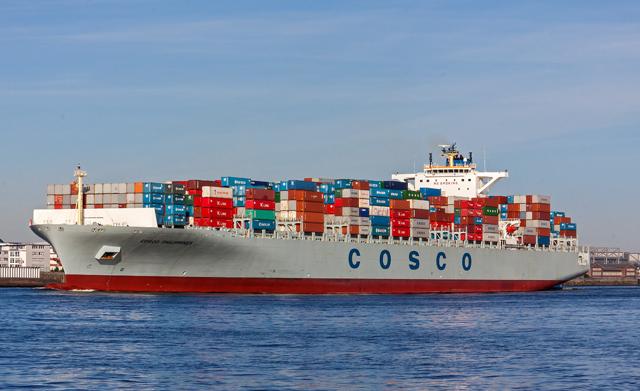 COSCO Philippines
Seaspan's revenue model is primarily built upon providing fixed-rate, long-term charter contracts with its container shipping line customers. As of the first quarter, COSCO Container Lines represented nearly 40 percent of Seaspan's revenue and about 25 percent of the company's TEU capacity, including managed TEUs. COSCO Container Lines stood as the fourth largest container shipping line in the world with over 1.5 million TEU capacity, of which nearly 70 percent was under charter contracts, per Alphaliner.
As consolidation continues and vessel sharing alliances, VSAs change during 2017, opportunities will persist for Seaspan to bring newbuilds to market and further increase revenues. The current weakness across all global trade lanes regarding freight rates does place pressure on renegotiation for charter contracts once they expire. Management has the flexibility to consider whether a lower long-term fixed charter rate is beneficial, or whether the spot market offers better opportunities.
Seaspan's expansion plans through 2017 have the company approaching the 1 million TEU capacity mark. As of June 2016, and according to Alphaliner, roughly 53 percent or 10.3 million in TEU capacity was chartered by the top 100 operated fleets total 19.5 million TEU capacity. A majority of Seaspan's charter contracts have terms for 10 or more years. Management feels opportunistic regarding their value proposition and industry's focus on cost reduction strategies in the current environment.
Based on long-term prospects and at today's price of just below $15/share, investors could expect potential stock price appreciation at an annual average of around 7 to 9 percent per year. This of course does not consider the most volatile examples driven by economic cycles, as the stock price during the peak or valley of either extreme could see the stock price much higher or lower than the potential average return.
Combined with today's dividend, it would appear that Seaspan offers the best of both worlds. But during the Great Recession, the dividend was cut by nearly 80 percent. Since the cut, the dividend has increased by 275 percent, but still remains below pre-recession levels. For investors, the need to understand Seaspan's capital structure is important in order to consider the company's risks and whether it is an investment option worth taking.
Seaspan has three primary ways the company raises capital to sustain the company's investment needs, which mostly revolve around growing TEU capacity. The first is leverage, which includes revolving credit facilities, term loan credit facilities and senior unsecured notes as well as lease facilities for particular vessels. The next two include issuance of preferred shares and common stock. I would encourage those seeking a thorough review of the dynamics of Seaspan's preferred shares to consider J Mintzmyer's recent article on Seaspan.
Generally, investors need to be aware of the type of covenants related to Seaspan's leverage and the type of parameters involved with preferred shares. As long as Seaspan is not in violation of its debt covenants and is able to manage its commitments for preferred shares, both at the expense of common shareholders, the current dividend yield should remain intact for the near-term.
An example of debt covenants relates to Seaspan's credit facilities, as the company is not allowed to incur borrowings in an amount greater than 65 percent of its assets. Currently, total debt obligations reflected 55 percent of total assets. For preferred shares, as detailed by J Mintzmyer's article above, Series C Preferred shares were issued with triggers to substantially increase interest payments to preferred shareholders beginning January 2017. Seaspan has undergone multiple issuances of both preferred and common stock to refinance the Series C Preferred shares.
The company is now positioned to focus on raising the necessary capital to make installment payments to deliver the remaining vessels for its customers through 2017. Additionally, it would appear that the dividend should be sustained for the remainder of the year, with the payment amount being revisited by the board next year.
Investors should perform their own due diligence regarding Seaspan's investment risks. There are many risks which are related to the industry in general, but that are interconnected to the company's leverage profile, preferred shares, and dividend payment. Risks include the potential for further declines in the current container shipping industry leading to customer defaults, toughening credit markets, reduced charter rates and/or idled assets, among others.
Investors may have seen recent articles related to Hanjin Shipping's renegotiation attempts with Seaspan, with Seaspan adamantly refusing to lower existing charter rates, let alone by 30 percent. Contrary to COSCO Container Lines, Hanjin Shipping reflects a very small portion of Seaspan's TEU capacity and revenues, so the company has some extra bargaining power to maintain its stance. Management has never reduced a charter rate and is not interested in making Hanjin Shipping the first example.
The Lean Long-Term Growth Portfolio, LLGP will consider adding a position this week due to the fact that Seaspan is positioned to continue to grow revenues through newbuild deliveries this upcoming year, which should provide for further normalized income and adjusted EBITDA growth. The stock is trading at levels not seen since late 2011, and the company's capital structure has been improved.
The LLGP is not focused solely on dividend growth and/or dividend-specific strategies. But over the long-term horizon, which is plus/minus 25 years, dividend holdings will take on a more important role. The forecasted yield on cost, YOC for 2017 is 1.3 percent. Adding Seaspan will provide an opportunity to modestly increase the YOC, and at the same time manage the position for stock price appreciation.
Disclosure: I/we have no positions in any stocks mentioned, but may initiate a long position in SSW over the next 72 hours.
I wrote this article myself, and it expresses my own opinions. I am not receiving compensation for it (other than from Seeking Alpha). I have no business relationship with any company whose stock is mentioned in this article.