In addition to the assassination of a pro-EU British MP, the fleeting probability that Britain will vote to leave the EU is causing turmoil in financial markets. Last week, the German 10-year bund traded with a negative yield for the first time ever. The 10-year Treasury note yield declined to $1.52% - just 13 basis points away from an all-time low - while the Japanese yen declined below 104 and the embattled British pound barely held $1.40.
While the Brexit boat was rocking notably more last week than the week before, this is the kind of rocking that is only going to intensify due to the clearly visible storm right in front of us with Thursday's vote. I suppose there is always the possibility that another politician might be assassinated in the UK or a terrorist attack may take place that postpones the Brexit referendum. But barring those unfortunate possibilities, Britons now look likely to shake up financial markets one way or the other on June 23rd.
I don't understand how pragmatic people like the Brits cannot see through the self-destructive implications of this referendum. Cooler heads prevailed in the Scottish independence referendum in 2014, but the Scots are overwhelmingly pro-EU. Great Britain leaving the EU might serve as a trigger for another independence referendum in Scotland, which this time may succeed. It would look rather embarrassing for the British government to have its citizens vote to leave the EU and then have Scotland leave the UK later on. While there are doubts that David Cameron would survive as Prime Minister if Great Britain leaves the EU, he definitely won't survive a vote for Scottish independence.
To be fair, voting to leave the EU in a referendum is not exactly the same as actually leaving it, as there are many more votes that need to be taken for that to happen. Still, it certainly opens the door for a messy Brexit, so it is difficult to see how the GBPUSD exchange rate can end up anywhere but down. That said, last week the GBPUSD exchange rate ended up, as it appears that the news of the Labour MP's tragic assassination caused a violent short squeeze as Brexit campaigning was suspended.
Over the weekend there were news reports that bookmakers in Britain were giving the "Remain" vote a 75% chance of prevailing. This is actual money being bet that way, which is very different from telephone polls. While there was clear momentum for the "Leave" vote last week, it appears that the politically-motivated assassination of a British MP may have given the "Remain" camp a positive nudge. The latest polls show a dead heat, while the bookies favor the EU supporters.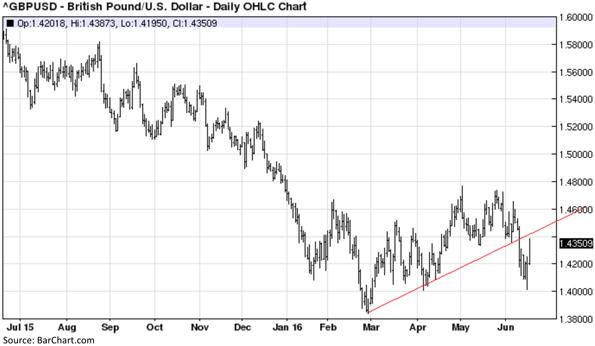 Graphs are for illustrative and discussion purposes only. Please read important disclosures at the end of this commentary.
Cable, as traders call the GBPUSD cross rate, has serious support at $1.40 and it closed last week at serious resistance under $1.44. It should be all downhill for cable this week barring assassinations or terrorist acts, particularly if the Brexit vote is successful. There could be a violent reaction higher if the Brexit vote is defeated (now close to a 50-50 chance) or lower if Brexit wins (also an even probability).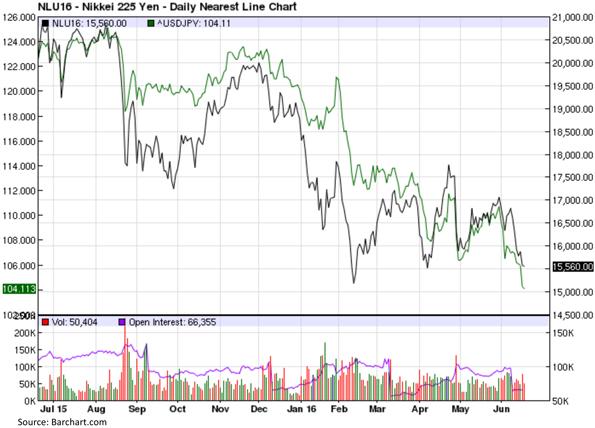 Graphs are for illustrative and discussion purposes only. Please read important disclosures at the end of this commentary.
One indication of large investors' increasing risk aversion is the rally in the Japanese yen caused by the unwinding of carry trades (where less yen per dollar means a stronger yen on the inverted chart, above). The yen registered a fresh 52-week high at 103.55 against the dollar and I suspect it will trade through 100 this week if we have a successful Brexit vote.
Since the Nikkei 225 large cap benchmark index is so heavily correlated to the USDJPY exchange rate, those yen moves are tradable via Nikkei proxies. For example, the move in the yen last week caused about a 1000-point move lower in the Nikkei. Furthermore, the Nikkei 225 index is holding just above major support near 15,500 which is likely to "break" if the yen breaks 100, in my opinion.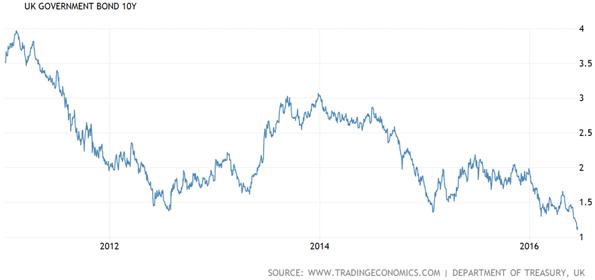 Graphs are for illustrative and discussion purposes only. Please read important disclosures at the end of this commentary.
While German bunds traded down to a -0.03% yield last week, the UK 10-year gilts registered a record low of 1.11%. The gilts will likely be flirting with 1% in the event of a successful Brexit vote, while the all-time low yield in U.S. 10-year Treasurys (at 1.39% from 2012) also comes into play.
It is worth pointing out that Brexit is certainly not the primary reason for the 10-year Treasury yield to make an all-time low, but merely a catalyst. U.S. Treasury yields were headed to all-time lows anyway because of the global deflationary problem we have that seems to be intensifying, but Brexit surely seems to be in a prime position to catalyze this move. (See my annual prediction published by Marketwatch on December 29, 2015 "Will 2016 Bring New Treasury Yield Lows?") It is also necessary to point out that the consensus was calling for four Fed funds rate hikes in December 2015, but so far there have been none, and we very well may not get any rate hikes until the end of 2016, or in 2017 for that matter.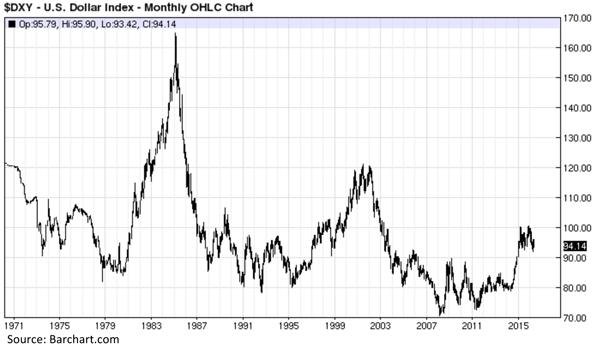 Graphs are for illustrative and discussion purposes only. Please read important disclosures at the end of this commentary.
The fact that there may be no more rate hikes does not suggest that the dollar cannot go higher from here. I think it is headed well past 100 on the U.S. Dollar Index (pictured above) and definitely much higher on the Broad Trade Weighted Dollar Index, which I have featured previously in this column.
For the dollar to rally, we need global deflation (which we already have), corporate and governmental global deleveraging (we have that, too), and shrinking global trade and central bank FX reserves (we certainly have that). Add in the fact that the biggest component of the U.S. Dollar Index - the euro, at 57% - has just added major Brexit-generated political risk to its belated QE problems and overall economic stagnation, and I am actually surprised that we are not above 100 on the U.S. Dollar Index at this moment.
I think it is only matter of time for the dollar to make fresh 52-week and multi-year highs this year.
Was $52 the Seasonal Top in Oil?
The seasonal rally in oil I was looking for (see Navellier Marketmail for March 8, 2016 "Was this the Seasonal Low in Oil?") seems to be playing itself out earlier than scheduled. Typical oil demand has a seasonal uptick in the March to September period, but this time the rally started earlier than it did in 2015 as the preceding sell-off was much more severe. Crude oil futures made a low in January near $26, retested that low in February, and they have been as high as $52/bbl this month on the August 2016 WTI contract.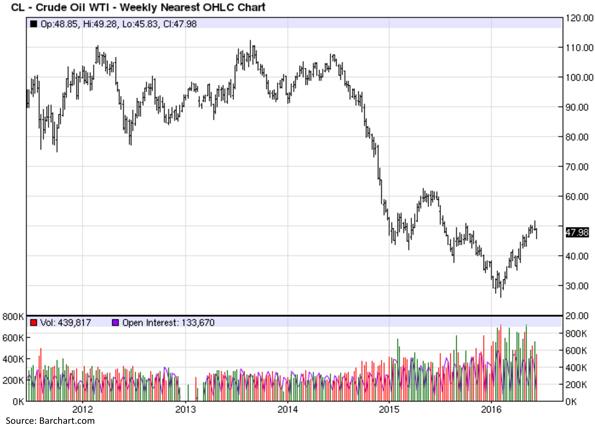 Graphs are for illustrative and discussion purposes only. Please read important disclosures at the end of this commentary.
Futures traders can forecast seasonal demand, which is why different months of the year have different prices, but they are far from perfect. On Friday, February 2017 crude oil futures closed at $50.76. I think that come February 2017 that CLG17 contract price will start with the number 2 or 3, not the number 5.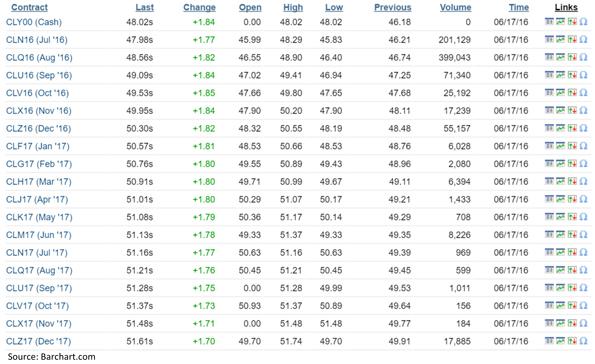 Basically, I think oil is ultimately headed back to $20/bbl as neither inventories nor production have declined much. In addition to seasonal factors that come into play in the fall and winter, we have cyclical factors to worry about. I think the hard landing in China I am looking for keeps getting pushed out as the Chinese authorities keep accelerating lending into a busted credit bubble; but ultimately when the Chinese hard landing arrives, crude oil will have trouble holding $20/bbl, as China is the number one consumer of oil.
Disclosure: *Navellier may hold securities in one or more investment strategies offered to its clients.
Disclaimer: Please click here for important disclosures located in the "About" section of the Navellier & Associates profile that accompany this article.