Saudi Arabia is one of the largest oil (NYSEARCA:USO) producers in the world with Russia around the same figures and the US modestly behind it. The de facto OPEC leader hasn't relented on its market share approach since November of 2014. Oil prices has since then crashed from over $100/bbl to less than $30/bbl earlier this year. Despite many believe that Saudi wants oil prices lower for longer, the ability for Saudi to maintain its own export of crude will remain an issue.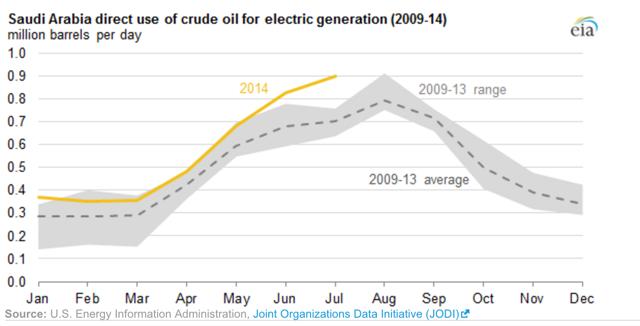 Saudi is one of the few countries in the world that uses crude oil for electricity generation. The problem that runs into is that as the population increases, domestic crude consumption via electricity demand also increases. Not to mention, demand for gasoline also increases, which could eat into Saudi's ability to export crude.
Reuters reports that despite Saudi's oil production increasing from 10.224 million b/d to 10.262 million b/d, exports actually fell by ~100k b/d.
News reports have also indicated that Saudi plans on increasing production over the next several months just to meet domestic demand via increased cooling demand thanks to a hot summer.
Current weather forecasts for Saudi Arabia is expected to be quite hot, and electricity generation will likely result in lower crude exports from Saudi Arabia.
Saudi's crude export is different than most countries. It usually sells its crude on a fixed long-term contractual basis. If the demand isn't there, Saudi won't pump the additional amount. The export figures could also have something to do with the demand figures. Our discussion with traders point to this being an uncertainty. So in other words, we can't verify whether this is due to a demand decrease or higher domestic consumption.
One would think that if Saudi's oil production increased month over month, it highlights that demand is there, but because domestic demand is so high, it ate into the export figures. We will just have to wait and see what May figure reveal, but our intuition currently points to higher domestic usage.
As always, we hope you enjoyed our "oil markets daily." If you want to read more of our articles, please be sure to hit the "follow" button above. We also have a premium service tailored to investors looking to how we are thinking about positioning and real time trade alerts. You can view our delayed one-month portfolio update here. We hope to see you join the HFI community.
Disclosure: I/we have no positions in any stocks mentioned, and no plans to initiate any positions within the next 72 hours.
I wrote this article myself, and it expresses my own opinions. I am not receiving compensation for it (other than from Seeking Alpha). I have no business relationship with any company whose stock is mentioned in this article.