With crude oil now trading at $49.8 a day and the dollar index weakening by the day, it would be foolish to assume that a top in crude oil may be in sight. Integrated energy stocks such as Chevron (NYSE:CVX) and Exxon Mobil (NYSE:XOM) have rallied strongly over the last few months as crude oil has rallied hard out of its oversold bottom in February of this year. Many investors believe that shale players in the US such as Hess (NYSE:HES) for example will come back on stream in a big way and add rigs quickly in North Dakota to avail of higher prices.
The Permian basin is another area where the "big boys" are ready to pump in a big way so you are going to read a lot of articles in the not too distant future about the price of crude being capped but I would say ignore them especially if you are holding sound stocks like Chevron and Exxon Mobil. Here is why.
If we look at a chart of crude oil, we can see that the commodity printed a hard intermediate low in February. Now intermediate cycles in oil usually last about 30 weeks (we only are on week 20) so we have another 8 weeks at least until this intermediate cycle bottoms. My thesis holds up also if we look at the daily cycles nested in this intermediate cycle.
Up to now, the first two daily cycles have run like clockwork in that both times, the 5 day RSI indicator ran into oversold territory and sentiment reached bearish extremes. In fact, the odds are high that we printed the final daily cycle low of this cycle last week as sentiment reached extreme levels, and the RSI indicator again went under 30 like it did in April and February of this year.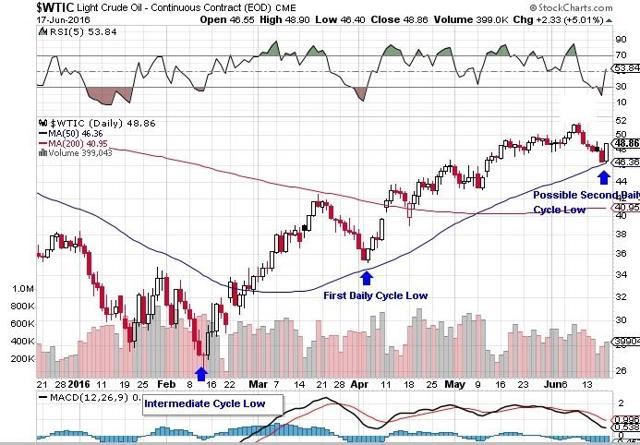 However what I want to draw investors attention to is the impending top we are going to have in crude oil in the next month or so. If this third daily cycle matches the intensity of the first two cycles, we will easily be at $55-$58+ crude oil over the next four to six weeks. However that's when things would come to a halt due to crude oil being in its timing band to print its own intermediate top.
How high and fast we go up now will determine how aggressive the decline will be (probably starting at the back end of next month). However one thing is for sure. We need sentiment to reach ultra optimistic levels before the crude oil market turns over. As the chart shows below, we are still nowhere near that point which is why I believe we printed a daily cycle low in oil last week..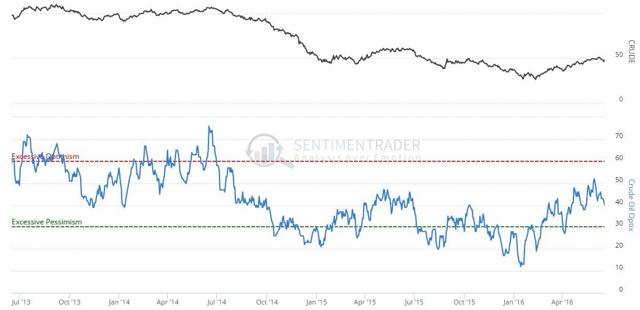 Source : Sentimentrader.com
Furthermore the more the dollar sells off like we saw today, the more bullish I am on oil, precious metals and agriculture. If we look at the US dollar chart, we can see that the greenback is at major risk of running through its last daily cycle and its intermediate cycle low. This would mean that we would be back to the pattern of lower highs and lower lows which would mean substantial weaker dollar prices ahead. I always presumed we would get a weak dollar in the years to come. I just didn't think it would break down as quickly as it has..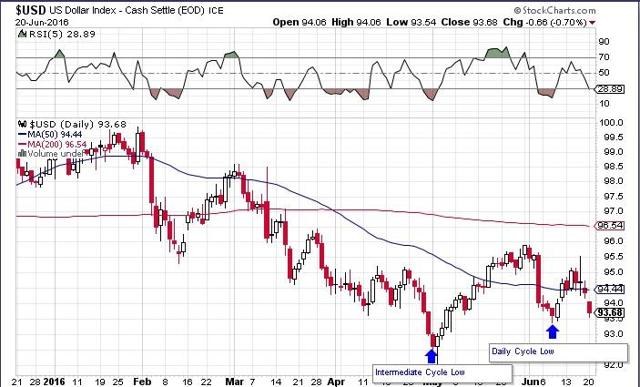 So here is how I see the crude oil market playing out over the next few months. We will get an intermediate top probably above $55 a barrel. Sentiment will be the best indicator to catch the top but I don't foresee a huge drop once the top is in. Why? Well we saw in the precious metals markets last month when Gold printed its own intermediate top that its decline was very mild. Furthermore Gold's decline took place while the US dollar was rallying and not falling like it is doing at present. Therefore ignore calls for the impending bear market in oil and hold on to to your energy stocks. They won't dip much despite what the hoards of bearish commentary analysts will invariably come out with.
To sum up, I'm going to be adding a few good dividend and growth stocks to the Elevation Portfolio over the next several weeks, when I see value. It's imperative that they are not correlated and all don't have similar valuations in order to ensure that income is brought in every month. You can follow along by pressing the "Follow" button above.
Disclosure: I/we have no positions in any stocks mentioned, and no plans to initiate any positions within the next 72 hours.
I wrote this article myself, and it expresses my own opinions. I am not receiving compensation for it (other than from Seeking Alpha). I have no business relationship with any company whose stock is mentioned in this article.