Vivus (NASDAQ:VVUS) has a major issue on its hands with regard to Qsymia. The company is running out of places to trim costs and the bottom line in upcoming quarters may not be impressive. In an effort to shift the narrative, the company has initiated a bigger discount program. Whether or not the new program is accretive to the bottom line will need to be assessed over time.
This past week Qsymia scripts came in at about 9,200. This was a full recovery from the holiday week, and the numbers last week actually improved upon the pre-holiday sales of about 9,100. At first blush, it would appear that the bigger discounts being offered up by Vivus are allowing some modest positive sales traction. Whether those discounts can generate enough growth to pay for themselves will take some time to assess.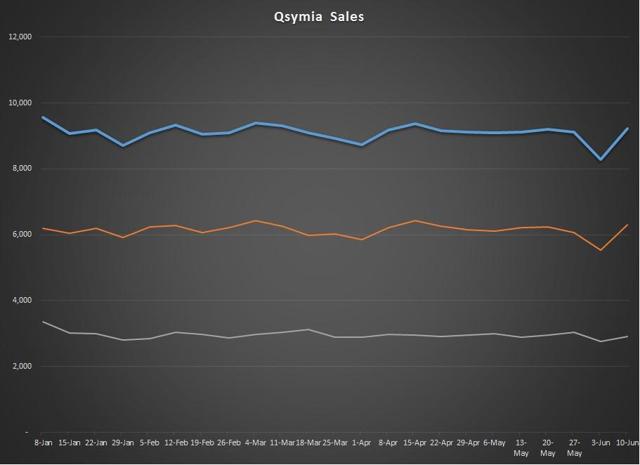 Chart Source - Spencer Osborne
On a quarter over quarter basis Qsymia sales are 1.01% lower than where they were at this stage in Q1. For Qsymia and some other drugs in the sector, it appears that Q2 is no longer a quarter where we see sales growth happening. Qsymia sales in Q2 could eek out a very modest growth if the new discount program is actually delivering more patients, but as stated before, it is a bit early to assess.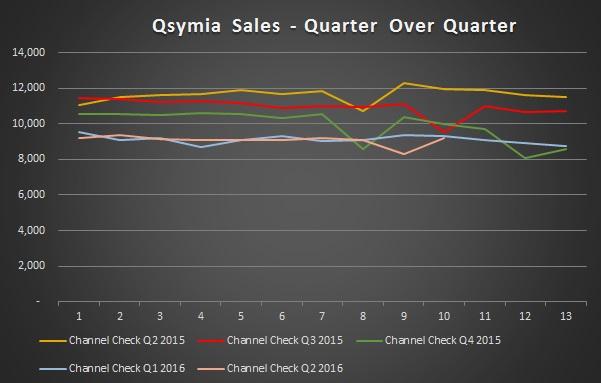 Chart Source - Spencer Osborne
On a year over year basis the comparisons are not quite as good in terms of script numbers. Sales at this point in Q2 of 2016 are trailing what was delivered in 2015 by 21.87%. The big problem with this number is that Vivus was well into cost cutting mode by Q2 of last year, so the drops in sales will not be as easily hidden by coist cutting efforts. As 2016 progresses, the sales data as well as the bottom line will be more challenging. In Q2 of 2015 Qsymia sales revenue was $14 million. At this juncture we will likely see Q2 2016 revenue of $11.9 to $12.1 million. That sequential drop is a direct result of many factors including less insurance coverage.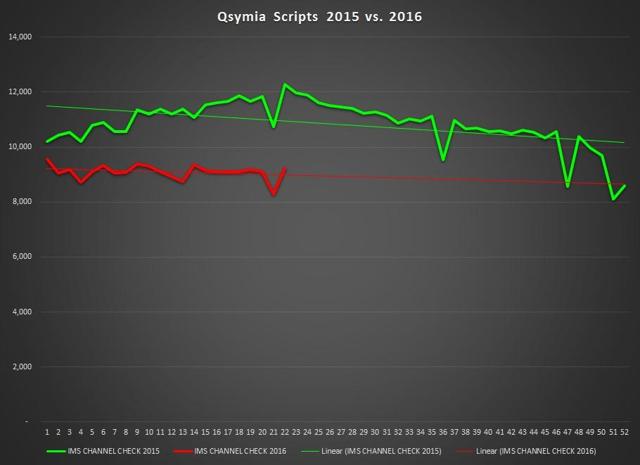 Chart Source - Spencer Osborne
In terms of market share, we are actually seeing modest positives for Qsymia. This past week the drug actually posted its highest market share in the past 16 weeks. The problem is that the move is so modest that it is not really much to celebrate. Last week the market share of Qsymia was 25.57%. For a bit of perspective, the drug started off 2016 at 25.98% share. Thus, despite being at the highest level in months, the market share is still down on the year.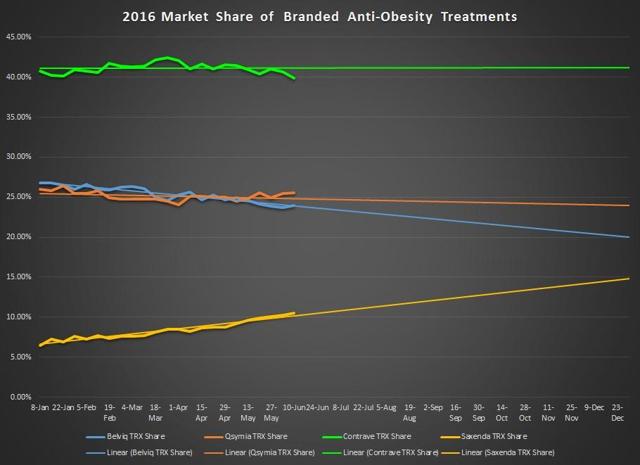 Chart Source - Spencer Osborne
The core problem with Qsymia sales is not tied to Qsymia alone. The entire branded anti-obesity sector is not doing well in terms of growth. The only company that is actually showing growth is Saxenda from Novo Nordisk (NYSE:NVO). At this point in 2016, sales in the sector are just 1.33% better than what we saw a year ago. This number is trending down. Within the next three to four weeks, we will actually see this growth go negative. Specific to Qsymia, the current sales levels are not high enough to bring about profits. If sales stay flat or decline, the thought of profits simply becomes a more and more distant hope.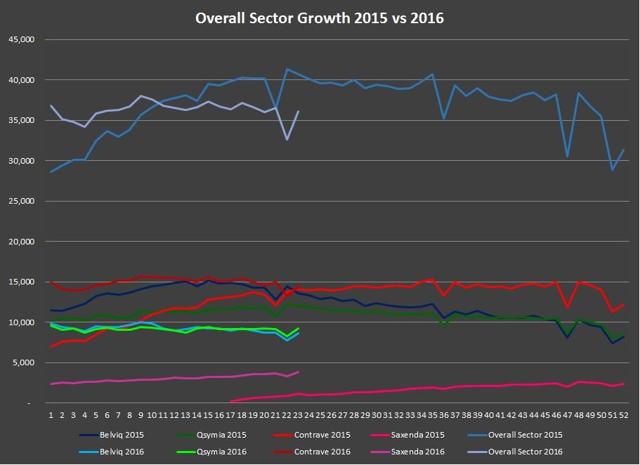 Chart Source - Spencer Osborne
Vivus investors do have some solace in the fact that Vivus has another approved drug on the market. That solace gets almost wiped out when you consider that Vivus has done almost nothing with the erectile dysfunction drug Stendra here in the U.S. I do not place a lot of faith in the marketing strategies of Vivus at the moment. I would much prefer seeing the company land a partner for Stendra, or at least have a totally different marketing strategy for it. Qsymia is not yet a lost cause, but the sector is moving in that direction.
Vivus has potential as a speculative play, but investors need to carry caution as well. The company is, in my opinion, up for sale, and if no players jump at it, then we could see this equity simply exist rather than be something that delivers decent returns. Stay Tuned!
Disclosure: I am/we are long NVO.
I wrote this article myself, and it expresses my own opinions. I am not receiving compensation for it (other than from Seeking Alpha). I have no business relationship with any company whose stock is mentioned in this article.
Additional disclosure: I have no position in Vivus