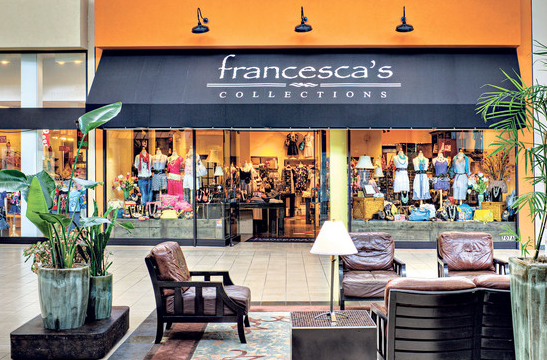 I've been a fan of Francesca's (NASDAQ:FRAN) for a few years now, a position that has been very frustrating indeed. I was originally drawn to the company's enormous (and growing) operating margins but in recent years, those margins have shrunk due to flagging comp sales. I mentioned in my recent article on FRAN that margins were a concern of mine but at the same time, still very strong despite recent declines. But with revenue growth fairly steady due to new store openings, it is all about operating margins. In this article, I'll dive deeper into FRAN's margins and see where they've come from and where they may be going in order to assess the current valuation.
I've charted some data below which I've borrowed from Morningstar.
FRAN has always had very high margins - in excess of 50% gross margins and 20% operating margins at points in the past - but of late, that reason I was originally drawn to the chain has dissipated somewhat. Here's a look at FRAN's gross margins going back to 2009 and as you can see, FRAN has come a long way in the wrong direction.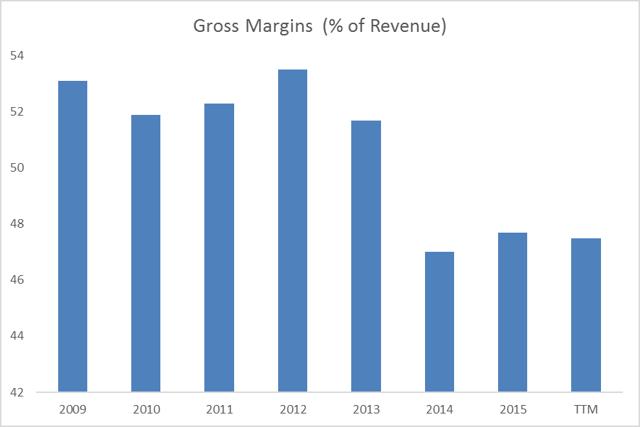 We can see FRAN's gross margins used to hover in the 52% to 53% range until 2014, when the number fell off a cliff and ceded no less than 4.7% from an already-low level by FRAN's former standards. That represents an enormous loss of profitability and the reason? Lower comp sales. FRAN experienced a sharp drop off in the amount of sales it was doing on a comp basis so while the top line carried on higher due to a bunch of new stores opening, FRAN was discounting and promoting, desperately trying to move lots of dead product. While 2014 was the worst of it (so far), it is hardly out of the woods. Last year's gross margin number was a slight improvement over 2014 and TTM is pretty similar, but lower again. While FRAN is making some progress in terms of discounting less, it still has a long way to go to be sure. And this is a big problem in light of the company's SG&A costs, which we'll look at now.
FRAN is a small retailer so its SG&A costs will always be high as a percentage of revenue. And as we can see, we've seen some deleveraging over the year's here, joining gross margins as a contributor of lower operating margins of late.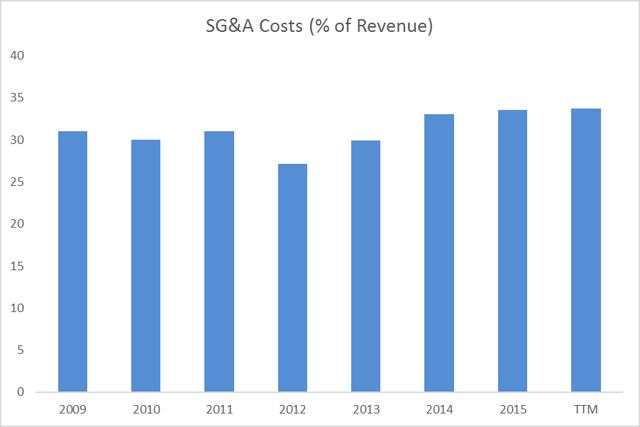 FRAN's SG&A costs dipped as low as 27.2% in 2012, which also happened to coincide with its best year in terms of gross margins. To be sure, 2012 was the golden age for FRAN but since that time, relatively poor comp sales numbers have meant that the company's new stores and back office costs have deleveraged, causing the level of SG&A costs as a percentage of sales to remain elevated. Indeed, we still don't know where the top is as each year, SG&A costs creep up, hitting 33.8% of revenue in the TTM. That is an unacceptably high level of SG&A costs and FRAN certainly has some work to do to get it to come back down again.
How will it achieve that? FRAN is still rapidly opening stores and will be for another few years, most likely, until it reaches its maximum desired number of boutiques. The problem is that new retail stores carry with them low levels of sales but the same SG&A costs as a mature store. This problem is certainly not unique to FRAN but given its small size, the problem is exacerbated. So until new stores begin to produce the same level of sales as the rest of the chain, SG&A costs remain high. Thus, FRAN has some long term levers to pull here but over the short term - while new stores are still a priority - I don't see a lot of improvement coming. The only thing that could make things better here over the short term is a nice bump in comps but as FRAN has proven lately, that seems a little too much to ask.
All of this boils down to the company's operating margins, which I've defined as simply the spread between the company's gross margins and SG&A costs. This is a very pure, unadulterated look at profitability and for a retailer, there is no better way to view how efficient a company is at turning a dollar of revenue into a level of profits.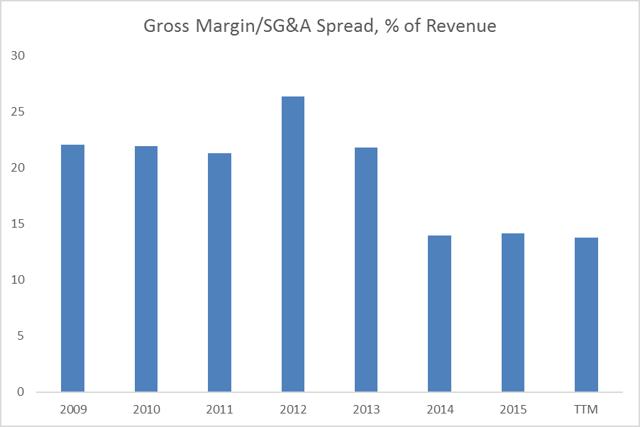 Operating margins have been absolutely plummeted in a decline unlike what I've seen in another retailer. FRAN's otherworldly margins in the 20s in the early years have given way to more pedestrian operating profit levels in the mid-teens. And while those levels are still very strong and most any retailer would be enthralled to have operating margins that high, in light of prior levels, they are just plain disappointing for FRAN. As I mentioned, its operating margins with a two handle in the early years really drew me into FRAN because that is simply an extraordinary amount of profit to extract from a retail business. It seems, however, that the extraordinary nature of its profits were just that and apparently unsustainable.
However, at $11, I think a lot of risk is already priced in. Yes, I have great concerns over the company's flagging margins and as I've laid out, FRAN is certainly not out of the woods. However, there is cause for some optimism as well. As I mentioned, SG&A costs should come down over time as FRAN relies less and less on new stores. As that happens, even if comp sales are flat, we'll see FRAN gain some leverage on its store operating costs. Its back office is already pretty slim with the exception of some recent stock grants but as those should be relatively infrequent, the pieces are in place for FRAN to see its SG&A costs return more towards 30% over the long term rather than the 33%+ we see today. That extra 3% doesn't sound like much but would flow directly to the bottom line and boost operating margins. The stock grants provide some opportunity for shorter term gains and fewer and fewer new stores offer longer term gains as well.
In addition, gross margins are the place where FRAN can get the biggest bang for its buck in terms of seeing operating margin gains. FRAN has lost millions and millions of dollars in additional profits in recent years due solely to its inability to maintain its prior margin levels. Management was chasing revenue instead of maintaining margins and while there is some efficacy to this strategy, higher margins on a lower level of sales is often more profitable than the former. But FRAN has chosen its strategy of trying to maintain comp sales so that is the key to FRAN's future profitability; can comps pick up enough to allow for higher levels of gross margins? Management has made it clear they will chase sales at the expense of margins so for margins to go higher, we need higher comp sales in order to maintain pricing discipline. Q1 comps were +2% so that's a good start but we need to see it for a few quarters. If we do, gross margins should creep up and we should see operating margins produce some potentially sizable gains. That's what bulls are buying right now and while some things have to fall into place, FRAN has turned the corner in a lot of ways. Certainly, the outlook is nowhere near as bleak as it was last year.
Overall, FRAN's margin picture has been pretty dire by its own standards in the past couple of years. What once were world-beating margins have given way to levels that are still nice but pale in comparison. However, FRAN has some leverage longer term on its SG&A costs as new stores come on line and if Q1's comp gains continue, we should see gross margins rise again. I don't think we'll see 53% gross margins anytime soon but if FRAN can get back to 50% - 250bps higher from here - that would go a long way towards growing operating profits. The bottom line is that I think we've seen the bottom in terms of operating margins and while growth may take a few quarters, the stock is pricing in much worse. That's why FRAN is a buy for me here.
Disclosure: I am/we are long FRAN.
I wrote this article myself, and it expresses my own opinions. I am not receiving compensation for it (other than from Seeking Alpha). I have no business relationship with any company whose stock is mentioned in this article.