Western Asset Defined Mortgage Opportunity (NYSE:DMO) has been one of the top performing closed-end funds over the last five years generating 16.6% annual returns. This is substantially better than the 5.7% return realized from the leveraged mortgage bond category. RMBS has been a great driver of returns for the fund, amid others in the CEF space. However, supply is dwindling and the best days of the asset class are likely behind it. This begs the question if DMO should continue to have its record-high premium valuation or, more importantly, if we should be expecting anywhere near the same level of performance going forward. The opportunity in the world of busted and rehabilitated MBS may be waning.
Product Description and Holdings
The fund provides retail investors access to a levered portfolio of non-agency MBS securities - both residential and commercial. The fund has assets of $356 million with about 35% effective leverage. 36% of the fund's RMBS are sub-prime with another 25% coming from RMBS of the prime or agency varieties. The fund had been a strong performer as the market had tossed much of the non-agency stuff to the curb following the financial crisis.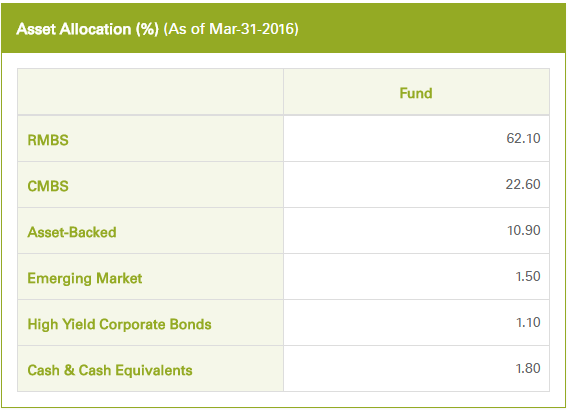 (Source: Western Capital)
The unique aspect of this fund is that it is structured as a term trust with a maturity date of March 1, 2022. This means the fund will self-liquidate on that date which helps to restrict the discount to NAV as it approaches. This fund structure is becoming more popular as a means of reducing discounts.
The fund has an effective duration of 5.2 years with an average coupon of 4.42%. The annualized distribution on NAV is over 12.4% which is likely why the premium has reached over 9.5% at times but currently sits at 7.9%. The fund last reached this level of premium in the late 2011 through early 2013 time period.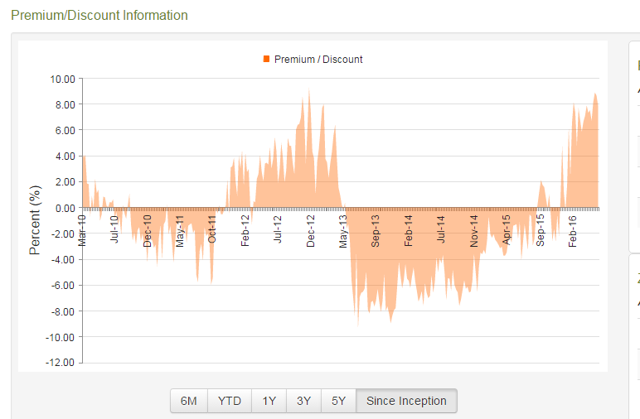 (Source: CEFConnect.com)
Credit Quality Of The Underlying
DMO among many other funds (think PDI) took advantage of the credit quality and unique environment following the financial crisis. Credit quality remains triple-C stemming from the vintages that got clobbered during the recession. The ratings agencies label many of these securities triple-C because a certain amount of the mortgages have failed. However, PIMCO, DoubleLine, and Western Asset (among others) have been serial purchasers of non-agency MBS since the financial crisis because they were so toxic and thoroughly avoided by the market.
This is why highly-specialized fixed-income managers were able to scoop up significant quantities of MBS (specifically RMBS originated prior to the recession) for in some cases cents on the dollar. These securities created before 2008 were so thoroughly shunned that there were in some cases no buyers for them through 2010.
Post-crisis MBS are of much higher-quality (lending to the antiquated rating agency methodology) mostly due to the lack of sub-prime lending after the recession as banks increased lending standards. In other words, MBS that were securitized in the last few years have actual documented homeowner income with strong underwriting. Post-crisis MBS carry lower yields than the pre-crisis stuff.
Asset managers began loading up on pre-crisis MBS in 2010-2012 in order to capitalize on the lack of a market and strong yields in a low-yield world. Many institutional players decided to get out of the market altogether or implemented credit quality standards (investment grade BBB+ or better). This created an oversupplied and under-demanded market for non-agency low-credit rating issues. But most of these issues were triple-C rated due to the rating agencies stating that if X number of mortgages failed in the pool, then it was a triple-C bond. It didn't matter that the security was trading for cents on the dollar and incorporating an expectation that most of the rest of the bonds to default as well. But if the mortgage holders were still paying their mortgage in 2012, and obviously made it through the financial crisis without having to foreclose, then the chances of them continuing to pay their mortgage was fairly high.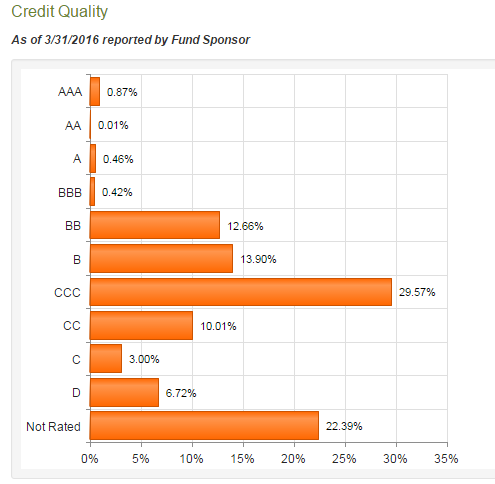 (Source: CefConnect.com)
RMBS Has Run Its Course
The fact that institutional investors like pensions are clamoring for these products again should be taken as a warning sign. Not that we believe there will be widespread defaults as we experienced during the financial crisis, but that valuations are stretched. In fact, defaults remain very low and continue to fall which has helped the asset class win back more investors.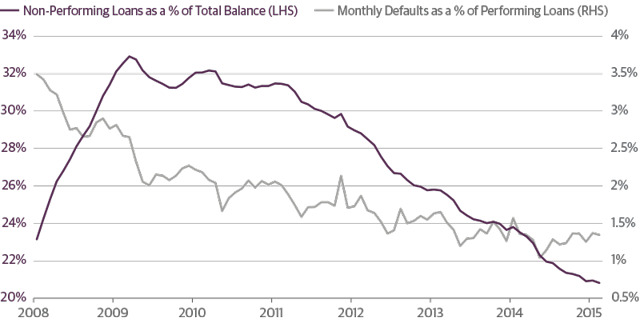 (Source: Guggenheim)
While issuance continued to increase rising to $1.69 billion in 2015, up from $1.35 billion the year before, issuance has slowed and reversed course in 2016 YTD. Issuance so far this year has been down 9% to $637 billion. This has led to outstanding non-agency RMBS to continue to decline down to just $855 billion.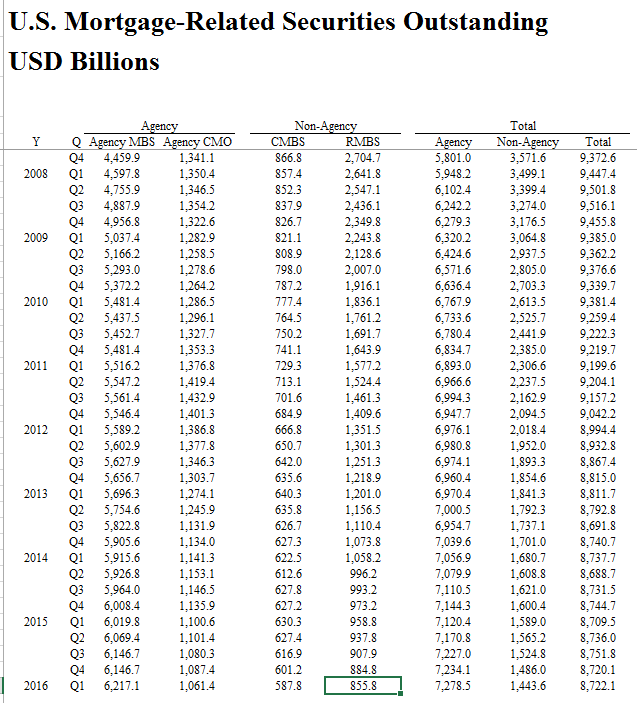 (Source: SIFMA)
Supply has been an issue driving up prices but that has slowed in recent months. The shift has been towards CMBS which hasn't seen the same type of demand. Supply-demand dynamics as well as weaker sentiment for the subgroup have stemmed some of that bullishness for CMBS. This is reflected in DMO's holdings by asset group. In Q3 2014, 130% of net assets were in RMBS, with just 8% in asset-backed and 2% in CMBS. By year-end 2015, RMBS was down to 99% and asset-backed hit 19%, with CMBS up to 35%, a large shift.
Our Take
We think DMO is likely to experience more volatility in the coming quarters, especially in the lower credit quality areas of the market which have rallied so strongly. Western continues to believe the risk-return trade-off has shifted away from RMBS and towards CMBS due to stronger fundamentals.
Our adjusted yield calculation is 10.6% which is still a very strong figure but below the current stated yield on NAV. The current 7.8% premium compares to a three-year average of -2.86% and five-year average premium of -1.00%. The NAV has returned a total of 24.5% over the last three years but in terms of risks, the standard deviation of both price and NAV are much higher than most fixed-income CEFs.
The risks are being offset by strong returns but we question why investors love the fund now, when the opportunity in non-agency MBS stemming from the financial crisis are fading, fairly quickly. In the fund's heyday, it traded at a 7% discount, whereas today we are at an 8% premium. Still, buy/selling based on discounts or premiums alone is foolish. A fund can close its discount by having the NAV fall and the price fall slightly slower. Conversely, a fund can see its discount widen with the NAV increase faster than the price.
We look at a host of factors when analyzing a CEF for income purposes- as opposed to those which we classify as a 'trading opportunity.' MBS continues to roll off and the number of outstanding issues is declining, meaning the market is slowly fading. This isn't likely a permanent thing but the alpha generating ability of the asset class is likely over for the next few years as more institutional investors have moved in depressing yields.
The largest reason for the decline in the NAV (earlier this year) is likely a result of a leverage breach with State Street Bank. From the annual report:
On February 4, 2016, an event of default had occurred under the Fund's credit agreement. As of February 25, 2016, the fund made loan payments totaling $5.5 million which cured the breach.
The fund likely had to quickly sell securities and raise cash in order to satisfy the credit line and cure the covenant breach. These securities likely had limited liquidity which then forced a mark-to-market of similar securities causing a markdown of prices realized in the NAV.
UNII continues to trend higher and the bucket is quite large today at $2.67. But earnings are slumping and trending lower which is a sign that the market is probably tapped. Our contention is that investors should avoid new positions until either the earnings gain more clarity or interest rates begin moving higher. We believe it is that latter piece which may be buoying the shares meaning that benefit is already priced-in.
Conclusion
Exposure to non-agency mortgages is an essential asset class for the yield investor. The correlation of 3-year returns is low to both investment grade (0.40) and high yield (0.54) as well as other asset classes that would benefit from rising interest rates like leveraged loans (0.55). The fund is over-earning and the 12+% payout more than offsets the premium to NAV. Picking up shares of this strong performer can provide a safe stream of income but with increased volatility in price. But pricing volatility can be an opportunity giving investors the same $0.235 payout per share per month (before the sizeable special distribution) but at the potential for lower prices (and thus higher yields on cost). We see no chance of a distribution cut in the next twelve months, but we would caution investors not to expect the same sort of strong performance going forward compared to the last several years.
Disclosure: I am/we are long DMO.
I wrote this article myself, and it expresses my own opinions. I am not receiving compensation for it (other than from Seeking Alpha). I have no business relationship with any company whose stock is mentioned in this article.
Additional disclosure: Our positioning may change at any time without warning. Do your own due diligence.