"You might as well face it, you're addicted to debt."... RAW Energy (with apologies to Robert Palmer)
Although I had already decided to continue with the "Scorecard" theme for this article, replete with apt sports analogies and witticisms, the concepts were still rattling around in my brain while I did yard work today... and then Palmer's song just (logically) popped into my head. Since it is so appropriate as to how E&P investors (and companies) still seem to feel these days, it stays as the lead-in... (P.S.: clicking on the link above and listening to the song as background music while reading the article may act as No-Doz for some).
Background
This is the third article I have written about borrowing bases for E&P companies, which, in effect, covers the entire period since oil prices began their dramatic fall in late 2014. Rather than simply repeat all of what I wrote in those prior articles, I would suggest you read, or re-read, as the case may be, the articles at the links below (preferably before you read this article):
Is It All About That (Borrowing) Base?... No. Trouble?... Yes!
In that article, I went through a lengthy discussion of how lending to E&P companies had changed, or not, in the past few decades, and I included data on approximately 60 companies' bank and other debt to show companies that would be most at risk for borrowing base reductions and severe financial distress in the fall '15 borrowing base redeterminations.
Much of my analysis was done with the idea that, while bank debt was certainly an issue at that time, it was really the overall debt limit of companies that was a better gauge of financial distress. Companies I highlighted as the most at risk for borrowing base reductions and financial stress included Atlas Resource Partners (NYSE:ARP), Breitburn Energy Partners (OTCPK:BBEPQ), Linn (LINEQ, LNCO), Vanguard Natural Resources (NYSE:VNR), Mid-Con Energy Partners (NASDAQ:MCEP), California Resources Corp. (NYSEMKT:CRC), Emerald Oil (NYSEMKT:EOX) and Swift Energy (SFY). Others highlighted for somewhat lesser risk included EXCO Resources (NYSE:XCO), Gastar Exploration (NYSEMKT:GST), Halcon Resources Corp. (NYSE:HK), Midstates Petroleum (NYSE:MPO), PetroQuest Energy (NYSE:PQ), Resolute Energy Corp. (NYSE:REN), Sanchez Energy Corp. (NYSE:SN), Sandridge Energy (NYSE:SD), Ultra Petroleum Corp. (UPLMQ), W&T Offshore (NYSE:WTI), Bonanza Creek Energy (NYSE:BCEI), Comstock Resources (NYSE:CRK), Goodrich Petroleum (GDPM) and Rex Energy (NASDAQ:REXX).
Readers who follow me regularly should recognize these companies as those who form the basis of my "Bottom of the Barrel Club," which I created to follow these companies. Other readers may simply recognize most of these names as companies which have since either declared bankruptcy or have undergone major restructurings.
My second article summarized the impact of the fall '15 borrowing base reviews on the same group of 60 companies, including detailed statistics on each of those companies. That article is at the following link:
E&P Borrowing Base Scorecard: 4th (Quarter) and Long, and the Banks Punt Deep into 2016… or Did They?
While many reports focused on the absolute amount of the reductions in borrowing bases then, I focused on the overall credit facility, including covenants other than simply the borrowing base, concluding:
"So, is my title accurate; did banks really punt? Well, yes and no. There were many companies who were left unscathed because their bank debt levels are so low to begin with, so the title certainly does not apply across the board to those companies.

However, where companies were left with borrowing base levels roughly equal to prior levels, that is exactly what the banks did. They relaxed covenants, which extend the timeframe for companies to return to levels originally specified in their loans. Otherwise many of the loans would have technically been in default. There is nothing to prevent the banks from extending those further, but increasing pressure and oversight from the OCC, an arm of the Federal Reserve Bank, are likely to be reflected by the time those loans are reviewed again in April."
A Prelude To The Spring '16 Redeterminations
The OCC
Before presenting the data relating to the recent redeterminations themselves, it must be noted that the OCC did indeed make itself heard, and forcefully so, in the interim. In March, 2016 it published a revised Oil and Gas Exploration and Production Lending Handbook, which all banks were required to implement beginning with their spring redeterminations.
For those who don't understand that banks are responsible not only to their shareholders, but to taxpayers (in the form of OCC regulation and oversight), the Handbook contains in great detail factors that are probably not considered by many in their analysis of a company's debt and equity metrics. It also sets out in detail some of the bank borrowing base practices that were leading the OCC to revise its standards in the first place, including many of the covenant relaxations and structures described in my earlier articles. As the OCC stated:
"Borrowing Base Stretch

A "stretch" occurs when the bank agrees to provide the borrower with an RBL commitment that materially exceeds the lendable amount as determined by the bank's underwriting criteria and loan policy. In a syndication, each participant calculates the RBL lendable amount separately. The calculated lendable amount may vary by bank, and some banks may agree to "stretch" to meet the higher borrowing base amount agreed upon by the syndication group. Bank approval of the stretch should be supported by documented risk mitigants. The approval of a stretched borrowing base should not be used to avoid borrower repayment requirements caused by an over-advance. If the stretch is not well supported, the advance should be considered in the risk rating assessment. Examples of lender actions to stretch the borrowing base include the following:

• Providing higher advance rates (for example, over 65 percent), allowing less conservative risk factors, and increasing the value attributable to PDNP and PUDs. These actions may be supported by a variety of reasons, including borrowers backed by substantial private equity sponsors.

• Allowing "leasehold" value when the borrower's acreage position is located in a particularly competitive area.

• Lending beyond 100 percent of PDPs on a temporary basis, with interest rates and fees that reflect the increased risk.

• Giving value for the next six months' production, which is usually omitted from the borrowing base (with a monthly reduction feature).

• Lowering the discount rate for determining the NPV of reserves, thereby increasing the total present value.

• Restructuring borrowing base loans into conforming and nonconforming stretch tranches with higher fees and rates on the stretch loans."
The actual borrowing base calculations are still somewhat discretionary with the agent bank and the banking group, although they are fairly standard. They are not part of the credit agreement and are never disclosed, since they are confidential and proprietary to the banks. Nevertheless, typical techniques are, among others:
(1) Exclude the first 6 months of production (the period until the next redetermination);
(2) Include only existing proved reserves, and preferably only proved producing reserves;
(3) Model in all reserves based on pricing decks established by the banks, now to include;
(4) Include derivative income based on the price deck assumed;
(5) Include all corporate expenses in addition to those set out in the reserve report;
(6) Provide advances of no more than 65% of collateral value, usually calculated as the PV9 of proved reserves; and
(6) Ensure that as modeled, the banks will have their loan repaid within the economic half-life of the property.
A new feature in the revised Handbook requires consideration by the banks of other secured debt, something that has become much more of an issue in recent months/years due to the proliferation of second liens and other secured loans that potentially impact the security of the banks' first lien position. Many banks had not included that factor at all, and factoring such liens into the 65% advance and reserve half-life provisions lowers the borrowing base calculations for many companies, some severely.
The picture below is taken from a presentation made by IberiaBank at an industry conference, showing graphically the way a borrowing base is determined.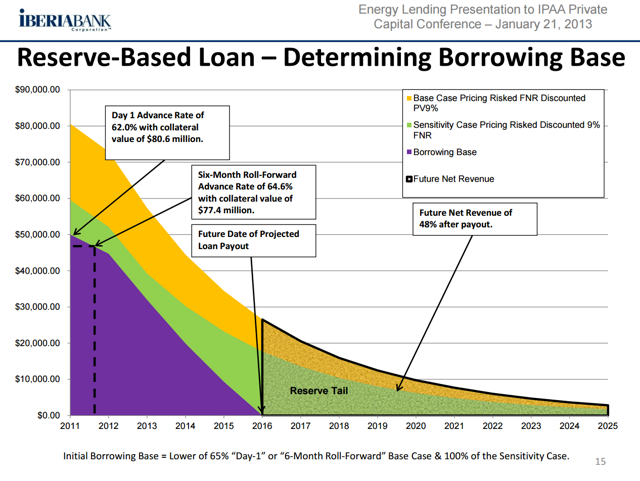 The graphic shows how different a bank's calculation of borrowing bases is compared to an equity analyst's valuation of a company, which often shows ongoing metrics such as cash flow, production, debt levels, etc., based on certain reinvestment factors. Banks take only existing reserves to project out repayment schedules.
The picture below illustrates how the OCC calculation of borrowing bases is actually scheduled, as an example only. See pp. 34-35 of the Handbook for more detail, if desired.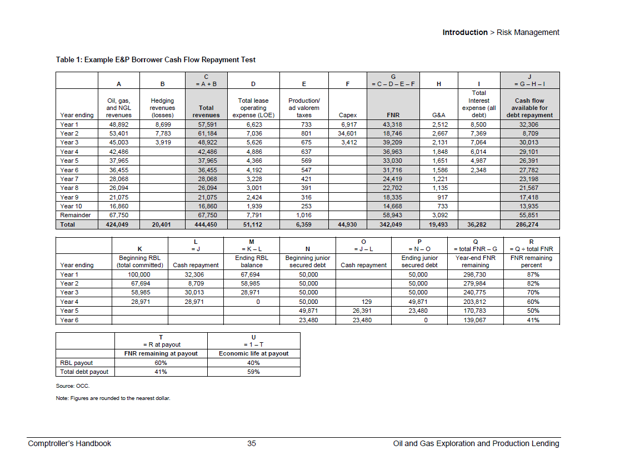 One thing that may not be apparent from the two pictures above, but is critical in understanding oil & gas investments, is the impact that depletion has on a financial picture. Investors accustomed to seeing production or distribution growth on an overall basis are often surprised when the capital necessary to maintain those levels is reduced or eliminated, as will be the case for many companies in 2016 and beyond. If a company has a 10% overall decline rate and does not replace those reserves with new CAPEX, a delay in price recovery for 2-3 years means that production is only 70% of current levels... and price increases must be that much greater to compensate.
Many companies are unable to repay the debt they incurred at any price above the current price, for that and other reasons. Not surprisingly, banks do not regard the solution to companies' problems in that respect to be for them to advance even more money. All capital markets are currently differentiating between those with too much legacy debt incurred at higher prices and those who do not have that issue to contend with.
Covenants
Each company has their own set of loan covenants, but they are fairly standard in what they represent. Although %s and $ amounts may vary, these are the most common traditional financial covenants:
(1) current ratio (current assets/current liabilities) of 1:1;
(2) ratio of first-lien debt to EBITDA;
(3) ratio of EBITDA to interest;
(4) ratio of secured debt to EBITDA (i.e. >2.5:1); and
(5) ratio of total debt to EBITDA (i.e. >3:1).
Not all of these appear in every credit agreement, and the latter two have often been added as amendments to accommodate more recent types of debt. EBITDA calculations use trailing 12-month figures, and may exclude charges that are otherwise shown on income statements (i.e., impairments, etc.).
The most important financial covenant is not even set out in the list above, mostly because it is not a set number or calculation... it is the requirement that a company keep its total bank debt under its borrowing base limit, as that is determined by the banks from time to time in their sole discretion.
Credit agreements typically provide that if a company's debt exceeds its borrowing base at any time, the company must repay the amount of the overadvance, usually over a period of 3-6 months. If production and/or asset sales are insufficient and the company does not raise equity, a default can be declared or the bank can agree to repayment through further monthly payments sufficient to fully amortize the loan within the period it specifies... all in its discretion, which is, in turn, largely regulated by the Office of the Comptroller of the Currency ("OCC").
As more and more companies have undergone financial distress, attorneys for debtors closely evaluated potential "loopholes" in the credit agreements and, in many cases, exploited those loopholes to the detriment of the banks just before the companies filed for bankruptcy. As a result, there have been a flurry of "new" provisions this year from the banks themselves, including:
(1) "anti-hoarding" provisions designed to prevent a company from borrowing more cash than is needed for operations or accumulating cash without paying its banks back;
(2) restrictions on accounts outside the bank group's security position;
(3) a requirement to increase the number and % of value that the banks' mortgages cover, both as to proved reserves and, in some cases, undeveloped acreage; and
(4) minimum liquidity provisions designed to prevent a company from taking certain actions if the result would put the company too close (usually within 10-15%) to its borrowing base limit.
Some of the financial covenants were relaxed to provide temporary relief for debtors. Most of those temporary waivers expire in mid-2017, and while they could legally be extended, the OCC's recent stance makes that result unlikely, unless there is dramatic progress being made in bringing a company's debt picture back into a more traditional conforming position.
Finally, as if all the above were not enough, the accounting profession has also stepped into the picture in a potentially significant way, revising how accountants should examine a company's ability to continue as a "going concern." A more detailed standard and more rigorous review process is undertaken for all financial statements beginning in 2016, which will reduce the discretion formerly employed. If the accountants believe there is a risk associated with a company's going concern status (via projections of debt repayment, etc.), and they qualify their opinion for that conclusion, it constitutes a default under most credit agreements. Already, companies such as SD and UPLMQ have filed for bankruptcy shortly after receiving qualified opinions in their financials, in order to prevent or forestall action by their banks to foreclose.
Before leaving this section, I would be remiss if I did not point out that when readers/investors talk about Co. XYZ's banks, in reality the banking groups for most companies consist of a syndicated group that includes numerous participants. These banks are, therefore, common to almost all credit facilities, and what they apply to one company has to be considered in light of what applying the same consideration to all other companies might have.
Company Borrowing Base And Debt Data
The table below has extensive data and calculations for the 61 E&P public companies I track. These were obtained from public 10-K and 10-Q filings as of 3/31/16 for the respective companies, adjusted for subsequent disclosures about borrowing base redeterminations. Readers should always conduct their own research and due diligence, and no recommendations are made by me in connection with this data.
Columns and their purpose are set out below:
(1) Name of company;
(2) 2014 SEC value, at prices of $95 oil, $4.35 natural gas;
(3) 2015 SEC value, at $50, $2.30;
(4) % Change from YE '14 to '15;
(5) Borrowing Base Spring '15, to show the progression of borrowing bases since the start of the oil price decline;
(6) Borrowing Base Fall '15;
(7) Borrowing Base Spring '16, which reflects the current borrowing base;
(8) Change in Borrowing Base from Fall '15 to Spring '16, to reflect the current redetermination,
(9) Change in Borrowing Base from Spring '15 to '16;
(10) Borrowing Base as % of '15 SEC;
(11) Bank Debt + Letters of Credit (technically considered as drawn against borrowing base)
(12) Total Bank Debt + Letters of Credit as % of SEC;
(13) Total Secured Debt as % of Borrowing Base;
(14) Total Debt;
(15) Total Debt as % of '15 SEC; and
(16) Total Debt as % of '14 SEC, to compare even with higher prices then in effect.
In each case, companies that ranked among the best in a particular category are highlighted in green, while those that ranked among the worst are highlighted in red. The table excludes other assets, which may in some cases serve to offset some portion of debt.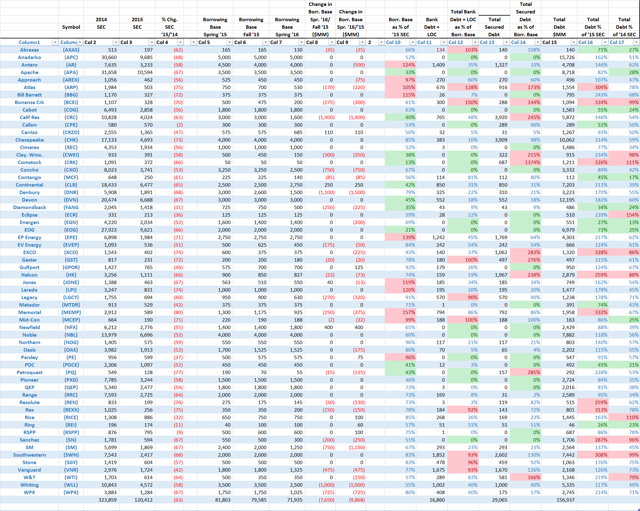 Companies whose data is included in the table above that may not be otherwise discussed include Abraxas Petroleum Corp. (NASDAQ:AXAS), Antero Resources Corp. (NYSE:AR), Approach Resources Inc. (NASDAQ:AREX), Carrizo Oil & Gas (NASDAQ:CRZO), Chesapeake Energy Corp. (NYSE:CHK), Contango Oil & Gas Co. (NYSEMKT:MCF), Continental Resources (NYSE:CLR), Devon Energy Corp. (NYSE:DVN), Diamondback Energy (NASDAQ:FANG), EP Energy Corp. (NYSE:EPE), EV Energy Partners (NASDAQ:EVEP-OLD), Jones Energy (NYSE:JONE), Laredo Petroleum Holdings (NYSE:LPI), Northern Oil & Gas (NYSEMKT:NOG), Oasis Petroleum (NYSE:OAS), Range Resources Corp. (NYSE:RRC), Rice Energy (NYSE:RICE), Ring Energy (NYSEMKT:REI), Stone Energy Corp. (SGY) and WPX Energy (NYSE:WPX).
What observations can be made from the data in the table? Here are some of my own conclusions:
(1) Obviously, the change in SEC values from '14-'15 is dramatic; this is not news to many, but the extent of the overall drop (63%) may be somewhat surprising. Remember that because of relatively fixed operating costs, cash flows and values decline more than simply prices;
(2) Borrowing base cuts on an overall basis were only (12%) during that same time, due for the most part to the numerous companies that had no bank debt at all to begin with. In fact, 24 of the 61 companies - almost 40% - had no bank debt at 1Q. These companies include Anadarko Petroleum Corp. (NYSE:APC), Apache Corp. (NYSE:APA), Bill Barrett Corp. (BBG), Cabot Oil & Gas Corp. (NYSE:COG), Callon Petroleum Co. (NYSE:CPE), Cimarex Energy Co. (NYSE:XEC), Clayton Williams Energy (NASDAQ:CWEI), Comstock, Concho Resources (NYSE:CXO), Eclipse Resources (NYSE:ECR), Energen Corp. (NYSE:EGN), EOG Resources (NYSE:EOG), Gulfport Energy Corp. (NASDAQ:GPOR), Matador Resources (NYSE:MTDR), Newfield Exploration Co. (NYSE:NFX), Noble Energy (NYSE:NBL), PDC Energy (NASDAQ:PDCE), Parsley Energy (NYSE:PE), Petroquest, Pioneer Natural Resources Company (NYSE:PXD), QEP Resources (NYSE:QEP), Resolute Energy, RSP Permian (NYSE:RSPP) and Sanchez Energy. Not all of these companies are free from debt issues, as other long-term debt data shows.
(3) Cuts for companies with bank debt, on the other hand, were as much as 30-40%, with California Resources, Denbury Resources (NYSE:DNR), SM Energy Co. (NYSE:SM) and Whiting Petroleum Corp. (NYSE:WLL) accounting for the largest drops and almost 50% of the total decline (Col. 9);
(4) The 10 companies with the highest ratio of bank debt plus letters of credit relative to their SEC value include Bonanza Creek (which has midstream assets which may help offset that), Mid-Con (which has sold some assets and is now paying down the amount of its overadvance), Gastar and Abraxas (both of which conducted equity sales to bring their bases to eliminate bank debt subsequent to 1Q), Vanguard, Atlas, Legacy Reserves (NASDAQ:LGCY), Memorial Production Partners (NASDAQ:MEMP), W&T Offshore and Swift;
(5) Using total debt to SEC, numerous companies had ratios of more than 250%, including Atlas, Bonanza Creek, EXCO, Halcon, Memorial, Resolute, Rex, Sanchez and Southwestern Energy Co. (NYSE:SWN) (Col. 14);
(6) Even using '14 SEC values highlights a large number of companies which would have debt levels higher than what is considered prudent, a very worrisome sign.
These data are primarily useful in screening for companies with current or potential debt issues, but only as an overview. Each reader should conduct their own diligence and apply their own investment philosophies in using this data. While the data in the past has been very useful in identifying overleveraged companies that have subsequently declared bankruptcy, there is no assurance that this will be the result in any particular instance. Likewise, identifying underleveraged companies does not necessarily lead to better investment results.
These data are provided ahead of 2Q financial reports, which will come out in the next several weeks. Although I have all data relating to reserves, production, income, cash flow, balance sheets, etc. effective through 1Q, I do not find 1Q results meaningful enough to warrant disclosure here, since product prices were so low. Also, while readers might be tempted to calculate bank covenant ratios from current financials, most covenants are calculated on a trailing 12-month average and are known primarily to company personnel only.
Other Debt Considerations
Obviously, the table above highlights several companies which will continue to struggle with bank debt issues, but bank debt only constitutes 10% of the overall debt outstanding for the entire group ($15 billion versus $156 billion). What is lost to many other investors is the fact that, other than for a select, small group of issuers, the debt markets have collapsed. There has been a great destruction of wealth already from companies that have entered bankruptcy, and several more will be following in 2016.
These income markets are not likely to come back anytime soon, especially for the weaker credits. That means the banks are likely to bear much more of the brunt of any refinancing activity, and it is the primary reason that banks have tightened up their covenants, knowing that a wall of refinancings is coming and that they are the most likely source for payment.
Existing subordinated debt holders often include the same banks that are part of the credit group, making it that much more difficult to envision successful refinancings. The OCC's guidelines will impact the total exposure that each bank has, not just to the bank credit, but to the investment bank as well. While the wall of refinancings will not hit in 2016, each year thereafter has a substantial calendar of maturities that must be dealt with in some manner, bankruptcy being a more likely option than it would have been in the past due to the credit collapse.
Existing subordinated debt holders often include the same banks that are part of the credit group, making it that much more difficult to envision successful refinancings. Separate guidelines for leveraged loan situations limit provide that such loans must now be shown to be capable of being paid within 50% of a company's projected future net revenues.
The OCC's guidelines will impact the total exposure that each bank has - not just to the bank credit, but to the investment banking arms as well. While the wall of refinancings will not hit in 2016, each year thereafter has a substantial calendar of maturities that must be dealt with in some manner, bankruptcy being a more likely option than it would have been in the past due to the credit collapse.
Conclusion
Unfortunately, even with all I have included in my prior articles on borrowing bases and what is included here, this is still an overview of the process. While many practices have not changed over the years, recent changes have been fairly substantial and are likely to be supplemented by even more if industry economics do not improve in a major way... soon.
There are plenty of companies which are likely to survive the current price weakness - mostly those which can access the equity market to deal with upcoming debt maturities. Many more companies will survive, but only with new ownership groups which will replace existing equity and debt holders after a managed or free-fall bankruptcy. Companies which rely on friendly debt markets for continued survival are likely to face significant headwinds.
Those who expect the debt markets to simply bounce back after such a horrendous experience with energy loans, or to use valuation methods similar to what might have been used in the past, are likely to be very disappointed. A sector addicted to debt takes time to overcome the excesses of the past, and the ongoing addiction is likely to create continued friction between the expectations of many investors, companies and creditors for some time to come... as the growing list of companies entering bankruptcy courts will attest. As it turns out, the goalposts have indeed been moved, and many companies are much further away from them than they thought they were previously.
Disclosure: I/we have no positions in any stocks mentioned, but may initiate a short position in CRC OAS EPE over the next 72 hours.
I wrote this article myself, and it expresses my own opinions. I am not receiving compensation for it (other than from Seeking Alpha). I have no business relationship with any company whose stock is mentioned in this article.
Additional disclosure: Short trades on the above stocks were closed last week but may be re-instituted at any time. Other trades may also be instituted beyond the time specified but will not be disclosed, updated or otherwise monitored.
Editor's Note: This article covers one or more stocks trading at less than $1 per share and/or with less than a $100 million market cap. Please be aware of the risks associated with these stocks.