Twitter (NYSE:TWTR) recently announced that it is acquiring a startup called "Magic Pony" for $150 million. Magic Pony will join Twitter's machine learning division to help build " a product in which people can easily find new experiences to share and participate in." If you are wondering how this will help Twitter's social platform. My opinion is as follows: it's revolutionary, but it won't help Twitter.
What exactly does Magic Pony do? At its core, Magic Pony uses machine learning to enhance low resolution images and videos. It is quite remarkable when you think about it. We know that a high resolution photo can be easily transformed into low a resolution photo, since we have all the raw materials that we would need in th e original photo (i.e. the pixels). What Magic Pony could do is akin to creating something out of nothing. How can a blurry image be transformed into a sharper image? That's where machine learning comes in. Presumably Magic Pony's technology can infer new information from existing data. Here is an example: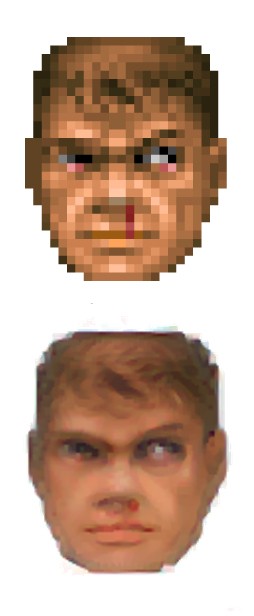 Source: technologyreview.com
Still not a lot is known about this technology, but I believe that it has practical applications. The company's founder seems to be focused on using this technology for compression, but this technology can also be applied to a variety of other fields. Police around the world can finally " zoom and enhance." The military can use it to survey large areas and quickly identify hostiles with just few pixels.
But none of that is going to materially impact Twitter's financial performance.
Compression could save Twitter some money on bandwidth, but my guess is that it will be offset by the cost of processing the data. While this is speculation, machine learning is much more computationally intensive than just data transmission. Furthermore, Magic Pony will in no way contribute to the social aspect of Twitter. What drive's Twitter's financial performance? Growth of user base and monetization. Magic Pony accomplishes neither. A video compression technology isn't going to magically make Twitter more engaging nor will it make companies want to buy more ads.
In Search Of The Unicorn
Even though Twitter isn't making money, it is sitting on a ton of cash and is generating more every year thanks to stock-based compensation. As of Q1, it is sitting on $3.6 billion of cash. That is a lot of money for Jack Dorsey to throw around. Andreessen Horowitz only has around $4 billion under management.
It's not news that Twitter's growth is slowing. For a tech stock that isn't making money, the lack of growth is practically a death sentence, and Twitter's share price reflects this fact (-37% from IPO price and -64% from first day close). How do you save a sinking ship? Given Twitter's non-core acquisitions such as Magic Pony, Twitter's solution seems to be "build a new ship."
With almost $4 billion of dry powder and more coming in every year, Twitter could potentially keep this going for a long time. With this much firepower and an experienced entrepreneur at the helm, it's not crazy to think that Twitter could find a couple of gems. However, is this what investors really signed up for? Instead of focusing on improving the profitability of the existing platform (e.g. concede that the company is maturing and start cutting costs), the company is trying to find a magic elixir that will help it grow again.
I believe that given enough time, Twitter will eventually land a few gems; but as venture investing goes, Twitter would be looking at many failures before it lands a jackpot. Can Magic Pony become a Unicorn? Only time will tell.
Click the "Follow" button beside my name on the top of the page to be updated with my latest insights. To learn more about the V20 Portfolio (+40% in 2015), whose goal is to compound capital at 20% over the long term, I encourage you to read the introduction to my investment process. Premium subscribers get full access to the V20 Portfolio. Track the portfolio through the latest update, here.
Disclosure: I/we have no positions in any stocks mentioned, and no plans to initiate any positions within the next 72 hours.
I wrote this article myself, and it expresses my own opinions. I am not receiving compensation for it (other than from Seeking Alpha). I have no business relationship with any company whose stock is mentioned in this article.