I usually write about preferreds I am considering adding to my portfolio to further diversify. Because I am primarily a high yield preferred investor, I am basically limited to three or four sectors that meet my needs: mREITs, oil E&Ps, shipping and some pharma R&Ds. Admittedly, most are more risky, and to limit the additional risk of concentration, I'm always searching for new companies to invest in. However, because many of my followers don't share my tolerance for risk, I have decided to dedicate this article, the first of a series, to the more conservative preferred investor. Yield Hunter has been so good as to provide me with a broad list to choose from.
I've selected Ares Management's (NYSE:ARES) ARES-A as my first preferred to review primarily because its current price is just a few pennies over par and it is callable several years in the future. Unfortunately, a majority of others on this list are priced uncomfortably above par for my taste, while others offer a yield even a conservative investor should refuse. But that decision I leave to your discretion.
For those of you unfamiliar with my preferred investment philosophy, The Basics Underlying Investments Viewed Through the Eyes Of A Preferred Investor will explain how and why I became a preferred investor. More important, it will provide you the information necessary to fully appreciate and understand the process I utilize to research and determine whether or not I will invest in a particular company's preferred equities. What follows is that process.
When considering the acquisition of Ares Management's preferred shares, ARES-A, it's necessary that we view that company through a different set of eyes than we would were we interested in acquiring its common shares.
Consequently, unlike its common cousins, it's necessary that we first study the offering prospectus of the preferred shares we are interested in acquiring. To accomplish this, let's visit my favorite preferred search site, Quantum Online, which I set to open to ARES. Below is a snapshot of a slice of that page:

A quick review informs us that ARES is a master limited partnership, MLP, and functions as an asset manager of private equity, credit, and real estate, and has the ability to invest in all levels of a company's capital structure from senior debt to common equity. At IPO, it had a market value of over $3 billion.
Now let's click on ARES-A, which I have chosen simply because it's the only preferred offered. Below is the screenshot: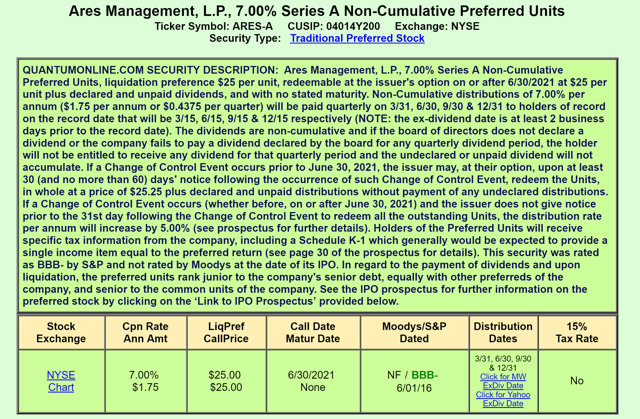 I don't like that this preferred is non-cumulative, meaning that in an event that payments are suspended, they are lost and will NOT be repaid in full if and when the payments are restored.
These shares are callable 6/30/21.
They pay a dividend of $1.75 per share per year, or 0.4375 per quarter, paid 3/31, 6/30, 9/30, 12/31 of each year.
At the time of their IPO, these shares were rated by S&P BBB- as a lower medium grade investment, or a step above being junk rated. Slightly more attractive to a more conservative investor than I usually review.
These shares have no stated maturity, meaning they can remain uncalled in perpetuity, which is fine with me. Pay me, pay my heirs, pay the heirs of my heirs for all I care. However, if called, it will be at their $25.00 call value plus any accrued interest owed.
Dividends are NOT eligible for the preferential income tax rate of 15% or 20%. You should be aware of how these tax ramifications will affect your investment bottom line.
As usual, upon liquidation, preferreds rank senior to commons and junior to debt, both secured and unsecured.
There are change of control issues that I invite you to read if you are inclined to.
However, simply knowing and understanding the preferred issues of a company in no way allows one to gauge a company's long-term health or to fully comprehend its business model. To better accomplish this, a knowledgeable investor should be able to dig down into the numbers, and at least marginally understand a company's financial statements and conference calls.
Sounds reasonable, but extremely difficult for most investors, including myself. I often rely on interpretations by SA contributors who have proven more knowledgeable than myself. Unfortunately, the vast majority of their articles are written with the common shareholder's interests in mind, rather than those of the preferred shareholder - which, on occasion, might not be in alignment. Also, as I mentioned above, other SA members might view their conclusions in a different light. When this occurs, I simply try to figure out which argument sounds the most logical. Sorry, that's the best I have to offer.
Consequently, rather than attempting to digest and understand complicated financial statements, which I realize I won't be able to realistically accomplish with any degree of accuracy, I usually visit two websites to get an abbreviated, yet broad-based view of the particular company I'm considering making an investment in. They are Yahoo Finance and Finviz. I have cued each to open to the financials of ARES.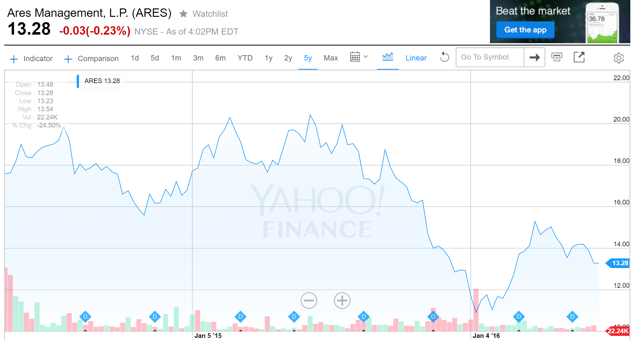 Above is a screenshot of ARES's 2-year chart, which, as far as I'm concerned, is the picture of a company that has trended down during this time, although up of late. Over this period, the price of the ARES common shares has dropped from $18.44 to its current $13.28. Although the quarterly dividend initially rose from $0.18 to the mid-twenties, it dropped from its high of close to $0.26 to its current distribution of $0.15.

Above is a screenshot taken from a Finviz view of ARES's present financial highlights. The company's current market value is $2.80 billion. It lost $2.80 million, and its stock price over the past year has lost 30.41%; and 3.14% the previous quarter. Its current short- and long-term debt/equity is an uncomfortable 10.44.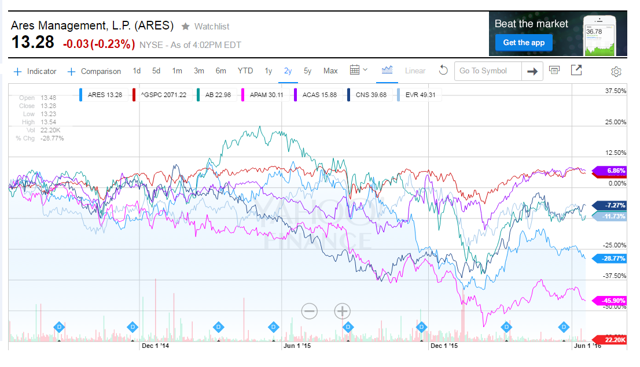 According to the Yahoo chart above, ARES performed close to the bottom of its peer group, which as a group slightly underperformed the S&P 500. The peer comparisons charted above are: Evercore Partners (NYSE:EVR), Cohen & Steers (NYSE:CNS), American Capital Ltd.* (NASDAQ:ACAS), Artisan Partners Asset Management (NYSE:APAM), and AllianceBernstein Holding (NYSE:AB).
* ACAS eliminated its dividend disbursement in 11/08 and as of yet, has never restored it.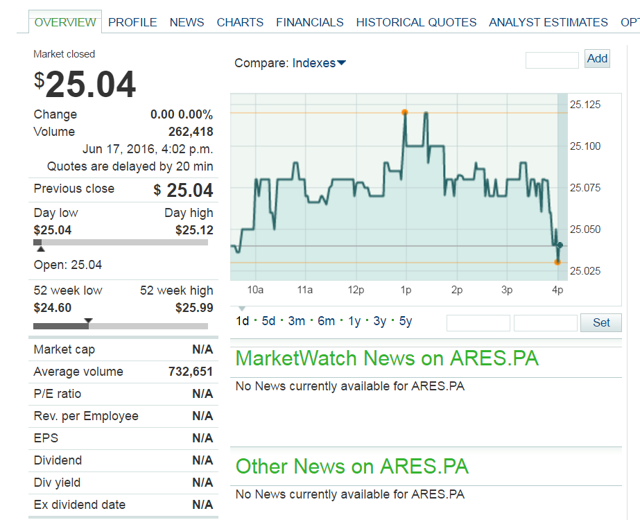 The final chart illustrates the 1 day price movement of the preferred issue ARES-A we are interested in acquiring. This limited time span is necessary because this preferred was issued just this month and has no track record. However, I believe it will fall below par value, and if you are interested, you can bid at that time.
News of note:
American Capital (ACAS) owners will receive about $3.43B in cash and ARCC common stock consideration, or $14.95 per share.

In addition, American Capital is selling the manager of American Capital Agency (NASDAQ:AGNC) to American Capital Agency for $562M, or $2.45 per share. Ares Management (ARES) will help finance the deal.

Together, American Capital shareholders are getting $17.40 in value for each share they own vs. Friday's close of $15.62.
On May 10, ARES posted an earnings release along with an explanatory conference call; President Micheal Arougheti reported on the Q1 2016 results. I have provided a link to the SA transcript of the call, parts of which I have block quoted below.
Since our last earnings call at the end of February, liquid credit and equity markets continued to recover following what was a volatile start to the year. This was driven by signs of less restrictive Federal Reserve policy, a continued recovery in commodity pricing, and a more stable global growth outlook.

I remind you that volatile markets often create excellent investment opportunities and play into Ares strength as a long-term opportunistic investor with locked up capital. As affirmed, we have made some of our best investments during distressed and dislocated markets. Our patient and flexible approach has allowed us to establish or add two positions during this periods, enhance value over time and then realize better outcomes once market stabilize. However, the flip side is that volatile markets can impact market prices and constrain realization activities in the short term.
His opening statements appear to be a mix of reality with a dose of happy talk to smooth over the edges of a losing quarter with the promise of a brighter future. However, this appears to be a recurring theme for the past two years as displayed in the charts above. Yet, he was truthful when he stated that the market has been recovering of late, which was made evident from my research for recent articles.
So on the fundraising front, we're coming off of our most successful stretch ever with approximately $23 billion in gross capital raise in the last 12 months. Our most significant fundraise was our over-subscribed fifth flexible capital private equity fund, Ares Corporate Opportunities Fund V, or ACOF V, which reaches hard cap of $7.85 billion. Over the past 13 years, each successive ACOF private equity fund has been larger than its preceding fund, and this growth has been driven by strong historical returns and our loyal and growing investor base. For example, ACOF IV is a $4.7 billion fund and we were able to raise $7.85 billion against our target of $6.5 billion in a relatively short period of time, primarily through existing investors who contributed over 80% of third-party commitments.
Yet regardless of past performance, ARES appears to to have little problem raising additional capital from its investor base. Which I take as a good sign, although I don't understand why. Maybe some of our more enlightened members can explain.
Looking forward, we are sitting with a sizable backlog of shadow AUM that we expect will generate a meaningfully higher level of run rate management fees than our first quarter's level.

However, these investments carry expenses that are borne largely upfront with future revenue and earnings payoffs coming in the future periods of 2017 and 2018.

For this reason, we may experience flattish fee-related earnings over the near time until such time as we deploy our shadow AUM, including beginning to investment period for ACOF V.

Now with those comments, let me turn now to our first quarter 2016 financial results. Over to the last 12 months, our AUM increased by about $6.6 billion to approximately $93.5 billion, a year-over-year net increase of approximately 8%. While our total current fee related AUM only increased to about $900 million for a modest increase of more than 1% given ACOF V was not yet earning fees.
The above abbreviated statements lead me to conclude that it will do better because a lot of the costs were front-loaded and many of the benefits will be reaped later.
Now let's take a look at ARES's financial synopses as provided by Yahoo Finance: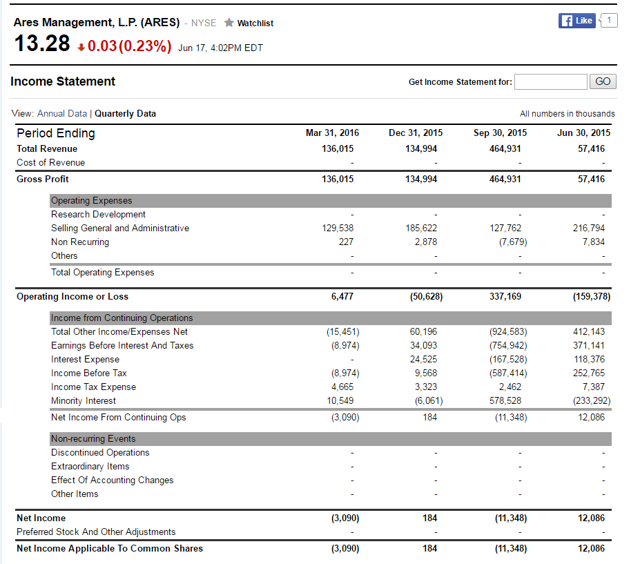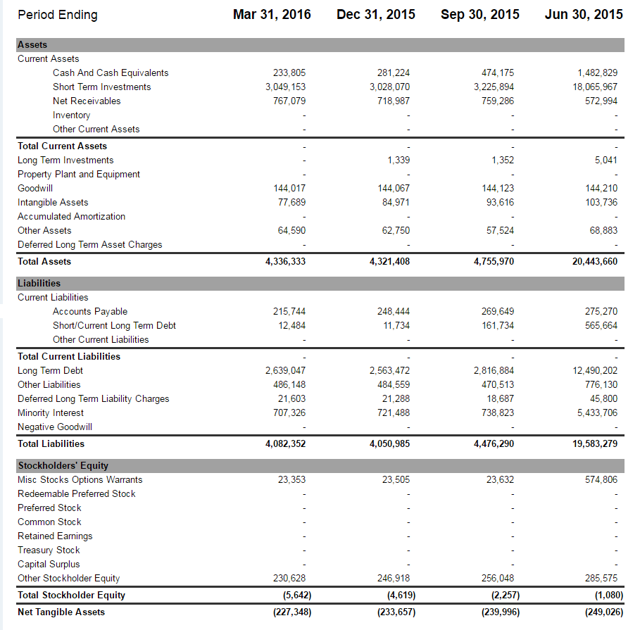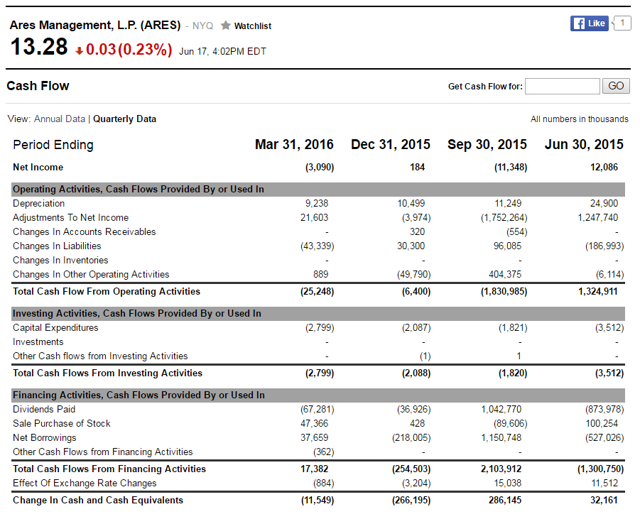 This substantiates what I have already learned from my admittedly limited investigation into this company: It's large, having lots of assets under management, but for the past two years, its common share value has consistently, although choppily, trended in the wrong direction. However, of late, along with most other financial, it has staged a mild recovery, which in my opinion, can resume its downward trend at any time.
As for a preferred investment, ARES-A is not my cup of tea, especially because its dividend is non-cumulative, which I, as a rule, steer clear of. However, given the size and scope of this company, I don't envision it going bankrupt, now or in the near future. Although I wouldn't invest, especially at this price, $25+, you might decide otherwise.
Disclosure: I/we have no positions in any stocks mentioned, and no plans to initiate any positions within the next 72 hours.
I wrote this article myself, and it expresses my own opinions. I am not receiving compensation for it (other than from Seeking Alpha). I have no business relationship with any company whose stock is mentioned in this article.